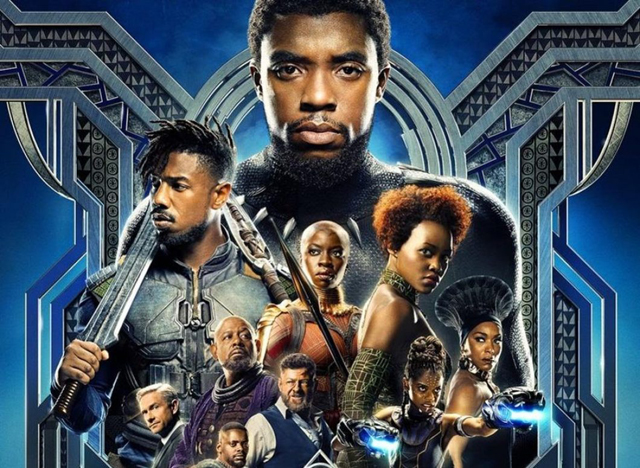 The road towards a fully integrated Cinematic Universe hasn't been an easy one for Marvel.  First of all, they began an ambitious plan to bring all their characters together on screen without even their biggest guns at their disposal; those being Spider-Man and the X-Men (at least not right away).  To put the weight of their plan onto the shoulders of the likes of Iron Man, Thor and Captain America was a risky move to take, but it paid off spectacularly.  Now the face of Marvel comics centers around the team known as the Avengers, and it's a body of characters that is growing bigger with every new turn and also more diverse.  The great thing about the Marvel Cinematic Universe is that it has brought attention to characters from the comics that otherwise wouldn't have been given the spotlight otherwise.  It has brought interest into the deep and varied Marvel catalog from people who for the most part are unfamiliar with the original comics, just because of how integrated they are to the continuing Marvel narrative.  And this has helped to make once obscure characters like The Vision, Hawkeye, the Guardians of the Galaxy and Doctor Strange become household names on their own.  Somehow, Marvel has tapped into something remarkable here and it has helped their brand achieve astronomical success, ensuring that no matter what character they bring to the screen, they will still yield the same results.  Carefully planning to make this all work is also necessary, and Marvel has chosen it's progression of projects wisely.  As we approach the end of Phase 3 in the MCU, the studio seems now more confident than ever with granting the spotlight to characters who have long been overlooked before, and with a character like Black Panther finally making it to the big screen, the spotlight carries even more importance than before.
Black Panther is poised to be not just another blockbuster added to Marvel's collection, but also a groundbreaking film in it's own right.  Here we have a super hero film that features an African superhero, a predominantly black cast, is written and directed by an African American, and is set almost entirely within the African continent.  No other big studio movie has ever given this much of a focus to an Afrocentric perspective and that alone is groundbreaking.  It of course is not the first movie to center around a black super hero (1998's Blade) nor is it the first super hero movie to be made by a black director (2005's Fantastic Four, directed by Tim Story).  Black Panther does however place more focus than any super hero movie before on it's central character's cultural significance, both as a symbol and as a role model.  Director Ryan Coogler, who has seen a meteoric rise in Hollywood following his success with Fruitvale Station (2013) and Creed (2015), has made a concerted effort with his adaptation here to tie Black Panther's story together with his place not just in comic book history but within all of black history itself.  This has led to some more ill-informed critics out there to criticize this movie before it's release, saying that it is merely propaganda for a "black power" movement.  Before I get into the movie, I really need to point out how bogus a critique this is.  When Marvel legends Stan Lee and Jack Kirby created Black Panther in the 1960's, they didn't do so to push some kind of "black" agenda; they created him because he an interesting character with a fascinating story.  The same appeal of the character is what drove Disney and Marvel to green-light a movie adaptation as well.  Really the only ones pushing any kind of agenda are the blowhards trying to capitalize on a popular movie to further their own toxic opinions.  Black Panther is a difference making movie to be sure, but does that translate into an excellent movie in general, or one that is not worthy of the frenzy around it?
The movie follows soon after the events of Captain America: Civil War (2016), where Black Panther made his debut into the MCU.  Prince T'Challa (Chadwick Boseman) descends from a long line of monarchs who rule the isolated African nation of Wakanda, and is also bestowed the powers of the Black Panther, which gives him superhuman strength and agility, further enhanced by his super high-tech armor.  After the death of his father T'Chaka (John Cani) from Civil War, T'Challa returns to Wakanda, which is a super advanced technological society that hides it's true nature from the rest of the world.  There he is crowned the new king through an ancient ritual, conducted by the high priest Zuri (Forest Whitaker), which grants him the full mantle of the Black Panther powers.  He is also granted new advanced armor by his gadget making sister, Shuri (Letitia Wright). Upon becoming king, he undertakes his first duty by bringing to justice a longtime enemy of his kingdom, the outlaw smuggler Ulysses Klaue (Andy Serkis) who has been stealing the nation's most valuable resource, Vibranium, for decades.  Teamed up with his government's most valuable spy, and a former girlfriend, named Nakia (Lupita Nyong'o) and his most trusted general Okoye (The Walking Dead's Danai Gurira) they track Klaue down to a casino in South Korea where he is about to make a black market sale.  The buyer it turns out is an old acquaintance of T'Challa from the Civil War events, CIA agent Everett Ross (Martin Freeman), who is seeking to deal with Klaue his own way.  They capture their target, but argue over what to do with him, and Klaue is broken free by his accomplices.  However, one of those accomplices, a mercenary named Erik Killmonger (Michael B. Jordan) has his own agenda and betrays Klaue as a way of getting passage into Wakanda.  Once there, he proclaims his own royal ancestry, being the son of T'Challa's murdered uncle N'Jobu (Sterling K. Brown), giving him a claim to the throne himself.  With the balance of Wakanda's future in their hands, T'Challa and Erik battle out for the right of kingship and their victories could end up making Wakanda either an isolated but peaceful nation, or an imperialist world power.
It is quite striking when watching the movie to see just much more political it is than the average Marvel film.  That's not to say that it is agenda driven, like so many critics have proclaimed, but it doesn't tip toe around many hard-hitting issues like so many other films of this genre usually do.  The movie refreshingly takes into perspective real world issues, like racial inequality and the evils of imperialism and manages to work them into the grander Marvel Cinematic Universe without ever feeling out of place.  I applaud Marvel for allowing such topics to be risen within their narrative, because in many ways it helps to bring a greater importance to Black Panther's role as a part of this universe and also help to give a much bigger spotlight to these issues than they otherwise would have had.  The movie also manages to avoid being preachy as well, delivering it's messages in a way that services the story rather than distracts from them.  Director Ryan Coogler knows what genre he is working within, and he still delivers all the expected thrills you would expect from a Marvel film in addition to never ignoring the larger points.  The effectiveness of how well he touches upon the politics within this movie, both with the internal dynamics of Wakandan society and with those of the real world, is where Coogler's greatest strengths as a filmmaker come out here.  Black Panther is probably the most richly plotted movie in the MCU, because of the fact that so many of the characters' motivations have real world implications.  This is especially seen in the dynamic between T'Challa, a noble spirit who has lived his whole life in a bubble, and Erik Killmonger, who has seen nothing but prejudice and hardship his whole life.  It not only makes for an intriguing debate, but a captivating story-line as well.  It's not the first time that politics have found it's way into a Super Hero movie, and especially not the first with the MCU, as the Captain America movies have already demonstrated.  But, with Black Panther, the politics feel more integrated than ever into the narrative because here we see that the larger issues not only are a matter of a difference in opinion, but are also tied directly into the identity of ever character within the story.
One of the things that especially makes the movie worthwhile is the characters.  This is perhaps one of the greatest ensembles ever assembled for a super hero film ever; on par with the likes of The Avengers (2012) and Guardians of the Galaxy (2014).  Nearly every character is given plenty to do and some are outright scene-stealers as a result.  What especially special about this is the fact that most of the cast are of either African nationality or of African descent.  Despite their places of origin, some African-American like Chadwick Boseman or Danai Guira, or African-British like Letitia Wright and Daniel Kaluuya, or native African like Lupita Nyong'o, they all do an excellent job of portraying the identity of being part of the rich Wakandan heritage, and making the fictional African nation feel so alive with personality.  I love all the different perspectives that they bring to the story as well, and how they bounce off of each other.  Lupita Nyong'o's Nakia and Danai Gurira's Okoye offer an interesting contrast in views that help to inform T'Challa's inner struggle, as the former makes the case for a more open society while the other argues for tradition which has kept them safe.  In particular, I probably enjoyed the character of Okoye the most because of how much her stoic personality contrasted with everyone else, making her a very fun character to watch.  Letitia Wright's Shuri will probably be a fan favorite because of her often hilarious upbeat attitude, which sometimes leads her to making some off-the-wall mischief.  It's also neat to see Andy Serkis perform for once without of motion capture animation, and he is clearly relishing it with his scenery chewing performance.  He even gets to share a scene with his Hobbit co-star Martin Freeman, which led to some people jokingly referring to the pair as the "Tolkein white guys" of this movie.  The finest performance though goes to Michael B. Jordan who creates one of the most fascinating Marvel villains ever with Killmonger.  More than any film before, we understand the motivations behind his evil intentions, and it underlines the themes of identity even more within the narrative.  Jordan also does an incredible job of balancing the pathos behind the character with the intimidation that he projects, making him a far more rounded character in general.
If the movie does have a weakness though, I sadly have to say it's the character of T'Challa himself.  This isn't to say that the character is all together bad, or that Chadwick Boseman gives a bad performance.  Far from it.  It's just that the narrative spends so much time giving attention to other aspects of the story, including it's message and all the supporting character's plot lines, that it leaves little room left for character development for it's central hero.  There seems to be big chunks of this movie where T'Challa seems either forgotten or inconsequential to what is going on in the plot, and that sadly causes the movie to lag every time it returns attention back to the character.  In a way, T'Challa is the one victim within his own movie because of it's placement within the Marvel universe.  Had the movie stood on it's own, things might have been different for the character, but the reason why he remain so uninteresting within the narrative of this film is because he has already gone through his growth as a character in another movie.  T'Challa had a far more substantive character arc in the events of Captain America: Civil War, where he grew from a person driven by vengeance to eventually becoming someone motivated by mercy.  It's a character progression that defines the person he is and fits very well into the story of his nation as well.  Unfortunately, because that story line has already been mined somewhere else, it leaves nothing left for the movie with him at the center.  Instead, T'Challa more or less stays the same throughout the narrative, changing very little and only moving towards a conclusion that he was already heading in the first place.  At one point in the movie, T'Challa even disappears for a good chunk of time, making it apparent that even Ryan Coogler found little use for him for a period of time.  Still, Chadwick Boseman's performance is as solid as ever, carrying over the same charisma he displayed for the character in Civil War.  The positive thing is that he now gets to headline his own movie, and his talents as an actor are used well here, making this a movie that will propel him even further into stardom, which is well deserved.
What I do have to say about the film, apart from the characters and the well delivered political subtext, is just how much it triumphs at world building.  Wakanda is an important location within the Marvel comics mythos, and after a couple teases in prior Marvel films, we finally get to see it in all it's glory.  A lot of praise must go to the imaginative design team behind this film, because they created a truly awe-inspiring place with Wakanda.  As established within the film, Wakanda has been a community that grew out of ancient African culture but was propelled by it's access to the valuable resource of Vibranium metal (the same material that Captain America's shield is made out of).  Because of the valuable properties of their metal, Wakandans hid their true nature from the rest of the world in the hopes that it would prevent bloodshed from arising over possession of the resource.  As a result, their culture grew into a super-advanced society while still maintaining it's traditional African identity.  What results is this beautifully Africanized metropolis that seems out of this world while at the same time earthbound.  I love the way that the movie mixes supernatural elements like electromagnetic hover crafts and laser projected shields and combines them with traditional African iconography.  These include brilliant ideas like Okoye's super spear which can take out a moving vehicle, or the majesty of T'Challa's palace which is modeled after West African mud huts but on the scale of a Dubai skyscraper.  And also, armor-plated rhinos; need I say more.  The costumes alone, done by Ruth E. Carter are eye-catchingly beautiful.  Ryan Coogler and his team brilliantly capture the identity of the Wakandan nation and make it as breathtaking as any world we've encountered in the Marvel universe so far.  Doing so is crucial, as Wakanda apparently has a major role to play in the Marvel Universe going forward.  In that regard, the movie has done it's job brilliantly, because I am ever so eager to see more of Wakanda after this film.
With regards to it's place within the Marvel Cinematic Universe, Black Panther certainly stands as a triumph.  I'll have to think a little longer about where I would place it in my own personal ranking, but it certainly belongs in the upper half, even despite some of it's shortcomings.  I feel that it kind of unfortunately suffers some road blocks because of how little development it leaves for it's main character, but it's nothing that robs too much of the entertainment value for the movie as a whole.  It's still a very fun movie to watch with all the typical Marvel style action you've come to expect.  And like most other Marvel movies, it's the characters that carry the most weight for the film.  Here we have a whole host of new personalities that'll add extra flavor to the Marvel cinematic canon, and it makes me extra excited to see where all of them will show up in future Marvel projects.  The movie also has the added benefit of being a super hero movie that's told from the perspective of the culture that it represents.  It's true that a super hero movie needn't have to be exclusively manufactured nor marketed towards a select segment of the population, but for Black Panther, I feel that it was essential that it had to be told from a distinctively black point of view.  I applaud Disney and Marvel for recognizing this and for seeking out someone like Ryan Coogler to do the job.  Coogler was the ideal choice to bring Black Panther's story to the big screen, because he has the right sensibilities to inject his own point of view into the story-line, while still maintaining the sense that he's creating a movie intended to be a part of the super hero genre and a part of a larger cinematic universe.  That's why the movie works as a cultural touchstone for the black community as well as an exciting warm-up for this summer's Infinity War.  With all that, it may stand as Marvel's most breakthrough and culturally relevant film to date, which alone is quite an achievement.   And more than anything else, it's just a rousing fun watch for anyone, regardless of race and culture, and that's all anyone can want.  All hail the king, and Wakanda forever!
Rating: 8.25/10