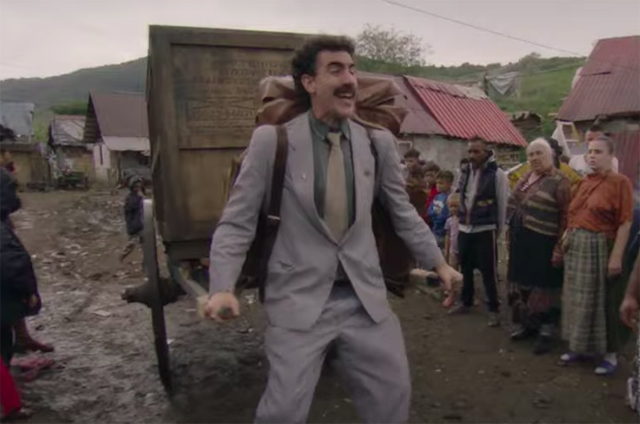 Jak sie masz?  His name is Borat.  Fourteen years ago, movie goers were introduced to this grey-suit wearing, moustache ornamented journalist from glorious nation of Kazakhstan.  Unbeknownst to many, Borat Sagdiyev's big screen debut would not only find an audience in both America and across the world, but it would become a phenomenal hit as well.  And perhaps the most surprised of all with regards to Borat's success was the creator of this oddball character; Sasha Baron Cohen.  Borat had been a fixture on Cohen's hit comedy series Da Ali G Show, which featured Cohen's unique brand of prank comedy where he would portray different characters and interview unsuspecting people in order to catch them in an ridiculously uncomfortable moment.  Of those characters, they included titular Ali G, fashion critic Bruno, and of course Borat.  The success of the show led to Cohen getting the chance to bring his characters to the big screen.  He started with the pretty straight-forward comedy Ali G: Indahouse (2002), but when it came time for a follow-up, Cohen decided to go in a different direction.  Deciding to center his next film on the character Borat, Sasha Baron Cohen opted for a documentary style similar to what he had used on the show, with himself staying in character while speaking to various different people and drawing the comedy from their reactions to his outlandish behavior.  In the movie, Borat's mission is to document "cultural learnings" of America for his country's educational "benefit," and along the way, he becomes enraptured by the country, especially when he discovers a beautiful blonde on TV named Pamela Anderson.  Thus Borat leapt off of the small screen and became a movie star, and how.  The movie was a monster box office hit, and suddenly it became impossible to escape for a while, becoming one of the most heavily quotable movies at the time.  There's only one problem though when your movie becomes that big of a success; where do you go next?
Sasha Baron Cohen's career post Borat (2006) has been in many ways an experiment in answering that question.  The movie did give him valuable exposure that helped to land him in some prestigious movies from big time directors, like Tim Burton's Sweeny Todd (2007), Martin Scorsese's Hugo (2011) and more recently Aaron Sorkin's The Trial of the Chicago 7 (2020).  However, his own projects have yet to reach that mighty Borat high bar that he set for himself.  A film adaptation of the character Bruno (2009) came and went and was not as well received; often described as being too close in style to Borat.  In the 2010's, he tried his hand at creating new characters, and ditching the documentary style of Borat and Bruno.  This resulted in the movies The Dictator (2012) and The Brother's Grimsby (2016), both of which also failed to ignite the same way that Borat had.  It seemed like Cohen's magic touch was short lived and that he would not be able to make lightning strike twice.  In a way, he became a victim of his own success.  Because he made Borat such a popular character around the world, he likewise made it impossible to repeat the same conditions that made Borat work in the first place.  Borat became too well known, and now it was harder to prank people, because once they saw him in his Borat character, people would be aware that they were about to be pranked on film.  So, it became quite a surprise to many that new broke this year that not only was Sasha Baron Cohen going to be returning to the character once again, but that he had secretly managed to film a new movie and have it ready to premiere on Amazon Prime before Election Day.  This was a shocking revelation to find out, but in a way it's within Cohen's character to stealthily surprise the world with a Borat sequel in a time when we weren't expecting to have one.  The only question is, did Sasha Baron Cohen manage to make lightning strike twice, or was he better off leaving Borat one and done.
The fully titled Borat Subsequent Moviefilm: Delivery of Prodigious Bribe to American Regime for Make Benefit Once Glorious Nation of Kazakhstan (2020) brings Borat up to present day.  The international success of Borat's first movie has put him at odds with his home country's government, who believe that he shamed them by making Kazakhstan look so backwards to the world.  For this, Borat has been imprisoned and force to work in a gulag for fourteen years.  However, he is brought back to the capitol city to participate in a new mission.  The Premier of Kazakhstan orders Borat to deliver a peace offering to President Trump, care of his Vice President Mike Pence.  That peace offering is the head of Kazakhstan's cultural ministry and #1 porno star in all the country, Johnny the Monkey.  Tasked with this mission, Borat leaves Kazakhstan for a return trip to America.  The only problem is, once he arrives there, he is instantly recognized by fans of his previous film, so he puts on disguises to hide his identity.  He manages to retrieve the crate that was sent from Kazakhstan with Johnny the Monkey inside, but finds an unwelcome surprise instead.  Stowing away in the crate is Borat's fifteen year old daughter, Tutar (Maria Bakalova) who wants to follow after her father on his mission.  Her dream is to be like her idol Melania Trump and have her privates grabbed by another fat, rich American who will put her in a golden cage.  After the mishap with the monkey, Borat gets the idea to substitute his daughter as the gift to Mike Pence.  After failing to get his attention at the CPAC conference, Borat then decides to pursue Rudy Giuliani as a possible alternative to getting close to the president.  He decides to help get his daughter a make-over, but while she is by herself, she begins to see how things are different for women in America, and it breaks down many of the lies that she's been hearing from her father.  So, a rift between Borat and Tutar erupts, which endangers his mission, of which Borat could be executed for if he fails.
So, very much like the original Borat, there is a thinly laid bit of plot connecting all the different sketches together.  For the original movie, it was Borat's pursuit of finding Pamela Anderson and bringing her back home with him to become his wife.  In Subsequent Moviefilm, the focus changes to Borat as a father figure, which is refreshingly different, as it does add a new layer to the character.  But, after over a decade of trying to reach the heights of the first movie and failing, did Sasha Baron Cohen manage to justify making a sequel to his greatest hit.  On the whole, I would say that he fell short once again, but it's definitely one hell of a try though.  In many ways, making a sequel to Borat that hit exactly the same way was an almost impossible errand.  Once you do it once, the novelty is gone.  Indeed, the character is too recognizable to ever pull a fast one on anyone the same way ever again.  And yet, I have to commend Cohen's attempt at trying.  Without a doubt, this is far and away the best film Sasha Baron Cohen has made based on his own original characters since Borat.  The movie balances the story and the outrageous humor much better here than say The Brothers Grimsby, which was just gross out humor with none of the fun attached.  There are fewer pranks that land with the same level of hilarity in Subsequent Moviefilm nor with the same regularity, but the ones that do land are right up there with those from the original.  I think that Cohen knew that he was going to have to put more effort into those big moments to make them work, and that meant filling up the rest of the run time with only minor laughs.  Another problem with the movie is that the shock factor of the original movie no longer exists fourteen years later.  It's a sad consequence of the Trump Era in American Politics, where hearing public figures say horribly racist things has just become so normalized and no longer shocking.
But there is one thing for sure; a whole lot of skill had to go into making the film's most shocking moments work.  What will undoubtedly become the most talked about moment in the movie is the encounter with Rudy Giuliani that serves as the film's climax.  I'm not giving anything away here, as the story has already broken into the headlines and now even people who haven't seen the movie have become aware of it.  But, I will say the way that the moment happens in the movie must have required an unprecedented amount of secrecy, coordination, and just flat out luck to happen the way it does in the movie.  And the fact that it still works it's way perfectly into the narrative thread of the movie is really quite an impressive feat.  That in a way helps the movie come very close to reaching the heights of it's predecessor.  Cohen is a master of manipulation and the fact that he can still coax public figures like Giuliani into a compromising situation like he does here is just as impressive today as it was in 2006.  In many ways, it's even more impressive, because he had to pull a prank of this level off in a world that is fully aware of who Borat is.  There are similarly impressive pranks pulled throughout the movie, and though most of them don't rise up to the level of the Giuliani encounter in terms of sheer boldness, they are nevertheless hilariously realized.  These include a visit to a debutante ball in Georgia, the interruption of Mike Pence's speech at the CPAC conference, and of course the infamous trolling of a Far Right rally in Olympia, Washington that made the headlines a few weeks ago.  What's even more impressive though is that he crafted most of this movie over the last year, in the middle of a pandemic.  And the introduction of COVID-19 into the movie doesn't even detract from the main story, and in fact adds to it; especially at the end in one of the most hilarious final codas I've seen in a movie in a long time.
There is one thing, however, that I think people are going to be praising for a long time from this movie, and that's the performance of Maria Bakalova as Tutar Sagdiyev.  Maria has been active in her native Bulgarian film scene for several years, but she was won the role of Tutar out of hundreds of actresses who auditioned, and she is quite the revelation.  Surprisingly, her background is not in comedy,  and yet she not only manages to go toe to toe with Sasha Baron Cohen in this movie, she even outshines him.  Much of the movie hinges around the believability of the father daughter relationship between Borat and Tutar, as dysfunctional as it is, and Maria Bakalova is 100% committed in this role.  Often, the movie even deviates away from Borat as the central focus, and features Tutar being the one making the unsuspecting marks uncomfortable in a scene.  Indeed, as a performer, she was in the thick of it as much as Cohen was, including some of those highly dangerous situations.  The fact that she manages to pull through all of it without breaking character shows that she is indeed just as much a master of this deception as Cohen.  And given that Sasha Baron Cohen's objective is to create the same level of shocking results that he did from the last film, well it helps to have someone who can stealthily pull it off without being recognized.  A lot of what make the movie works is all because of her, and how well her chemistry with Sasha Baron Cohen lifts the movie.  To be fair, Cohen is at his best here too, showing that he hasn't lost the ability to play the character so many years later.  I am definitely interested in seeing where Maria Bakalova goes from here.  Is she going to use this as a springboard for an mainstream international movie career, or will she follow Cohen's lead and launch her own off shoot of gotcha comedy, since she clearly demonstrated how good she is at it.  Whatever happens, she has definitely left an impression and managed to steal the spotlight from her more famous co-star.  I have no doubt that what we see in this movie is the makings of a future star.
In addition to the great work of the actors, the movie benefits from it's tightly knit story.  Sure, the novelty of the first movie is worn out, and there is not much more that can be explored with Borat as a character.  He is a lovable oaf with a very backwards, dark ages view of the world, and he primarily is the same here as well.  But, the father and daughter relationship angle is a great substitution for centering a sequel around.  And as I said before, it is impressive how Sasha Baron Cohen has managed to tie it all together in the end and never lose sight of the narrative.  I don't know how much of it was thought up on the fly, or was designed that way, but it does connect together and that is pretty impressive.  Even working through a pandemic didn't even throw them off.  I think what helps are the clearly scripted moments of Borat and Tutar that fill in between the big pranks, where we get to watch them build their relationship.  In some ways, this is actually done better than the original, where it was mainly up to Cohen to carry the narrative arc through.  Here, the arc is carried through in the duality of their relationship.  Tutar coming into her own, Borat at first becoming an obstacle and then ultimately finding their common ground.  What is surprising is the fact that so much of the movie manages to blend so well into this narrative.  You have to imagine that in order to get things like the Far Right Wing rally and the Giuliani interview to work as part of the film's story that the filmmakers had to plan things out perfectly in order for it to go exactly as planned.  I imagine that there is a lot of unused footage out there of multiple pranks that didn't go as planned.  If you look at the raw footage captured of the Washington rally itself, you'll see that there was a lot of that event that didn't make it into the final film, and most of it is even crazier than what did make it in.  These kinds of movies are extremely difficult to pull of, and the remarkable thing is that Sasha Baron Cohen not only managed to do it again, but he did so with a surprisingly cohesive story at it's center.
So, in the end, the movie is not quite at the level that the original managed to pull off, but it was still a commendable try.  Borat Subsequent Moviefilm has moments in it that certainly rise to the same level of hilarity that the original movie managed to hit, even if the frequency is a bit lagging.  For one thing, the inclusion of Borat's daughter Tutar really lifts this movie up, and Maria Bakalova is a real discovery that should be taken seriously in Hollywood.  I certainly would say that it may fall short of the original, but Subsequent Moviefilm works quite well as a companion piece.  It certainly confirms that Sasha Baron Cohen still has a few tricks up his sleeve, and can even bring surprising new layers to a character like Borat, even after the novelty has long worn off.  If anything, the movie is just a fun romp, with plenty of great laugh out loud moments that are among the best that we have seen from Cohen.  I don't know if he'll bring Borat back in another film; I almost feel that any more would be overkill.  This movie gives us just enough to not spoil the fun that can still be had with the character.  In a way, this moment in our history really called for a return of the character, as the United States has become a far more dysfunctional nation.  Sure, the movie does feel like a retread at times, but the essence of what made Borat such a likable character in the first place is still there.  Underneath the vulgarity and the bigotry is a charming curiosity from a simple man who wants to embrace new things.  And the addition of a daughter to the storyline helps to give this movie a surprising amount of heart as well.  So, if you loved the original, you'll likely find this one a lot of fun too.  Borat may no longer be an original who is going to take the world by storm, but seeing him again in a new adventure is still a welcome surprise in this tumultuous year.  If you are an Amazon Prime subscriber, I'd say you owe it to yourself to at least check it out.  It's a gift to make benefit our glorious nation.  Dziekuje!
Rating: 7.5/10