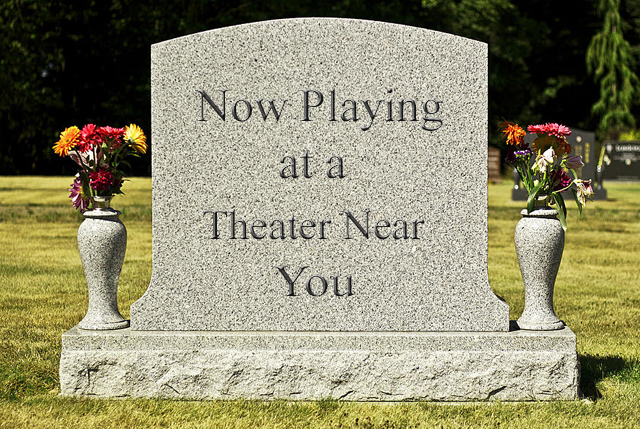 It is amazing how quickly things can fall apart.  Last year, 2019, we were seeing international and domestic box office hitting record levels, led by the likes of Marvel, Star Wars, and other top tier franchises.  And entering the beginning part of this year, we were also seeing surprisingly strong numbers for January and February.  It may have been forgotten in all the mayhem, but we saw the originally predicted failure of the Sonic the Hedgehog (2020) movie actually turn into a modest hit, grossing over $100 million domestic.  But, the COVID-19 pandemic hit the country hard in March of this year, leading to a nationwide shutdown of all non-essential businesses, which of course included movie theaters.  Suddenly, a major industry that has continually operated for a century without disruption suddenly has found itself unable to operate due to the mandated health guidelines of the country.  The major movie studios have likewise been blindsided by the effects of the pandemic, but they also had the benefit of other options to deliver their product to their audiences.  Movie theaters don't have that same luxury.  They must be able to operate in order to survive as a business.  Since the pandemic has started, the vacancy of movie theaters has caused the industry to burn through much of their yearly finances just to pay the building costs alone.  AMC, the largest chain in America, is pretty much on life support right now as their credit rating has dropped them into junk bond territory with default and bankruptcy imminent.  Though theaters have reopened in some parts of the country, the health regulations have also made it impossible for any theater to fully return to pre-pandemic levels, and that has led many Hollywood studios to opt out of premiering any new movies right now, in fear of another shutdown due to another wave of the pandemic or the full closure of the theatrical industry in general.  Which has led many to believe if 2020 may have spelled the end of the theatrical industry as a whole, and it's making many others to speculate how and if movie theaters can ever recover, and if it's even worth saving.
Like I mentioned before, such a thought would not have even occurred to any of us just a year ago.  Last year at this time, we were seeing the movie Joker breaking all sorts of box office records.  On the surface everything looked good for movie theaters, as people were packing in like sardines to see the big new tentpole films from all the major studios, as well as giving surprisingly strong box office to smaller movies, like the eventual Oscar-winning Parasite (2019).  But, as the pandemic has shown us, what looked like a stable industry proved to be anything but.  The biggest chains were certainly hard hit by the pandemic, but the ones hit even worse were the small, independent theaters.  These are the ones that serve small communities, or offer alternative art house fare to their local audience, and shutting down business has proved to be devastating to them.  It is estimated that without financial help that 60-70% of these small theaters could disappear forever, leaving many film goers without a venue to see a broader spectrum of cinema available out there.  There's something about that void that even the likes of Netflix can't fill.  That's why so many notable people within the film industry have campaigned for congress to include pandemic relief for all the ailing theaters out there, and it's one of the few things out there that genuinely has bi-partisan support across the industry and culture.  One hopes that congress will consider such a bailout, but given the up and down nature of the election this Fall, it's uncertain what might happen.  And living with all that uncertainty is what is driving the current gloomy outlook on the theatrical industry as a whole.  Every week now, we are receiving news of yet another major tentpole film either uprooting from it's release date to move to another, sometimes delaying a full year, or just bypassing theaters all together in favor of streaming.  And the end of the tunnel is still not within sight.
Though it's easy to shift the blame over to the government and how they responded to the pandemic, but the state of the theatrical industry also falls on the failures of the theater chains themselves for not being able to manage such a long term crisis like this.  Like I pointed out before, AMC is in the most precarious position of the big chains, because of the overwhelming amount of debt that they've procured just to stay afloat.  Earlier this year, they proclaimed that they had secured funding that could see them through the worst of the pandemic and help them return to business as normal.  This assertion was made back at the beginning of the Summer, with the belief that theaters would be reopen across the country by the Fall and that all the Quarter Four films would still meet their intended release dates.  Looking at the state of things right now, movie theaters (including AMC locations) have indeed reopened in many parts of the country, but the biggest markets, which account for nearly half of all box office, are still closed.  And still having nearly half of the box office out of reach has led many studios to opt out of screening their movies this year, seeing that the pandemic is still making it too risky to return to business as normal.  With this being the case, AMC's once rosy outlook has turned pretty sour, and it led to their eventual downgrade at the stock market.  Now they've boxed themselves into a no win situation.  Closing the theaters once again would significantly weaken their business even more, and yet staying open is causing them to burn through much of that economic lifeline that they needed to survive.  But, it was AMC's own hubris that also contributed to this situation.  In order to become the industry leader, the company had been taking on massive amounts of debt pre-pandemic in order to fuel their massive expansion.  Before the shutdown, Leawood, Kansas based AMC could boast that they had a foothold in every major market in America.  But the cost of that expansion was predicated on the company being able to remain profitable year in and year out.  With the shutdown, AMC suddenly found themselves underwater far more than their closest rivals, Regal and Cinemark, and there is no easy rescue for them on the horizon.  Their massive amount of personal debt makes them too risky an investment, which hurts their chances of being saved by a larger corporate buyer.  And what it shows is that part of the dire situation for the movie theaters stems from an industry that was already teetering to begin with.
There is blame to extend to the studios as well.  One of the biggest mistakes made this year in retrospect was Warner Brothers deciding to release Christopher Nolan's Tenet (2020) into theaters while the pandemic was still raging.  The Labor Day weekend release of the film was touted as a triumphant return of movie theaters to normal operation after being completely shuttered throughout the Summer.  However, it became apparent very quickly that the box office was anything but normal.  Tenet opened at a meager $6 million on it's opening weekend, and to this day has only generated about $50 million at the domestic box office.  By comparison, that's what Christopher Nolan's last film, Dunkirk (2017) made in it's opening weekend, and Tenet has only reached that mark after a month and a half.  Suffice to say, the experiment did not work.  Sure, Warners and Nolan have stated that Tenet was intended to have a long, protracted run at the box office, basically a marathon rather than a sprint, but there was a very different consequence to their decision to release the film.  With a major release like Tenet moving forward, the movie theaters across the country re-opened far too soon, making it more difficult to do business in the immediate aftermath.  With Tenet not being able to light up the box office, all the other studios moved their tentpoles off of the schedule, seeing that the time was not right for them to make the same move.  And now, movie theaters are facing the harsh reality that they have nothing big to draw audiences back to the theaters for the rest of the year.  All they have is Tenet, and a bunch of small budget features that maybe bring in a handful of people.  This is what's hurting movie theaters right now, because they are essentially operating at a loss each week, and it's at a time that they can't afford to lose any more money.  By being so insistent that their movie was going to save the theatrical experience, Warner Brothers and Christopher Nolan may have ended up accelerating their downfall.  That's why we are seeing more and more theaters looking into their future and seeing only the end.
That's one of the reasons that the second largest chain, Regal, followed it's UK-based parent company Cineworld in deciding to close all it's locations once again for the foreseeable future.  The next big tentpole on the calendar is Wonder Woman 1984 (2020) and it's unknown at the moment of this writing if that may end up being moved as well.  What we are looking at right now is the possibility of a year without any more blockbuster movies.  The movie studios are essentially in a wait and see mode right now, hoping that an eventual vaccine will squash this pandemic soon and make it possible to pack in the theaters once again.  But, it's also going to depend on if those theaters will still be there in the end.  That's why there is the push to raise funding for these failing theaters, but we're also seeing resistance to that as well.  Many people see the end of the theatrical experience as an inevitability, and with streaming dominating the market at the moment, it seems like a lot of people are comfortable with the idea of never having to go out to the movies ever again.  After all, the big chains like AMC have in a way dug their own grave, and the market had been oversaturated with blockbuster movies to begin with, making it impossible for the film industry to ever turn a profit unless they can get more people to fork over more money for expensive tickets.  The mid-market movie theaters roughly never had a chance to compete with the way the market had pushed in the direction that it had.  Only the big chains in the big markets could provide Hollywood with the box office it needed, and that cyclical arrangement just came crashing down over the last year.  In many ways, this year has been something of a reset for the industry.  The people who are going to the movies when they can are watching movies that otherwise would've been drowned out by the blockbusters.  We are seeing a re-emergence of the low risk, mini-movie as the lifeline for movie theaters at the moment, and it's leading the film industry to see more of the value of these kinds of movies as something to procure for the future, after nearly ignoring them over the last decade.
It's hard to know exactly what will happen once movie theaters are allowed to re-open to pre-pandemic levels.  Are audiences going to return like nothing happened, or is the movie theater industry irreparably damaged?  What might end up happening is a significant reduction of the theater market as a whole.  AMC, Regal, and Cinemark may end up closing many of their locations across the country and selling their leases on the buildings, just to shore up their dwindling assets.  Without a bailout, many of those beloved independent theaters may also be a thing of the past, which would significantly diminish the charm of movie going overall for a lot of people.   The industry will likely endure, but it will be a shell of it's former self, especially when compared with last year.  And that reflects badly on Hollywood, which needs robust box office to justify the enormous budgets given to their tentpole features.  As we learned from the likewise failed experiment of Mulan (2020) on Disney+, audiences aren't willing to pay a super high price for Video on Demand either.  As of right now, the movie industry is at a crossroads; do they still move forward with investing in blockbuster films that may not have the ability to generate enough box office to break even, or do they conserve what they have and play it safe until things begin to level out?  Right now, companies like Disney and Warner Brothers are beginning to lay off a significant number of their employees, which indicates that there is going to be some belt-tightening for the next few years.  Like with the theatrical market, this is a crossroads moment for the production side of film as well, as we may witness a sea change in what kinds of movies get made from here on out, and how many get made in the first place.
A lot of what Hollywood does in the near future will be determined by what we do in the present.  A lot of people are understandably apathetic towards the theatrical experience as a whole, but for the many who value the presence of a healthy theatrical industry, we are at a point where it's up to us to give them the help that they need.  Many small movie theaters are setting up their own funding campaigns in order to draw upon donations from their local communities, and I strongly urge anyone to chip in what they can to help them.  Making our voices heard to congress and the White House is also important, and writing to your local Senator or Representative would be very helpful towards getting movie theaters the much needed bailouts that they need.  There really isn't a partisan impediment on this particular issue, as movie going really does extend across party lines, and all it really needs is the attention to where it can't be ignored.  But, most important of all, it matters that we ourselves get involved in saving our cinemas.  What this year has proved is that the activity of going out to the movies was just something that we took for granted; as it would never go away.  And now, we are indeed seeing something that we never thought was possible happen right before our eyes; the potential doomsday for movie theaters in our country.  There is a demand there to save our theaters; just look at the resurgence of the Drive-In Movie Renaissance that has miraculously formed in the absence of four-wall theaters.  But to save the industry from destruction it involves action on our part.  Speak up and give back wherever you can and demand that our movie theaters, big and small, get the help that they need.
As Patty Jenkins, director of the Wonder Woman films said in a recent interview, "Shutting down movie theaters will not be a reversible process."  Her worries are justified, as there is a real existential crisis going on with the movie and theatrical industry right now.  With things going the way they are right now, with no clear sense of what direction to take, the movie industry may be forever changed, and not for the better.  That's going to be a tough pill to swallow for an industry that saw such a huge leap forward in the last decade.  Hollywood may not be ready to put itself in a reset mode, but given the likely downturn for many years in the global box office, they'll have no other choice.  There are some positives on the horizon.  We are getting closer to having an effective vaccine to combat this deadly virus and put a swift end to this pandemic.  And as bad as things are at the box office here in North America, they are actually returning back to normal in Asia and Europe.  China in fact is generating box office openings in the hundreds of millions again, which would've been unthinkable a couple of months ago.  What happens here domestically will likely depend on us as an audience.  Are we ready to go back to the movies?  One hopes that the months away from the big screen will drive the demand up even more once there is a big enough movie that demands the big screen experience.  It also depends if the big chains are able to weather these next few months and find the necessary funding to keep their doors open.  So, are movie theaters on their death bed, waiting for the end?   It's hard to say.  Maybe we are resigned to this being the end, or maybe we'll do our part and help the industry come roaring back, possibly even stronger, like a Phoenix rising out of the ashes.  For me, I'm hoping for the latter, because I always look forward to a good sequel.