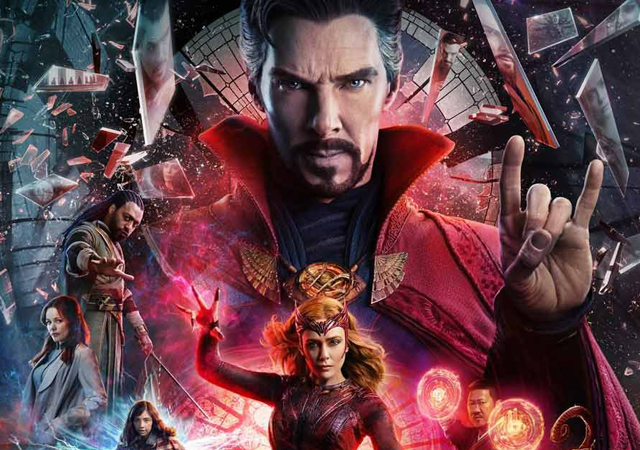 When Marvel began developing all the possible adaptations of their comics for inclusion in their massive cinematic universe, I'm sure that one of the hardest sells they were going to have to make to their parent company Disney was a movie based around the character of Doctor Strange.  Strange holds a special place in the Marvel comics library.  Unlike other characters in the assemblage of earth's mightiest heroes known as the Avengers, Doctor Strange is not someone who fights threats with super powers or state of the art gadgetry, but rather with magic.  Basing a big budget action film around a magician casting spells doesn't immediately scream out as smashing success, but Strange did have champions in high places.  There was of course Stan Lee, one of the men who created Doctor Strange in the comics, who certainly held sway over the Marvel brain trust in much of his later years.  And then there was also Kevin Feige, the head of Marvel Studios, who has long been an outspoken fan of the Sorcerer Supreme.  One of the things that certainly helped to make Doctor Strange's presence on the big screen possible was the fact that he was a crucial member of the Infinity War storyline that was the backbone of the first three phases of the MCU.  Being the guardian of the Time Stone, known as the Eye of Agamotto, Strange was not just an important figure in his own franchise, but also a key character in what would ultimately be the epic showdown with Thanos in the climatic Avengers: Infinity War (2018) and Avengers: Endgame (2019).  At the same time, Marvel took extra special consideration to not just make Doctor Strange another super hero like all the rest.  They wanted him to be a flawed but inspiring hero in his own right, with a character journey that was just as complex as any of the others.  It's not just about the ability to master the mystical arts; it's about overcoming the problems with oneself that defines becoming a hero in the first place.  That's what was essential in establishing in the first Doctor Strange (2016) film, and even more so in his continuing adventures.
A lot of time has passed in between our first outing with Doctor Strange.  The Infinity Saga wrapped up with Endgame, and it was time to launch the MCU into it's next big chapter.  So where does Marvel go in a post Infinity War universe.  To the Multiverse of course.  The Multiverse has been an especially popular tool for comic book writers both at Marvel and DC, because of the seemingly limitless possibilities it offers.  The multiverse allows storytellers to not just have one version of a character in their story, but many all at once.  And it also allows for many different variations of the same character to all be considered canon.  Before Marvel became the power house studio that they are now as part of the Disney company, they had previously been relying upon multiple studios to bring their heroes to the big screen, spreading their licenses across all of Hollywood.  Now under one tent, they've been establishing the MCU as a connected universe built on continuity, which excludes everything made before Iron Man (2008).  But, the multiverse concept actually gives Marvel a chance now to say that indeed, all of it is canon.  It's exactly what they did with last winter's Spider-Man: No Way Home (2021), which combined all the Spider-Man franchises of the past and present into one, and legitimized every cinematic iteration of the character up to now as part of the MCU's greater story-line.  And naturally, Doctor Strange was also along for the ride in that film.  Further development of the multiverse storyline has been built into the MCU through the limited series runs on Disney+, especially in the shows Wandavision and Loki.  Now, the Doctor Strange series itself brings the threat of what the multiverse means for the greater MCU to a head, and it helps to firmly establish where Strange's story is about to head in this, lack of a better word, "strange" new world.  With Doctor Strange in the Multiverse of Madness (2022) we get our best look yet at the next big threat of the MCU, and the question we find is it a bold new direction for the franchise or is it too much, everywhere, all at once.
The story picks up right after the events of No Way Home.  Doctor Stephen Strange (Benedict Cumberbatch) is having re-occurring nightmares where he dies after trying to help a girl named America Chavez (Xochitl Gomez) who is being hunted by demonic creatures.  While he has these dark dreams, he is also living out his life dealing with the aftermath of the even in the MCU known as the "Blip."  Having been absent during the five years of the Blip, he has lost many things in the process.  He no longer has the title of Sorcerer Supreme, which has been passed on to his one time assistant Wong (Benedict Wong), with whom he now has been butting heads with.  Also, his one time romantic partner Dr. Christine Palmer (Rachel McAdams) had found a new love of her life in the intervening five years, and is getting married.  All of this makes Stephen begin to wonder what saving the universe cost him personally.  Yes, Thanos had been vanquished, but losing five years has also made him alone and less powerful.  Then, in the middle of Christine's wedding, a disturbance grabs Strange's attention.  The girl from his nightmares, America Chavez, is being chased through the streets of New York City by a horrific looking monster.  Strange and Wong together manage to save her, but they soon learn that she has been on the run from many other demons just like it, and will likely be hunted down again.  She reveals that she has the special ability to travel across the multiverse, which Strange believes might be what the one who sent the monsters is after.  America Chavez is initially hesitant to trust Doctor Strange, because other Strange's that have helped her in the multiverse ended up betraying her.  To seek a solution, Doctor Strange decides to go to someone who might know a bit more about the limits of the multiverse than he currently does; Wanda Maximoff (Elizabeth Olsen), who has been in self-imposed exile after the events of Wandavision.  However, Strange is unaware that Wanda has been growing her power in secret, reading from the forbidden book known as the Darkhold, which has elevated her to a higher level of power and turned her into an entity known as The Scarlet Witch.  As Strange and America Chavez venture deeper into the depths of the multiverse, they run into a Sorcerer Supreme variant of Strange's old adversary, Mordo (Chiwetel Ejiofor), who is also in league with a powerful organization in charge of surveilling the multiverse; the Illuminati.  With all this madness going on around him, can Doctor Strange manage to set things right without leaving more destruction in his wake.
During the development of this movie, a lot of issues began to rise up.  First, the director of the original Doctor Strange, Scott Derrickson,  bowed out over creative differences.  This alarmed many fans because a director leaving a project is usually a sign of a movie that is falling apart and likely to be ruined.  But, fears of disaster for the franchise were alleviated once it was announced that Sam Raimi would be taking over the reigns of the production.  Raimi is a legend in the world of horror filmmaking, as well as in the genre of super hero movies, having been the guy who brought Spider-Man successfully to the big screen with Tobey Maguire in the 2002 original.  The prospect of him taking on the weird and wild world of Doctor Strange seemed like a match made in heaven, given Raimi's knack for perfectly mixing humor and genuine terror together in movies like The Evil Dead (1981), Army of Darkness (1992) and Drag Me to Hell (2009).   But, Raimi has not been behind the camera in almost a decade, and his last film was a safe, corporate product called Oz, The Great and Powerful (2013), made for Disney.  A lot of people were wondering if Raimi would still be allowed to make a movie in his own style, or would he be hamstringed by the studio in order to work all the Marvel mandated elements into the film so that it would fit into their expanding continuity.  I can thankfully say that all those worries about what kind of Sam Raimi movie we would end up getting didn't come true.  Even though the movie still fits well within the whole MCU continuity, Marvel still allowed Raimi to make the movie his way.  This is very much a Sam Raimi movie, with all the zaniness kept in tact.  If you love the creative camera work seen in the Evil Dead movies, it's here too.  If you love the almost cartoon like visual flair of the Spider-Man movies, it's here too.  There are a lot of treats here for long time Raimi fans but at the same time it doesn't lose the focus of what it needs to be as part of the MCU storyline.  Honestly, his direction is easily the best element of this movie, because otherwise the movie might have lacked an identity apart from what he brought to it.
If the movie has a major flaw, it would be that it asks the audience to accept a lot of plot elements that otherwise won't make much sense without prior knowledge of what has been going on in the larger MCU universe.  The movie not only includes backstory from previous MCU films, but also the Disney+ series Wandavision, so if you haven't been following along up to this point, you might be lost.  At some points, particularly early in the movie, the film kind of loses some momentum as it attempts to catch everyone up to speed.   The movie also tends to not go deep enough on certain story elements, particularly related to America Chavez, who mostly serves the story as a human MacGuffin.  Which is why the Raimi touches are so crucial in picking up the slack of the movie.  It's a lore heavy film, and that might turn off some viewers.  Even as someone who has watched every MCU connected title up to this point, I could feel the strain of this movie trying to make all the in universe connections service the story, and it becomes cumbersome.  As a result, the movie is best when you look at it as a Sam Raimi movie, and less as an MCU film.  I will attest that none of the shortcomings of this movie ever spoil the entertainment value of the film as a whole.  I do appreciate that it moves along very fluidly.  Those two hours go by in flash, and though I am sure some people would've liked a longer cut to savor all the "madness" of the multiverse, I do appreciate Sam Raimi and company showing restraint as well.  They could've gone crazier, but knew in the end that what mattered most was finding the core of this particular story.  That should be the goal of any stand alone MCU project; finding the reason why this particular story should be told in the midst of the larger story that it is set against.  When it doesn't get bogged down in the larger universe implications, this is actually an interesting character study of it's hero, as he examines what it takes to be the best version of himself, after seeing all the failures of his multiversal variants as well as the consequences that his actions have left in their wake, both good and bad.
One thing that is pleasing about this movie is the cast itself.  Benedict Cumberbatch doesn't miss a beat in his role as the no longer Sorcerer Supreme.  One thing that has been interesting in his character arc over his presence in the MCU is watching him go from an arrogant playboy doctor to a duty bound protector of the cosmos, and here in this movie, we see him become more introspective than ever before.  Like I mentioned before, this is a Doctor Strange that is coming to terms with the personal cost of doing the right thing, and how that has ripple effects of its own.  In this movie, he learns what it means to be trustworthy, as he must find a way to protect America Chavez after many other versions of himself have failed to do so, and Cumberbatch manages to play that vulnerable side to the character perfectly.  Returning stars Benedict Wong, Chiwetel Ejiofor, and Rachel McAdams also all manage to deliver more solid performances as well.  I was actually surprised to see how well McAdams is used in this movie.  Her character was largely an afterthought in the original movie, but here she actually has a purpose to fulfill in the plot other than being the love interest.  But, if the movie has a true stand out, it's Elizabeth Olsen as Wanda.  Now in full Scarlet Witch mode, she is a terrifying presence in this movie, and her performance is also on another level.  There are moments in this movie with Scarlet Witch that rank among the most unsettling ever put in a comic book movie, let alone from the MCU.  And her performance runs the gamut as well, going from heartbreaking in one moment to foreboding in the next.  Seeing her progress this character from her first appearance in Avengers: Age of Ultron (2015), through the Infinity War storyline to her limited series Wandavision, has been one of the best things that has come out of the MCU as a whole, and we see much of the culmination of all that rich character development here in this movie.  Olsen is delivering awards caliber work here, making Wanda creepy and sinister while at the same time sympathetic and letting us know exactly where she is coming from.  If anything, it's her story that is the element that lifts this movie up the most.  There are also some genuinely pleasing surprises in the cameos found in this movie.  Without giving anything away, these cameos will please those of you who are fans of the MCU, fans of the comic books, fans of Sam Raimi films, and fans of all the above put together.
One thing that is particularly with this movie is that despite being called the Multiverse of Madness, the movie never really goes all in on the madness part.  Sure, there are a lot of crazy elements to be sure, but the movie surprisingly shows a lot of restraint as well.  This is largely due to the fact that we never really get a full multiverse experience on the level that one might expect.  Most of the crazy extent of the multiverse is limited to an incredibly imaginative but short montage that I'm sure nerds are going to picking apart for Easter eggs for many years to come.  But, for the majority of the movie, we spend most of the story in at most three separate universes; the mainline MCU, an alternate utopian universe run by the Illuminati, and a dystopian universe that an alternate Strange is responsible for ruining.  Some fans may be disappointed that more wasn't done with the concept of a multiverse, but I feel like this was the best route to take in service of this one story.  Doctor Strange needed to end up in these specific universes in order to make the crucial choices that he does.  Much like how Spider-Man: No Way Home  wisely held back on the amount of Spider-men that could've populated that movie, limiting it to just the ones we've seen up to now (Tobey Maguire, Andrew Garfield and Tom Holland).  Given where the movie ends up, I feel like it best fulfills what it needs for a multiverse story.  The Illuminati world is especially well constructed, being just slightly off from our own world without feeling too alien.  Of course, when the movie goes full Raimi it also doesn't disappoint either.  He perfectly blends a gothic sensibility into this universe without it feeling too out of character for the MCU.  I especially like when Strange starts to mess around with spells related to the undead, which feels very much like Raimi in Army of Darkness mode.  Despite the seemingly limitless possibilities, I think it works well to this movie's advantage that it remains grounded.  I'm sure that given Marvel's larger MCU plans that this is far from the last we've seen of the Multiverse in the MCU, especially given what projects lay on the horizon for Marvel.  It's an appetizer, but an enormously satisfying one that is especially enriched with the flavor of a filmmaker as unique as Sam Raimi.
So, overall Doctor Strange in the Multiverse of Madness isn't as top tier as say something groundbreaking like an Avengers level film, but as a sequel to the original Doctor Strange, it is more than adequate and I would say it even tops it's predecessor by quite a bit.  For one thing, the whole Sam Raimi element of it all is great to watch alone.  Given that he was able to pour so much of his own voice into this movie is pleasing enough, especially given that he hasn't been able to do that on this kind of scale in a long while.  One hopes that he's not a one and done director for this franchise, because I think Marvel is better off with giving him more to do moving ahead in MCU.  Like other filmmakers who have managed to pour their own voice into the individual projects of the MCU, like James Gunn and Taika Waititi, Raimi has the chance of cementing his own unique corner of this massive cinematic universe if he is granted the oppurtunity moving forward with the further adventures of Doctor Strange.  But, if he choses to move on to something else, that is understandable too, given the rather shaky history he's had in the past with studios.  As of now, it's great to see this kind of movie in the pantheon of all of Marvel's movies so far.  There are shortcomings with the story itself, but plenty to love when it comes to the style and the performances.  Elizabeth Olsen in particular is further cementing her presence as one of the best things to ever come out of the MCU with her amazing work here.  And Benedict Cumberbatch further reinforces why he was the best choice to play this iconic character on the big screen.  There are of course plenty of surprises throughout, but I should warn all the speculators online out there to hedge your expectations a bit.  Not every rumor that we've been ruminating on since this film was announced proves true, though a few did manage to become a reality, and there are even some that no one will see coming.  Overall, despite some minor misgivings, I would highly recommend seeing this on the biggest screen possible.  It's really assuring to see Marvel taking some chances with their universe, including breaking convention and going into some truly terrifying moments.  They promised their first scary movie, and despite the PG-13 rating, it does live up to that promise.  You can imagine that a studio as monumentally successful as Marvel could easily rest on their laurels and just deliver the same old stuff over and over again.  So it's nice to see them at this moment put so much trust in a filmmaker known for pushing boundaries and hopefully they continue to find new ways to make their remaining adventures into their expanding multiverse stay as "strange" as possible.
Rating: 8/10