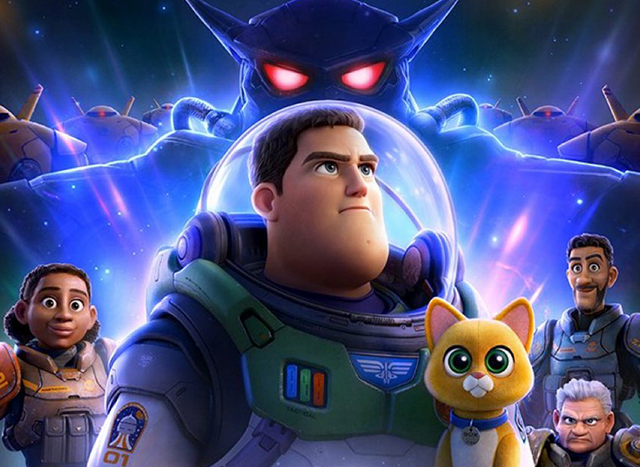 Well, it's been over two years, but Pixar is back on the big screen again.  As an effect of the Covid-19 pandemic, the Walt Disney company had to make the tough decision to either postpone most of their upcoming movies, risk putting them out in a diminished theatrical market to little box office returns, or take them directly to their streaming platform, Disney+.  Some movies were easily handed off to streaming, but there were some that were tougher to take away from the big screen.  The big tentpole features under the Disney umbrella were held off to wait for better conditions post-pandemic, like Black Widow (2021), Jungle Cruise (2021) and Raya and the Last Dragon (2021).  But, for whatever reason, Disney didn't seem to want to wait with their roll out of movies from the Pixar Animation studio.  Long held as the vanguard of computer animation, Pixar has been one of the strongest performers in the Disney studios.  Unfortunately, they were also burdened with bad timing during the pandemic.  Their film Onward (2020) had a very brief theatrical run that was cut short by the pandemic lockdown, forcing Disney to cut their losses quickly and take the movie and bring it almost immediately to streaming.  Pixar also had another film scheduled a few months later, the Pete Doctor directed Soul (2020), and as the days rolled along into the midst of the pandemic, it became clear that theaters would not be open in time, or for many months after.  As a result, Soul became the first ever Pixar movie to not receive a theatrical release, instead making it's debut on Christmas Day 2020.  One hoped that this would be a one off choice based on difficult circumstances, but Disney had other plans.  Despite Raya and the Last Dragon receiving a hybrid theatrical and streaming release in Spring 2021, it was decided that the next Pixar film planned for the Summer, Luca (2021) would also go straight to Disney+, even though most theaters by that point would be open.  After that, most Pixar fans hoped that the following year would be different, but no.  Even with movie theaters more or less back to normal business in 2022, Disney decided again to release the next in line Pixar film, Turning Red (2022) exclusively on Disney+.  And this led to some justifiable grumbling in the halls of Pixar Animation.
Thankfully, this run of streaming exclusives seems to have come to an end, and the next Pixar film, the Toy Story spinoff Lightyear (2022) is premiering first in theaters.  It would make sense that Disney would feel more confident in the theatrical performance of this film, given that it centers on a well known character like Buzz Lightyear.  What is interesting however is that this is not exactly the same Buzz Lightyear that we know from the Toy Story movies.  Those films featured Buzz Lightyear the toy.  Lightyear is about the man that the toy is based on.  And to differentiate the two a bit more, Pixar also cast a new actor in the iconic role; Chris Evans of Marvel's Captain America fame.  This sparked it's own bit of controversy, as many fans of the original Buzz Lightyear voice actor, Tim Allen, voiced their displeasure of him being replaced.  Some even conspiratorially said that Allen was "cancelled" by Disney for his political views, without showing any evidence of that being true.  This movie was in the works with  Chris Evans attached at the same time Tim Allen was voicing toy Buzz again in Toy Story 4 (2019), so they clearly were not pushing Tim Allen aside.  Allen is even returning for a Santa Clause spinoff series on Disney+ in the near future, so you can't say that he's been cancelled by Disney at all.  Pixar has made it clear, this is a very different version of Buzz Lightyear, and if you were to ask Tim Allen himself, I'm sure he would give his seal of approval to the casting of Chris Evans in the part.  Unfortunately, this isn't the only thing that Lightyear has become a lightning rod for.  The inclusion of a supporting character in a same-sex relationship has also sparked up controversy, despite the fact that it's an inconsequential factor in the story and is treated respectfully and appropriately for all ages.  Clearly, some people just want to complain about the whole inclusivity of it, as a means of erasure of queer people in the guise of "family values."  I think it's fair to say that those complaining the most about this movie are also judging something they haven't seen, and are probably too afraid to confront the issue of queer inclusion in media as well.  It's sad that something as innocent as a simple kiss unjustly warrants censorship in other.  But, thankfully, Lightyear is still getting the opportunity to be seen by a large audience on a big screen, which Pixar has not had the privilege of since the pandemic began.  The only question is, does Lightyear go to infinity and beyond, or does it fail to launch?
The movie introduces us to Captain Buzz Lightyear (Chris Evans) as he commands the travel of a space module, which he dubs the "Turnip" because of it's shape, through it's intergalactic journey.  After landing on a mysterious new planet, him and his crew discover that the planet has hostile lifeforms that put it in danger, and they try to make an escape.  Buzz makes a daring escape, but his recklessness also causes them to be stranded on another part of the planet.  Buzz feels like he let down the mission, but his fellow space ranger Captain Alisha Hawthorne (Uzo Aduba) convinces him that he can help save the mission through helping them discover the right formula to create the fuel that allows for warp speed.  Buzz undertakes the test flight himself, and while he manages to achieve incredible speed, he falls short of warp drive.  Unfortunately, he learns that when he does the flight tests, the faster he goes he'll experiences a phenomenon known as time dilation. As a result, what seems like a couple minutes to him will actually be 4-5 years for everyone else.  Still, he doggedly pursues his mission and conducts more test runs.  In a short amount of time for him, he sees Alisha get engaged, marry her wife, raise a family and grow old.  After he conducts yet another test run, he learns that Alisha has passed away from old age, and that her replacement, Commander Burnside (Isiah Whitlock Jr.) who was raised on this planet, is putting a halt to the remainder of the mission.  Buzz, still determined to complete the mission, and with the help of his robotic cat companion, SOX (Pete Sohn) he finally finds the right formula and achieves warp speed.   Unfortunately, another significant chunk of time has passed, and he returns to the planet to find it under siege by a robot army, commanded by a hostile robot overlord named Zurg (James Brolin).  The colony has walled itself off behind a laser shield, and only a scant group of survivors outside remain.  Among them is Alisha's granddaughter Izzy (Kek Palmer), as well two recruits named Morrison (Taika Waititi) and Darby (Dale Soules).  Together, they must find a way to bring the warp speed formula back home and stop the Zurg army from destroying the colony.  Of course, as Buzz soon learns, not all plans go the way the way they should, and sometime even he can be his own worst enemy.
There is a great thrill seeing that hopping lamp Pixar logo grace the big screen again, though I've been privileged enough to be in Los Angeles, which saw exclusive theatrical showings of Luca and Turning Red in one theater that I got to attend.  But, having this movie widely available is thankfully a return to form for Pixar Animation, and hopefully it will continue on in the future.  But, despite the welcome return, how does this movie compare with the other films from Pixar, which is a studio that has set a very high bar.  I will say that this is a movie that is better served if you hedge your expectations.  On the surface, it's a very serviceable, well-made action based sci-fi adventure.  But the fact that this movie came from Pixar, which is supposed to be the home of movies that go, for lack of a better phrase "to infinity and beyond," this movie may end up being a tad disappointing.  It doesn't exactly push any boundaries, and is more or less just an exercise in seeing the different ways they can explore the Buzz Lightyear character.  At the same time, I can't say that I disliked much about the movie either.  The only disappointing thing I can say about it is that it plays things very safe; which is ironic considering that it's at the center of so many controversies.  For a studio that creates so many imaginative worlds in films like Inside Out (2015), Coco (2017), and Soul (2020) as well as deep emotional stories like Up (2009) and Wall-E (2008), Lightyear comes across as far more conventional than their average film.  I think that Pixar may have unfortunately set their bar a little high as well.  Before the movie begins, title cards appear stating that "in 1995, a little boy named Andy received a toy action figure based on the main character of his favorite movie," followed by "This is that movie."  Unless the movie rises to the standard of Star Wars or The Lord of the Rings after making that statement, then you are clearly going to set yourself up for disappointment.  It becomes a little hard to swallow afterwards that this particular movie, as conventional as it is, left such a resounding impact on one child's life, even if he is himself a fictional character.  This really comes down to a marketing mistake.  It seems like Disney and Pixar didn't fully trust that the audience would catch onto the conceit that this is an entirely different character from the Buzz that we know and they added the disclaimer to make it clear.  Here's an idea, don't assume that your audience is dumb and can't figure the difference out.  The movie might have been better served if it was allowed to define itself without having to re-establish a connection to Toy Story.
That being said, there are definitely things to like about the movie.  One of which is the character development that they do with Buzz himself.  I like the fact that they showed him to be a flawed individual, who has to grow and mature into the Buzz Lightyear of Star Command that we all know him to be.  It kind of parallels the character development that the Buzz in Toy Story went through, where he went through his own self discovery, accepting that he was a toy and that he needed to take his mind off the mission instilled in him to better function in his new reality.  The Buzz in Lightyear also has that same deluded sense of self worth that makes him  culpable in some catastrophic mistakes.  What we see is him being a hero to a fault.  His devotion to the mission causes him to become isolated, and he loses those close to him as a result.  The sequence of him experiencing time dilation, as he watches his best friend go through a full life while he's stuck in his short amount of time (a moment that feels very similar to one found in Christopher Nolan's Interstellar) is particularly heartbreaking, and it's especially poignant because it's a punishment of Buzz's own making.  Though you can feel some of the action sequences just going through the paces and having the film just spin it's wheels, it's others like the time dilation sequence that do carry a lot of poignancy that helps to elevate the movie beyond just the average animated film.  I also liked how this element of Buzz's character development ties into his confrontation with the villainous Zurg, whose presence in this movie puts it's own interesting spin on the established good vs. evil showdown between Buzz and his arch-nemesis.  In many ways, this movie explores the character of Buzz Lightyear in far more detail than you could ever do in the Toy Story movies.  Buzz's development in those movies is more or less shaped by his contentious but ultimately mutually respectful relationship with Woody.  Without Woody present, as well as the existential realization of being a toy, what else is there to know about Buzz?  I like the fact that Pixar deconstructed the character in this film, showing that heroes are not born, but rather shaped by the choices that they make, and that sometimes the best course to becoming a better hero is to recognize your flaws and not be burdened by failure.
One of the best things about this movie is the casting of Chris Evans as Buzz.  All of you complaining about the absence of Tim Allen will be silenced almost immediately upon watching this, because Evans slips into the role effortlessly.  Like I said, this is very much a different Buzz, but Evans still brings the smooth mixture of gravitas and stoic humor that Allen has given to the character.  There's a nice little running joke about the mission logs that Buzz records, despite being told that no one actually listens to them, which eventually just becomes Buzz's way of thinking out loud during the course of his story.  Evans does a good job of channeling the boy scout wholesomeness that he utilized so well during his time as Captain America, but he also manages to capture the sillier side of Buzz Lightyear very well, especially when he tries to remain stoic in moments of absurdity.  There are plenty of other good performances from other members of the voice cast as well.  James Brolin brings a surprisingly menacing tone to his performance as Zurg, even if it's not quite as terrifying as his son Josh's villainous performance as Thanos in the Marvel movies.  Uzo Aduba and Keke Palmer are also quite good in their roles as two generations of the Hawthorne family that Buzz befriends over time.  You also get solid humorous performances from Taika Waititi and Dale Soules as their misfit recruit characters.  But, if there is a character that easily steals the show, it's SOX, the robotic cat companion to Buzz.  Voiced by veteran Pixar director and animator Pete Sohn (The Good Dinosaur), SOX is far and away the funniest character.  The animation of the character itself is hilarious, with Sox behaving very much like a toy cat robot, but he also has some of the most dryly hilarious lines in the film.  It's probably likely that he was a character that Disney wanted in the movie to sell toys, and I have no doubt that SOX will be a highly in demand character when tie-in merchandise hits the shelves.  But, Pixar makes him much more than a cynical cash-grab ploy, and he is a large part of the entertainment value of this movie.  All around, this is a strong collection of voice actors who really enrich the characters that they are playing, especially with Chris Evans who had some big shoes to fill.
The film also has a lot of strong visual to back up the story as a whole.  Of course it's expected that a movie like Lightyear would be visually up to the high Pixar standard.  What really impressed me with this movie is just how good they are with the lighting of the scenes.  This movie has some of the best atmospheric lighting that I've ever seen in any animated film.  There's some moments in Buzz's apartment in the early morning where the lighting is so subtly subdued that you would think that it's live action and not animation.  The movie also knows when to go wild with the color and lighting as well.  The sequence when Buzz finally achieves warp speed in his test flight, which I'm pretty certain was very much inspired by Kubrick's 2001: A Space Odyssey (1968), is a breathtakingly beautiful moment of animation.  I'd say that the only let down by the movie visually is the lack of diverse locations.  The entire movie takes place on this one deserted planet, which is not much unlike any other alien planet we've seen in countless other Sci-Fi movies.  Considering this is Pixar, which has shown boundless imagination when it comes to world building, the lack of exploration in this Sci-Fi world is a tad bit disappointing.  Sure, there are different corners of the planet they come across, but it still feels like the movie is needlessly grounded when it should be intergalactic.  This is Buzz Lightyear we are talking about.  He should be able to venture from planet to planet in a grand adventure.  This movie keeps things pretty much grounded for the most part, with the only variety coming from when they head into Zurg's fortress like ship.  That being said, the movie is not a slouch when it comes to the animation.  What really makes Pixar stand out as a studio is the subtlety that they put into their character animation.  You see the broad range of emotions perfectly captured in the facial animation of Buzz, and it goes a long way in helping to enrich his character's emotional journey.  At the same time, I love the stilted robotic animation that they put into a character like SOX, which in itself is part of the humor in the film.  So, in the visuals sense, you can definitely say that this rises up to the high Pixar standard, and shows that they are definitely not falling off as a standard bearer in that field.
In the end, it really comes down to expectation.  With a legacy like what the Toy Story movies have, one might feel this movie is a let down, because it doesn't quite have the same heart as those films do.  But, it's also not trying to be a Toy Story movie either.  I myself was able to understand the gimmick of this movie, and disassociate it from it's previous roots to judge it as it's own thing.  The biggest fault that it has is it plays things a bit too safe.  Pixar could take us to endless worlds of possibilities, and yet here they tell a pretty standard Sci-Fi story.  It's not poorly told by any means, but you get the feeling like Pixar undermined their own ambitions.  I get the feeling that the concept came first before a story was even thought up, and in the end it was treated as an afterthought.  It would have been much better if an interesting story had been conceived first and then worked into the Buzz Lightyear mythos, because then you'd have something to better grab the attention of the audience beyond the name recognition of the main character.  At the same time, Pixar does find some interesting angles within this story, particularly surrounding Buzz's own self discovery.  Thanks to a very strong vocal performance by Chris Evans, you still find a lot to like about the character of Buzz Lightyear without it ever overshadowing the work that Tim Allen put into the character for so many years.  Combine that with solid animation and an enjoyable supporting cast, especially scene-stealer SOX, and you've got a film that still finds plenty of ways to entertain audiences of all ages.  I know that many Pixar fans will be happy that the studio finally has a movie on the big screen again.  Honestly, this should have happened a while ago and it's kind of unfortunate that Lightyear is the movie to break that cycle.  Pixar during the pandemic has been on a roll, with Soul, Luca, and Turning Red being among their best films in years, so the fact that they weren't given the same privilege as Lightyear, an objectively less interesting movie, is pretty unfair.  Still, I hope Lightyear does well enough to keep Pixar on the big screen, because it's the best way to watch the kinds of films they make.  To infinity and beyond all you magicians over there at Pixar; keep reaching for those stars.
Rating: 7.5/10