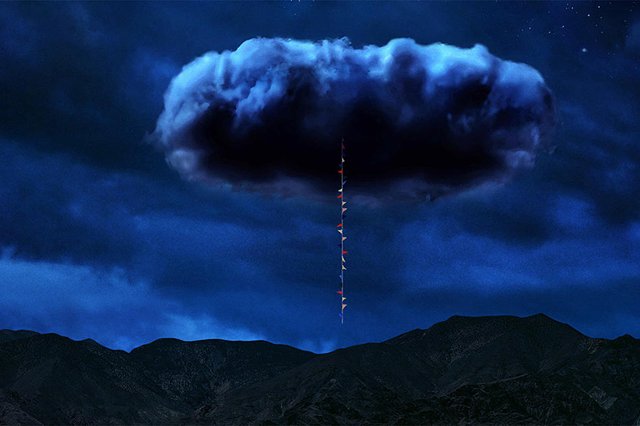 The Hollywood career of Jordan Peele has been an interesting one in terms of it's evolution.  The LA based comic first made a name for himself in sketch comedy, appearing first on the late night show Mad TV and then later moving over to Comedy Central with the critically acclaimed show Key & Peele, alongside his fellow Mad TV alum Keegan-Michael Key.  Launching off the success of Key & Peele, Jordan began to look towards the big screen as his new frontier.  He co-wrote and produced the comedy Keanu (2016), which co-starred him and Key, but what Jordan was really interested in was directing.  What's more, he wanted to direct a film in a genre that was completely outside what he had built his brand around up to this point; a horror movie.  With an investment from Universal Pictures, as well as from famed horror movie production outfit Blumhouse, Peele got his shot the following year with what would be his directorial debut, Get Out (2017).  Peele's genre-bending thriller was a phenomenon upon release, not only winning critical acclaim for it's expert mix of horror genre conventions and sharp racial political satire, but also becoming a huge hit at the box office.  The movie even went on to become an awards season favorite, including multiple Oscar nominations with Best Picture being one of them.  The movie eventually lost out to The Shape of Water (2017) that year, but Peele did come away an Oscar winner for his Original Screenplay; a first for a black writer.  Not too bad for a first time director.  The only question afterwards was, what would he do for an encore.  For a movie director to hit it big right out of the gate on their first film, the pressure becomes much higher for whatever they may do next.  But, Jordan Peele was not ready to rest on his laurels yet.  He already had not one, but multiple projects lined up next.
Given his passion for the horror genre, it's no surprise that many of his follow up projects would fall within that same pedigree.  He would help relaunch the Twilight Zone series for the CBS All Access streaming platform (later rebranded Paramount+) and he even participated as the show's host, keeping in the tradition started by Rod Serling.  He also worked as the producer on Spike Lee's award winning BlackKklansman (2018), as well as the writer/producer on the remake of Candyman (2021), directed by Nia DiCosta.  But, of course what most people were interested in was his follow-up directorial effort, which became known simply as Us (2019).  Us shared many similarities with Get Out, particularly in how it used social commentary to underline the horror moments on screen.  For some, it didn't quite hit as hard as Get Out did, though everyone was in awe of the lead performance given by actress Lupita N'yongo.  What Us revealed about Jordan Peele as a director was that he was a definite original voice in the film industry that was really connecting very well with an audience, but at the same time, his was a voice that was still trying to refine itself and perhaps seeking a way to be more than just a one trick pony.  He is at a point in his career where his name alone is now a major selling point for a movie, and that can be both a blessing and a curse.  Take for instance M. Night Shayamalan, whose name was at one time a signifier of something fresh and bold in Hollywood, but eventually his desire for artistic integrity began to clash more with what fans expected of his work, and in the end he lost his lofty place as a marketable director and his name became more and more synonymous with low quality films.  Now on his third film, Jordan Peele is also grappling with the fact that there are heavy expectations with regards to the movies he makes.  With his new film Nope (2022) we are now seeing Jordan Peele establish where he himself would like to take the direction of his filmography, and the question remains if it's something that offers the same kind of freshness as his previous work, or is it a step too far that may alienate some of his most dedicated fans.
The movie finds Jordan working in another genre that feels logically extended out from horror; that being Science Fiction.   Nope is set mostly on the outskirts of Los Angeles, where the city fades away into an arid, mountainous desert.  There is found the Haywood Ranch, where a family of horse trainers have made their homestead.  The Haywood's are said to be descended from the jockey that appeared in the famous 1878 Muybridge Horse Photos, the first known example of motion pictures and a precursor to the craft of film that we know today.  Today, the Haywoods specifically train horses for movies, and their stable of steeds has been very popular for many years on several film sets.  But, the ranch has been facing hard times after the sudden death of the patriarch, Otis Haywood (Keith David) from a freak accident.  His two children, Otis Jr., or OJ (Daniel Kaluuya), and Emerald (Keke Palmer) have been trying to hustle their way towards more opportunities, but sadly their efforts have been for not and they've been forced to sell the livestock that has been a part of their family for generations.  One of the buyers of their horses has been an old friend of OJ's, Ricky 'Jupe' Park (Steven Yeun) who's a former child sitcom actor who has since become the owner of a small Western themed tourist trap known as Jupiter's Claim, which is situated right next to the Haywood Ranch.  One night as the Haywoods contemplate their future, OJ spots something unusual flying across the valley that their ranch is in.  Though not believing it at first, OJ and soon Emerald both realize that they are dealing with an alien form of life in the shape of a flying saucer.  They seek more help to capture the alien on film to prove their case, including an electronics store technician named Angel Torres (Brandon Perea) and an old-school, low tech cinematographer from Hollywood named Antlers Holst (Michael Wincott).  And though their aim is to capture the being on film, the means to do it without risking their own lives proves to be tricky.  Eventually they begin to realize that on the Haywood Ranch, it's either going to be them or the thing in the sky that remains by the end.
One thing that I think may happen with regards to this movie is that it's going to polarize a lot of people.  Up to now, Jordan Peele's movies have been pretty straight forward about what they are and what they are trying to say.  With Nope, Peele is not really making any grand statement and he leaves things a bit more ambiguous by the end.  For those that have become fans of his work because of his sharp witted satirical edge, they may walk away disappointed by this movie, because it's not about any social issue really.  There may be some subtle themes about man's relationship to nature and how we respond to spectacle, but in the end, this is more just Peele telling a straightforward alien encounter story.  And if you go into this movie with few expectations, and knowing very little about what it's about, you might come away feeling differently.  I made an effort to go into this movie cold, not listening to any of the speculation and fan theories beforehand, and as a result, I like this movie quite a bit.  For me, I wanted to see Jordan Peele expand beyond what we already know he is capable of making and actually use his third film to showcase that he is more than just a socially conscious horror movie director.  Here we find Jordan taking a more Spielbergian turn, where the movie is less about the scares and more about the atmosphere and tension.  The movie in fact digs deep into old school Spielberg inspirations, like a mash-up of Jaws (1975) and Close Encounters of the Third Kind (1977), with a little bit of Duel (1971) thrown in.  And much in the same way those movies worked, it's a movie more about the experience than the destination.  We never really know what the alien is or where it came from, or why it's choosing to haunt this specific ranch.  The mystique is very much the unknown element.  In Jaws, we never know why the shark is on a killing frenzy; the movie is about what the characters are going to do to overcome the beast and survive the day.  That's the principle behind Nope too, and as a result, it makes the movie feel fresh in comparison to Peele's other films.
The one drawback to Peele using tension to drive the momentum of the story is that it does make the movie lag at certain points.  It's never to the extent that it spoils the movie, but there are moments where you definitely feel the 2 hour and 10 minute length.  I think this mainly comes from the fact that some moments feel like repeats of ones before, especially when the characters are trying to evade the alien.  Even still, Jordan Peele adds some things that really help to keep the scenes interesting and inventive.  There's a really clever use of music halfway through the movie, and how playback speeds affect the mood in that scene.  Taking the Spielberg approach to strong effect, Peele wisely holds back in revealing what's going on with the alien.  We only get a couple really good close-ups through the early part of the movie, with the scene really building up strong tension from the quick glimpses we see of the creature, not really knowing where it may come at us from next.  Without saying too much about what we eventually end up seeing, Peele wisely keeps us in the dark with regards to what kind of threat the alien is to our characters.  And even after we finally get our answers, it's something that is not at all what we expect.  The movie is a departure for Peele, but it also does bear his mark quite clearly.  The movie does balance all the more intense moments with levity that harken back to his comedy days.  It also has a distinctively African-American perspective to it, from the cultural shout outs to black artists of the past as well as examining how race plays into the business of Hollywood.  Dynastic legacies of African-Americans in Hollywood is not something that is spotlighted often, and the fact that the Haywood family has only managed to be valued as horse trainers in the business despite a family connection to the very birth of cinema shows just how small their footprint has been, despite being so integral.  It's the closest that the movie comes to a social statement, but at the same time it's never brought to the forefront, as the collision between mankind and alien is ultimately what the movie is about.  That's why I liked the movie as much as I did; because it left me contemplating the movie and it's themes long after seeing it the first time.
One thing that I especially have to praise about this movie is the visuals.  This film is probably Jordan Peele's biggest leap forward yet as a visual story-teller.  Despite taking place mostly in one location, the Haywood Ranch (plus some detours to the Jupiter's Claim park and the now closed Fry's Electronics store in Burbank), the movie has a very epic feel to it.  I think that one of the reasons this movie has a very grandiose feel to it is because it was shot by cinematographer Hoyte van Hoytema, who many know for his frequent work on the films of Christopher Nolan.  With movies like Dunkirk (2017) and Tenet (2020) on his resume, it's natural that Hoytema's preferred film stock of choice is 70mm IMAX, and that's what they used on Nope.  To really appreciate the scope of this movie, it has to be experienced in IMAX, as this was the format that the movie was shot on.  Naturally, the moments that take the most advantage of the IMAX format are the ones involving the alien itself, and if you are able to see the movie on a true, full sized IMAX screen, you will be blown away by the magnitude of the experience.  But, even on a smaller screen, the film feels like a big step forward for Jordan Peele.  His other films really showed how he flexes as a writer and storyteller, but Nope shows us him flexing now as a film director.  He fills the screen with a lot of clever visual ideas, like the windsock figures that are littered across the landscape, but at the same time he never loses track of the story he's telling.  The landscape itself is it's own character, with the valley that the ranch sits in giving this feeling of entrapment on it's own, for both the characters and the alien.  Hoytema does an especially good job of capturing the terrain from above and below, as well as the changing weather patterns.  This in it's own right helps to bring more tension to the scene, because depending on whether it's the day or nighttime, it plays into how much we see of the alien.  I also have to commend the visual effects team for crafting a representation of the alien that is definitely foreign, but at the same time feels organic and realistic.  When we see the alien in it's true full form, it is one of the most striking visuals I've see in a movie in a long time.  Some might find it a bit too odd, but for me, it was very imaginative and made all the more impressive by the large format presentation.
One of the other great things about this movie is the cast.  Peele once again works with his Get Out leading man Daniel Kaluuya, himself a recent Oscar winner for Judas and the Black Messiah (2021), and they once again bring out the best in one another.  What is especially great in this movie is that Kaluuya is joined by Keke Palmer in the role of his sister, and their character dynamic is so perfectly portrayed in this film.  Kaluuya's OJ is stoic and soft spoken while Palmer's Emerald is bombastic and in-your-face, and their polar opposites friction throughout the movie helps to make them very engaging characters.  I especially like the different way they express themselves with regards to being in the thick of danger.  Kaluuya says so much with just a look and a simple under his breadth delivery of his lines.  He especially gets a good laugh in the movie by the way he says the titular phrase "nope" in response to seeing something scary.  Palmer's Emerald has some hilarious lines throughout, often being the one who brings levity to the film.  The secondary characters also offer a surprising amount of character to the movie.  Steven Yeun doesn't appear in the movie for long, but his character has a tragic backstory that really offers up an interesting perspective on his character and Yeun plays that inner turmoil perfectly, showing just how much showbiz has become a mask for his pain.   Brandon Perea and Michael Wincott also perfectly embody the types of characters they are playing, both feeling like they are being called for a higher purpose by seeking visual proof of alien life.  I especially like the aloofness of Wincott's cinematographer, as he really is a perfect example of a Hollywood professional so deep into his own artistic senses that he's in a different world than the rest of us.  Consistently throughout his movies, Jordan Peele has crafted strong character ensembles that contribute greatly to the stories that he's telling; probably something that he learned to value from his sketch comedy days.  When you're working in a very high concept genre piece like this one, it's very dependent on the ability of the audience to care for the characters on screen, and Nope's colorful ensemble of personalities definitely helps to make the movie resonate with it's audience.
I definitely see that this may be a movie that ultimately becomes polarizing for some.  I have always admired the way that Jordan Peele writes his movies, but Nope is the first time that I've been truly impressed with him as a director.  He has made an ambitious movie within his own unique style and has shown that he indeed can make a movie on a large scale.  Although the movie is still pretty small in budget compared to other summer fair, given it's singular location and small cast, it has the feel of a grand blockbuster, and it makes me wonder what else Jordan is capable of behind the camera.  What would happen if he's granted a budget on the scale of say a Marvel film.  He's already demonstrated that he can use IMAX photography to impressive effect, so I think it's not outside the realm of possibility that we may see something more epic from Jordan in the years ahead.  I also like the fact that he's also trying to break out a bit from the formula he's been building around his name since Get Out.  He doesn't always need to be the horror movie guy that talks about racial politics in his films.  He can make any film he chooses and still leave his mark with his own distinctive voice.  He hasn't turned his back on race and larger social issues; they're still there if you look closely in Nope.  But what he clearly wanted to do in this movie was make a alien encounter movie unlike any we have seen before, and I believe he succeeded in that goal.  Sure, the movie is a little long in the tooth, but I was on the edge of my seat for most of the movie.  It is especially good if you know nothing going in.  Peele expertly lets the drama of these characters' lives drive the story and then throws in the weird an unexpected to give it the freshness that it needs.  I also love the fact that it's a love letter to the idea of capturing life on film, whether through motion or still photography.  If Peele argues for anything in this movie, it's for the importance of physical media, which is valuable in a situation when digital equipment is rendered useless.  It' s another movie that celebrates the process of filmmaking rather than the glamour that surrounds it, and that statement is no better said than by putting at the center of his movie two characters who train the horses that appear in the movies.  I strongly recommend seeing Nope, on the biggest screen if possible, because love or hate it for most of you, you can definitely say that it's something thought provoking and new, and that is indeed what Jordan Peele sets out to do as a filmmaker, even if he likes to leave us with a good scare along the way.
Rating: 8.5/10