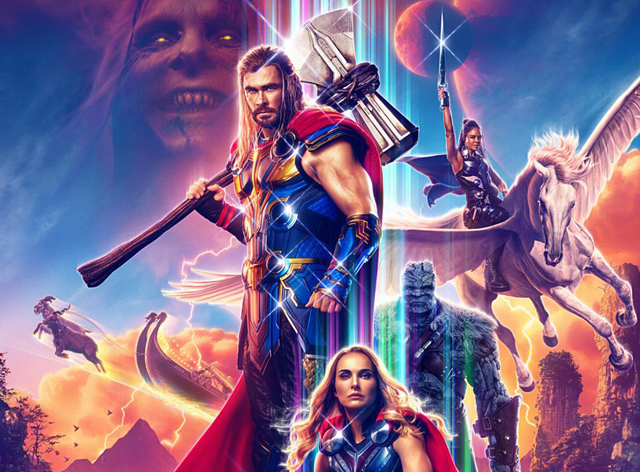 Out of all the many characters that have been given the spotlight by Marvel in their expansive Cinematic Universe, I think the one who has had the most interesting arc through the many movies spread across the last decade has been the God of Thunder, Thor.  You would expect every super hero film to have the standard Joseph Campbell hero's journey blueprint, and for where Thor started as a character in his film series, that's exactly the model that Marvel chose to follow.  The original Thor (2011) was your standard super hero origin story, which was more noteworthy for it's operatic visuals courtesy of director Kenneth Branagh, than for it's cookie cutter plot.  The same is true for the even more generic sequel, Thor: The Dark World (2013), which many consider to be the worst film in the whole MCU canon.  But, over the course of Thor's appearances in these movies, as well as his presence in the Avengers films, Marvel discovered something about the character that they didn't expect.  It turned out that Thor became a much more interesting character when you took him a little less seriously.  A large part of finding the essence of the character came from the actor playing the role, Chris Hemsworth, who proved to be surprisingly adept at comedy in addition to looking the part of a handsome, muscular god.  This was something that began to blossom in the later half of Marvel's initial Cinematic Universe plans, with the third film in his solo franchise fully embracing it's silly side without remorse.  Thor: Ragnarok (2017) was in many ways a re-launch point for the character of Thor, and his trajectory as a character has been greatly influenced by the events of that film.  His character development even hit a whole new level of poignancy with the two part arc of Avengers: Infinity War (2018) and Avengers: Endgame (2019), where we found Thor broken and vulnerable emotionally for the first time.  It again took the character to unexpected places that has made him one of the most richly textured characters in the whole MCU.
Since Thor: Ragnarok,  the shepherd for the Thor side of the Marvel universe has been director and writer Taika Waititi.  Taika's background in comedy has been a valuable asset for the series moving forward, because not only does his style bring out more of the lighter side of the character that audiences have increasingly been gravitating towards, but he also has been instrumental in making the Thor movies feel truer to their comic book origins.  Let's face it, comic books are silly by nature and that has been the appeal of them ever since the early days.  The Thor comic books in particular have been where Marvel has put out their most mind-bending, psychedelic material, with their hero literally playing around in the realms of the Gods.  At the same time, Thor also has an Earthbound connection that helps him remain relatable to the audience.  His friendship with the fellow Avengers has shown that, as well as his often contentious relationship with his brother Loki (played in the movies by Tom Hiddleston).  But certainly the relationship that has mattered the most for him in the comics has been that with Jane Foster.  First introduced in the Thor comics in 1962, Foster has been the primary love interest for Marvel's Thor, and the thing that has helped him transition most from celestial God to earthbound super hero.  She appeared in the first two Thor movies, played by Natalie Portman, and though her character was critical for the plots of those film, she surprisingly disappeared from the greater MCU story-line for quite some time.  This might have been because Natalie was uninterested in continuing on it the time consuming Marvel machine, or because Marvel's new direction with the character of Thor didn't have a clear place for Jane Foster to be involved in.  Regardless, Jane Foster has been absent from the MCU since Thor: The Dark World nearly 9 years ago, mentioned briefly in passing, or shown through stock footage in Avengers: Endgame.  But, despite creating a massive revamp of the Thor's story-line, Taika Waititi did find a way to reintroduce the character of Jane in a way that fit well in his more irrelevant style.  And with the return of Thor's love interest into his cinematic story-line, it's fitting that that the movie itself is called Thor: Love and Thunder.
Following the events of Avengers; Endgame, Thor (Chris Hemsworth) has been traveling through the cosmos, having hitched a ride with The Guardians of the Galaxy.  Alongside the Guardians, as well as his close friend Korg (Taika Waititi), Thor has gotten himself back into shape and is again in top fighting form.  But, a distress call from his fellow Asgardian Lady Sif (Jamie Alexander) alerts him to a more dangerous threat in the cosmos.  A renegade assassin named Gorr, The God Butcher (Christian Bale) has been slaughtering Gods across the galaxy, empowered with a powerful weapon called the Necrosword.  Thor leaves the Guardians and returns to Earth, where the Asgardian people have set up a new colony called New Asgard, which itself has become a popular tourist attraction.  Upon his return, he finds New Asgard under attack by shadow monsters sent by Gorr.  He fights alongside his people, including the Asgardian king, Valkyrie (Tessa Thompson).  While in the thick of battle, Thor sees his old weapon, the mighty hammer Mjolnir, flying around.  The once shattered hammer has been re-forged and Thor believes that it has returned to him in his moment of need, but that is not the case.  Mjolnir is now being wielded by another fighter, known as the Mighty Thor to the New Asgardians.  Thor soon learns that Mighty Thor is actually Jane Foster (Natalie Portman), his ex-girlfriend who he hasn't spoken to in years.  Unbeknownst to Thor, Jane had gained possession of Mjolnir after it called to her during her visit to New Asgard.  in addition, Jane also keeps secret the fact that before becoming the Mighty Thor, she was in the middle of battling stage 4 cancer, and while in god form she keeps the cancer at bay, once she's not the hammer has accelerated her condition.  The Asgardians do manage to fight off the shadow monsters, but they soon realize an even more horrific reality, that Gorr has stolen their children away during all the chaos.  To bring the children back, Thor, Jane, Valkyrie, and Korg seek to find help from the other Gods.  They venture to Omnipotent City, the fortress of the Gods, to make their plea, including to the God of Lightning, Zeus (Russell Crowe).  But, are they too late as Gorr's plans extend beyond just kidnapping children.
Going into this year, I was really looking forward to seeing Thor: Love and Thunder.  I've been especially high on the films that have featured Thor recently, especially the Avengers film, and I absolutely love what Chris Hemsworth has been doing with the character.  In addition, I have become increasingly a fan of the work of Taika Waititi.  His last film, Jojo Rabbit (2019), was my absolutely favorite film from that year, and it is quickly becoming one of my favorite movies in recent memory as well.  I was very eager to see what he would do as a follow-up, here returning to the director's chair of another big Marvel project.  So, did Thor: Love and Thunder meet my lofty expectations.  On the whole, I would say that it did succeed at one major fundamental point; that it left me entertained.  But, meeting or exceeding my expectations, well that's something that I would have to pick apart a bit later.  Fundamentally, Thor: Love and Thunder is a very entertaining romp, delivering the expected action beats that you would expect from a Marvel project, as well as the loony irreverant humor and charm of a Taika Waititi project.  But, it doesn't go any further than that.  I did find myself laughing quite often, with Hemsworth especially delivering the goods as a comedic performer.  And the movie does have a lot of striking visuals, both showing off Taika's creative eye as well as bringing to full life images made memorable on the page.  I do however see how this movie might be a letdown for some Marvel fans.  A lot of promise from the premise laid out in the marketing of this movie seems to be missing.  For one thing, with a character named Gorr, the God Butcher being present, there really isn't a whole lot of butchering going on in this movie.  Greater universal implications are also kept to a minimum, as this movie does little to address the frustratingly vague Phase 4 plans that Marvel is undertaking in this post-Endgame era.  The way I see it, forget about where this movie rests in the grander scheme of things and just judge it by the singular story it's supposed to be telling, which is one of reconnecting with the things that matter the most to you, like love.  In essence, it's the closest that Marvel has gotten to creating a romantic comedy.
Though I do appreciate the entertainment value it gave me for it's two hour runtime, I do recognize that it is a bit sloppy in it's story telling.  It's been reported that a lot of stuff was left on the cutting room floor, and this movie feels like it too.  It's a far more scatter-shot plot than Thor: Ragnarok, which had it's stakes very clearly defined.  One of the things that becomes frustrating is the way that the story doesn't take the right amount of time to establish it's important plot points.  We never see Jane Fosters transformation into the Mighty Thor.  The movie just cuts ahead and she is in full super hero mode at that point where she shows up again.  We do get a backstory montage to help fill in the gaps, which includes a little window into Thor and Jane's years together, but I feel like the movie missed out on having a powerful moment on screen as Jane makes her first transition into Mighty Thor.  Some of the learning curve would've been appreciated too.  I understand that part of the pressure on Taika in telling this story was to keep the momentum going, and the movie seems to be shackled by the fact that it has to get from one place to another very quickly.  Fans of the Guardians of the Galaxy will be disappointed that their presence in the movie is pretty minimal; pretty much just limited to the first act.  But even still, better to have them there than to not have them.  Despite the film's sloppy presentation, there is still a story with heart at it's center.  One thing that still remains true is the character arc of Thor himself.  We do see how the years have helped to soften his character, and how this re-connection with Jane is meant to push him towards the next phase of his journey.  While the movie's place in the greater MCU story-line doesn't make much sense now, I have a feeling that it will carry much more weight after we've seen the full breadth of Thor's part in it play out.  For one thing, resolving the dangling plot thread of what happened to Jane Foster in the years since we last saw her is definitely enough to help justify this movie existing.  And Taika certainly does know how to keep things from feeling boring or uninteresting, and at the same time, also knowing when to hold back on the the light-hearted stuff when the movie needs to have a bit more tension.
The performances throughout the movie are certainly the movie's greatest asset, helping to smooth over some of the flaws inherent in the plot and the script.  Hemsworth of course continues to delight as Thor.  With over a decade as the character now on his resume, he effortlessly manages to find the right balance between goofy charm and manic strength.  You can also see the years of development of his character wonderfully represented in the way he shows his vulnerable side throughout the movie.  The return of Natalie Portman is also very welcome, and to her credit, even after a very long absence on screen, her role as Jane Foster never misses a beat.  The chemistry between her and Chris Hemsworth works even better now after the long absence, because they are both able to be a little looser within Taika Waititi's direction.  Returning cast including Taika as Korg and Tessa Thompson as Valkyrie are also still a lot of fun to watch here.  I especially like that they are far more direct now about Valkyrie's sexual orientation, reflecting Thompson's own real life queer identity, and having it be a natural part of who she is.  The film's entire celebration of relationships of all types is especially great to see, and it fits very well within the theme of the story as a whole.  While the characters that we are all familiar with are served well by the movie, it's the newly introduced ones that stand out even more.  One of the biggest coups for Marvel in some time was getting an actor of Christian Bale's caliber to appear in this movie.  Sure, he's no stranger to comic book movies (having played Batman), but he's also an actor who picks his roles very carefully, and probably has had his fill with super heroes.  So, it's quite surprising to see him cross over into the MCU and play the role of a villain.  While Gorr is a bit underwritten on the page, Bale does some amazing work as the character in his performance.  He is genuinely terrifying and unpredictable, and does some really interesting stuff even through the heavy make-up to deliver a truly original villain within the pantheon of Marvel heavies.  He also makes for a perfect counterpoint to Thor's colorful personality, and their clashes in the movie are truly epic.  I should also spotlight the work of Russell Crowe as Zeus.  Though his time in the movie is brief, he makes the most of it with a delightfully hammy performance, complete with an over-the-top silly accent.  The characters, as well as the remarkable casting choices behind them, have always been Marvel's greatest asset, and Thor: Love and Thunder proves once again that this remains true.
One other thing that Taika has excelled at with his adaptation of the Thor section of the Marvel universe is his incredible eye for visuals.  Taika particularly has a thing for 80's pop culture, which is reflected in everything from the color scheme to the choices in needle drops within the score.  This was especially true in Thor: Ragnarok, where multiple still frames throughout that movie could make for an ideal metal rock album cover.  Love and Thunder takes things to a bit more earthbound level, but there are still nonetheless moments that pop with the same kind of flair found in Ragnarok.  One of the most striking visual moments in the movie is when Thor and his companions enter the Dark Realm where Gorr resides.  The Dark Realm is a place so bleak that even color disappears from it, which causes the scene to shift to an eerie black and white color scheme, with only small traces of color shining through.  This section of the movie has a starkness that you never see in any Marvel movie, and it is a definite stand out sequence.  There's also some impressive visuals found in the Omnipotent City sequence as well.  I'm sure there is going to be a lot of cross-examining of that scene by die hard Marvel fans hoping to look for every possible Easter egg they can find in that sequence.  What I also like is that Taika gives the scene an impressive sense of scale, making it feel like you really are in the realm of Gods.  Even in the earthbound moments, there are also a lot of background details that many comic book fans will appreciate.  I like how New Asgard has become this busy tourist haven, and the people who live there have created a community that feels both old world and new world at the same time.  Though Ragnarok may have had more moments of grandeur and a lot more unique elements, especially with the Jack Kirby inspired world of Sakaar, Love and Thunder still gives you enough visual treats that feel at place within the Thor franchise.  The Thor movies have always been the ones that have embraced the weird and fantastic within the MCU, and it's great to see that in this new chapter that they are still finding ways to bring the page to the screen in a spectacular way.
At this point in time, Marvel needs to be wary of super hero fatigue starting to set in with their movies.  Thor managed to successfully reinvent himself as his series progressed, but the longer the series goes, the more it can run out of fresh new things to show us.  Right now, there are grumblings among fans and critics that Marvel's Phase 4 has been a bit aimless so far, and that the formula of quippy heroes facing the same end-of the-world threat levels in every movie is growing a little tiresome.  I myself have been a little more critical over the last year with regards to Marvel's phase 4 films, knocking down Black Widow (2021) and Shang-Chi and the Legend of the Ten Rings (2021) a few points because of their adherence to formula.  Oddly enough, of the non-Spider-man Marvel movies that have launched so far in the MCU's phase 4, the one I actually liked the most was the much maligned Eternals (2021), because it was the only one that broke from the formula.  Thor: Love and Thunder I feel is more in that same range, though I do recognize that it is a flawed movie in many ways.  The pacing is a bit of, as well as the tonal changes, and some of the characters are not used as well as they could have been, especially Gorr the God Butcher.  But, I was entertained from beginning to end.  Perhaps the movie is best viewed as a stand alone film rather than as a piece of a greater hole, because at that point it will fall far short of Marvel at it's peak.  I still liked seeing these characters again, and the movie made me laugh out loud quite bit.  I think on repeat viewings I'll like the movie even more, because I'll be able to catch more of he subtler gags thrown in throughout the film.  Anyone hoping that Thor: Love and Thunder would clear up some of the confusion about where the MCU is heading may come away disappointed, as this is just a Thor movie and not much else.  For what it is, I still feel it's worth recommending just for the entertainment value, as well as the truly stellar performance from Christian Bale as Gorr.  I think that in time we'll see what this movie meant in the grand scheme of things within Marvel's master plan.  But for now, it's a charming piece of popcorn entertainment that will offer audiences a nice adventurous time with the mighty God of Thunder.
Rating: 8/10