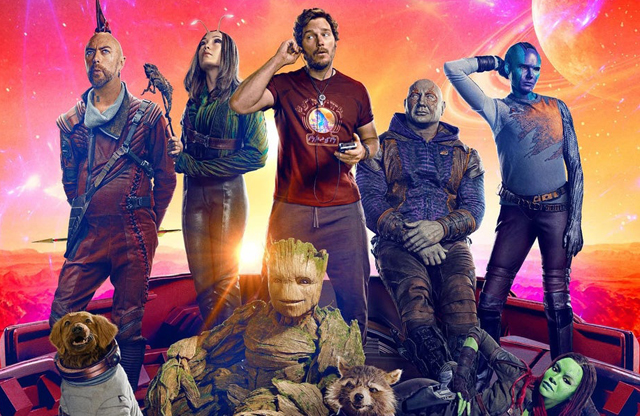 What an extraordinary route it took for this movie to finally make it to movie theaters.  When it was first announced at Comic Con 2012 that Marvel was indeed going to adapt a film based on the Guardians of the Galaxy line of comic books, people thought that they had lost their minds.  It made sense in those early years of the MCU to create movies centered around Iron Man, Thor and Captain America, but the Guardians of the Galaxy?  Still, Marvel believed in what they had and more so they believed in the talents of a rising star filmmaker named James Gunn.  The resulting film in 2014 not only proved everyone wrong, but the original Guardians of the Galaxy quickly became regarded as one of the best comic book movies ever made.  The film was a hit, and it quickly sired a sequel in 2017, which also was a box office hit with critical acclaim.  With the Guardians cast also playing a major part in the culmination of Marvel's Infinity Saga with the record-breaking Avengers: Endgame (2019), these once obscure character known only to die hard comic fans were now part of the Marvel elite.  And they were about to continue the win streak beyond Endgame, with a third film in their franchise meant to be the launching pad for Marvel's Phase 4 in the summer of 2020.  But, alas, plans went astray.  First off, James Gunn was fired suddenly by Marvel's parent company Disney in a short sighted response to years old offensive jokes that an online provocateur uncovered as retaliation for disliking Gunn's left wing political stances.  Disney later realized their mistake and re-hired Gunn a few months later, but by that time he had already been hired to direct The Suicide Squad over at rival DC.  Gunn still accepted the offer to come back so that he could complete the story he created his own way, but it would be some time before he could start production.  The shut-down caused by the pandemic also complicated things, so by the time cameras finally started rolling on this third Guardians film, 5 years had passed since the last one and the world was a much different place.
Still, James Gunn is keeping his promise and we are now finally getting Guardians of the Galaxy Vol. 3.  So many different scenarios could've played out between Vol. 2's release and now, including having this threequel having a different director appointed during the time that Gunn was out at Marvel.  The movie certainly no longer is the launching pad for a new Phase of the MCU.  In fact, it no longer is even part of Phase 4, which ended last year with Black Panther: Wakanda Forever (2022).  While it's placement in the continuity of the MCU has changed, the goal of the movie seems to have remained the same.  This is James Gunn's final hurrah with this franchise and these characters.  It may not have been conceived that way, but the way things have played out over the last few years, the movie has taken on a very definitive significance that will certainly define it's place in the Marvel canon overall.  And it comes at a time when Marvel needs it.  While Marvel is not financially hurting right now, there are many who are observing the fact that the once unbeatable box office juggernaut has been appearing a little soft lately.  Most of their post-Endgame movies are being received more lukewarm compared to the ones that came out before, both by critics and general audiences.  None of their movies have bombed, but they are performing well under the high expectations that have been placed on the Marvel brand.  Many believe that we've now reached a point of super hero movie fatigue, which is not only affecting Marvel, but their rival DC as well, given the box office failure seen with Shazam: Fury of the Gods (2023).  Given the shaky ground that the genre now sits on, the pressure is definitely high on Guardians of the Galaxy Vol. 3 to break the current losing streak.  It's not going to be easy as both of it's predecessors grossed higher than $300 million at the domestic box office each, and this film is coming off the heels of Marvel's first ever money loser with Ant-Man and the Wasp: Quantumania (2023).  Is Guardians of the Galaxy Vol. 3 the movie Marvel needs to save the day, or is it continuing the trend of diminishing returns in a post-Endgame world.
Guardians of the Galaxy Vol. 3 finds the rag tag bunch set up in their new headquarters, the skull shaped sanctuary known as Knowhere; a place once ruled over by The Collector.  There they've helped to set up a community for refugees from across the galaxy.  Rocket Raccoon (Bradley Cooper) has taken charge for the most part, since Peter Quill (Chris Pratt) aka Star-Lord is wallowing in his depression and drinking his sorrows away.  Their peaceful existence is shattered however when a super powered being known as Adam Warlock (Will Poulter) breaks into Knowhere, intent on capturing Rocket.  The Guardians manage to overpower the intruder, but now before Rocket ends up being mortally wounded in the scuffle.  Normal methods of healing him don't work as they find that there is a kill switch device implanted on his heart; a leftover from the horrible animal experiments that made him who he is.  Peter vows to find a way to save his friend, so he musters his fellow Guardians, including Nebula (Karen Gillen), Drax the Destroyer (Dave Bautista), Groot (Vin Diesel), and Mantis (Pom Klementieff) to join him in a search across the cosmos for a way to save Rocket.  Their journey involves breaking into an ultra secure laboratory called the Orgosphere, which they receive help from the Ravagers, Quill's old gang, to infiltrate.  Among the Ravagers ranks now is Gamora (Zoe Saldana), who is the alternate time line variant of Peter's murdered ex-girlfriend and has no memory of their past relationship, making their team up a little awkward.  While Rocket remains invalid, he flashes back to memories of his days when he was experimented on by a demented mad scientist named the High Evolutionary (Chukwudi Iwuji), who may be the only person capable of saving Rocket's life.  Unfortunately for the Guardians, The High Evolutionary is behind the attempted abduction of Rocket and he's adamant about continuing those experiments further, which will endanger more than just Rocket's well-being.  Despite all their harrowing adventures so far, this is definitely the most personal battle for them so far, and one that will make the team members confront more of their tortured pasts.
Going over the story of Guardians of the Galaxy Vol. 3, it's pretty clear that this is not as much of a fun little romp that the past films in the series have been.  It will become apparent from the opening of this movie right away that James Gunn is aiming for a much different tone with his trilogy caper.  The movie does open with a thematic needle drop like the past films; but whereas the original opened with the upbeat "Come and Get Your Love" from Redbone and Vol. 2 opened with the equally light-hearted "Mr. Blue Sky" by Electric Light Orchestra, Vol. 3 starts out with Radiohead's "Creep."  That upfront statement tells you that this is going to be a much different movie than what we've seen before, and to be honest, it's actually a refreshing change.  After several movies in a row from Marvel that felt more formulaic and tethered to a bigger franchise continuity, Vol. 3 is a movie that immediately throws out expectations and does something refreshingly different for a change.  Don't get me wrong, it still feels like a James Gunn directed Guardians of the Galaxy movie, but Gunn proves here that he's not afraid to make things a little darker and more serious.  The experiment works for the most part.  It's clear that James Gunn was intent on pushing a few more boundaries with this movie, as far as he could go with the Marvel mandated PG-13.  This movie even has Star-Lord uttering the MCU's first unbleeped F-bomb.  And despite it being a harsher story than we usually get from Marvel, it still hits the right emotional notes and it feels in-line with what Gunn has led his story up to now.  I wouldn't say that it's my favorite of the Guardians movies, that is still reserved for the nearly flawless first film.  But this may be the one that impresses me the most with it's handling of riskier material and it's epic scope; showing how accomplished James Gunn has gotten as a filmmaker.
The thing that really elevates the movie is the way it treats all of the character arcs in this film.  Each character, even some of the minor ones like Sean Gunn's Kraglin and Cosmo the Telepathic Dog (voiced by Maria Bakalova) get these wonderful side stories with satisfying pay offs.  Certainly the Guardians themselves have the most important story beats, but one doesn't overshadow the other.  Of the Guardians characters, Groot may be the one with the minimalist character development, but he's still a welcome presence throughout the movie, and there is some resolution to his overall character arc by the end.  They continue to build upon Drax and Mantis' peculiar courtship as well, which provides the movie with some wonderful comedic moments.  I also love how they have continued Nebula's arc from villain to hero as she has continued to soften her rough edges, while still at times struggling to control her temper.  One thing I was curious about was how they would deal with the whole Star-Lord and Gamora ordeal.  It picks up from where things left off with Avengers: Endgame, where a different Gamora has emerged whose separate from the team she used to belong to.  In the wrong hands, Star-Lord's desire to rekindle a romance between them would've come across as creepy, but thankfully James Gunn handles the relationship in a delicate way that doesn't cast poorly on either character and feels organic as part of the story.  But, even with all this, the movie is first and foremost Rocket's story.  His storyline, part of which is told in flashback, is the most powerful part of the movie, and I can tell you without spoiling anything that his moments were the ones that hit the hardest when comes to the emotional weight.  I saw quite a few people wiping away tears at my screening.  A few of the Rocket scenes may be among the bleakest ever put into a Marvel movie since the "snap" from Infinity War, but James Gunn didn't put them in here for shock value.  He wants us to understand the hardship that his characters had to overcome, and it's something that needed to be faced head on.  To make those moments work in a film franchise that up to now had been on the lighter side, with a character mostly known as a comedic sidekick is something really impressive, and one of the main reasons why this movie works as well as it does.
The movie is not without it's faults though.  Chief among them is the villain, The High Evolutionary.  Given how so many of the characters in this film get these rich story arcs, it's a shame that the villain they face is so one note.  We don't learn much at all about the High Evolutionary other than he's extremely powerful and a egomaniacal scientist trying to play God with his experimentations.  Even by the film's end he remains an enigma; who is he, where did he come from, why is he experimenting on animals?  The movie just never gives us any answers to those questions.  To be sure, actor Chukwudi Iwuji is swinging for the fences with his performance; giving scene chewing ferocity in every moment he is on screen.  But as hard as he is trying, the movie just never quite makes him as interesting as he should be.  It's a step down from the impact that Vol. 2′s villain , Ego the Living Planet, had.  At least with Ego and even the first film's Ronan the Accuser there was a feeling of imminent danger to the lives of the Guardians.  High Evolutionary is only a major force of evil in one character's story, Rocket's, and no one else's.  There are also some pacing issues with this movie that hamper it a bit.  At 2 1/2 hours it's the longest in the franchise, and while much of the epic scale of this movie supports the increased run time, there are plenty of moments, particularly those devoted to comedic bits, that feel like padding.  There are two extended comedy moments, one related on how to properly use a couch with another about how to open a car door, that on their own are funny enough, but when put back to back of each other makes the film feel like it's wasting time.  Overall, these moments certainly don't ruin the movie, but about 10-15 minutes could've been shaved off of this movie, and I don't think it would have harmed any of the story telling at all.
Now there are still plenty more things to praise about this movie.  One is definitely the cast.  It's clear that these actors knew that this was going to be a film that ends an era, so they are giving it their all to make this movie feel like a worthy culmination of the story.  The most impressive work comes from Bradley Cooper in his vocal performance here as Rocket.  He's called upon to take Rocket into some very dark places in this story and he really finds the heart and soul of who Rocket is in order to make the movie's darkest moments carry an emotional wallop.  Christ Pratt naturally continues to make Star-Lord a lovable rogue, which he's consistently done across all three movies, plus the three other MCU films the Guardians have appeared in.  The same goes for Karen Gillen as Nebula, Dave Bautista as Drax and Pom Klementiff as Mantis.  One of my favorite performances in this film, though, is Zoe Saldana as Gamora, as she is playing a very different version of this character; one who's a bit more blood-thirsty than we've seen before, which leads to some wild moments in the movie.  Newcomer Will Poulter's introduction as Adam Warlock may be not what comic book fans were expecting or wanting, as it's a bit of a departure for the character, but how James Gunn uses him in this movie makes sense for this story, and Poulter is perfectly suited for the role.  The movie is also on par with the others in the series when it comes to the visuals.  The Guardians of the Galaxy franchise has always been one of the more imaginative visually within the MCU, paving the way for the studio's more celestial bound adventures, and this movie continues that tradition.  There are some bold visual ideas in this film, like the organically grown structure of the Orgoscope or the oppressive jagged-ness of the High Evolutionary's fortress.  Even individual scenes are crafted to stun, like a stand-out fight scene set to the Beastie Boys late in the film.  As I said before, despite the change in tone for this movie, it still holds up the high quality craftsmanship that has set this franchise apart in the MCU.
One of the unfortunate things that comes to mind while watching this movie is knowing that we'll likely never see another movie like it again in the MCU.  James Gunn was a singularly identifiable voice in the whole of Marvel's pool of talent, and sadly his time at the studio is coming to an end.  He's about to take the big job over at DC, assuming a similar role over there that Kevin Feige holds at Marvel, and he'll be responsible for spear-heading the development of all the new DC films and shows coming out over the next decade.  Had Disney not acted as drastically as they did and not fired him over something that turned out to be nothing, who knows if things may have turned out differently.  As far as I'm concerned, James Gunn is in a good position where I think he is going to do an outstanding job.  He clearly has an un-shakable love for comic books and wants to do them justice on the big screen.  He's already amassed a great track record at DC with the very underrated The Suicide Squad, as well as the spin-off series Peacemaker.  Thankfully, he was able to close the chapter on the Guardians of the Galaxy series his own way, and give it the proper closure that it deserves.  I won't spoil where all the characters end up by movie's end, but this movie is definitely a swan song for the team we knew.  Who knows what futures Marvel has in store for them, if at all; we only get the promise of one character's return in end credits.  But the way that the movie culminates their story after three films is enormously satisfying.  I'll need to consider more of where I would rank it in the greater MCU, but I can definitely say it's up there with it's predecessors in the upper echelon of Marvel Studios movies.  The Rocket Raccoon moments alone I would rank among the best of any Marvel movie.  It's a movie that I highly recommend for both die-hard and casual fans.  James Gunn did not disappoint, and I'm glad to see that he left Marvel on good terms with one final gift worthy of the franchise's legacy.  Is it the kind of movie to change Marvel's fortunes.  That remains to be seen, but it is great to finally spend some time again with the "freakin' Guardians of the Galaxy."
Rating: 8.5/10