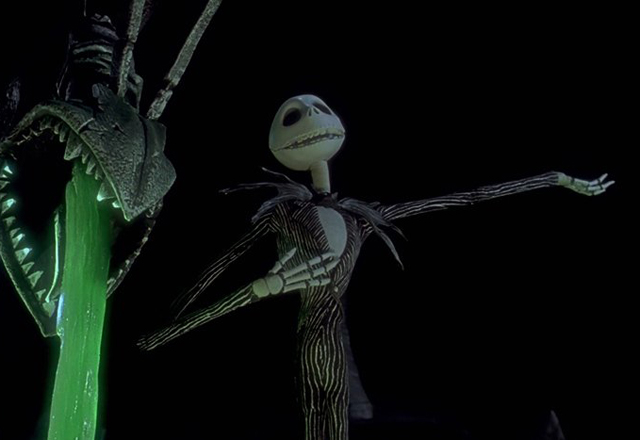 When we think of Holiday movies, there can be only two holidays that come to mind that fill that definition.  Halloween and Christmas are the two holidays that have formed their own cinematic subgenres, and for the most part you couldn't find more dissimilar groupings of films within each.  Christmas movies are generally defined by warm and cozy inspirational films, mostly geared towards a family audience, befitting the festivities of the holiday.  Halloween by contrast is the haven of horror and bloody gore, given the holiday's attraction to the ghoulish and spooky.  There are some crossovers, like family friendly Halloween movies or horror filled Christmas movies, but generally these are holidays that do not mix within the same genre.  But, there is a movie that manages to bridge that gap, and to many is both a quintessential Halloween movie, and and a quintessential Christmas movie.  Released in October of 1993, The Nightmare Before Christmas challenged the labels put on holiday films and set out to a celebration of both worlds.  The film was the brainchild of a young rising star filmmaker at the time named Tim Burton, who took a story idea that he had been formulating for years since his early career and had managed to finally bring it to the big screen.  The Nightmare Before Christmas was very much a risky film to put out at the time, and initially it was treated as an outsider by the company that made it, Disney, who chose to put it on their Touchstone Pictures label so as to not associate it with their own animation output.  But, thanks in part to it's timely seasonal release, it managed to find an audience and over the years it became not just a hit for Disney, but an essential part of their animation library.  Now 30 years later, Nightmare Before Christmas is as prominent within the Disney identity as much as classics like Beauty and the Beast (1991) and The Lion King (1994), and the story of how it came to be is itself an unexpected journey.  If you want to know where holidays come from, then I say it's time we begun.
In the early 80's, Tim Burton had managed to use his artistic training and unique talent to land a gig at the Disney Animation studios.  Unfortunately, this was during what was known as the dark ages of Disney, where Animation was on the decline.  Burton and his fellow young colleagues were tasked with working on cute little animal productions like The Fox and the Hound (1981), which Burton particularly found artistically stifling.  In his off time, he would develop ideas for short films that he would pitch to the higher ups at Disney.  He managed to make a short stop motion animation project inspired by one of his horror movie icons named Vincent  (1982), based on actor Vincent Price of course.  Disney liked what they saw and gave Vincent a small release, and they even got the real Vincent Price to do the narration, which started a lasting friendship with the veteran actor and the fresh-faced filmmaker.  Seeing that Tim Burton had a flair for the macabre, Disney decided to give him a chance to direct an upcoming Halloween special they were working on called Frankenweenie (1984), which was to air on the newly launched Disney Channel.  This would mark Burton's debut as a live action filmmaker, which of course would lead him down a whole other career path.  But, with the success of Vincent and Frankenweenine, Burton was hoping to have a chance to bring one dream project to reality while he was still at Disney.  During his upbringing in Burbank, California, Burton was always fascinated with the way that store shelves in his area would hold so much Halloween merchandise on one day, and then the very next it would all get replaced with Christmas wares once Halloween was over.  It inspired an idea in his mind of two holidays colliding together, with one struggling to take the place of the other.  During his early years at Disney, he crafted this idea into a three page poem which would in time become the inspiring concept of what would be The Nightmare Before Christmas.
Tim Burton's original poem consisted of only three central characters; Santa Claus, of course, the Pumpkin King of Halloween named Jack Skellington and his faithful ghost dog Zero.  In the Poem, Jack Skellington stumbles across a gateway door to another holiday world, which just happens to be Christmas.  In Christmastown, he sees the joyful festivities of the yuletide, and wishes to bring that same feeling back to Halloweentown with him.  Jack and his fellow Halloween creatures create their own version of Christmas and in addition they kidnap Santa Clause to bring him to their world to show what they've made.  Jack wishes to take Santa's place for this season, but it's clear that his version of Christmas is too much like Halloween, which of course turns all the people back on Earth against him.  Santa, being surprisingly forgiving, tells Jack that it's best that he continues to be the master of Halloween because it's what he's the greatest at, and that he should leave Christmas the way it is.  Jack is disheartened but Santa shows a bit of kindness by bringing a Christmas snowfall for the first time to Halloweentown.  Tim Burton believed that his poem could be the basis for another 30 minute holiday special for the Disney Channel.  He pitched the idea as a stop motion animation short, much in the same spirit of the Rankin Bass holiday specials of the 1970's.  He worked with the same Claymation sculptor who helped him make the short Vincent, Rick Heinrichs,  and they crafted conceptual models of Jack Skellington and Santa Claus based on drawings Burton created himself when he first wrote the poem.  Sadly, the project was just too weird for the Disney executives to get behind, and with a whole new regime coming into the studio with Michael Eisner at the reigns, Burton believed that there was not much a future left for him at Disney.  So, in late 1984, Burton left Disney Animation.
Sadly, because he worked on The Nightmare Before Christmas as a contracted artist at the Disney Company, he couldn't shop the project anywhere else because Disney still maintained the rights to it.  But, Tim would receive a bit of good luck thanks to the strong reception of his work on Frankenweenie that same year.  The imaginative short grabbed the attention of Los Angeles based comedian Paul Reubens, who was in development for a film based on his character Pee-Wee Herman.  Reubens and his producers believed that Tim Burton had the right kind of vision they were looking for to match the manic persona of the Pee-Wee character, and just like that, Tim Burton was a feature film director.  The movie was a success, and that led to Warner Brothers giving Burton a contract.  From this, Tim developed the imaginative macabre comedy called Beetlejuice (1988), which was the first movie of his where he really got to show off his unique visual style.  The oddball Beetlejuice likewise also clicked with audiences, which gave Warner Brothers the confidence to trust him with one of their biggest projects ever; Batman (1989).  Batman was a box office phenomenon, and it cemented Tim Burton not just as a force within Hollywood, but also a household name.  So, with the sudden meteoric rise of one of their former outcasts, Disney decided it was time to approach Mr. Burton once again about his Nightmare Before Christmas project.  Thankfully for them, Burton had wanted to revisit the project himself, as he was continually thinking about the story over the years.  With Disney's recent string of hits under it's belt alongside Tim Burton's own success, the two sides felt confident they could make this film work now.  Tim Burton signed a special two picture deal to come back to Disney, which would include Nightmare and a biopic based on notorious B-movie director Ed Wood Jr.  But, there was still the obligation that Tim Burton had to fulfill with Warner Brothers, as they were wanting to fast track a sequel to Batman, and Burton was contractually obligated to complete.
Fearing that he would not be able to do double duty on both Nightmare Before Christmas and Batman Returns (1992), Burton made the hard choice to give up directing duties on Nightmare and just stay involved as the producer while working full-time as director on the Batman project.  In his place, Tim turned to another old friend and fellow Disney outcast named Henry Selick, who himself had developed a skill directing stop motion animation.  Burton entrusted Selick with bringing his vision to life, which would prove to be a daunting task.  With Jeffrey Katzenberg now in charge of the Animation department at Disney, the goal was no longer to just make a short Holiday special, but a full length feature instead.  This would be a first for stop motion animation, as the time consuming process had never advanced beyond short subjects before.  Still, Burton and Selick were determined to make it work out.  One big change was to expand the story.  It was no longer possible to do a whole 70-80 minute movie in rhyme, so writers like Michael McDowell and Caroline Thompson were brought in to flesh the story out in a standard screenplay.  Jack Skellington was given a love interest in the sentient rag doll Sally, and a nemesis in the vindictive bag of bugs named Oogie Boogie.  The whole community of Halloweentown was fleshed out to include the double-faced Mayor, the mischievous trick or treaters Lock, Shock and Barrel, and the mad scientist Dr. Finkelstein.  But even with all the story changes, the for lack of a better word "skeletal" structure of the story remained, as well as the unmistakable Burton-esque look of it all.  Jack Skellington's design never changed in all the years from Burton's original drawing, and it's remarkable how well it translated into the articulated figure used in the animation.  With incredibly detailed sets designed by Rick Heinrichs, the production began in earnest in a San Francisco based studio with 120 workers and up to as many as 20 soundstages working simultaneously on this elaborate project.
One of the most key elements of the production, however, would be the music.  The Nightmare Before Christmas, like all of Disney's other productions at the time, would be a full-fledged musical.  But, unlike Disney's other films, which was using the talents of Broadway vets like Howard Ashman and Alan Menken, Tim Burton would be relying upon his long time collaborator Danny Elfman to write the musical score for this film.  The one-time front man for the rock band Oingo Boingo had transitioned into a successful film composer thanks to his work with Tim Burton, having written the orchestral music for all of Burton's films up to this point; from Pee-Wee's Big Adventure (1985) to Edward Scissorhands (1990).  However, Nightmare Before Christmas would be his first ever attempt at a musical, but it was a task that Elfman was ready for.  He invested himself more into this project than anything he had done before, and the result of his effort shows.  Each song is a show-stopper and immediately catchy.  Not only did he craft the film's full musical score, with an astounding 10 original songs, but Elfman also provided the singing voice of Jack Skellington himself.  Probably due to the amount of work that Elfman had to do on the score made him unable to voice the character in all of the non-singing moments, but the film did manage to find a good soundalike for Elfman's Jack with actor Chris Sarandon, who famously played a vampire in the horror film Fright Night (1985).  A lot of Tim Burton's favorite regulars also got to voice characters in the movie including Catharine O'Hara as Sally, William Hickey as Dr. Finkelstein, Glenn Shadix (Otho from Beetlejuice) as the Mayor, and even Pee-Wee himself Paul Reubens as Lock.  There was also the incredibly inspired choice of casting Broadway vet Ken Page as Oogie Boogie, with boisterous and playful bellow of a voice perfectly matched for the over-the-top villain.  Sadly, one of Tim Burton's dream casting choices was unable to become a reality.  Originally, Burton wanted his friend and idol Vincent Price to do the voice of Santa Claus.  But, when production began, Price's health began to take a turn and he would soon pass away mere months before the film was released.  Burton wanted to give the key role of Santa to a worthy second choice, but none could match what Burton envisioned for the character.  In the end, a local voice actor named Edward Ivory provided Santa's voice in the film.
Initially, when Disney finally saw the completed film, they were unsure what to do with it.  It was too much of a left-turn compared to their other animation output.  It was also being released in between two big productions of theirs; Aladdin (1992) and The Lion King.  The decision was made to release the film under their Touchstone banner, which was a compromise they also made on the film Who Framed Roger Rabbit? (1988), which was the avenue they took if they had a movie that was too dark or adult themed for their typical family audience.  The movie also received a restrictive PG rating due to the scary imagery of the film.  Even with all that, The Nightmare Before Christmas still performed respectfully at the box office, grossing $90 million on a $40 million budget, probably helped by it's timely Halloween weekend release.  It was on it's home video release, however, that the movie genuinely began to catch fire.  The video tape release of Nightmare Before Christmas sold as well as any of Disney's marquee catalog titles, and even more in some cases.  It steadily developed a cult following, with Danny Elfman's musical score likewise becoming an omnipresent fixture in holiday playlists.  Songs like "This is Halloween" "What's This?" "Oogie Boogie's Song" "Kidnapping Sandy Claws" and "Making Christmas" have become some of the most popular in the modern Disney songbook.  Perhaps the biggest benefit for Disney however was the boon of merchandise sales they have made off of this movie over the last couple decades.  The Nightmare Before Christmas has enable Disney to reach a more adult oriented, gothic inclined demographic that typically wouldn't go for their fairy tale fare, and that has given them a whole other branch of branding that stands well just on it's own.  It's not at all surprising to see a Jack Skellington shirt or hoodie being sold at a Hot Topic store near you even today, and that's a testament to the continuing impact this film still has.  And just as Tim Burton had hoped for, it has become a classic standard of not just one but two holidays, much in the same vein as the classic Rankin Bass specials of old, showing in the end that he had the right story all along.
Tim Burton and Henry Selick would collaborate on one more project together, the 1996 adaptation of Roald Dahl's James and the Giant Peach (also animated partially in stop motion), but the two parted ways thereafter.  There's been a bit of contention between the two over the years over who has claim to the film overall.  Selick contends that he was the chief creative force on the film as he was the director and Burton was barely on set.  Tim counters by rightly pointing out that he created the original concept and did much of the early design of both the characters and the worlds they inhabit.  Also, his name was used to market the movie after all, with it still preceding the name of the film to this day as the full title Tim Burton's The Nightmare Before Christmas.  Regardless, the two have taken separate paths since.  Tim Burton would continue to remain a successful live action filmmaker, and he would again undertake stop motion animation projects from time to time, only now finally in the role of director with 2005's Corpse Bride and 2012's Frankenweenie re-make.  Selick would join the Portland, Oregon based Laika Studios and direct their first feature film, Coraline (2009), which became a cult classic in it's own right.  More recently Selick directed the stop motion film Wendell & Wild (2022) for Netflix.  All of these films (Corpse Bride, Frankenweenie, Coraline, and Wendell & Wild) definitely feel like spiritual successors to Nightmare Before Christmas, though none have managed to have the lasting impact that it has.  Tim Burton has contemplated ideas for a sequel, but nothing has come of it, and that feels like a good thing.  The Nightmare Before Christmas stands well enough on it's own, and it's not like we've been missing out with these characters.  They have enjoyed a long after life in all sorts of media outside of the film, from appearances in video games like Kingdom Hearts to a full holiday overlay of one of Disneyland's most popular attractions; The Haunted Mansion.  The fact that Jack Skellington and his crew can occupy a beloved attraction like that for a full 1/3 of the year and no one complains about it but rather looks forward to it every holiday season is really something.  More than anything, the movie's success all of these years is due to the fact that it feels timeless and just as entertaining today as it was when it first came out.  That's a testament to the strength of Tim Burton's original vision and the success of Henry Selick's flawless execution of the animation.  And what other movie can you say bridges the holiday season better between Halloween and Christmas than it does.  Tim Burton believed that neither holiday was better than the other, but rather could become something special together.  And that's a beautiful ideal, the macabre and merry co-existing, that has endured 30 years later and will continue to do so in the years ahead.  In this town, we call home, everyone hail to the pumpkin song.