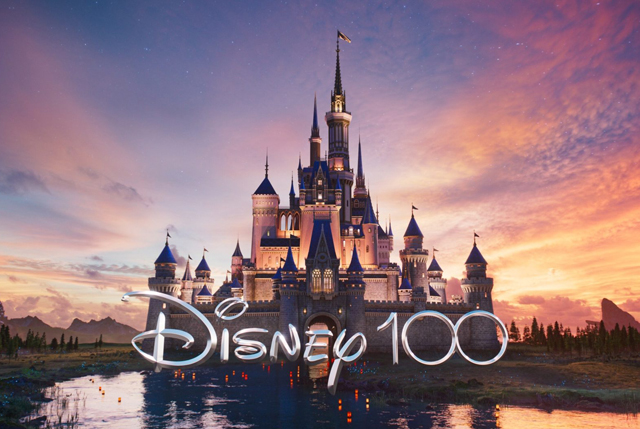 The name Disney is undeniably a potent one in our culture.  No other media company in the world has risen to the heights that they have while at the same time maintaining it's independence as a brand.  It is the only one of the "big five" movie studios in Hollywood to have never been owned by a larger conglomerate, and in fact it has grown to a point where they were able to acquire one of their former rivals in the marketplace (the formerly known 20th Century Fox).  That massive growth has also come with it's own problems, as Disney has become such an omnipresent presence in our culture that it's drawn scrutiny from critics who say that they are (sometimes rightly or wrongly) a menace to society.  The Disney Company is many things to many people, but the undeniable fact is that it has been a continual presence in most of the lives of the people who live today.  I guarantee that for most people the first movie they ever saw had the Disney name on it.  Most of us probably owned a Disney branded toy at some point in our childhood, and a good many people probably have had happy childhood memories of visiting either Disneyland or Disney World.  Whether you like them or not, the Disney Company has played a part in the shaping our lives, from childhood on.  And the story of how they got to this point in our culture is one that could be indicative of the story of Hollywood as a whole; a convergence of incredible talent, perseverance through adversity, and just a whole lot of good luck.  As they celebrate their 100th year, let's take a look at the tumultuous journey the Walt Disney Company took from one man's dream to the Magical Kingdom that we celebrate as a whole today.
Walt Disney was certainly a unique figure to emerge out of the early part of the 20th Century.  He started off as an amateur artist who worked his way into this emerging new artform called animation.  Only a few years removed from the innovations of Windsor McKay and his groundbreaking short Gertie the Dinosaur (1914), the young Walt foresaw the potential of what moving drawings could do, and even more importantly, he had the special ability to sell others on his ideas.  Walt quit the Laugh O'Gram animated shorts studio in Kansas City, Missouri that he had been forging his skills at and took up an offer from his brother Roy to move out to Los Angeles.  Once there, Walt convinced Roy to help him establish a new independent studio out there in the shadow of Hollywood.  But instead of doing the same educational or slice of life shorts that he was working on at Laugh O'Grams, they would be innovating with the artform, creating unique characters and stories that pushed beyond the boundaries of the medium.  Assisting Walt with that mission was a fellow artist that he had befriended back in Kansas City named Ub Iwerks.  Iwerks was a mechanical genius who was interested in experimental camera tricks that he wanted to bring into animation.  The trio set out to start this bold plan and on October 16, 1923, the day we have commemorated this year, Roy and Walt signed the LLC paperwork to officially begin what was then called the Disney Brothers Studio.  The newly formed company consisted of only three employees on day one (Walt, Roy and Ub) and was run out of a back room in a small law office in the Los Feliz neighborhood of Los Angeles.  Not even Walt could have foreseen how these humble beginnings would grow into the giant empire that Disney has become a full century later.  But, the story of Disney Animation began here and immediately the trio of young innovators were ready to shake the world up with what they were dreaming.
Roy of course would run the business end while Walt and Ub took on the creative side.  Over time, Walt realized that he couldn't match Ub's ability to animate with incredible speed and artistry, so he evolved more into a producer and story writer role in those early days.  Over time, Walt hired on more artists, as well as a secretary named Lillian, who would in a couple years become the future Ms. Disney.  Though they didn't have the budget and infrastructure in place that other animation studios at the time had, they managed to stand out due to the fact that they were experimenting with newer techniques.  One of the great innovations that Ub Iwerks had put into practice at the studio was the blending of live action photography with animation.  This breakthrough (one which Disney would revisit many times throughout their history) gained them immediate attention in Hollywood circles, with many people being in awe of how they were able to put live action characters in an animated world.  These Alice shorts (loosely based on the story of Alice in Wonderland) were what initially put Disney on the map, and they were able to secure a new lucrative distribution deal with the Charles Mintz company at Universal Studios.  With the new deal in place, Walt was ready to create a series of shorts centered around a character that he hoped would be as popular as Felix the Cat or Max Fleischer's Koko the Clown.  That character would be a rabbit named Oswald.  The Disney Brothers Studio completed a number of Oswald the Lucky Rabbit shorts before Walt was called out to New York to meet with Charles Mintz directly.  What Walt didn't expect going into that meeting was that Mintz had locked away the rights to the Oswald character and hired away all of the Disney artists, cutting him out of the deal, believing that the animators were the sole reason for the studio's success.  Only Ub refused to sign with Mintz.  Walt was devastated.  He had lost everything he had built over those five short years; his staff, the rights to his own characters, and his reputation.  But, as would be a reoccurring theme throughout the history of the Disney Company, bad fortune would end up leading to a better future.  On the train ride back to California, Walt began to brainstorm his next step.  He no longer had the rights to Oswald, but he was free to create a character from scratch.  That's when he began to dream up a cartoon mouse who he would later give the name Mickey.  And out of all the moments in Walt Disney's life that mattered the most, this was the most important of them all.
Walt Disney, no matter how successful he became afterwards, would always return to the same conclusion about how he got to where he was, "It was all started by a mouse."  Mickey Mouse is above all else the heart of the Walt Disney Company.  While it can be said that there wasn't much of a shift between Mickey and Oswald (all they did was swap bunny ears with mouse ears), there certainly was a shift in how seriously Walt took the character.  The incident with Charles Mintz was a pivotal lesson for Walt, and from then on he was never going to take anything he made for granted.  Through Mickey Mouse, Walt went from being an animator to a showman.  People would see the name Walt Disney on a Mickey Mouse short and know that this was a different kind of animation from all the rest.  And it was through Mickey Mouse's debut on the big screen, that Walt Disney would shake the world again with another innovation; sound.  Steamboat Willie (1928) was the first ever short with synchronized sound, which not only gained Walt renewed notoriety, but it turn Mickey Mouse into a household name across the country and the world.  It was around that time that Roy insisted they change the name to the Walt Disney Studios, recognizing that Walt's showman instincts made him a better public face for the company.  Over the next couple years, the Walt Disney Studios grew exponentially, adding more and more artists to studio roster, though he also lost Ub during this time, as he was set on establishing his own studio.  Along with Mickey Mouse, the company was also adding to even more sidekick characters that themselves grew into stars of their own like Minnie Mouse, Donald Duck and Goofy.  They also created a new line of one-off shorts called the Silly Symphonies, where the artists would try out experimental ideas that wouldn't fit in the mainline Mickey cartoons.  Only a couple years after Charles Mintz had pulled the rug out from under Walt Disney's legs, Walt was not only still standing but thriving.  There weren't even any Oswald shorts being made anymore and Mintz soon lost his contract with Universal.
As the story of the Disney Company evolved over the next few years, we see where the element of luck played a key role in their success.  The Walt Disney Company was one of the few companies to blossom during the height of the Great Depression.  The country was in need of something to bring the spirits of the people up, and Mickey Mouse was that one thing.  Disney was also the beneficiary of having a bunch of hungry and bold-thinking artist who were desperate for work, and the key players who would shape the next few decades of the Disney company came to work for Walt during these pivotal years.  But even despite this success, Walt was still a gambler who was willing to put up a lot at stake in order to see a dream become a reality.  Despite the fact that the Mickey Mouse shorts made them a lot of money, it was also off-set somewhat by the enormous costs of making the increasingly complex projects they were working on.  Disney was innovating at a speed and scale that other animation studios couldn't match, and that was expensive to maintain.  One thing that certainly tested Roy Disney's management over the coffers of the company was Walt's dream of full length animated feature.  Despite misgivings, Walt was able to convince Roy and his team of artists that such a thing could be done, and the next few years were spent seeing this colossal dream come true.  Often dubbed Walt's Folly by the industry, Walt invested his future on this idea, even putting up his home and studio up as collateral to get the bank loans need to pay for it.  But, Snow White and the Seven Dwarves (1937), like Mickey Mouse nearly a decade before, became an overwhelming success.  Roy was able to pay off all the loans, and the extra profits went into the construction of a new studio campus in Burbank, California, where the Disney Company still calls home to this day.  But, even with all that, Walt still never rested on his laurels, and he continued to bet big.  This often clashed in the face of reality sometimes, like with the onset of World War II, where the European market was cut off and expensive projects like Pinocchio (1940) and Fantasia (1940) failed to make their investment back.  The boom and bust pattern is one that is consistently present throughout Disney's history, but one other thing that is persistent about the Disney company is that like Walt himself, they learn valuable lessons from their failures.
This was true especially in the later part of Walt Disney's life.  In 1955, Walt embarked on his most ambitious project yet; opening a theme park named Disneyland.  And while Disneyland has grown to become one of the world's most cherished vacation destinations, it had it's struggles right from the beginning.  One of the things that Walt wished he had thought through better when it came to Disneyland was to have more control over the land around it.  Disneyland quickly was surrounded on all sides by businesses that popped up to capitalize on the park, including cheap motels and restaurants.  Walt's true vision was to create a true place to leave the world behind, which led him to envision something on a more massive scale.  Through a clever use of shell companies, Walt and Roy bought up over 40 square miles of swampland in central Florida.  After it was discovered that the Disney company was behind this land grab, Walt determined that he was ready to tell the world what he was planning.  "The Florida Project" as he called it would be a vast resort destination with it's own version of Disneyland, plus an urban planning initiative that his team of Imagineers were calling an Experimental Prototype Community of Tomorrow, or EPCOT for short.  Sadly, this would be the last great dream of Walt Disney.  Walt died of lung cancer on December 15, 1966 at the age of 65.  The suddenness of his passing left a huge void at the company that he built.  Ambitious projects that he was personally involved with, like the movie The Jungle Book (1967) and the rides Pirates of the Caribbean and Haunted Mansion (all of which would become legendary in their own right), had to press on without Walt's guidance.  Roy Disney, having always looked out for his little brother over the years, took over as best he could in the years that followed.  Perhaps his own greatest legacy was seeing Walt's final dream come true with the opening of Walt Disney World in Florida in 1971.  Roy himself would pass away a mere two months later.
Without the two Disney brothers there to guide the company, the future of Disney was uncertain.  From here on, the history of the company falls into different eras that like Walt's time represented a pattern of busts and booms.  The 1970's are considered to be the Dark Ages for Disney.  Walt's son-in-law Ron Miller eventually rose to the level of CEO during this time, and he tried his best to carve out a positive future for the company, but it was very clear that he didn't have the same magic touch that Walt had.  The Animation Department, the foundational heart of the company, even faced permanent closure in the early 80's after the box office failure of The Black Cauldron (1985).  There was a hostile takeover bid conducted by financier Saul Steinberg which threatened to destroy the company as a whole, before a rescue effort was led by Walt's nephew Roy E. Disney.  The younger Roy, who maintained a seat on the board, convinced the company to hire outside executives who would bring a new vision to the company.  In from Paramount Pictures came Michael Eisner and Frank Wells as CEO and CFO, having overseen a golden age at that studio, including the creation of the Indiana Jones franchise.  Eisner and Wells brought an ambitious vision to the company to help it grow while at the same time honoring the character of the studio that Walt had cultivated during his time.  The best part of this new era was that they were able to salvage the animation department, which led to what is now known as the Disney Renaissance, creating brand new classics like The Little Mermaid (1989), Beauty and the Beast (1991) and The Lion King (1994).  Sadly, the sudden death of Frank Wells in 1994 hit the company hard.  Eisner lost his partner in crime, and he began to drawback most of the ambitious plans that the two had dreamed up for the future of Disney.  Again, the company hit hard times as Eisner began to mismanage the priorities of the company, chasing cheap short term gains instead of building the brand long term.  Threats of another take over, this time by cable giant Comcast, began to emerge.  Eisner, seeing patience growing short with stockholders, decided to step down in 2006.  His successor would be the head of Disney's ABC division, Bob Iger, who would indeed breath new life into the company.  Iger's tenure was a period of rapid expansion for the Disney company, with acquisitions of valuable of IP's like Marvel and Lucasfilm happening on his watch.  He even convinced Universal to give them back the rights to Oswald the Lucky Rabbit, bringing Mickey's predecessor back home after 80 years.  In the late 2010's, Disney was at the peak of it's powers; a media juggernaut unlike anything Hollywood had ever seen.  But, as we've learned from Disney's history, it wasn't going to last forever.
Ironically, as Disney is celebrating it's 100 year anniversary, it is also having to contend with one of it's most tumultuous years ever as well.  Disney has had one unfortunate event after another all falling into their lap this year.  Big box office disappointments from the likes of Ant-Man and the Wasp: Quantumania (2023), Indiana Jones and the Dial of Destiny (2023) and Haunted Mansion (2023) have dented their reputation as a box office champ.  Disney+, their ambitious streaming channel, is also not generating enough money in subscriptions to offset the cost of the money spent on shows and movies premiering on the platform.  And while theme parks are holding up okay, ticket sale are still below what they were at the height pre-pandemic.  All of this has led to Disney's stock value reaching a decade long low.  A lot of the problems have been attributed to the mismanagement of Iger's successor Bob Chapek, who was fired from the CEO position after only 2 tumultuous years, leading to the immediate return of Iger.  But, many people are saying that Disney has become a victim of it's own success as well.  It's grown too fast and many believe it's unsustainable in it's current state as a company.  Rumors are that Iger's second tenure may include a sell off of different underperforming parts of the company, or perhaps a complete sale of Disney as whole to an even bigger company like Apple (as has been rumored).  One hopes this isn't the case.  It's easy to look at this year alone and feel like Disney is cooked and it's days are numbered.  But, looking at the history of Disney as a whole shows that they have faced adversity before and have come out of it stronger.  At the end of the day, it's the core of the Disney Company (it's imagination and the will to see the impossible become a reality) that has always endured, and the example that Walt Disney himself left behind has helped that legacy endure even through the dark times.  Walt never forgot that all important lesson when he lost the rights to Oswald, that failure sparks ingenuity and that you have to keep moving forward.  As much as we dislike some of the directions Disney has taken recently, we all wish to feel that same spark of joy again when they are performing at their best.  We all grew up with a little bit of Disney in our lives, and most of us would like them to bring back a little bit of that wonder into our lives again, even as we get older.  My belief is that this time of adversity will help shape a brighter future for Disney ahead.  Some may be cheering on Disney's demise and believe they can do their job better.  That's a mistake that many adversaries have made before, from Charles Mintz to Ron DeSantis, and they have gone on to regret it too.   Walt Disney and the many dreamers that have come through the Disney company over the years have continually been underestimated and as a result they all collectively have made many dreams come true.