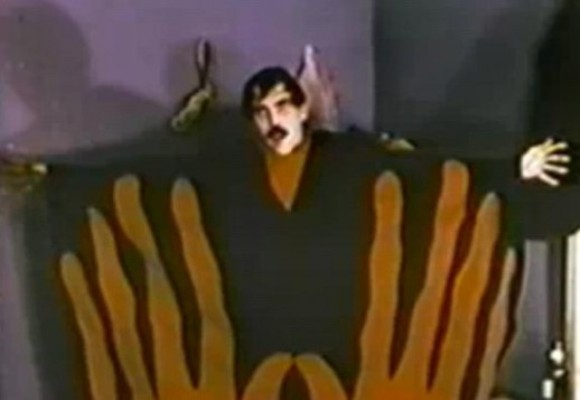 If there was ever a place where the word "bad" could be considered a relative term, it would be in the movies.  Over the course of film history, we have seen Hollywood and the film industry at large put out an astounding variety of movies, and not all of them have hit their targets the way that the filmmakers had intended.  If you produce hundreds of products within a given year, the odds are that some, if not most of them are not going to be good.  But like most things, one man's trash can be another man's treasure, and that has led to a fascinating occurrence in the film community.  Some "bad movies" have actually earned a fanbase all on their own, finding an audience in some unexpected ways.  This has been the case with films that have built a reputation over time, but nowadays, we are actually seeing intentionally bad movies become phenomenally successful upon their initial releases, as was the case with the premiere of Sharknado on the SyFy Channel earlier this summer.  How and why "bad movies" find their audiences is still a mystery to many, but what I love about this trend is that it shakes up our preconceived notions about the film industry, and makes us reconsider what we find entertaining in the first place.
So, what is it about these "bad" movies that makes them so entertaining to us?  The truth is that there is no "one thing" that defines the success behind these films, and usually it's all relative to each individual movie.  Sometimes it's the incompetency behind the making of the film that we find so entertaining.  Sometimes it's because the film is so out-of-date that it becomes hilarious.  Sometimes it's the lack of self-awareness and ego behind the director's vision.  And sometimes it's the filmmakers just not giving a damn what other people think and just going all out with their material. The formula has no consistency, and yet we see many film's fall into these many different categories of "bad" films.  Usually the best of the these are the ones that fulfill the criteria of a "bad" movie so perfectly, that it becomes memorable and re-watchable.  Only in rare cases does this work intentionally, and usually the best "bad" films arise from an unexpected accident.
Some of the best "bad' movies have come out of turmoil, which makes their existence all the more fascinating.  Usually this is attributed to movies that were made despite the fact that their filmmakers didn't know what they were doing.  One of the most notorious examples of this was the 1966 cult classic, Manos: The Hands of Fate.  Manos was the creation of Hal Warren, a fertilizer salesman from El Paso, Texas who made a bet with a screenwriter friend of his that he could make his own movie without any help from Hollywood.  Making good on his wager, Mr. Warren wrote and directed this schlocky horror film centered around a cult leader named the Master (pictured above) who holds a family hostage in his compound, which is watched over by a lecherous caretaker named Torgo.  Hal Warren shot the film with a camera that could only shot 30 seconds of film at a time with no recorded sound, and most of the movie was shot at night with set lighting attracting moths in almost every shot.  The finished film is a convoluted mess and it ended any shot for Hal Warren to pursue a career in filmmaking.  However, many years later, the film was rediscovered by the producers of the show Mystery Science Theater, who then featured it on their show and created a renewed interest in this odd little film that no one outside of Texas knew about.  Manos became a hit afterwards because people were fascinated by how silly this poorly made film was, something that the MST crew had a hand in.  Since then, Manos has earned a reputation for being among the worst films ever made, and that in itself has made it a favorite for people who gravitate towards that.
While Manos represents an example of a disaster turned into a success, there are other bad films that have become fan favorites just out of being incredibly dated.  These movies usually make up the majority of what people consider good "bad" films, since most films are a product of their times.  Whether people are entertained by these because of their "out-of-date" nature or merely because of shear nostalgia, there's no denying that time has a way of changing how we view these kinds of movies.  The 1950's has become an era that many film fans find to be full of some good trash, mainly due to the rise of the B-movie in this period of time.  Some cult hits like The Blob (1958), Creature from the Black Lagoon (1954), Attack of the 50 ft. Woman (1958), and The Thing from Another World (1951) all rode the surge of a sci-fi craze of the post-war years, and while everything from these films, like the visual effects and the acting, feels antiquated today, they still have a camp value that makes them watchable all these years later.  The "cheese factor" plays a big role in keeping these films entertaining long after their relevance has diminished.  You can see this also in the beach party movies of the early 60's, which are charming despite their paper-thin plots. The one other era that has produced it's own distinctive set of dated films would be the 1980's, with it's collection of dated fantasy pictures and culturally infused fluff, like He-Man inspired Masters of the Universe (1987) or the E.T. wannabe Mac and Me (1988).  By all accounts, these films would have long been forgotten outside of their era, and yet they have lived on with audiences who still find something entertaining in them.
One of my favorite types of "bad" film is the kind that comes from a complete lack of control from either the director or the performer.  There have been some directors that have actually gained their reputation as an filmmaker by staying within the B-Movie community.  The most famous of these filmmakers has become Ed Wood Jr.; a person who some have claimed to be the worst director in history.  Ed Wood's notable contributions to cinema have been the cross-dressing comedy Glen or Glenda (1953), the Bela Lugosi-starring Bride of the Monster (1955), and what many consider the director's "masterpiece," Plan 9 from Outer Space (1959).  Whether or not Ed Wood was earnest in his vision or whether he made his film's intentionally bad is still debated, but there is no doubt that Plan 9 is a special kind of "bad;" a movie so aggressively cheesy, that it is hard not to be entertained by it.
Other filmmakers who were more aware of their B-Movie status have still gained an honored reputation with audiences.  Roger Corman, a man who prided himself in making movies both fast and cheap, has actually become influential to a who generation of blockbuster filmmakers.  His Little Shop of Horrors (1962) even inspired a Broadway musical.  Also, sometimes a way out there performance can often make a "bad" movie worth watching.  I would argue that this is the case with most Nicolas Cage films, like Vampire's Kiss (1988) or Ghost Rider: Spirit of Vengeance (2012).  One film that has become a cult classic mainly due to one "out-of-control" performance was 1981's Mommie Dearest, where Faye Dunaway chews the scenery in a good way as a way over-the-top Joan Crawford.  Usually a lack of restraint by the filmmakers can sink a film, but these movies actually prove that it's not always the case.
While many films usually become a cult hit over time, there a select few that attempt to achieve cult status right away by being intentionally bad.  Like I stated earlier, Sharknado became an instant hit when it premiered on cable, and having seen the film myself, it's clear that the filmmakers behind it knew what kind of movie they were making.  Rarely do you see filmmakers try to aim for that intentionally "bad" gimmick for their movies, because obviously if audiences don't accept it, then you've just made a bad movie.  Director Tim Burton tried to create a homage to B-Movie sci-fi with his 1996 film Mars Attacks, but the film was an odd blend of tounge-in-cheek mockery with earnest storytelling, and the end result doesn't achieve what it set out to do.
But, one example of an intentionally bad film that did click with audiences is the campy musical The Rocky Horror Picture Show (1975); a movie that pays homage to campy horror and sci-fi, while mixing in 50's rock music and trans-sexual humor.  Rocky Horror tries so hard to be so bad, you would think that the whole thing would be a mess; and yet, it remains entertaining and it has one of the most dedicated fanbases in  the world.  I think the reason why a movie like Rocky Horror works is because of the fact that it just doesn't care what people will think about it.  It is what it is, and that's why people gravitate to it.  It's a one of a kind.  A movie like Mars Attacks didn't click as a throwback, because it didn't have that same kind of assured belief in itself, and that shows why it is hard to make a bad movie feel good.
When it comes down to it, "bad" movies are usually determined by the tastes of the people who watch them.  We have made some of these "bad" movies our favorites because of the value we find in their chessy-ness, or by our fascination with how badly it gets things wrong.  For a movie to be all around bad, it has to lack any kind of entertainment value in the end.  For those who are wondering, the worst movie that I have ever seen, and one I see no redeeming value in, is the 1996 film Space Jam.  To me, it was the worst experience I have ever had watching a movie, mainly because I saw it as a blatant self-serving production piece for a sports super star (Michael Jordan) and it ruined three things on film that I love dearly: NIKE, Looney Tunes, and Bill Murray.  But, I do recognize that the film does have its fans, so in the end it all comes down to taste.  But, it is fascinating how our tastes leave room for something as poorly made as a Manos or even the more recent Birdemic: Shock and Terror (2010), a movie that needs to be seen to be believed.  There is certainly value in seeing something that we find entertaining, and perhaps that is why these films live on the way they do.