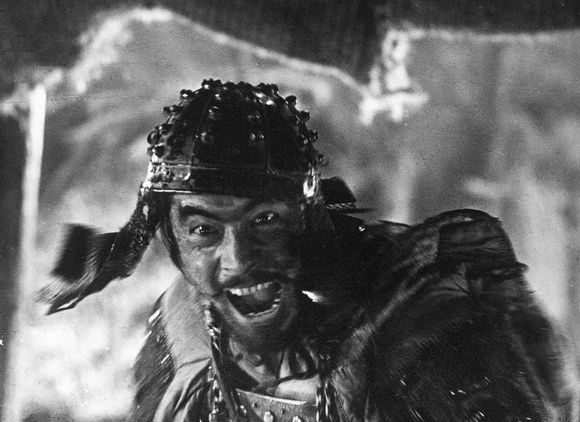 The Criterion Collection has many selections of classic Stateside films, but what I like is that Criterion is the go to place for home video releases of movies from across the world.  This is helpful if your favorite filmmakers are international and have limited access to the American film markets.  Famed directors like Jean Renoir, Ingmar Bergman, Sergei Eisenstein, and the like are found almost exclusively within the Criterion Collection here in America, which makes it likely that any discerning film buff will have one or more Criterion title on their shelf.  As a fan of certain directors, I am among those who collects movies according to someone's distinctive body of work. While it is easy to collect the films of say Spielberg or Scorsese here in America, foreign filmmakers' movies aren't exactly published for the mass market here in the same way, unless they are an internationally successful filmmaker like Hayao Miyazaki or Lars von Trier.  Hence why I gravitate towards the Criterion Collection when I want to include foreign classics in my film collection, particularly when they come from a one of my favorite directors.
In this article, I want to highlight one such filmmaker who stands out as one of my favorites, and whose films have become staples within the Criterion Collection.  I am speaking of legendary Japanese director Akira Kurosawa, a filmmaker whose influence is without comparison in world cinematic history.  Kurosawa, over the span of his career, directed 32 films from 1943's Sanshiro Sugata to 1993's Madadayo.  Some of his films have become world renowned classics and in some cases, considered among the best ever made.  Some of his most influential films would be his movies depicting the era of the Samurais in Japan's cultural history.  Two of these, Yojimbo (1961) and Sanjuro (1962) would go on to be remade as Westerns by Italian filmmaker Sergio Leone in his A Fistful of Dollars (1964) and For a Few Dollars More (1965).  Given that Akira Kurosawa was heavily influenced by John Ford westerns in his youth, I'm sure he would have found these remakes appropriate.  Yojimbo and Sanjuro are available in the Criterion Collection, but the title that I wish to focus on is one considered to be Akira Kurosawa's masterpiece, and one of Criterion's best titles to date.  That film is 1954's Seven Samurai (Criterion Collection #2).
The story of Seven Samurai (Shichinin no samurai) is set in the 1600's, during the Feudal period in Japan.  The start of the film finds a small village of farmers tormented by a group of bandits who raid their food supplies and kidnap their women nearly every year.  The fed-up farmers make the decision to hire Samurai to protect their village, which is a plan made with some reservations because of the fact that some Samurais are just as bad as the bandits that are attacking them.  Still, a group of farmers set out for the city where they run across a veteran Samurai named Kambei (Takashi Shimura), who sympathizes with their plight and agrees to help the farmers in their search for more Samurai.  In the end, Kambei finds Seven warriors willing to fight on behalf of the farmers, even for the limited offerings that the peasant farmers can give them.  Among the Seven is a hot-head with a giant sword named Kikuchiyo (Toshiro Mifune), whose Samurai lineage is questionable and who's more likely to start trouble than prevent it.  The remainder of the film follows the Samurai as they fortify the village and help train the farmers to protect themselves for the bandits return. Once the battles begin, it becomes a memorable fight for survival for both the Samurai and the farmers.
If the story sounds familiar, it is because it was remade a few years later by director John Sturges as the Western The Magnificent Seven (1960), a rare example of a respectful Hollywood remake of an international classic.  Thankfully, the original has stood the test of time and still works just as well today as when it was first released.  I should state that Seven Samurai actually stands as one of my absolute favorite movies.  To me, it represents the absolute pinnacle of cinematic storytelling. The film's narrative is very basic, and yet is executed to absolute perfection in both the writing as well as in the pacing.  The movie runs 3 hours and 27 minutes, but you would never tell because it holds your attention so completely.  The cinematography is both stunning and influential.  Many people have often called this the first modern action film, because of Kurosawa's use of slow-motion and hand-held photography to heighten some of the action scenes; techniques that are still being used today.  You also see some of the most iconic uses of Kurosawa's trademarks in this film; in-particular, the use of rain.  The downpour seen in the movie's legendary final battle is a sight that needs to be seen, and will often leave the viewer wondering how it was all accomplished.
The performances are also what makes this film so beloved, even all these years later.  Toshiro Mifune was already a popular actor in Japan when Seven Samurai was released, but this film is what turned him into an international movie star and put him on the radar of many Hollywood filmmakers as well.  Mifune is simply magnetic in the role of Kikuchiyo, and steals pretty much every scene he is in.  He balances both the humorous moments in the film with some of the heavier ones, and makes the character feel wholly three-dimensional in the process.  Mifune and Kurosawa would make 16 films together; a partnership unmatched in all of film-making.  Takashi Shimura also lends considerable weight to the role of Kambei, the Samurai leader.  The remainder of the cast too are also strong.  One of the things that I love so much about the movie is the surprising depth that you find in each character, both large and small.  Even the many farmers get special treatment in the film's screen time.  It all contributes to one of the most enriching and complex screen stories ever brought to life.
The Criterion Collection's edition of Seven Samurai is also nothing short of a masterpiece.  The film comes in a special two-disc blu-ray set, with the film taking up the entire first disc.  The film's restoration is a perfect upgrade for the film; bringing out every little detail in the nearly 60 year old picture, while still maintaining it's intended look.  The black and white photography is razor sharp and the sound is appropriately mixed to retain the film's original sound design.  For a movie as old as this one, Criterion's restoration makes it feel both consistent and revelatory to longtime fans of the movie.
The extras are also top-notch and worth delving into if you're a fan of the movie.  First there is a trio of documentaries, related to both the film and Kurosawa himself.  The first one is titled, My Life in Cinema, and it is a two-hour interview with Kurosawa himself, done in 1993 with fellow filmmaker Nagisa Oshima.  The documentary has Kurosawa looking over the works of his career as he films one of his final movies, Rhapsody in August (1991).  The second documentary is It is Wonderful to Create, which is part of a Japanese TV series documenting Kurosawa's filmography, movie by movie.  This 50-minute entry of course documents the making of Seven Samurai, and remaining episodes of the series can be found on Criterion editions of each corresponding Kurosawa film.  The last documentary, Seven Samurai: Origins and Influences, details both the inspirations in Japanese culture behind the film as well as the influences it made on pop-culture after its release.  A gallery of production stills and poster art round out the extras, helping to make this a well rounded special edition.
Seven Samurai has earned it's place in cinema history, and that makes it a no-brainer entry into the Criterion Collection.  There are many more Kurosawa classics in the collection, but this is the one that I believe deserves special consideration for any fan of cinema.  Criterion's edition of the film is appropriately top-notch and no one would expect less.  It is worth revisiting again if you have seen the film before, just so you can take in the remarkable restoration.  And if you're a first-timer, you'll be in for a treat.  It's a movie that really transcends cultural and language barriers and can be appreciated by just about everyone.  Kurosawa had that special gift as a filmmaker to make films that were undeniably Japanese, and yet universally appealing.  This is a worthy addition to your collection of Criterion films and it certainly holds a sacred place in my own collection.