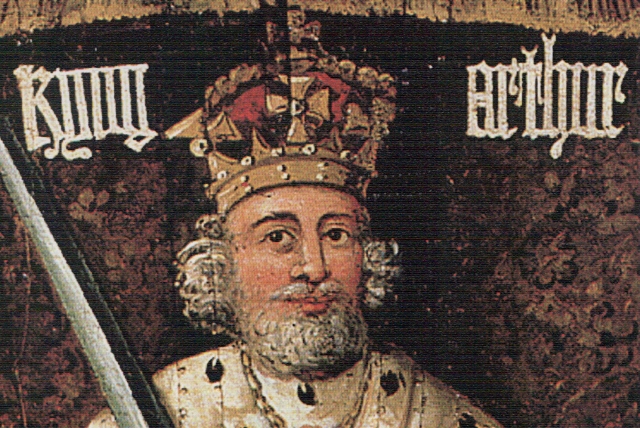 A good old fashioned medieval tale is something that has always been a favorite sub-genre in Hollywood.  Whether it is based in history or in the realm of fantasy, epics surrounding the adventures of kings and knights go back to the very beginning of cinema.  You can track an interesting progression through the years as the Middle Ages would inspire swashbuckling adventures throughout early cinema; starring the likes of Douglas Fairbanks and Errol Flynn.  These movies soon led to the grandiose period epics of the 50's and 60's, where history and pageantry reigned on the big and wide screens.  In the 80's, we got the boom of Fantasy epics, with movies like Dragonslayer (1981), Ladyhawke (1985), and Legend (1986) borrowing heavily from the Middle Age aesthetic.  This then led to a period of gritty historical films set in the same time period, like Kevin Costner's Robin Hood: Prince of Thieves (1992) and Mel Gibson's Braveheart (1995).  The fantasy genre made yet another return with the Lord of the Rings trilogy in the 2000's and today we are seeing the same genre hit it big on television with Game of Thrones.  Suffice to say, whether it's fantasy or history, we just love watching medieval stories.  And no character better defines that bridge between the historical and the fanciful on film than the King of Camelot himself: Arthur Pendragon.
King Arthur's legendary status is interesting because no one quite knows where it exactly started.  Some believe that Arthur is based off of a real 6th century ruler in early British history, while others believe that he's merely a fictional character transplanted by the invading Normans in their literature.  Whatever his origin, Arthur has nevertheless become one of the most iconic characters to ever come out of medieval culture.  To this day, the character still symbolizes the ideal of true kingship, and he has usually served as the model for most monarchs in literature.  While there is no set original text from which to adapt Arthur's story from, there have been some plot elements that have been turned into canon over time; such as his pulling Excalibur from a stone to prove his true claim to the throne, his rivalry with the witch Morgana, his friendship with the wizard Merlin, and his fall after the betrayal of his queen Guinevere.  These elements have become expected in most Arthurian stories, though not every adaptation is necessarily bound to it.  In fact, film adaptations of the King Arthur legend are about as varied as any other genre of film.  It's actually very fascinating to see how many unique ways you can make a movie about the same character.  Below, you will find my examination of some of the most notable film adaptations over the years, and how they've managed to define our own modern view of King Arthur.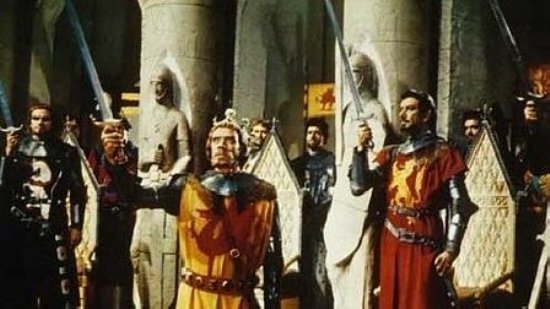 MEL FERRAR from KNIGHTS OF THE ROUND TABLE (1953) 
Although King Arthur and his knights had made appearances in many silent adventures and serial swashbucklers of Hollywood's early years, it wouldn't be until this particular feature that the kingdom of Camelot would be fully realized.  The film is notable because it was the first widescreen production made by MGM, and it's clear why this production holds that distinction.  It's a grand, epic scale retelling of the Arthurian legend shot on location in England with a cast of then A-list movie stars.  However, like most of these early productions, the film is less about Arthur himself and more about the knights who serve him.  In particular, the love story between Lancelot (Robert Taylor) and Guinevere (Ava Gardner) takes center stage.  The film does give Arthur a prominent place in the story, however, and it does show his strength as a leader.  Mel Ferrar looks the part well enough, with his chiseled face and commanding stature, but unfortunately he never is quite able to shake off his New Jersey accent.  This makes his performance a little distracting at times, and unfortunately causes the film to suffer.  Though the movie is beautiful to look at, it is firmly a product of it's time.  King Arthur would have to wait a bit longer to receive his due on the big screen.
WART from WALT DISNEY'S THE SWORD IN THE STONE (1963)
Finally, a film devoted entirely to the character of King Arthur.  Based off the novels The Sword and the Stone and The Once and Future King by English author T.H. White, the story follows the adventures of Arthur during boyhood, before he knew of his noble lineage and was working as a squire to lesser knights.  In the books, he is tutored by the wizard Merlin and soon is led to the mythical Sword in the Stone, from which he pulls Excalibur and proves he is the true heir to the throne.  Given that Walt Disney Pictures is known for their fairy tale adaptations, this one seemed a natural choice for them.  Interestingly though, the film is unlike most other medieval tales and it's even unique among Disney movies as well.  This is a film about the relationship between a teacher and his student, which is something that you rarely find central to any movie's plot.  Of course, there is magic involved, but most of the film is devoted to Wart (as Arthur is called in this movie) learning that there is more to life than just being a knight; lessons of wisdom that will someday influence him when he becomes king.  It may not be one of Disney's most heralded films, but there is still plenty to like about it.  It's colorful and the characters' relationships are wonderfully constructed, especially between Wart and Merlin.  Also, the film is unique for it's sense of humor.  It was the first animated film to use anachronistic humor and pop culture references, something that has become common in animated films since, like Aladdin (1992) and Shrek (2001).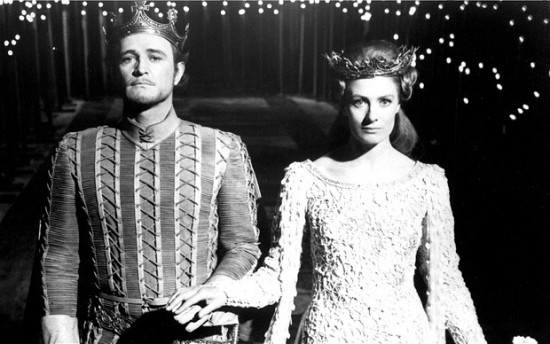 RICHARD HARRIS from CAMELOT (1967)
With a legendary, grandiose story like the tale of King Arthur, it seems natural that it would inspire a musical retelling.  Adapted from the same T.H. White novels and the Lerner & Loewe Broadway musical, this grand scale production was made at the tail-end of the epic musical craze of the 50's and 60's.  Stylistically, it is very different from what you would expect of the era, given it's grittier production design and darker cinematography.  The film feels a little disjointed because of this, given Lerner & Loewe's bouncy musical score.  The odd juxtaposition was probably made because of the changing styles of the times, as late-sixties film-making became less light-hearted.  Unfortunately, none of the Broadway cast made it into this film, including it's original stars Richard Burton and Julie Andrews.  This film did however do right by the casting of Arthur himself.  Richard Harris gives a commanding performance as the character, balancing both the charming aspects of Arthur as well as the menacing aspects.  And he can sing very well too.  The film focuses again on the betrayal of Guinevere and his trusted knight Lancelot, both played by real-life couple Vanessa Redgrave and Franco Nero; but here the focus is on the turmoil Arthur feels over losing trust in those he loves, which Harris captures beautifully.  Though not as good of a musical movie as it could have been, there's no doubt that King Arthur was served well by Mr. Harris' performance.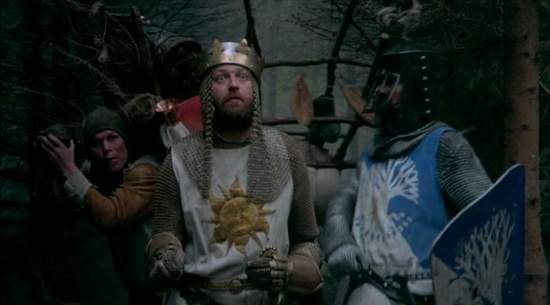 GRAHAM CHAPMAN from MONTY PYTHON AND THE HOLY GRAIL (1975)
As odd as it may seem, the men of Monty Python may have come closer to authentically portraying the Arthurian legend than anything before it.  At least they certainly got the dinginess of medieval times down exactly.  It would make sense in this time period that Arthur would be identified as King because "he hasn't got shit all over him."  The film is a comic masterpiece and one of the most oft-quoted movies of all time.  I also love the way that it both celebrates Arthurian legends, and mocks them relentlessly, often at the same time.  Graham Chapman perfectly encapsulates this kind of idea in his portrayal of Arthur, making the king both noble and incompetent simultaneously.  And in this kind of medieval world, every iconic element of Arthur's story gets sent-up.  Whether it's hacking a stubborn Black Knight to pieces, or searching for an elusive shrubbery, or tossing Holy Hand Grenades, nothing is seen as too ridiculous in this story, and it's all hilarious.  At the same time, the movie points out that the very nature of these legends are ludicrous, especially as role models for modern government and traditions in British society.  They make as much sense today as a man playing dress up and pretending to gallop around while clapping coconuts together. Truly, how can one be called a king just because some "watery tart threw a sword at you" in some "farcical aquatic ceremony?"
NIGEL TERRY from EXCALIBUR (1981)
Director John Boorman proudly took the biggest step forward in making a genuine epic film centered entirely around King Arthur.  His Excalibur is seen as one of the movies that started the fantasy film Renaissance of the 1980's, and the film holds up very well today.  It embraces every single aspect of the Arthur legend, from both the mystical elements, personified in the characters of Merlin (Nicol Williamson) and the evil Morgana (Helen Mirren), to the historical authenticity of it's time period.  Nigel Terry also portrays an Arthur that we've never seen before; that being the reluctant warrior who grows into his role of king and ultimately earns the trust of all his knights through strength of wisdom.  Terry's performance may be the best version of the character we've seen overall because of the many nuances that he brings to it.  This film is one of the best examples of the genre because of the way that it embraces everything that we come to expect from a fantasy and pushes it into directions that we never expected it to go.  Boorman is known for his very gritty and sometimes odd-ball style, best shown in his early thrillers like Deliverance (1972) and Zardoz (1974).  Excalibur feels right at home with those movies, and has an almost dream-like quality to it's narrative and production design.  If you want to see the most earnest attempt to make an authentic film about King Arthur, than this will be the movie that'll satisfy all your needs.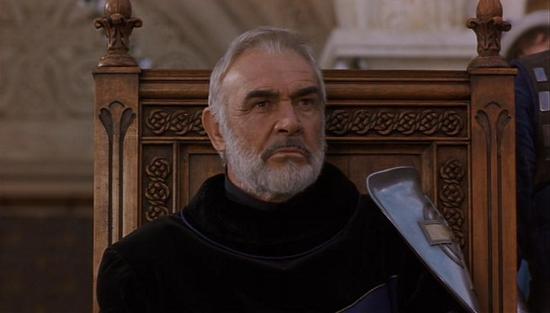 SEAN CONNERY from FIRST KNIGHT (1995)
First Knight is a noble attempt to craft a very ambitious Arthurian tale, but it falls short in many ways.  Again King Arthur is relegated to the background as Guinevere (Julia Ormond) and Lancelot (an oddly miscast Richard Gere) takes center stage with their secret romance driving most of the plot.  The film also dismisses most of the mystical elements of the legend as well.  Merlin is no where to be seen, and traditional villains Morgana and Mordred are replaced by disgraced Prince Malagant (Ben Cross), who proves to be a very ineffective antagonist.  Not only that, the film's tone is all over the place, probably because it was made by former comedy director Jerry Zucker (of Airplane and Naked Gun fame) who probably didn't have the confidence to make a period drama.  So why is this film still a noteworthy adaptation of the Arthurian legend?  Because it has Sean freaking Connery as King Arthur.  The man carries the weight of this film on his shoulders, and is easily the best thing about this movie.  Connery just looks absolutely right playing the aging Arthur.  If you made a shortlist of all the actors who were tailor-made to portray the King, Connery would certainly be near the top.  If only this film had been made while Sean was still in his 007 prime, but still, he makes the most of his time in this movie and the film is better off for it.  First Knight is a flawed retelling of the legend, but it does deserve credit for giving us the ideal version of King Arthur that we've always wanted.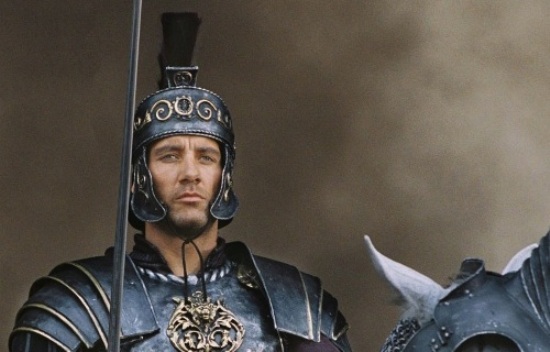 CLIVE OWEN from KING ARTHUR (2004)
The most recent adaptation of the legend gives us what is probably the most historical version of the character to date.  This movie takes us to the very beginning of Arthur's origins, showing him as a Roman legion general who defends the people of Britain from invading Vikings once the Roman Empire's influence has left them.  Accompanied by his centurion knights including, Lancelot (Ioan Gruffudd), and allied with the Saxon queen, Guinevere (Keira Knightly), they repel the Viking king Cerdic (Stellan Skarsgard) as his vast army.  Once again, we get the right kind of actor in the role of Arthur.  Clive Owen is definitely likable here and he has a commanding presence on screen.  Unfortunately, the film seems more preoccupied with the action sequences in the narrative rather than the character development.  The film was made in the post-Gladiator (2000) era, and it certainly feels like a movie crafted a little too quickly to cash in on the success of that previous film.  While I do credit the movie for at least trying to do something different with the legend of King Arthur, I just wish they had made something that was a little more interesting.  Instead, we get a flimsy plot holding together a collection of action scenes.  Clive Owen does what he can as Arthur, but the movie never gives him any room to delve deeper into the character's motivations.  In the end, we end up with an ambitious take on the legend that never really lives up to it's potential.
Looking at the whole of King Arthur's trips to the big screen, it's very interesting to see how varied the different versions are.  I, in particular, found the ones that centered on the King himself to be the ones that stood out the best.  Boorman's Excalibur best personifies how to adapt the legend to the big screen, though other individual films do give us worthy versions of the king as well, like in Sean Connery and Richard Harris' versions.  I think the best way to portray the legend of Arthur and the Knights of the Round Table is to fully embrace all the aspects of the story; even the most fanciful versions.  After all, Arthur is a larger than life character and his story should reflect that.  I particularly love all the inclusions of Merlin in the story-lines, especially when the movies focus on their long standing friendship.  You take that away and you make Arthur just another ordinary king.  I'm sure we'll see many more adaptations of the legend in the years to come, and hopefully more of them will follow along with that same principle.  Long live King Arthur.