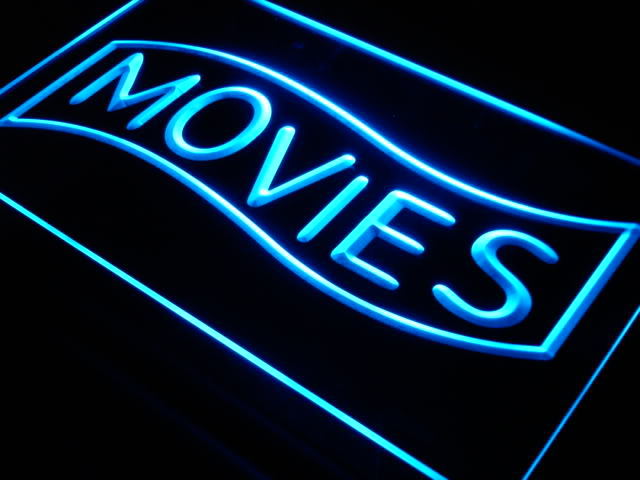 The year of 2015 has come and gone and what a year it turned out to be.  Hollywood of course is pleased with how it all turned out because it ended up being a year for the record books.  No less than 5 movies crossed the billion dollar mark at the world wide box office this year, with a few more nearly reaching that mark as well.  Overall, it was the biggest box office ever in a single year, reaching $11 billion domestic for the first time ever.  And this astronomical number was surprisingly lifted by box office hits that came from long dormant franchises.  This turned into a year where we learned that big business can still be made from franchises that most people thought were done for good, and that fandom should not be underestimated.  But it mattered that these movies also delivered on what their audience was asking for, and it helped that the people making them have long been fans of the titles themselves.  That's why these movies hit as big as they did; they appealed to the audiences sweet spot, but also made them feel fresh at the same time.  And, in the case of Star Wars and Jurassic World, we are seeing the kings of old dominate once again.  But, overall, this was also a year that delivered some of the biggest surprises as well as some of the most crushing disappointments.  That's why, here at the end of the year, it made compiling this list more difficult than usual.  Of all the movies this year, a good amount of them made a very strong case to be on my best of the year list; particularly at the top.  It's just a sign of the quality of entertainment this year; a lot of great films floated to the top, while the rest sank to the bottom, with not a lot in between.  Regardless, I still narrowed it down to my top ten, and it's a list that I feel confident about now.
Before I begin though, I'd like to share with you all the movies that I did enjoy this year, but felt that they fell just short of my top then.  Some of these were particularly close to making it, and I still strongly recommend that you see them because they are thoroughly enjoyable.  In alphabetical order: Avengers: Age of Ultron, Black Mass, Bridge of Spies, Brooklyn, Cinderella, Crimson Peak, The Hateful Eight, Jurassic World, Kingsmen: The Secret Service, Love and Mercy, Mad Max: Fury Road, Mission Impossible: Rogue Nation, The Peanuts Movie, Spectre, Spotlight, Straight Outta Compton, Trainwreck, and The Walk.  So, with those out of the way, let's get into my choices of the Top Ten Movies of 2015.  Keep in mind, though I watch more new movies than the average person, I still haven't seen every movie this year, including some of the late or limited releases, so sorry Room, Beasts of No Nation and Son of Saul; your absence here is purely because I haven't run across you yet.  And so, let us begin the countdown.
10.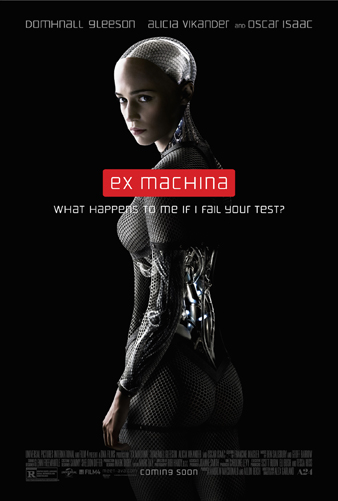 EX MACHINA
Directed by Alex Garland
Perhaps the most fascinating indie film of the year, Ex Machina is a stunning debut for first time director Alex Garland.  Though the movie can sometimes become a little too languid and ponderous at times, it makes up for it with it's well executed ideas.  Detailing a bizarre weekend in the secluded compound of an eccentric tech industry tycoon, where said tycoon uses one of his clueless employees as a guinea pig for testing his new invention (an advanced artificial intelligence housed in a nearly human like robot), this is one of the more unique science fiction films to come in recent years.  And what's great about this movie is that it makes remarkable use of it's limitations.  Using only a single location (the compound) and only three main actors, this movie feels intimate while at the same time allowing you to contemplate some very big concepts within the story.  But, what makes this movie work most of all are the characters.  Domhnall Gleeson plays a likable sap in his role as the smart but gullible hero.  Alicia Vikander brings remarkable life to the challenging role of the robot, making her feel strangely human but distant as well, perfectly challenging the audience with that same question placed on the hero.  But, the movie truly belongs to Oscar Issac as the eccentric billionaire.  He steals every scene he's in and gives one of the best and most unpredictable performances of the year.  His bizarre dance scene in the middle of the film may also be one of the greatest moments of the year in my opinion.  It's a strange little film that should absolutely be experienced, especially for the performances, but also for the interesting questions it raises as well.
9.
CAROL
Directed by Todd Haynes
It was a landmark year for gay rights, with the Supreme Court's landmark decision.  But, Hollywood has often had a difficult time bringing gay themes into their films in a believable way.  Sure, Hollywood has long supported gay people for a while now, and some of the reason peoples' minds have changed over the years towards the issue is because of the way sympathetic depictions of gay characters in most movies.  But, an unfortunate by product of this is that many films from Hollywood that are trying to appeal to the notion of Queer Cinema often are unfocused and rely too heavily on melodrama to accurately portray the gay experience in their movies.  As a result, too many gay-themed films feel inauthentic and often cliched, making their gay characters sadly too one-dimensional.  That's what makes Carol so refreshing.  This movie could have been handled very poorly, either being too melodramatic, preachy, or just plain old boring, and thankfully it avoids all that and instead just focuses on it's characters and their story.  Todd Haynes, a pioneer in the rise of Queer Cinema over the last few decades, imbues this movie with a warm rich atmosphere that recalls the classic melodramas of classic Hollywood, and yet he also manages to keep the sentimentality to a minimum, making this the least melodramatic of melodramas.  It also spotlights a segment of the gay community that I feel is underrepresented in Queer Cinema by focusing on a love story between two lesbian women.  The performances are excellent here, especially Cate Blanchett who's stunning to watch on screen in every scene she inhabits.  Rooney Mara likewise delivers her career best work as well.  It's Todd Haynes most assured and beautifully constructed film to date that thankfully pays homage to classic Hollywood glamour while also acknowledging the moral distinctions that we're aware of today, and never once forces the story to be anything other than what it needs to be.
8.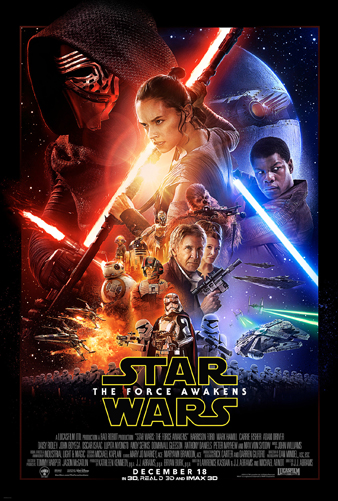 STAR WARS: THE FORCE AWAKENS
Directed by J. J. Abrams
Let's face it; all of 2015 was leading up to this movie right here.  Right from the moment the movie was announced after the handover of Lucasfilm Ltd. to the Disney Studios, people were excited.  Finally the Star Wars saga was going to continue beyond where it left off with Return of the Jedi.  Then we heard that J.J. Abrams was going to direct, and that many of the original cast was returning as well, and we got more psyched.  And then, over the course of the last year, we were treated to several expertly crafted trailers, that boosted the anticipation even more.  Perhaps no other movie in history has come to theaters with so much hype behind it, which led me to worry that it could also have been the year's biggest disappointment if it didn't deliver.  Thankfully, it not only did not disappoint, it was even better than I expected.  There are flaws, sure, but they are so minor compared to all the things they get right.  The characters are the film's biggest triumph, both old and new.  I'm also amazed by how well the film managed to deal with the expectations put on while still feeling confident enough to not deviate from the story it needed to tell.  There is one particular shocking moment late in the film that I won't spoil, but I will say that had it been poorly handled, it would have angered fans everywhere and would've sabotaged the master plan for the series as a whole.  Thankfully, the moment was handled perfectly and it's a game-changer that brings stakes back into the franchise and helps to build anticipation for what's next.  Many have debated what the better revival was this year; Star Wars or Mad Max.  While I do admire what George Miller did with his gritty franchise, I felt that Star Wars hit more of the right notes for me overall.  It was the year of Star Wars in many ways and it's so refreshing to see a blockbuster that actually is worthy of the hype that preceded it.
7.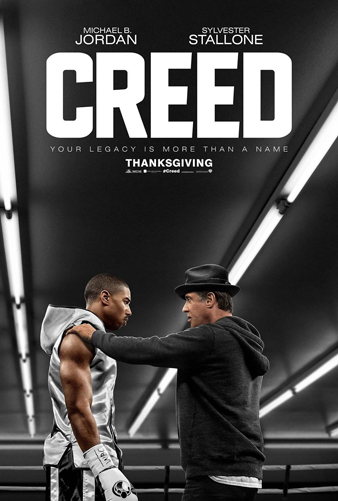 CREED
Directed by Ryan Coogler
But, despite the amazing work done in both Mad Max: Fury Road and Star Wars: The Force Awakens, the best franchise revival of the year belongs to Creed, a remarkably stirring continuation of the legendary Rocky franchise.  Not only does this movie perfectly continue the long running story of boxer Rocky Balboa, but it may actually better than any of the films that have come before it.  The story focuses on the rise of boxer Adonis "Creed" Johnson, the illegitimate son of Rocky's one-time rival turned friend Apollo Creed, and follows his own underdog story as he trains hard in order to come out of the shadow of his famous father, with the help of none other than Rocky himself as trainer.  It's a story we've obviously seen before, and yet director Ryan Coogler makes it all feel new.  What's amazing about this movie is how well Coogler manages to revive the feeling of what made the Rocky films great in the first place, but at the same time manages to feel unique on it's own.  Michael B. Jordan delivers a knockout performance as Adonis, capturing a complex individual who has more to prove about himself than what his name gives him.  However, it's Sylvester Stallone who stands out the most.  He delivers what is probably his best performance ever continuing in a role that has come to define his career.  His aging Rocky is lovingly reborn in this new film and he reminds us once again why we fell in love with Rocky Balboa in the first place.  Coogler clearly meant this movie to be a love letter to the franchise, and the nods to the past Rocky films are expertly displayed here.  And boy, did this movie pick the perfect moment to include the famed Bill Conti theme.  This movie proves that it's not just worthwhile to continue the Rocky franchise; it's essential.  It's expertly crafted, heartfelt, and brilliantly acted and easily one of the years best.
6.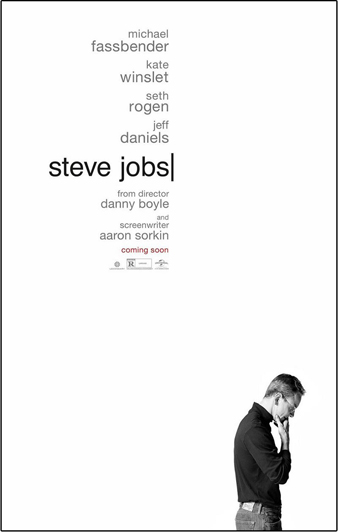 STEVE JOBS
Directed by Danny Boyle
This was probably the most interesting cinematic experiment of the year.  Could you tell the story of a real life person (and cultural icon for that matter) and do it with only three scenes.  That's the approach that director Danny Boyle brought to his biopic of Apple co-founder Steve Jobs, one of the 20th Century's most influential visionaries.  All two hours of the movie is devoted entirely to three half hour long scenes, showing Steve Jobs balancing both personal and professional dilemmas behind closed doors on the eve of the product launches of some of his most famed creations; the Macintosh computer in 1984, the NeXT computer in 1988, and finally the iMac in 1998.  Jobs meets and clashes with all the same people in each scene and the film turns into a fascinating exploration into how people change over the years and how regrets and grudges tend to grow over the passing years.  It's a cinematic experiment that works amazingly well, and helps to redefine the rules about how to make a biopic.  Danny Boyle makes good uses of his usually flamboyant style here, but the real key to this film's success is the sharp as a nail screenplay by Aaron Sorkin.  It's clear to anyone that nobody writes two sided arguments better than Sorkin does, and there are a few here that are more edge-of-your-seat compelling than a dozen action thrillers, particularly one in the middle between Jobs and Apple CEO Joe Cooley (played by Jeff Daniels).  Michael Fassbender also does an amazing job disappearing into the role, which is especially impressive given the very public identity that Jobs had.  Kate Winslet is also great as Job's resourceful and long suffering assistant.  And best of all, the movie smartly doesn't try to turn it's subject into a saint either.  Steve Jobs accomplished great things, but this movie perfectly shows the monster than he could be in between the moments of brilliance.
5.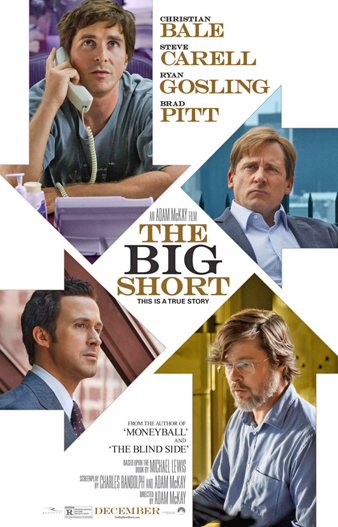 THE BIG SHORT
Directed by Adam McKay
It's hard to believe that the same guy responsible for many of the Will Farrell comedies over the last decade, which includes Anchorman (2004) Talladega Nights (2006) and Step Brothers (2008), could also be responsible for what is the smartest and most gutting and politically charged movie of the year.  Well, as was true in the medieval times, the person best able to speak truth to power when no one else would turned out to be the court jester, and that's what makes the usually comedic director Adam McKay's new film such an eye-opener.  The Big Short details the difficult to explain housing market crash of the late 2000's, an economic disaster that nearly destroyed the entire world economy.  It's a subject that is difficult to explain to the average viewer, and the movie does a masterful job of explaining the un-explainable in both funny and enraging ways.  What I liked best about this movies is the take-no-prisoners approach to the satire.  Everyone is to blame for the corruption and fraud that led to the market downfall in this movie; the bankers especially, but also the politicians, the regulators, even us in the audience who still remain ignorant to the problem.  The movie has a great gimmick where the film will cut away to celebrity guests who will explain to us the things we don't understand, showing how the power of distraction was a tool that allowed the problem to go on for so long without being noticed.  A great cast, led by Christian Bale, Steve Carrell, and Ryan Gosling among others portray the men who saw the disaster coming, and the movie smartly shows that even they were just as guilty of profiteering from the disaster as some of the worst offenders.  It's hilarious, but also enlightening and it will anger you in ways that few other political films do.  It's a satire of the highest level, and would be laugh out loud if it weren't so painfully true.  And it shows that sometimes the funny man can be the smartest person in the room.
4.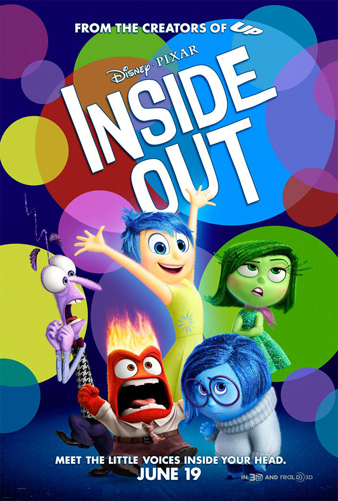 INSIDE OUT
Directed by Pete Docter
Pixar is one of the most revered brands in all of film-making, let alone the world of animation.  But, after a lull in quality over the last couple years, people were wondering if they were still capable of making classics like they did in their heyday.  Thankfully this year, we were treated to an instant classic called Inside Out, which is not just one of the best movies this year, but one of Pixar's all-time greats.  The movie is a stunner from beginning to end, taking us into the most unlikely of settings: the mind of a pre-teen girl.  What I liked about this movie the most were the incredible characters.  Each emotion is a fully developed personality, each perfectly embodying the emotion they represent.  The scene-stealer of course is Sadness, whose characterization is just perfection and is brilliantly voiced by The Office's Phyllis Smith.  In addition, every moment in the movie is an ingenious execution of one great concept after another.  It's great to see a movie take on a subject like psychology and the workings of emotions and portray it in a way that is both entertaining and informative to audiences of all ages.  This will probably be a great introduction to the science of psychology to children, showing that life shouldn't be lived by one emotion alone, but through a mixture of all of them.   And there is plenty of drama and knowing humor that will keep the adults entertained as well.  And it's amazing to think that a movie can make us shed a tear for a character named Bing Bong ("Who's your friend who likes to play?").  Director Pete Docter delivers an assured and fully-rounded cinematic experience that is eye-popping and mind-opening from beginning to end.  And it proves once again that Pixar still has it.
3.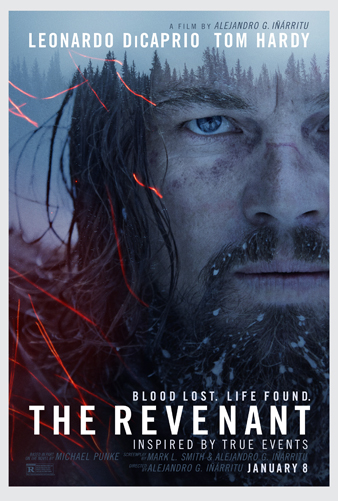 THE REVENANT
Directed by Alejandro G. Inarritu
Director Inarritu is on a career high right now.  After years of making small, mostly non-linear films that featured large ensembles, he decided to change things up recently and try his talents in different genres.  And this has been an experiment that has paid off.  Last year he made Birdman, a dark comedy set in the backdrop of Broadway, and it ended up winning the coveted Academy Award for Best Picture, as well as an Oscar for directing to Inarritu himself.  That film was also my own choice for the best movie of last year, which put a lot of heavy expectations on what he would make next.  Thankfully, he delivered something really spectacular as an encore.  The Revenant is an "Epic" worthy of the word and shows that Alejandro Inarritu is capably of creating a trans-formative film in any genre.  After going light with his last movie, here he goes dark and bloody, telling the harrowing story of Hugh Glass (Leonardo DiCaprio), a fur trapper in the American wilderness in the early 19th century, who's left for dead after a bear attack and must fight his way back to civilization in order to kill the man who murdered his son.  The visuals in this movie are stunning, accomplished by back-to-back Oscar winner Emmanuel Lubezki, and there are many "how did they shoot that?" moments that will leave people amazed.  Really, this was the best visual experience of the year for me.  DiCaprio once again proves why he's one of the best actors working today, and this shoot must have been a hard one to go through.  But, it's Tom Hardy who steal the film as the villain, becoming almost unrecognizable in the role.  It's a brutal cinematic experience, but one that's rewarding by the end, and it shows that the newly crowned Oscar-winning director still has a lot more to show us.
2.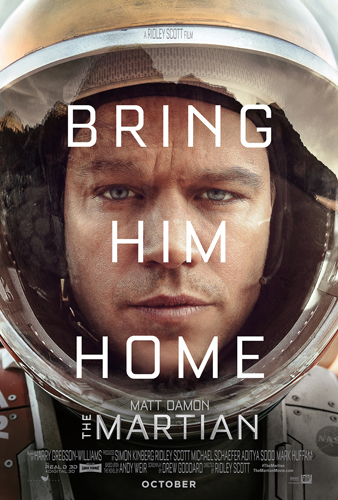 THE MARTIAN
Directed by Ridley Scott
One of the year's breakout hits, The Martian also proved to be one of the surprising cinematic experiences as well.  While a lot of people expected this to be a thrilling, action packed extravaganza, I'm sure that no one expected this to be as smart, funny, and ultimately inspiring as it turned out to be.  The film tells the story of astronaut Mark Watney (a perfectly cast Matt Damon) who is left behind when his crew leaves him for dead on the Martian surface after their camp is hit by a sand storm.  After surviving the incident, Mark must find a way to live on the inhospitable terrain of Mars before a rescue team can come and retrieve him; a process that may take up to 4 years.  Much of the joy of watching this movie is seeing the ingenious processes that Mark Watney undertakes to stay alive, and the unwavering determination of the people back on earth to bring him home safely.  It's the positivity that the characters approach their missions with that makes this movie so refreshing.  While many other science fiction films will often get bogged down in melodramatic contrivances, The Martian instead celebrates the ingenious and cooperative progression that the characters takes.  And best of all, it puts the Science back into Science Fiction.  In a time we live in now when Science is so often villified, whether it's denying climate change or dismissing the benefits of vaccination or just flat out denying the fact that man has walked on the moon, it's great to finally see a movie that celebrates the use of science and praises the work of scientists.  Director Ridley Scott of course delivers on the visuals, but it's also a treat to see him work with a story built around optimism rather than tragedy.  Plus, it's got a great disco based soundtrack as well.  It's one of the years finest film-making achievements and one of the more pleasurable cinematic experiences as well.
And finally…..
1.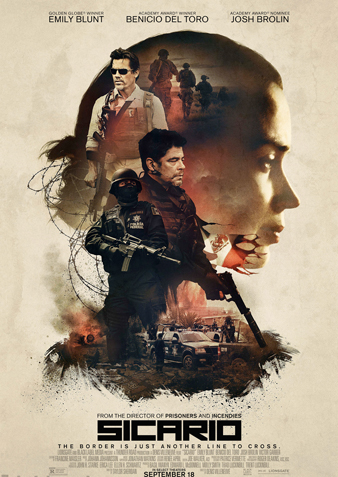 SICARIO
Directed by Denis Villeneuve
This was one of the most unexpected and haunting cinematic experiences this year.  Sicario was a punch to the gut for me as movies go, and I still haven't been able to shake it from my mind.  It works on just about every level; from the relentless and oppressive atmosphere, to the deceptively sparse screenplay, to the flat out amazing performances.  It was the movie that stuck with me longer after seeing it than any other this year.  The movie follows a rag tag group of law enforcement agents fighting in the drug war along the U.S./ Mexican border.  The movie starts off with a chilling discovery in a horror house filled with decaying corpses out in the middle of the Arizona desert and it takes us from their into a nightmarish journey down the rabbit hole into the madness of America's War on Drugs against the ruthless Mexican cartels.  Some of the imagery throughout the movie will stick with you, like the bodies of the Cartel's victims hanging off the edge of a highway bypass, or the unbelievably brutal final confrontation at the end.  I won't spoil what happens, but let's just say it's the most shocking moment in any movie I saw this year.  And yet, with all this horror and mayhem, it still proves to be a rewarding experience, and that's because of how truthful it is to both the subject and the characters.  The performances are amazing throughout.  Emily Blunt proves once again how versatile she is and becomes a perfect witness for the audience to identify with through all the craziness.  Josh Brolin also offers some much needed levity as the cynical smartass Agent Carver.  But it's Benicio del Toro who owns the movie.  His mysterious Agent Alejandro may be my favorite character of the year, and it'll be a crime if he's not nominated for an Oscar for this performance.  It's a cinematic experience all of you should see, and it stands as my favorite of the year in a very crowded field.
But, of course I can't tell you my best of the year picks without also sharing my picks for the worst.  I usually steer clear of bad movies in the theaters as you know, but there were some that were just unavoidable, even if I could see them coming.  So, here are the Top Five Worst of 2015.
5.
TOMORROWLAND –  Without a doubt the year's most disappointing film.  Believe me, I wanted to love this film, given the talent behind it.  But sadly, what we got instead was a tired, cliched wannabe sci-fi classic that never fully explored the promising ideas that it only hints at.  I wanted to see a grand adventure, and all I ended up with was a road movie.  Please don't let us down again Brad Bird.
4. 
ALOHA – Speaking of wasting away a lot of promise, director Cameron Crowe just can't seem to recapture the creative drive that once made him a standout many years ago with movies like Jerry Maguire and Almost Famous.  Aloha represents yet another poor attempt by Crowe to recapture some of that lost inspiration, but even the pretty Hawaiian locales can't save this movie from a boring story and lackluster characters.  Not to mention it has the notoriously bad miscasting of Emma Stone as a part-Asian character.
3.
TED 2 – The crumbling of the Seth MacFarlane empire has been going on for a while now, and this lame sequel is just another sign of that.  I did enjoy the first Ted back in 2012, but the novelty has worn off since.  This over long, contrived comedy fails on all levels to be worth the effort.  Only a well-done cameo by Liam Neeson managed to get a laugh out of me while watching the film.  Other than that: crickets.
2.
TERMINATOR: GENYSIS – In a year when we saw triumphant revivals of legendary franchises, the Terminator series was the only one that we saw sink further.  This uninspired sequel manages to have the gall to go back to the original classic and disrupt the timeline, wiping the slate clean.  This might have been interesting had the end result not been so lame.  Yes, it's nice to see Arnold back in the iconic role, but every other character is a one-dimensional bore.  And how dare they make Sarah Connor such a bland character.  It's tired, predictable, and a disgrace to the once mighty franchise.
And the worst film of 2015 is….
1.
FANTASTIC FOUR – Yeah, you probably knew this was coming.  I tore this movie apart in my earlier review and the opinion still stands.  This was a trainwreck of a movie on every level; visually, narratively, performance-wise, everything.  Even the people who made it have expressed how horrible the experience was.  The only ones who seem to want to keep this disaster going are the studio heads at Fox, who are just greedily holding onto the rights in order to keep the characters away from Marvel.  It's a cynical business ploy that represents the worst kind of film-making.  Hopefully, Fox will learn that this no way to make a movie and will give up their grip-hold on these characters, and allow this travesty of a film to be forgotten.
So, there you go.  My picks for the best and worst of 2015.  It was an interesting year that brought us some grandiose and record breaking entertainment.  But, we were also treated to many surprises that also proved to be worthwhile.  Looking ahead now, we begin another year of movies that again looks promising, if a bit less ambitious than the previous year.  We'll get an extra large helping of Superhero films this year including two big crossover events like Captain America: Civil War (May) and Batman v. Superman: Dawn of Justice (March), plus the anticipated sequel X-Men: Apocalypse (Memorial Day), as well as the introduction of a new face to the mix: Doctor Strange (November).  Plenty of sequels await (Alice Through the Looking Glass, Finding Dory, Independence Day:Resurgence, Star Trek Beyond) plus a couple of re-imaginings (The Jungle Book) and even a revival (all-female Ghostbusters).  Plus, we're going to get ambitious new films from some of cinema's great masters like Steven Spielberg (The BFG), a first ever screenplay from famed Harry Potter author J.K. Rowling (Fantastic Beasts and Where to Find Them), and a stand alone Star Wars flick to help keep us satisfied in between Episodes VII and VIII (Star Wars: Rogue One).  It's going to be an unpredictable year, and while I don't think we'll see some of the box office highs that we witnessed this last year, I'm sure there will be plenty of worthwhile entertainment to be had.  And I'll be sure to cover as much as I can of it for you my readers.  Happy New Year and let's all still have a blast watching and talking about the movies.