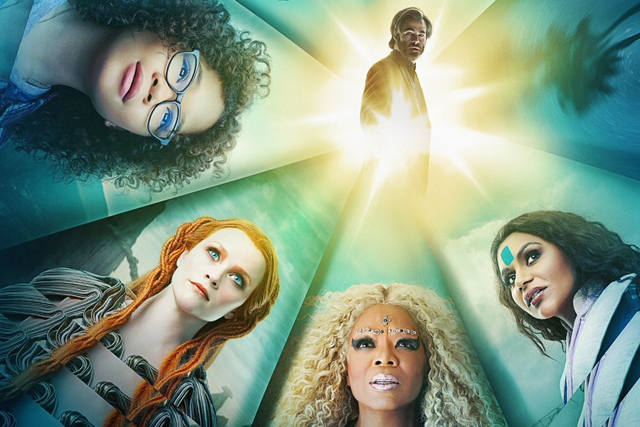 Every now and then, a movie arrives at a time where it is seen to be a statement for it's time.  And I don't mean just in the content of the film itself, but also for what it represents as a milestone of a production.  Sometimes a movie breaks new ground in technology or addresses a taboo social issue that has long been overlooked.  But one thing that especially stands out over time in Hollywood is the advancements made in representation.  Over the years, Hollywood has recognized it's shortcomings when it comes to representing all groups within society, whether it be based around race, ethnicity, creed, or sexuality, and in several instances you will see the industry try to reach out with movies that address those communities directly.  But, the difference between who makes the movies and who those movies are directed towards have been a sticking point for many, as Hollywood has remained a predominantly white, male-centered industry for the longest time, at least when it comes to the work behind the camera.  That has led to some people making that lack of diversity an issue and worth holding Hollywood accountable for that.  In recent years, we have seen some studios address that issue by not only seeking out talent in all fields that represent a more diverse society, but also in taking a chance by giving them big budget, tent-pole films to work on.  And, the results have proven that diversity is indeed a positive for the industry.  Last year, Wonder Woman became a landmark by becoming the highest grossing movie ever directed by a woman, and about a female superhero no less.  This year, the Afro-centric Black Panther from Ryan Coogler is shattering box office records, left and right, again obliterating the preconceived notions that films by white males are all that make money.  The trend continues now with Disney's adaptation of the young adult novel, A Wrinkle in Time, with rising African-American director Ava DuVernay getting her first shot at making a statement with a  big Hollywood film.
DuVernay made a name for herself with the critically acclaimed biopic of Martin Luther King Jr., Selma (2014) and then she received an Oscar nomination for her documentary, 13th, a year later.  Some believed that her lack of a directing nomination for Selma was one of the more egregious snubs by the Academy in recent years, which was part of the fuel for the "Oscars So White" campaign that changed both the way the Academy votes and increased the diversity within it's membership.  She herself became the first black woman ever accepted into the Academy's director's branch, which quite the honor in it's own way.  But, all this helped to keep her a hot new name in the industry, leading some to believe that she was indeed ready to undertake bigger and more prestigious projects.  Eventually, Ava took an offer from Disney to direct an ambitious adaptation of a literary classic that they have long held the rights to.  Written in 1962 by author Madeleine L'Engle, A Wrinkle in Time is the first of a series of science fantasy novels that have ever since become a essential reading for young adult fans for several generations.  Though many have tried, few have ever gotten a film adaptation off the ground, leading many to believe that the trippy, existential tome is un-filmmable.  Disney has held onto the rights for the longest time, and even assembled a small scale TV-movie based on the book, which fell way short of capturing the essence of the novel.  But with a hungry and interested filmmaker like Ava Duvernay ready to give it her own shot, Disney felt confident in not just giving her the reigns, but also attaching a sizable budget to it, which itself is groundbreaking, because that's never been done before for a woman of color in the director's chair.  The only question now is, did Ava Duvernay deliver on that potential and make A Wrinkle in Time both work as a milestone and a work of art, or was it perhaps too much wishful thinking?
A Wrinkle in Time follows the story of a young mixed race girl named Meg Murray (Storm Reid) who struggles in school despite her demonstrated intelligence.  The disappearance of her astro-physicist father, Mr. Murray (Chris Pine) has hit her hard, and she has withdrawn from the world as a result, losing friends and alienating herself amongst others.  She receives support from her intelligent but strange little brother Charles Wallace (Deric McCabe), as well as her molecular scientist mother Mrs. Murray (Gugu Mbatha-Raw), but nothing seems to pull her out of her gloom.  Then, one night, she is visited by a strange, unusually dressed individual named Ms. Whatsit (Reese Witherspoon) who tells Meg that she has information as to the whereabouts of her missing father.  It turns out that his experiments with molecular manipulation opened up a Tesseract, which is a fold within the space-time continuum.  Now he is lost somewhere in another dimension and it's up to Meg to use her intelligence to find him.  Assisted by a curious young man from her school named Calvin (Levi Miller),  Meg meets Mrs. Whatsit again along with her two equally powerful fellow mystical beings; the wise words obsessed Mrs. Who (Mindy Kaling) and the all-knowing Mrs. Which (Oprah Winfrey).  Meg, Calvin, and Charles Wallace all pass through the time "wrinkle" and end up on another planet where it is believed that Meg's father has ventured through.  While they take in the glorious and fascinating sights of this new world, the trio become aware of a dark presence that loom on the horizon.  The mystical "witches" tell them that this dark cloud is evil in it's purest form, known simply as the IT,  and it's spreading  darkness across the galaxy, infesting minds and turning people against each other.  Though they are advised to stay away, Meg is compelled to face the darkness, believing that her father lies trapped within it's grasp.  But, does she have enough within herself to face the darkness of the IT and find her father before it's too late.
It's very clear that adapting A Wrinkle in Time to the big screen was not going to be an easy undertaking.  It is a very cerebral, high concept story that requires a lot to be drawn from the interpretations of the reader as they image the worlds that author L'Engle describes in her writing.  To bring that to life on the big screen requires an imaginative mind bold enough to do justice to L'Engle's vision.  Ava DuVernay is nothing but fearless as a director, and she deserves a lot of credit for being bold enough to want to see these visions brought to life.  But, the story has often been called un-filmmable for a good reason, and this movie is evidence of that.  I'm sorry to say but this adaptation of A Wrinkle in Time is a colossal mess as a movie.  To clarify, I haven't read the book so I don't know how the movie actually stacks up, but what I saw just based off the film's plot, I saw it as meandering, uncoordinated, and quite frankly underwhelming given talent involved.  Believe me, I want to see Ava DuVernay succeed as a big, studio filmmaker, but this isn't the movie that is going to establish her as that type of director just yet.  It's clear almost from the very beginning of the movie that her grasp on the reigns of this film is not strong enough, and the movie struggles to find an identity as a result.  In particular, the pacing of the movie never gives the movie a chance to define it's own logic.  It's clear that they were trying to force through a lot of the content from the book into the movie's relatively short 105 minute run-time, and it makes the whole thing very exposition heavy.  There's a rule to film-making where it's said that it's better to show, not tell in order to deliver key information to the audience, as film is a visual medium that allows images to carry more power.  This movie seems to break that rule constantly, as characters (particularly the witches) seem to exist solely to explain what is going on and what things are, making it seem like the movie doesn't trust it's audience to figure things out on their own.  It goes on like this throughout the movie, and I found myself becoming very frustrated with it as a result.
This is more of a problem with the uninspired screenplay more than anything else.  Written by Frozen (2013) scribe Jennifer Lee, the screenplay seems to be too married to the content of the original novel.  There is a lot of information delivered and it seems like the script wanted to make sure that everything was spelled out for us.  Because of this, scenes merely exist to reveal new information for our characters, rather than allowing us to absorb the atmosphere of the story.  Adapting a novel is tricky, because you don't want to change too much in fear of angering die hard fans of the original book.  But, if you try to include too much of what's on the page, then your film feels constrained because it feels like too much is being funneled through a very narrow passage.  That's what the movie felt like to me, because it was all moving forward without rhyme or reason and nothing was connecting.  The lack of wonder is especially problematic, because the eye-catching worlds visited should leave an impression, both on the characters and on us, but no time is given to set things up, so it's all sort of just casually presented without a sense of the magical.  There's a colony of sentient flowers who communicate through colors; that's an interesting idea.  Are they going to impact the story at all?  Nope, they are just a side-show on the way to the next elaborate visual effect.  Reese Witherspoon's Mrs. Whatsit can transform into a giant floating leaf of cabbage.  Okay, why?  What's more, we get a trite love-conquers-all resolution to the story, and it seems like the script forgot to connect the idea of how the fantastical journey opens up a new understanding of the inner working's of the universe itself.  The story is called A Wrinkle in Time, because it uses the manipulation of the laws of physics and time as a starting off point into the realm of fantasy.  The universe is strange and wonderful, but it is grounded by the fact that science can provide a solution to every unexplained phenomenon.  The movie treats it like an afterthought, minimizing the impact of the fascinating scientific possibilities and merely just uses each sight as a showcase for the film's lavish production values.  It's pretty, yes, but hollow, and a better more streamlined screenplay could have helped us appreciate all the scientific questions and imaginative what-if speculations that the original story had.
As a director, Ava DuVernay knows how to find emotion in a story, but she's also still a filmmaker trying to refine her style.  This is only her third narrative film as a director, and that lack of experience is apparent when watching this movie.  That being said, I do give her a lot of credit for actually trying.  The best thing I can say about this movie is that it's clear that Ava was invested in making this the best that it could be.  She wasn't just trying to collect a paycheck, she really was pushing herself as an artist, trying to flex her muscles in areas of storytelling that were completely new to her.  In a way, she triumphs in that department, because the movie is quite visually stunning in some parts.  There are some compositions that I found very effective, and it showed me that in spite of the convoluted way that the story was being told, Ava at least was trying to give it some resonance visually.  The film does feel generic in the first half, with the movie looking more akin to a big budget TV pilot than anything else.  But, it's at the point when the characters arrive at the home planet of the IT that Ava really begins to get creative, and the sequences in this section of the film show her experimenting more and getting better results.  I especially like the creepy sequence in a suburban setting with children bouncing balls in perfect, eerie unison.  It's in this sequence where we see what the movie could have been had it been given more leeway to define it's own identity.  Though Ava DuVernay has the skills to craft an emotionally resonant film, the high demands of such an expensive and elaborate production may have hindered her creative juices, and caused the movie to feel far more generic than it should have been.  I hope that Ava takes some key lessons from this experience and understands what it takes to deliver more emotion out of a larger scale film the next time she's given this opportunity, which I hope happens.  It may not have come together as well as we all hoped, but I don't put the blame on her shoulders.
Another mixed bag for this film is the cast itself.  There are some very good performances here, as well as some not so good ones, and some frankly insufferable ones too.  I do have to praise Storm Reid's performance as Meg Murray.  The role of the problematic protagonist of this story had to be a tricky one for her to pull off, because if she put too much emotion into the character, she would have seemed to be inauthentic and unlikable, and too little emotion would have made her shallow and boring.  She finds the right balance, allowing us to at least find sympathy in the character of Meg and hope for her to find a happy resolution to her story.  Chris Pine is also quite good here as Mr. Murray.  He believably conveys the persona of a man who has long been disconnected from the reality that he has known, as well as the remorse he feels for leaving that normalcy behind, especially when confronted with how it has negatively affected his children.  But these are pretty much the only worthwhile performances in the movie.  The witches, sadly, leave such a minor impression, when they should have really been the movie's highlight.  Oprah does little more than stand around and appear regal, while Reese Witherspoon tries desperately to act whimsical and fails badly.  Mindy Kailing is the more subtle and effective of the three, but she too leaves little impression.  Part of the problem is the fact that the script just doesn't give these characters any context.  They appear magically, provide guidance, and then disappear when their job is complete.  We don't know where they come from nor what their agenda is.  They are just fantastical for the sake of it, and in the end, it makes them less magical.  Levi Miller's Calvin contributes absolutely nothing to the story other than to provide Meg with companionship and a potential love interest; ironically, becoming a reversal of the trope used in movies of this type where this character was typically a woman alongside a male hero, just there to look pretty and contribute nothing else.  I guess that's progressive in a way, but it would be better to ditch the trope completely.  The most insufferable character though is Charles Wallace.  This is the worst kind of precocious child character that you'll find in any movie; speaking lines that are way out the range of a child (intelligent or not) and with little sense of subtlety as well.  I'm sure that the little boy playing him is charming and likable in person, but that doesn't come across at all in the film, and the movie becomes painful to watch because of this sometimes.  It's another unfortunate result of a movie that delivers too little in return given what it had the potential for.
I want to see Hollywood take more chances with directors that come from all varieties of backgrounds.  We are already seeing this happen in a big way with Black Panther, and that success is already opening many doors that were once closed before.  Ava DuVernay has the potential to become part of that new movement too, given her passion for directing and telling bold, interesting stories.  Unfortunately, A Wrinkle in Time is just not that movie that makes the best case for her.  Believe me, I wanted to come away from this movie having loved it.  Ava seems like such a fascinating person with and the right kind of mind to take on a story as complex as this.  But, the movie meanders through a half-baked plot that never allows the story to flourish the way it's supposed to.  I don't know exactly how readers of the original novel are going to react to this film, but as a novice to this story, I found myself frustrated with the way it never once made me care about what was going on.  A story like A Wrinkle in Time could have been something really special and important for our time; providing a perfect criss-crossing of fantasy and science that could inspire a whole new generation of film-goers who are perhaps a bit deprived of both in movies today.  I could see this as a film that could have lived up to fantastical cinematic journeys like The Wizard of Oz (1939), Labyrinth (1986) and The Neverending Story (1987).  Instead, it became just another over-produced blunder that favors production design and visual effects over a compelling story, which is happening to too many fantasy films these days as studios play things perhaps too safe.  At least Ava DuVernay salvages a bit of the movie by putting some effort and passion into it.  But, at a time when movements like the one she represents needs a bold, statement that's also successful, A Wrinkle in Time ends up leaving us, to use a phrase from the movie, "frankly underwhelmed."
Rating: 6/10