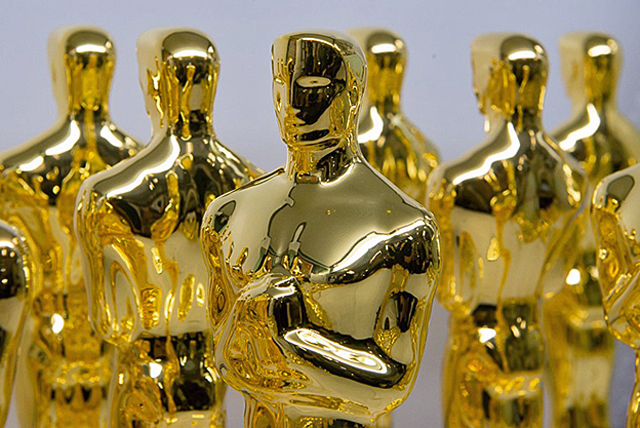 This year's Academy Awards follows up what many would consider one of the most tumultuous in the history of the industry.  Forget about the winners and losers at the box office, what really shook the walls of Hollywood was the far reaching scandals that dominated much of the headlines.  Numerous careers, including some high profile power players in Hollywood, were destroyed overnight and for a lot of them, it was for a good reason.  2017 was a year of reckoning for Hollywood after many years of trying to keep things under wraps and just moving on like it's nothing.  No doubt it has left a deep impact on the entertainment business, and there were plenty of casualties along the way (for good and bad), but the conversation needed to be made and change had to happen.  This Oscar's, we will hopefully be witnessed to a more aware and responsible Hollywood, and the controversy will certainly be touched upon over the course of the evening, as previous award shows this season have shown.  It remains to be seen if those same feelings manifest in the way that the Academy voters have cast their ballots this year.  There certainly are a number of movies nominated this year that hit on topical social issues, like Martin McDonagh's Three Billboards Outside Ebbing Missouri, Steven Spielberg's The Post, Greta Gerwig's Lady Bird, Luca Guadagnino's Call Me by Your Name, and most certainly Jordan Peele's Get Out.  But what I find fascinating about this line up of Best Picture nominees is how it demonstrates clearly something that  discussed in last week's article, which is the growing divide between old Hollywood and new Hollywood.  In the 9 nominees, you can see choices that represent the previous held notions of what traditionally makes up an Oscar film (Dunkirk, Darkest Hour, The Post, Phantom Thread) and choices that contradict the traditional notions (Call Me by Your Name, Get Out, Lady Bird, The Shape of Water, and Three Billboards).  As a result, we now have one of the least predictable Best Picture lineups in recent history, and as last year has shown, it's anybody's race.
As in previous years, I will be taking a look at the top categories of Adapted Screenplay, Orignal Screenplay, Supporting Actor, Supporting Actress, Actor, Actress, Director and Best Picture.  I will argue my choices for who will likely win and who I would like to see win, which sometimes lines up.  And with that, let's take a look at this year's nominees.
BEST ADAPTED SCREENPLAY
Nominees: James Ivory (Call Me by Your Name); Scott Frank, James Mangold and Michael Green (Logan); Aaron Sorkin (Molly's Game); Dee Rees and Virgil Williams (Mudbound); and Scott Neustadter and Michael H. Weber (The Disaster Artist)
This is the perhaps the most interestingly diverse category at this year's Oscars; at least in terms of the movies represented.  You have a historical, literary adaptation in Mudbound, a memoir adaptation that is loosely tied to it's source and might have well been an original screenplay if it weren't based on real life like Molly's Game, a farcical retelling of the making of the worst movie ever with The Disaster Artist, a tender queer romance with Call Me by Your Name, and even a comic book adaptation with Logan.  While many of these nominees are commendable for a variety of reasons, and I'm especially happy to see a little love sent The Disaster Artist's way after being snubbed in other categories, this category is leaning very clearly towards a particular favorite.  Call Me by Your Name has emerged as the front runner and it's hard to argue.  It handles it's subject matter in such a delicate way and gives it a universal resonance for today that I don't think it would have had at any other time.  Couple this with the fact that the script was written by a living legend in Hollywood who has yet to win an Oscar.  89 year old James Ivory is best known as one half of the Merchant Ivory team that made a name for itself creating lush period dramas that were particularly popular with Oscar voters in the past, such as A Room with a View (1986), Howard's End (1992) and The Remains of the Day (1993).  Though retired from directing, Ivory still managed to craft an exceptional screenplay with a tender love story between two men at it's center that really feels remarkably in tune for our times.  I still find it subversively delightful that someone close to 90 years of age sat down and wrote out the now notorious "peach scene" into a script.  It's a long overdue honor for a legendary filmmaker and deserving given how well it hits a cultural nerve for today's audiences.
Who Will Win: James Ivory, Call Me by Your Name
Who Should Win: James Ivory, Call Me by Your Name
BEST ORIGINAL SCREENPLAY
Nominees: Jordon Peele (Get Out); Greta Gerwig (Lady Bird); Kumail Nanjiani and Emily V. Gordon (The Big Sick); Guillermo del Toro and Vanessa Taylor (The Shape of Water); Martin McDonagh (Three Billboards Outside Ebbing, Missouri)
This category more or less falls into line with the usual suspects as opposed to this year's adapted nominees.  Though diverse in genre, all the movies here have one thing in common, which is that they are all personal creations from each of their creators.  Whether they are semi-autobiographical like The Big Sick or Lady Bird, or making a bold statement like Get Out or Three Billboards, or is a passion project from an acclaimed auteur like The Shape of Water, each one has a clear personal story attached to it.  This is also the category where the Academy is likely going to make it's own acknowledgement of the cultural issues of the day.  With that in mind it's likely that Three Billboards and Get Out are the movies that have the best chance of winning in this field.  But, which issue wins out in the end.  Get Out delivers a daring message about race relations in America that takes left turns that you probably would've never expected and is certainly on a structural aspect the most original script in this bunch.  But Three Billboards tackling of sensitive issues like sexual abuse, freedom of expression, and gender discrimination make it a far more timely film in this category.  While Martin McDonagh's screenplay is delightfully un-PC and thoroughly original in concept, his handling of these touchy issues is somewhat less graceful, and it makes me think that Jordan Peele has the edge here with his more on-point Get Out.  And while I do admire the work that both men put into their writing, my own personal preference goes to Greta Gerwig's more subtle work with Lady Bird.  With her screenplay, Gerwig delivers one of the most natural feeling character studies in recent memories.  All the other nominees are driven more by their well designed plots, but Gerwig paints a portrait, transporting us into her character's lives and letting us feel at home with them.  It's the least "movie" script of the bunch and that's why I like it the best of the bunch, even if it's chances are slim.
Who Will Win: Jordan Peele, Get Out
Who Should Win: Greta Gerwig, Lady Bird
BEST SUPPORTING ACTRESS
Nominees: Allison Janney (I, Tonya); Laurie Metcalf (Lady Bird); Lesley Manville (Phantom Thread); Mary J. Blige (Mudbound); and Octavia Spencer (The Shape of Water)
The Supporting Actress category is an interesting line-up this year because of the pedigree involved.  Usually this award is distinguished by a collection of up-and-coming talent or by standout performances from seasoned veterans.  This year is interesting, because apart from previous winner Octavia Spencer, the category is filled with first time nominees who have been noteworthy in places other than the big screen.  Lesley Manville, a mainstay in her native England both on stage and in indie dramas, delivered a standout performance in Phantom Thread, managing to even upstage Daniel Day-Lewis at some points remarkably.  And R&B recording artist Mary J. Blige managed to earn an acting nod for her tender work in Mudbound, while also getting a Best Song nod at the same time (an Oscar first).  But, it's a pair of two acclaimed TV veterans that are leading the pack this year; Allison Janney and Laurie Metcalf.  Allison Janney, a multi-Emmy winner for her work on The West Wing series has emerged as a front runner, playing the very rough edged mother of Tonya Harding in I, Tonya.  It's a showy performance that allows Janney to chew as much scenery as she desires and still feel genuine to the role.  There's no doubt that Allison makes the best out of the role and she is a delight to watch in the movie; especially when she's interacting with a pet parakeet on her shoulder.  However, it's Laurie Metcalf's more reserved performance as another cinematic mother that won me over more this year.  Her performance as the over-bearing, but dedicated mom to the Saoirse Ronan's titular character in Lady Bird is a beautiful representation of every nuanced acting ability that Metcalf has honed on television ever since her early Roseanne days and forward.  While it is a close call, I think that Allison Janney's more bombastic performance probably appealed more to Academy voters and that's while she'll win, although Metcalf's long esteemed body of work might make a good case for her as well.
Who Will Win: Allison Janney, I, Tonya
Who Should Win: Laurie Metcalf, Lady Bird
BEST SUPPORTING ACTOR
Nominees: Christopher Plummer (All the Money in the World); Richard Jenkins (The Shape of Water); Sam Rockwell (Three Billboards Outside Ebbing, Missouri); Willem Dafoe (The Florida Project); and Woody Harrelson (Three Billboards Outside Ebbing, Missouri)
The most striking thing about this category was the surprise inclusion of Christopher Plummer for his performance as J. Paul Getty in Ridley Scott's All the Money in the World.  For those who followed industry news last year, it was widely publicized that Ridley Scott re-shot multiple sections of his movie in order to remove disgraced actor Kevin Spacey from the role of Getty and replace him with Plummer instead.  Even more amazing was the fact that it was done only a month away from the film's premiere date.  So, it is quite shocking to see such a late addition to a movie earn recognition from the Academy.  I like to think that Plummer is just that good of an actor, but I think his nomination has more to do with the story behind his casting.  Even still, he is highly unlikely to win this year.  For right now, early predictions put Sam Rockwell at the head of the pack, with his acclaimed but also controversial role as a racist cop seeking redemption in Three Billboards.  Rockwell is a highly respected actor in Hollywood, having worked in a variety of beloved roles over the years, without ever getting recognition from the Academy.  This year seems set to rectify that, but controversy over the movie's handling of his character has raised questions leading up to the rewards.  The character's problematic racism is never really addressed in a meaningful way in the film, and that's making a lot of critics unsettled with honoring it with an Oscar win.  But, I would argue that it's a fault of the screenplay and not the actor, who still delivers a strong, nuanced performance.  But, as much as I like Rockwell, my personal favorite is Willem Dafoe in the criminally underappreciated The Florida Project.  I want this beautiful, little seen film to have some recognition, and Dafoe's exceptional performance as a downtrodden hotel manager is the only shot it has.  Rockwell will probably still be victorious, but a surprise win for Dafoe would delight me to no end, and would be very much deserved.
Who Will Win: Sam Rockwell, Three Billboards Outside Ebbing, Missouri
Who Should Win: Willem Dafoe, The Florida Project
BEST ACTRESS
Nominees: Frances McDormand (Three Billboards Outside Ebbing, Missouri); Margot Robbie (I, Tonya); Meryl Streep (The Post); Sally Hawkins (The Shape of Water); Saoirse Ronan (Lady Bird)
One question has undoubtedly arisen ever since the beginning of this year's Oscar season; can anyone beat Frances McDormand for Best Actress?  Perhaps the biggest lock of this year's nominees, McDormand looks almost certain to win her second career Academy Award in this category; the first of course for her now iconic performance in the Coen Brothers' masterpiece, Fargo (1996).  And it is a win that she by all means will have earned.  From the first moment we saw the trailer for Three Billboards, it was clear that this was a role tailor made for Frances to knock it out of the park, and that she did.  She perfectly balances the emotional toil that her infuriated maternal figure goes through along with the laugh out loud "give 'em hell" in-your-face personality.  It's hard to balance comedy and tragedy in a single role, and Frances McDormand does it so effortlessly.  Among the other nominees, I can't see any other that quite rises to that same level, despite all of them being very good.  Margot Robbie's very physical performance as disgraced figure skater Tonya Harding is a definite standout, and any other year, she would be a runaway favorite.  Another strong contender is Sally Hawkins who delivers a passionate and completely wordless performance as the mute female lead of The Shape of Water.  Her character is probably the most nuanced of the group, because there are so many layers of performance that she has to work through, and she makes a tremendous transformation in the process.  But, it's hard to ignore the force of Frances McDormand's work this year and I believe that the Academy will feel that same way.  She is a beloved part of the acting community and her performance in Three Billboards is without a doubt one of the greatest of her esteemed career, almost guaranteeing her a second career award.
Who Will Win: Frances McDormand, Three Billboards Outside Ebbing, Missouri
Who Should Win: Frances McDormand, Three Billboards Outside Ebbing, Missouri
BEST ACTOR
Nominees: Daniel Day-Lewis (Phantom Thread); Daniel Kaluuya (Get Out); Denzel Washington (Roman J. Israel, Esq.); Gary Oldman (Darkest Hour); and Timothee Chalamet (Call Me by Your Name)
 On the surface, this would look like another category that appears locked up, but maybe not as much as Frances McDormand for Best Actress.  For right now, the favorite to win is Gary Oldman for his role as legendary British national figure Winston Churchill.  The chameleon like actor has made a name for himself playing a wide variety of roles where he completely disappears into character and can play just about everyone and everything.  His performance as Churchill is no exception, and frankly shows the actor at his very best.  Even through the heavily applied make-up to transform him closer to the famously rotund world leader, he still gives off a commanding presence helping his performance feel authentic and true to the real person.  He chews the scenery in the best way possible and has a magnetic pressence in every scene he is in.  It's hard to believe that such an esteemed and multi-faceted actor like Oldman is coming into this Awards with only his second nomination ever (the first being for 2011's Tinker Tailor Soldier Spy).  It feels like this is both an acknowledgement of his whole body of work thus far, as well a honor given to the strength of the performance itself.  The only thing that I can see spoiling Gary Oldman's win is a possible upset by young, up-and-comer Timothee Chalamet.  The Academy does love honoring a breakthrough performance every now and then, and Chalamet's heartfelt work in Call Me by Your Name feels like something that appeals to the Academy.  It's not the first time that the Oscars went with a newcomer over an established veteran who was long overdue (2014's Best Actor category for example, where Eddie Redmayne won over Michael Keaton).  But, despite how strong and deserving Chalamet may be in this category, it seems unlikely that the Academy will miss this oppurtunity to honor Oldman with a long overdue award.  Chalamet still has a long career ahead of him, and a nomination this year itself is going to lead to a lot of bigger and better things.
Who Will Win: Gary Oldman, Darkest Hour
Who Should Win: Gary Oldman, Darkest Hour
BEST DIRECTOR
Nominees: Christopher Nolan (Dunkirk); Greta Gerwig (Lady Bird); Guillermo del Toro (The Shape of Water); Jordan Peele (Get Out); and Paul Thomas Anderson (Phantom Thread)
This is a difficult category for me to make a personal choice for.  The front-runners, Christopher Nolan and Guillermo del Toro, are two of my favorite working directors and they just so happened to direct my top two favorite movies of last year.  It's also remarkable that it took the Academy this long to finally give them a nomination despite their exceptional bodies of work even before this year.  Nolan in particular was often seen as the poster boy for being criminally overlooked by the Academy after snubs for his acclaimed work on The Dark Knight (2008) and Inception (2010).  The category this year is especially significant for being filled with many first time nominees, with only Paul Thomas Anderson being the one who has been here before.  Jordan Peele and Greta Gerwig both received deserved nominations for their first ever films as directors, but this is a year where that still favors more established creators.  Guillermo del Toro seems to have the edge with his previous wins at the Golden Globes and Driectors Guild, both clear bell-weather precursors to an Oscar win.  But, I think that Christopher Nolan's work in Dunkirk could manage an upset victory in the end, because his film is probably the best showcase of the craft of directing in this category.  Dunkirk is a tour de force of filmmaking from beggining to end, showing off really the pinnacle of what the medium of film can do with so many in camera tricks accomplished without the aide of visual effects.  Given that the category of Directing is voted upon for the most part by other directors, it would seem hard to ignore what Nolan accomplished with Dunkirk.  But, even still, Del Toro has already built up a steady lead with his wins so far, and if he wins, it is not undeserving either.  The Shape of Water is a purely Del Toro film, carrying all the trademark elements that he has refined throughout his celebrated career and it would be very pleasing to see the Academy recognize that as well.  Regardless of who wins, it will be a deserving honor for one of the industry's best talents working today.
Who Will Win: Guillermo del Toro, The Shape of Water
Who Should Win: Christopher Nolan, Dunkirk
BEST PICTURE
Nominees:  Call Me by Your Names; Darkest Hour; Dunkirk; Get Out; Lady Bird; Phantom Thread; The Post; The Shape of Water; and Three Billboards Outside Ebbing, Missouri
This is a significantly different year than what we saw at the last Oscars.  It seemed like the Best Picture of 2016 was without a doubt going to be the heavily favored La La Land, until it wasn't.  That unpredictable result seems to have cast a shadow over this year's nominees, because everyone now seems weary of picking an outright favorite now that it's possible that anything can win.  There are some that are certainly rising to the top more than others, but it seems like every week since the nominations were announced there is a new front runner emerging.  To complicate things, people are also trying to make sense of this year's race by returning to previous established notions of the Academy.  Some say The Shape of Water is the favorite because it has the most nominations, but recent years have shown that not to be a guarantee.  Three Billboards won the SAG ensemble award, and because most Academy members are actors, it must be the favorite, but that's not always true either.  Then there's Get Out, which some people might think has a definite chance because it's message is timely and the Academy likes to make a have something to say about the current political climate.  But, as I wrote in last weeks article, the Academy has a strange way of changing it's attitude towards previously conceived notions of itself and going in a wildly different direction than we expected.  That's why there is no clear front-runner this year and this is really an Award up for grabs.  My own choice of course would be the movie that I picked as my favorite of the year, Dunkirk, which could possibly sneak in there and win too, despite the fact that it would appear the safest choice in the group.  It helps to have a lot of other wins in the lower categories too, which could help Dunkirk, but the movie that is in better position to sweep through multiple awards is The Shape of Water.  A win for that too wouldn't upset me, because it was my second favorite film of the year, and it would be a deserved victory for genre flicks, which the Academy tends to ignore.  But, we at this point have no choice but to guess which way the Academy will go.  My guess is that Del Toro's certain win for Directing will help carry The Shape of Water past the goal line, but anyone's guess right now is as good as mine.
Who Will Win: The Shape of Water
Who Should Win: Dunkirk
In addition to looking over the top categories of the year, here is my quick rundown of the remaining categories at this year's ceremony, with my picks:
Best Animated Film: Coco; Best Cinematography: Dunkirk; Best Costume Design: Phantom Thread; Best Sound Mixing: Dunkirk; Best Film Editing: Dunkirk; Best Sound Editing: Dunkirk; Best Visual Effects: War for the Planet of the Apes; Best Make-up an Hairstyling: Darkest Hour; Best Production Design: The Shape of Water; Best Original Song: "Remember Me" from Coco; Best Musical Score: The Shape of Water; Best Documentary: Faces Places; Best Foreign Language Film: The Square; Best Documentary Short: Heroin(e); Best Live Action Short: DeKalb Elementary; Best Animated Short: Dear Basketball
So there are my picks for this year's Academy Awards.  At the end of a tumultuous year that we witnessed in Hollywood, it seems only fitting that the year end Awards accolades should also reflect that same kind of level of uncertainty.   What pleases me is that the Academy is making an effort to really broaden it's perspective and favor some not so easy choices for awards consideration now.  I don't think that movies like Get Out or Lady Bird would've ever made the cut in previous years, and the embrace of more genre flicks like The Shape of Water is a good sign of the Academy waking up to broader cinematic voices.  Even with all that said, my personal favorite is unfortunately the most typical "Oscar-friendly" film in the bunch.  Dunkirk certainly falls into the historical epic category that the Oscars have always fawned over, but it's a changing world and something like it, which would have been a clear front-runner before, now seems to be almost too safe.  Regardless, the Academy is making the right move in bringing in more diverse voices into their membership, and that is helping to make it possible for more daring and groundbreaking movies to get the recognition they deserve.  Whether or not this year is a reflection of change in the Academy, we'll have to wait and see, but even still, there will be a lot of deserving winners at this year's Awards. There's not a single movie in the Best Picture category that I didn't like, which is a good sign, and 6 of the 9 made my top 10 list for last year.  I hope that my favorite film can pull through and win, but I'm used to seeing that not be the case.  And usually it won't matter in the end, because great movies live on forever, while Oscar wins usually tend to be forgotten.  The Oscars are more or less a grade card for the industry over the previous year in film, and with that, it acts as a fascinating documentation of where our culture stands at the moment, and provides a fascinating snapshot of Hollywood that we can look back on years from now.  That's why I love the Oscars so much as a film history buff, and it'll keep me coming back to it year after year.