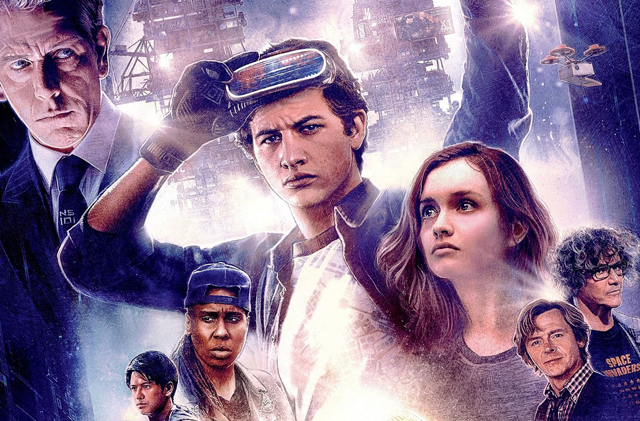 When Steven Spielberg chooses his next project, it immediately turns that film into a big deal.  No other filmmaker has the kind of clout that Spielberg has amassed over his over 50 year career in Hollywood, and that kind of power allows for him to have the kind of creative freedom that most other people in Hollywood will never be able to reach.  And while there are many films that have reached cinemas worldwide under the direction of Steven Spielberg that are typical of what you would expect from the man, occasionally he likes to throw in a curveball for audiences once in a while.  Take for instance the year 2002, when in the summer we got the futuristic political thriller Minority Report from Spielberg.  The movie seemed to be right in the wheelhouse of the man that gave us Close Encounters of the Third Kind (1977), Raiders of the Lost Ark (1981), and Saving Private Ryan (1998); a dark effects-driven sci-fi flick that had something to say.  But, only a few short months after, released just in time for the holidays (and Awards consideration), Spielberg released a second feature called Catch Me if You Can, which was wildly different in tone and content from Minority Report, and in a ways a bit of a departure for the director.  After making a big budget Sci-Fi flick, which has been the director's specialty for decades, it's surprising that he he would next go after a light, comedic adventure based on the true story of one of history's greatest con artists.  Like I pointed out in my profile of Steven Spielberg from earlier this year, the man has two phases of his directing style; a serious side, and a playful side, and often it comes as a surprise which phase he jumps to next with every new feature.  The same has once again proven true with his last two features, released a mere three months apart, the serious true life The Post (2017) and the more playful Ready Player One (2018).
Ready Player One couldn't be more of a clear example of Spielberg's gear shifting career as a director.  After The Post, which was Spielberg again exploring serious issues in a stripped down, true life presentation (in this case the publication of the notorious Pentagon Papers by the Washington Post), Ready Player One finds him once again working with material that allows him to have a little fun.  The movie is based on the novel of the same name by Ernest Cline, who also serves as a co-writer for the screenplay adaptation with Zak Penn, and the premise itself is not just a tonal change for the director, but also quite the stylistic change as well.  Cline's novel for one thing is heavily reliant on pop culture references as a part of it's narrative, and many of those references are to films from the Spielberg library.  So the fact that we have a movie now that pays homage to cultural influences of our childhood made by one of the same architects of that era of pop culture is a bit of a surprising turn.  Spielberg is no stranger to throwing in some Easter eggs to past influences in his movies, but they've always been in references to things that influenced him and he's never really been self reflexive and thrown in references to his own work before.  For Spielberg to undertake an adaptation of Ready Player One is certainly taking a risk of alienating segments of the audience that has come to expect certain things from him and his movies.  But, at the same time, a movie like this still makes sense for him, because he is a self-proclaimed nerd and this is story that is all about embracing the nerd in all of us.  There is a lot to unpack as to why Spielberg found it in his best interest to be the one to bring this story to the big screen, but for now, it's time to look at whether or not he made this into a good movie or not.  We know that Spielberg can have fun making movies, but the question is did he make Ready Player One a fun ride for all of us, or was it too much of a pop culture overload to make us care or not.
The story is set 27 years in the future, in the year 2045.  Over-population and environmental degradation has led to harsh times for people, who are now huddled together in densely populated areas.  One such place is in Columbus, Ohio, called the Stacks, which are trailer homes stacked on top of one another like Jenga blocks.  In this community lives Wade Watts (Tye Sheridan), who spends most of his time escaping his harsh existence in the stacks by entering a Virtual Reality program called the OASIS.  The OASIS is an online generated community where everyone can enter as an avatar and interact in a virtual world that has no limits.  Wade has become an expert within this VR world through his avatar named Parzival, and he along with a group of other gamers have embarked on this harrowing search for the hidden Easter egg that are at the heart of the system.  The game's creator, James Halliday (Mark Rylance) left hidden clues as to the whereabouts of the Egg's location upon the event of his passing, and whoever figures the clues out and passes the challenges to get to the egg will be given control over the OASIS, which is worth over a trillion dollars in value.  Wade/Parzival becomes the first to succeed at the first challenge, and he seeks out the help of his fellow gamers to figure out the next challenge.  Among them is the fearless Art3mis (Olivia Cooke), the resourceful fixer Aech (Lena Waithe), as well as the mysterious warriors Sho (Philip Zhao) and Daito (Win Morisaki).  Together, they work their way through the next couple mazes, but a real world threat looms over them along the way.  Also seeking the Easter egg is Nolan Sorrento (Ben Mendelsohn), the CEO of the fearsome IOI corporation, which has enslaved debtors who have lost everything they own within the OASIS, among them Art3mis' family.  Assisted by an online hitman named i-R0K (T.J. Miller), Sorrento means to take control of the OASIS himself and turn a profit for his company by inundating the system with more ad space, something that Halliday never wanted for his creation, and to which the other gamers are deeply opposed to.  But with numerous resources at his disposal, Sorrento makes the road to the Easter egg as perilous as possible, and real life just as dangerous.  For Wade/Parzival, it's not just a game anymore, but a race towards a better future.
Like I wrote before in last weeks article about Who Framed Roger Rabbit? (1988), Spielberg is no stranger to filling a movie with multiple references to other things.  But, when a film is reliant on it so much as a part of it's story, you run the risk of struggling to find that right balance that allows for the references to work in service to the story and not against it.  And for the most part, Spielberg actually makes it work in Ready Player One.  The references are numerous in the movie, but their placements always come with a purpose as a part of the overall narrative.  The movie never stops the momentum to point spotlight directly on the references; they are there in the background and act as a reward if you are quick enough to spot them.  That in a way is what makes Ready Player One such an enjoyable movie.  Spielberg knows that a lot of people will respond happily to seeing many of their favorite pop cultural icons briefly on screen, but he also has the good sense of not taking the focus off the story in order to make sure that every reference is pointed out.  He's refined his story-telling skills too much over the years to ever get sloppy and pander to his audience.  He knows how to balance everything together into a neat little nostalgic package.  He definitely makes every reference count in this story, and some do in fact work exceptionally well as a part of the narrative.  If the movie has one thing working against it, it's that it doesn't really do anything new either.  The breakthroughs are more in the presentation of the world that it creates, but the story is still one that we've seen a million times before.  A rag tag group, led by the boy with all the answers, goes on a journey through a magical world trying to find a mythical treasure before an evil overlord does.  It's not even the first time Spielberg has gone down this road before, as the exploits of Indiana Jones and the Goonies will tell you.  But you can play a familiar tune and still make it entertaining, and I was definitely entertained by watching this movie.
The movie's greatest success without a doubt is the world of the OASIS.  You can tell that a lot of thought went into the creation of this virtual reality wonderland, and it's something that only the magic of cinema could bring to life.  I especially like how well it recreates elements of the real world, but feels fabricated enough to feel genuinely like it's a part of a video game; kind of like how the best video games of today are.  Spielberg does an especially good job of establishing this world effectively without having to go into too much detail.  He does that in a single shot flyover of the different worlds within the OASIS in the movie's prologue, and it may very well be one of the most intricate things that the director has ever put together in one of his movies.  From there, we have all the information we need to know to understand what this world is and how it works, and that allows for the story to breathe a little easier having all the exposition already established.  From there, the references are laid into the narrative with maximum effectiveness, some actually given even more importance than others.  There is one section of this movie that is without a doubt the most epic love letter to the movie The Shining (1980) that you will ever see, and it is a definite highlight of the film.  I can tell you, I had a smile on my face through that entire sequence.   Sadly, the cooperation between Disney and Warner Brothers that made Roger Rabbit possible is absent here, as this WB made film is distinctly absent of references to Disney owned properties, like Marvel and Star Wars (although the Millennium Falcon is mentioned once).  But, Spielberg still makes great use of the cards he's dealt, and many Warner and Universal properties are sprinkled effectively throughout, including a wonderfully expanded role for the Iron Giant.  And there are many blink and you'll miss them cameos from other properties throughout the movie, and I'm sure a lot of the repeat viewing of this movie will be devoted to spotting all the ones we missed the first time around.
If there is one thing that is a bit of a mixed bag with the movie, it would be the main characters themselves.  None of the characters are bad per say, it's just that the movie never really devotes adequate enough time amongst everything else to developing them.  This may be the fault of having too many characters in the story, and the movie could have been better served excising one or more to give more time to the ones more central to the plot.  I did like the characters of Sho and Daito, but they are essentially there to make it look like Parzival has more than one friend; otherwise they serve no other purpose.  And speaking of Wade/Parzival, he unfortunately suffers quite a bit in the narrative from a lack of development.  We never quite understand how he managed to master the intricacies of the OASIS despite his lack real world resources in the Stacks, and when his real life problems come into focus in the movie, it doesn't really resonate because it's so disconnected from his life in the virtual space.  As a result, he comes across as a "Mary Sue" style character, who has the answer to everything and as a result becomes somewhat of a bland protagonist.  I'll give actor Tye Sheridan credit for trying his best to bring personality through in his performance, which does help the character stay likable enough to root for.  The same goes for Ben Mendelsohn and Olivia Cooke, whose charismatic performances carry their characters beyond the underwritten archetypes they are on the page.  The best performance, though, belongs to Mark Rylance as Halliday.  He takes this enigmatic, socially awkward nerd who built this magical world and gives him a warmth and humanity that is missing from most of the other characters in the movie, and does so in a touching and often funny way.  I will also say, Spielberg has gotten much better at getting good performances out of motion capture.  Since the movie spends most of it's time in the digital OASIS, most of the actor's roles have to carry through these digital avatars, and the movie succeeds at making them work.  It helps that the digital realm explains their look, but these animated overlays are light years ahead of the dead faced characters in Spielberg's The Adventures of Tintin (2011).   So despite the limited development devoted to them, there is still a lot to like about the characters in this movie.
There is one thing that you have to consider when going to see this movie, however, and that's what to expect from the experience.  If you are looking for Spielberg to delve deep and find some grander meaning in this narrative, then you might come away disappointed.  More than any film he has made before, Ready Player One feels more like a fun romp than a mythical tale.  There is a distinct absence of the Spielbergian touch that defines many of his other movies, which is often associated with sentimentality.  For the most part, you don't really miss that aspect of Spielberg's style, because it wouldn't fit the context of this story.   But there's something about the Spielberg touch that could have connected us better with the characters and their stories, especially when the movie takes us into the real world.  One thinks about the sense of awe that we felt seeing the dinosaurs for the first time in Jurassic Park (1993), or the emotion we felt when E.T. came back to life.  Ready Player One never loses it's comedic, irreverent edge and while that is consistent with the rules of it's own narrative, it's kinda out of line with the works of Steven Spielberg.  The story is involving, but it is not moving in the same way that the other ones I mentioned are.  Perhaps Spielberg knew that to put too much of himself into this movie might be seen as too self-serving, so he left much of the story development to the writers, while he made sure that the world of the OASIS would stand on it's own.  It's a formula that serves the movie well, but I could't help but feel that something was missing and it may be that thing that makes Spielberg so distinct, whether it might have been detrimental to the story or not.  That being said, some of the Spielberg magic does come through, especially in the emotional ending which has the director's fingerprints all over it, and as a result becomes one of the movie's most effective scenes.  Restraining everything else might have shackled the movie in some ways, but when Spielberg was given the chance to do what he's best at, he did not waste the opportunity.
For me, judging a movie should come down to whether or not I enjoyed my experience, and for Ready Player One, I certainly did.  It is definitely a nostalgia heavy experience, and I for one am grateful that the movie managed to balance that all together in a package that is both pleasing to the eye and intriguing to follow.  It's just nice to see Spielberg let loose and play around in a sandbox once in a while, reminding us all once again that he too is a nerd at heart who also likes to play with his toys.  The story and characters may be a little too basic at times, and some of the Spielberg touch is absent which makes the movie not as emotionally resonant as some of the director's most famous works, but at the same time it doesn't take away from the fun factor of this movie.  For me, it was just neat to see another film that expertly combined so many pop culture references into a movie that gives them a purpose.  The more streamlined Roger Rabbit has more resonance, but Ready Player One does have the same element of fun to it.  It was certainly neat to see how one person who has crafted the memories of our childhood looks back on that era himself and finds entertaining new avenues to play around with them.  The fact that he name drops and borrows references from the works of Robert Zemekis and Stanley Kubrick, both of whom were and are good friends with Spielberg, makes this an especially mind blowing experience.  All the references that we find dream worthy have a whole different meaning to him, because he was there when most of these references began.  He was in the writers room when Zemekis was crafting the final draft of Back to the Future, and now 30 years later, the DeLorean time machine makes a key appearance in Spielberg's own film.  That's what makes Spielberg's involvement in Ready Player One so special.  In a way, this is Spielberg's gift to the fans that have made all these references possible over the years, and he intended this movie to be a thank you to all the fans who have encouraged him to continue building more nostalgic memories over the years.  Despite it's flaws, the most important thing is that Spielberg made an entertaining movie, and one that celebrates the joys of pop culture, and that's one thing that all us self-proclaimed nerds should be thankful for.
Rating: 8/10