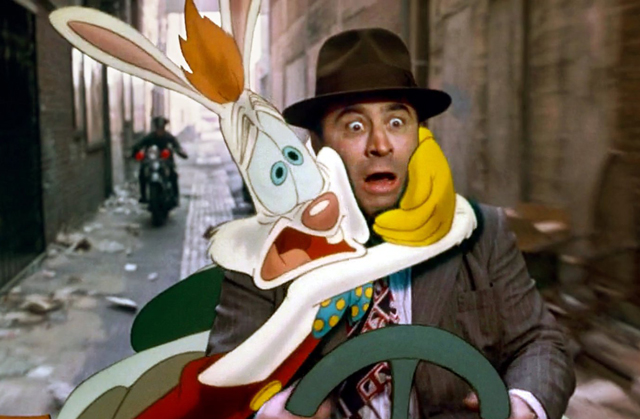 One thing that seems to define this generation of blockbuster film-making is the appeal of shared universes.  It wasn't just enough to see Batman or Superman have success in their own franchises; now we want to see them occupy the same space together on screen.  Bringing different worlds together in larger than life mash-ups is now the hottest trend in Hollywood, because it opens up a variety of new avenues for storytelling that otherwise wouldn't happen in a singular character's story.  In some cases, putting two universes together helps to settle some longstanding debates, like who would win in a direct fight, but there's also the fun of exploring what it would be like if Character A were to cross paths with Character B, and so on.  It's also a trend that plays on our sense of nostalgia, allowing for clever twists on elements from our childhood to enhance the enjoyment factor of seeing them all come together into one.  And this is something that extends beyond cinematic universes and into a separate genre of it's own.  We have seen in more recent years a trend to make movies that are solely built around inter-textual worlds, where characters from all sorts of intellectual properties intermingle in ways they otherwise wouldn't be able to in their own closed off worlds.  And this cross pollination of multimedia often results in some hilarious, reference heavy situations.  Some prime examples include the Bad Guy Support Group from Wreck-It Ralph (2012), or the visits to the many different worlds of The Lego Movie (2014).  Our source of enjoyment derives from the fact that we are already aware of who these characters are and seeing them brought together and thrown into an either mundane or out of character situation is hilarious as a result.  But even though trend has gained momentum now in our geek saturated culture, the blueprints for making it work can be found in the first bold cinematic experience that dared to cross all paths into one 30 years ago; the groundbreaking Who Framed Roger Rabbit? (1988).
It may seem like a natural in today's culture, but people seem to forget just how mind-blowing Roger Rabbit was back in the 80's.  Up until that point, cross-overs were seen as a television gimmick used to pick up ratings.  And often, TV cross-overs were mainly just limited to characters from one show on a network appearing on another show, or shows from one mega-producer being used to help cross promote the other.  Think the Flintstones meeting the Jetsons; a big deal to people who are fans of both shows, but not all that surprising because they were both produced by Hanna Barbara Productions.  But Roger Rabbit did something almost unthinkable for it's time in not just bringing a cross-over to the big screen, but doing so with characters from long time rival companies.  In particular, the thought that Disney and Warner Brothers would ever work together and have their huge casts of characters share screen-time was ludicrous.  But, it managed to happen in this movie, and that was largely due to several things falling into place at once.  First, the mid-to-late 80's is often seen as the Dark Ages for animation in general, with Warner Brothers already having ended their long running animation department years prior, and Disney on the cusp of shutting down theirs after the costly failure of The Black Cauldron (1985), so both were in a situation where they both sought common ground in order to keep their legendary departments alive.  Secondly, filmmakers who were raised up on animation and had an interest in seeing these worlds collide had gained just enough clout in the business to make that a reality.   Those filmmakers in particular were Producer Steven Spielberg and Director Robert Zemekis.  Such an endeavor seemed almost perfect for Spielberg, since many of his films up to that point had references to either Disney or Looney Tunes cartoons in them, or both (like in Close Encounters of the Third Kind) and he could be that bridge between these animation giants to make them.  Robert Zemekis also proved to be an ideal choice because of his zest for cinematic ingenuity and irreverent humor, both of which defined Back to the Future (1985).  And though the timing was right to make it happen, how it would happen was even more crucial.
One of the stipulations made in order to have this cross-over happen was that each iconic character needed to have equal time with the other.  That meant Bugs Bunny and Mickey Mouse could not appear one second longer than the other in the movie's run-time.  And considering that this was a Disney produced movie (under the Touchstone banner), Warner Brothers were adamant about this bargain not being breached in any way.  The same was true for all the other animation studios that lent their characters over too, and some didn't even bother; notable exceptions included Hanna Barbara who prevented the use of Tom and Jerry in the film, as well as Paramount who kept Popeye out of the picture.  But, Spielberg and Zemekis kept the right balance and found the right amount of time for all the characters by not making them the focus of the movie.  As historic as the meeting between Bugs and Mickey is on the big screen, as well as the memorable piano duel between Daffy and Donald Duck, they occupy only a small fraction of the movie's overall narrative.  Instead, the movie devotes most of it's time to telling the story of entirely original characters.  Well, original in the sense of how they are created just for this story.  The movie is actually based on a crime novel by author Gary K. Wolf called Who Censored Roger Rabbit?, published in 1981.  And though it is far different in tone, the movie does carry over many of the characters from the novel.  The fact that the more famous, established characters are just background extras in this original plot helps to give the movie the distinguished place in film history, while also standing separate on it's own merits.  The film noir inspirations also make Roger Rabbit a unique experience because it's a genre you rarely see mixed in with cartoon characters.  These were key ingredients to help make the movie work beyond the gimmicks of seeing the different characters interacting, and the fact that it was wrapped around a very shall we say "grown up" genre made the movie all the more rewarding.
But, where Who Framed Roger Rabbit? leaves the more lasting legacy as a foundation for showing how to mix different IP's together is in how well it makes that interaction a part of it's story.  The real genius behind the movie's narrative is in the creation of a place called Toontown.  Through Toontown, the movie can point to a definitive explanation as to why cartoon characters can interact with the live action, human world, and why they all exist together as a community despite their competing places of origin.  And by designating it as a place, the movie can also set it up as a destination to which the characters must explore in order to solve a mystery, allowing those desired interactions to happen without feeling forced.  As the narrative goes along, we see that Toontown has an importance by the end, and we become invested as to it's fate, falling victim to the maniacal plans of the villain.  The screenwriters, Jeffrey Price and Peter Seaman, used examples of segregated communities from the early 20th century like Harlem or Watts as a basis for the existence of Toontown, where the citizenry flourish culturally, but are closed off and sometime exploited by the huge cities that surround them.  Using this allegory, Toontown as a place becomes a symbol for a whole variety of concepts that extend beyond the story, like the cruel side of showbiz and the devaluing of an entire community in the name of progress.  It's no coincidence that the story involves the villain planning to erase Toontown from existence in order to build a freeway, since similar situations actually occurred in the history of Los Angeles; just look at the poor residents of Chavez Ravine who were removed in or to make way for Dodger Stadium.  Because it occupies such an important part of the story, Toontown has become the template for creating similar communities in movies like Roger Rabbit.  You can see it's influence within The Lego Movie's Cloud Cuckoo Land, or Wreck-It Ralph's Niceland, where the community's futures are tied directly with the plights of the characters.  Even Spielberg is looking to make a Toontown of his own with his upcoming Ready Player One, where the VR world of the Oasis crosses so many references together with a narrative centered around community.  Through all these different places, we see a purpose for these characters to interact and have it be in a place that has meaning for the story.
Who Framed Roger Rabbit? also stands out this many years later because of the effectiveness of the characters.  Indeed, the remarkable thing about the movie is that it makes us care for entirely new characters even while more famous, established ones occupy the background.  The movie's best accomplishment is in the realization of the titular Roger, who is a character that could have easily been mishandled.  He is obnoxious and too looney for his own good, but the movie manages to endear him to us by the end, by grounding his character with a harrowing mystery surrounding him.  A lot of the effectiveness of Roger comes through in the balanced vocal performance by comedian Charles Fleischer (who himself is descended from animation royalty as the grandson of legendary animator Max Fleischer) who makes Roger a perfect blend of the zaniness of a Daffy Duck with the heart of a Mickey Mouse.  The movie also took an enormous risk with the depiction of the voluptuous wife of Roger, Jessica Rabbit (voiced by an uncredited Kathleen Turner), whose palatable sexual energy would've been unthinkable in any other animated movie.   But as well realized as the animated characters are, it's the human beings that really steal the movie.  Christopher Lloyd may play the least subtle villain in movie history with his depiction of Judge Doom, but it is a highly enjoyable performance nonetheless, making great use of the actor's own wild and cartoonish impulses sometimes.  But, it's Bob Hoskins who really own this movie as Eddie Valiant.  I think a lot of people take for granted just how good his performance is in this movie, considering that he's often acting against thin air where a cartoon character that's going to be added later, and is 100% sincere in his delivery.  I especially love the moment where he reconnects with Betty Boop, and plays it like he's had a long standing friendship with her.  That's the mark of a great actor, where he can play against cartoon characters and make it feel authentic.  And Eddie Valiant is the kind of grounded protagonist that helps to give these kinds of movies the sincerity that they need to feel genuine to their intentions.
But for a movie like this to work, it needed to make you believe in it's world, which is one where cartoons and human beings can interact, and that it's a just an accepted part of reality.  This is where the Oscar-winning visual effects played such a crucial role.  It wasn't the first time that live action and animation were combined together.  Disney and the Max Fleischer studios experimented with the technique all the way back in the early days of animation, and Disney would famously revisit the process again with movies like Song of the South (1946), Mary Poppins (1964) and Bedknobs and Broomsticks (1971).  But, for Spielberg and Zemekis, the vision they had was far more advanced than the old green screen processing that had been used for the technique before.  This time, they wanted the animated characters to move around in a live action space, in sync with a moving camera.  This was impossible before because of the way you had to animate the character, as they would have to appear dimensional in order to be transposed onto a live action frame of film.  This called for a style of animation that was more unlimited by the rules of squash and stretch that had been the backbone of the medium for decades.  Thus, independent cartoon legend Richard Williams was given the task of directing the animation in this movie.  I spotlight Mr. Williams work in my article about his unfinished masterpiece The Thief and the Cobbler, and his input into Roger Rabbit was essential because he specialized in animating in multiple perspectives.  Based on the work in Cobbler, you can see he had an eye for dimensional animation that is done entirely by hand, without the assistance of computers, and that became key in making Roger Rabbit and the other animated characters look like they were authentically a part of our world.  Now, we can use CGI to keep the models of animated characters consistent, but in 1988, all they had was the skill of William's team, and his own eye for consistency.  One spectacular example of the groundbreaking work is in the car chase scene, where an animated cab driven by a live action Bob Hoskins is being chased through the streets of Hollywood by a real squad car driven by animated weasels.  So many layers of visual effects had to make that work, including animating over footage shot from a moving vehicle, and yet it comes together seamlessly.  In the end, we may be engaged by the story, but it's the film's technical wizardry that really blows us away.
Though many films have followed in it's example, few if any have really mastered the effectiveness of what Who Framed Roger Rabbit? managed to accomplish.  Though Roger Rabbit may be full of appearances from so man iconic characters, it actually is not a reference heavy movie.  For the most part, it actually keeps everything tied to it's plot.  The characters that pop up never call attention to their previous work, they are actually working professionals who perform in Hollywood just like most other actors.  One great scene shows Eddie Valiant walking around the fictional Maroon Cartoon studios and running into Dumbo and half the cast of Fantasia who are on loan there.  Much of the humor is not taken from the fact that they are there to begin with, but in the fact that they are just trying to perform everyday functions like you would normally see on a studio lot.  But through this experience, we learn more about the character of Eddie Valiant, and his own prejudices towards the toons that he must overcome throughout the movie.  Sometimes the problem with movies that are reference heavy is that they forget how to tie their multiple properties together into a purpose for the story.  The Lego Movie managed to do this by grounding it's story around the lovable character of Emmett, who guides us through the story and becomes our eyes for all the funny references around him.  It even builds to the meta finale in a believable way, as the make-believe world falls away and we see the true reality behind the story.  Some movies that failed at this like The Emoji Movie (2017) or Pixels (2015) just force references at it's audience and forgets to make you care about any of them, because they just exist for the sake of reminding us of other things without a purpose.  At the heart of Roger Rabbit, there is a genuine interesting story about redemption and overcoming prejudice in order to see justice done.  The fact that Mickey Mouse and Bugs Bunny show up in one scene is just the icing on the cake, and the movie would've worked regardless if they appeared or not.
Now 30 years later, Who Framed Roger Rabbit? is still a highly entertaining movie, and it continues to stand out as the best example of how to create an inter-textual movie.  It's interesting to see Spielberg revisit this kind of ground again with next week's release of Ready Player One.  Already, the movie is generating plenty of buzz with quick pop culture references spotted in the trailer showing among a variety of things the DeLorean from Back to the Future, Chucky from the Child's Play franchise, and even the Iron Giant from Brad Bird's 1999 classic of the same name.  What remains to be seen is if Spielberg can manage to combine all of these different elements together into a compelling narrative, the same way that he and Zemekis managed to with Roger Rabbit.  In the end, Roger Rabbit shows that it doesn't just take making all the different worlds coming together as one to carry a film.  There has to be a purpose to all of it, which Roger Rabbit found in it's film noir murder mystery.  Through it's central narrative, we got compelling characters in Roger and Jessica Rabbit, as well as a fully realized protagonist in Eddie Valiant, and a fully realized community in Toontown that allows for the story to have urgency in addition to all the visual splendor.  After so many years, it's the story of the Toons standing up for their right to exist that helps to make Roger Rabbit more than just a gimmicky movie, but a compelling story as well.  And the effective way that the many different references come about in the narrative should provide the necessary blueprint for how to successfully implement the same concepts in other films.  For the most part, this type of narrative has been best handled by the likes of Spielberg because he is a self-proclaimed nerd himself and wanting to see the intermingling of worlds is something that really appeals to his nature as a storyteller.  Hopefully Ready Player One manages to be more than just a reference heavy gimmick.  Roger Rabbit made us believe in the harmony between competing IP's, and that kind of cooperation has rarely been realized ever since.  We may never see Disney characters or Looney Tunes share the screen ever again, but for one brief moment 30 years ago, they managed to cross that bridge and it was magical.