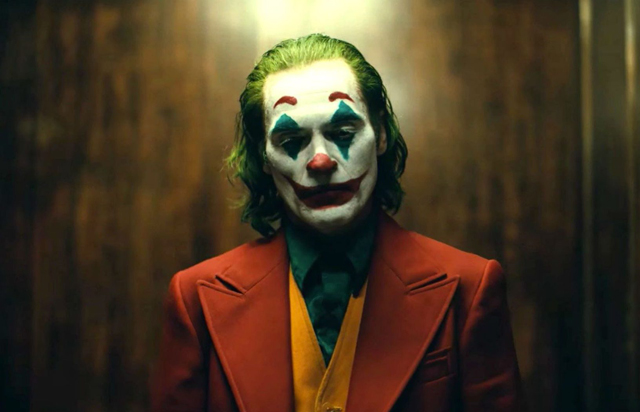 The last decade has given us a huge variety of movies about superheroes.  But, what we have yet to see is a movie about a supervillain.  Some have argued that Marvel's Avengers: Infinity War (2018) fits that criteria, as it primarily focuses on it's central antagonist, Thanos, but at the same time it's also an Avengers movie, meaning that it essentially is an ensemble where the villain gets a huge chunk of the screen time.  What hasn't been seen yet, however, is a movie that puts the villain front and center, telling their story from their point of view.  It's a tricky kind of story to pull off because you can run the risk of humanizing the villain too much to where they become sympathetic in the eyes of the audience.  There are plenty of villainous characters out there whose stories are rich enough to delve deeper into, especially in the realm of comic books.  DC Comics perhaps has assembled the most robust rogues gallery that we've ever seen in any medium, both cinematic and literary.  It's no surprise that in their desire to compete with their rival Marvel on the big screen and tell stories that will garner them a bigger audience, they looked to one of their most iconic characters who just also so happens to be their most notorious villain; the clown prince of crime, Joker.  Joker has certainly left his mark on the silver screen, with cinematic iterations that almost try to one up each other in their increasingly dark takes.  Jack Nicholson's performance in Batman (1989) was a beautiful balance of menace and humor, while Heath Ledger in The Dark Knight (2008) was so iconicly chilling that it won him a posthumous Oscar.  But as much as their versions stood out, they were only section of the grander tapestry of Batman mythos that their respective films were trying to portray.  What kind of movie do we get when a character as unfathomably evil as the Joker is pushed front and center in his own movie.
To do a movie about the Joker, setting the tone the right way has to be the most important factor.  There are so many ways to get this kind of story wrong.  Joker has evolved over time to become the most sinister and disturbing villain in the history of DC Comics; which has no doubt been helped by Nicholson and Ledger's chilling performances.  If you take the wrong approach to a character like this, you run the risk of creating too much sympathy for the character and this can on occasion lead to an un-healthy self-reflection with the character for some in the audience.  It's not a bad thing to be a fan of the character.  The Joker has been a popular villain for good reason, and he's often one of the most widely cos-played characters in the entire DC canon, or for all comic books in general.  Joker fandom for many people is just good old fun, but there are those who unfortunately take things a bit too far.  The powerful imagery and personality of the Joker has sadly also been adopted by fringe segments of society who view the Joker as their patron saint.  These kinds of people can run as varied as anarchists, internet trolls, incels, the alt-right and just flat out terrorist thugs.  These groups in no way are endorsed or promoted by DC or it's comic writers, but sadly the Joker has been turned into this political lightning rod because of real world villains using him as their inspiration.  The tragic shooting at the movie theater in Aurora, Colorado in 2012 by gunman James Holmes brought nationwide attention to this problem, as Holmes tried to emulate the demented clown in his rampage.  The threat that this might happen again has brought controversy to DC's recent attempt to dramatize an origin story for the Joker on the big screen.  Some theaters have beefed up security just in case, and the same theater in Aurora where the shooting took place has chosen not to screen it at all (which is understandable).  But, the question remains; is a Joker movie deserving of all this controversy?  Is he really that dangerous of a character, and ultimately, is a telling of his story justified in the end?
It must be noted that this is meant to be just a version of the Joker, and not any definitive take that will become canon for all time.  This is not the same Joker that Nicholson or Ledger played; it's a Joker that exists solely for this specific kind of story.  The movie is about a down and out street performer named Arthur Fleck (Joaquin Phoenix) who tries his hardest to earn a living in the hard neighborhoods of Gotham City.  Arthur suffers from a mental condition that causes him to uncontrollably laugh, which further isolates him from society, as people avoid him believing him to be a nutcase.  He lives with his ill mother Penny (Frances Conroy), who remains emotionally distant even as he dotes on her.  Arthur tries his best to cope with the hardships of life, finding solace in comedy, which leads him to pursuing a life as a comedian, a move that is encouraged by his across the hall neighbor, Sophie Dumond (Zazie Beetz), whom he has an attraction for.  Unfortunately, his laughing condition gets the best of him and ruins his first chance at becoming a stand-up.  At the same time, he looses his job and the mental health care he's been receiving have been eliminated due to budget cuts.  On his way home one day, he is harassed by a group of drunken yuppie businessmen on a subway train.  They push him over the edge and he snaps, pulling a gun on them and murdering all three in cold blood.  The shocking act brings out a feeling inside Arthur, which he initially tries to repress.  At the same time, the poor people of Gotham respond to the crime favorably, because the victims were entitled employees of Wayne Enterprises, and they view Gotham's favorite son and potential mayoral candidate Thomas Wayne (Brett Cullen) and the reason the city has left them all behind.  Meanwhile, Arthur's bungled stand-up routine becomes fodder for a late night talk show hosted by a favorite performer of his, Murray Franklin (Robert DeNiro) and Arthur is given an invite to appear on his show.  With all the turmoil that Arthur goes through in days after, it leads him to shed off the person he was before and adopt the clown that he now views himself as, asking to go by the name Joker instead.
One thing that will be made clear very quickly while watching the movie is that this is not your typical comic book movie.  There really is nothing left of the tropes that we associate with the likes of Batman, Justice League or any other super hero movies found in this film. Instead, this movie takes it's narrative and visual inspiration from the career of Martin Scorsese.  Two films in particular of Scorsese seemed to have been sourced as inspiration for this flick, which are Taxi Driver (1976) and The King of Comedy (1983).  Both movies chronicle the dangerous mental slide of an obsessed individual on the fringes of society, and both were starring vehicles for Robert DeNiro.  I don't think it's a coincidence that DeNiro also appears in this movie as well, since I'm sure that the filmmakers wanted to draw that parallel.  Using the Scorsese guidebook is a bold choice to go with as a basis for portraying the rise of a comic book supervillain.  And to accurately portray the Scorsese style in this movie, you look have to look no further than the guy who made The Hangover (2008)? Umm, okay.   Actually to Todd Phillip's credit, it's clear that he did his homework as a student of the Scorsese style, because this is a fantastic recreation of a movie from this point of time in the legendary director's career.  The visuals in particular are stunningly close to movies like Taxi Driver and Mean Streets (1973), with soft focus cinematography and a earthy color palette.  It looks unlike any other Super Hero movie we've ever seen, because this genre usually doesn't play around in this kind of style, and it makes for a perfect match with the character himself.  The visual style, from the opening scene on, puts the audience in this feeling of unease, as the movie takes on this stark realistic hue.  And it provides a perfect juxtaposition with the flamboyance that the Joker represents.  On just the technical merits alone, this movie is superb, and a worthy homage to the Scorsese style as well.
But one thing that will be following the film around for some time is it's controversy.  By giving the Joker such a profound and captivating origin, people are worried that it'll cause only more people to sympathize and identify with him, which is what some people believe led to that tragic theater shooting in Colorado.  But, that's in no way what this movie does at all.  It must be made clear; the Joker portrayed in this movie is no hero, nor an anti-hero.  He is a villain, period.  And I think that's what make the movie so effective as a cinematic experience.  I should tell you this right now; Joker is not a feel good movie in any way.  It's intended to make you feel disturbed and horrified.  What Todd Phillips does so well with his telling of this story is to hold up a mirror to society and make us feel ashamed for the ways we contribute, whether we know it or not, to the creations of monsters like the Joker.  Arthur's decent into villainy is in no ways looked at as a triumph, but as a tragedy, as there are so many points where one direction in the right way could have steered him away from his fate.  But, because of our proclivity to ridicule people with strange conditions, ignore the plights of people in poorer classes and with mental illness, and feed into media frenzies that elevate the profile of mass murderers and serial killers, we bear some of the responsibility for making monsters like the Joker more common than they should.  Hell, the media's obsession with a possible incident that might occur because of this movie kind of proves that point.  And the movie rightly never lets Arthur off the hook either.  The really effective part of the movie comes in the way it increasingly makes us feel uneasy as we continue to focus on Arthur's story.  So much of the tension in the later half comes from not knowing exactly what he might do next.  It even makes us question whether or not we should be laughing at his antics later, which is honestly something that even previous versions of the Joker never attempted to ask before.  So, for anyone worried that this movie was going to be a rallying cry for all the anti-social pariahs out there, be rest assured that it is not, but rather an indictment of this kind of individual and the society that props him up for no good reason.
At the same time, because of the unforgiving nature of the movie, it is also going to divide a lot of people as well.  The movie has received a bunch of accolades so far, including winning the coveted Golden Lion at the Venice Film Festival, which is often seen a precursor for an Oscar win.  But, upon it's release, it has divided the critical community down the middle, and will probably be reflected in the general public as well.  Like I said, this is not an easy movie to watch, and it will probably test your sensibilities.  But, if there is one thing that I think will garner near universal praise from this movie, it's Joaquin Phoenix's performance.  Phoenix is absolutely magnetic in this role, and you cannot take your eyes off of him throughout the entire movie.  What's especially great about his performance is that he never once makes you think of the character as a comic book creation, nor makes you recall any previous version of the Joker.  It's an entirely original take that is all his own, and is so enormously layered in it's complexity.  I don't know exactly where to rank this among the others, because his Joker is not as scary as Heath Ledger's nor as entertaining as Jack Nicholson's, but his version is far more disturbing than the others because it's the most human that we've ever seen this character.  Phoenix's transformation is really amazing, as he lost a ton of weight to create Arthur Fleck as this emaciated, sickly individual. Even his laugh takes on this disturbing quality because Phoenix really sells the point that the laugh is physically hurting him.  As a result, he does a brilliant job of showing you the real reason why Joker is such a frightening creation, because there's a human being behind that painted smile; a deeply broken human being.  Phoenix has made a career out of playing troubled, broken people like Johnny Cash in Walk the Line (2005) and Freddie Quell in The Master (2012).  Arthur Fleck brings those same qualities, but adds this tragic element of an un-redeemable spirit behind it.  Even if people end up finding the movie too disturbing, they'll still come away praising the hard work that Joaquin Phoenix put into his performance.
While there is plenty to praise about the movie, I also have to point out that it isn't perfect as well.  Strangely enough, the biggest flaw that the movie has is that it interrupts itself in order to remind you that you are indeed watching a movie based in the DC Universe.  That's probably a testament to how powerfully told the central narrative is that you forget that this is the same Joker that will one day become the arch-nemesis to Batman.  I almost feel like this movie could have been better if it set itself apart from it's comic book origins and instead just told this story of an ordinary man who evolves into this notorious monster.  But, unfortunately, this movie still will occasionally drop a reminder of other things going on within the Batman mythos.  The caped crusader doesn't appear fully formed in this movie, which is understandable considering that it's many years before that happens.  But, there is a scene where Arthur does encounter the boy who will be Batman, Bruce Wayne (played here by young actor Dante Pereira-Olson) and his caretaker Alfred (played by Douglas Hodge).  It's not a bad scene by any means, and it does have a chilling creep factor to it, but it doesn't really add anything to the plot and just reads like a studio note demanding that there at least be some connecting thread to Batman in this.  The other negative that I can point to with the movie is that while the allusions to the work of Martin Scorsese are wonderfully crafted and utilized in the narrative here, it kind of works against the film as well.  It follows almost too closely to the narratives of Taxi Driver and King of Comedy, which robs the movie of any real surprise.  Sure, the film still shocks us once we get to the ultimate destination, but with those Scorsese movies well ingrained into our cultural memory, you pretty much know what to expect, and that in a way makes the finale feel a little less shocking.  Even still, it's not a fatal flaw that derails the movie; it just keeps it from reaching it's absolute maximum impact.  What it mainly comes down to is that the movie is at it's absolute best when it doesn't remind you of other movies or other versions of this story, and just let's itself go as it's own dark, demented tale.
Considering where DC was just a few short years ago, as they were floundering trying to find their way while also catching up to Marvel, it is great to see now that they are not only confident telling stories on the big screen their way, but also taking some brave chances as well.  This R-rated, bleak and unforgiving Joker is in a class all by itself within the genre of Comic Book movies.  I for one am amazed that DC allowed for this kind of movie to be told with one of their characters.  Sure, it's the Joker we are talking about, but even still, we've never seen a portrayal like this that felt this raw and challenged it's audience this much.  Joaquin Phoenix's performance certainly doesn't feel like it belongs in a Comic Book movie and that's what makes it so great.  He didn't go into this movie to bring the character off the page and onto the screen; he wanted to bring to life an image of monster that is all too frighteningly real.  In the end, Todd Phillips and Joaquin Phoenix could've told this story without all the comic book mythos behind it, and still made a powerful movie.  But because this is about a character as iconic as the Joker, it's going to bring a lot more attention to this movie, and that's something that is really worthwhile in the end.  Joker transcends it's comic origin to become a cautionary tale for it's time.  As our world becomes ever more divided and violent, and people are more prone to violent ends to either make a point or grab attention, the Joker becomes even more potent of a symbol, and this movie intends to show just how dangerous that can be.  Joker is not some larger than life monster; he's one of us, all too human.  The movie puts the onus on us the viewer to understand how we as a society contribute to makings of a monster like the Joker, with either our apathy towards the disenfranchised or our ignorance towards an issue.  There's not one true reason why a Joker exists, but a whole bunch of factors, and this movie tries to help us understand how those factors manifest into something so horrible.  The movie is definitely not a fun little romp nor a rousing adventure, but it's perhaps the hard medicine that we need right now to understand this moment in time.  And the fact that we get there with a character like the Joker is probably the most surprising joke of them all.
Rating: 8.5/10