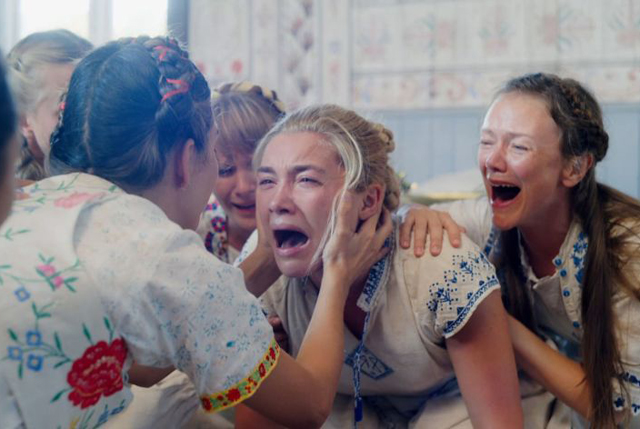 Horror can be easily described as a genre defined by blood and gore and a bastion of monsters and murderers.  But, that's mostly been a result of more recent entries in the genre that have leaned more heavily in the direction of graphic violence.  In reality, the horror genre has gone through a significant evolution through the whole history of cinema, dating all the way back to the silent era and all the way up to now.  And what you'll discover about the horror genre by looking back on it's history is that it didn't always need to spook it's audience in order to make them terrified.  For the most part, most horror filmmakers weren't allowed to go as far as they are now with depicting blood and gore on screen, so they often relied on using cinematic language to suggest terrifying elements within their movies.  Looking back on some of the first horror films ever made, like The Cabinet of Dr. Caligari (1920) and Nosferatu (1922), it is quite amazing to see how well they are able to convey a feeling of absolute terror with only light and shadow, as well as some truly Gothic imagery.  They still remain some of the most terrifying films today, even almost 100 years later, and that shows just how powerful the visual image is at conveying terror.  Though the filmmakers were certainly working under limitations, it still enabled them to be creative and allow imagination to fill out the gaps.  Movies that give the audience the opportunity to imagine the unseen horror often stand out more as the most terrifying kind of horror movies, because nothing on screen could ever match up to the worst things that we can think of.  Our imagination can go into surprisingly dark territories when put to the test by these kinds of horror movies, and one thing that I've noticed in more recent horror films is a return to that kind of interplay between the filmmakers and the audience.
At the same time, we aren't seeing horror films with graphic violence and supernatural monsters going away either.  IT: Chapter Two is still performing well at the box office, and that movie is what you'd expect as the atypical Hollywood horror flick.  It's got scary monsters, jump scares, and a whole lot of blood and gore.  At the same time, it's also apparent to the viewer that it's not an entirely scary movie.  In fact, I'd say that half of the movie works as a comedy.  Is the film entertaining, yes; but not all that scary.  Sure there are some genuinely terrifying parts, but I don't think that you'll fnd anybody who'll describe it as the most terrifying movie that's ever been made.  It's interesting to note how this contrasts with another Stephen King adaptation, The Shining (1980), which is described by far more people as the most terrifying movie ever made.  The Shining, though it works with the same standards of gore and violence as IT, comes through as far more consistently terrifying.  Why is that?  I believe it has to do with more consistency of tone.  IT bounces back and forth between the goofy and horrific, while The Shining builds it's feeling of dread towards it's ultimately horrific ending.  Most filmmakers tend to not like that slow burn style of storytelling and prefer to grab a hold of their audience right from the outset.  But what Stanley Kubrick revealed through his own telling of Stephen King's classic novel is that by allowing the audience to absorb the movie before pulling the rug out from under them, you intensify their sense of terror as the movie goes along.  It's that slow march towards the horrific that feels all the more rewarding, because as the movie goes along, the audience grows more and more anxious, knowing that something right around the corner will come out to shock them.
There are two schools of thinking that have developed around how you approach a horror movie, and they follow that divide that we've seen between the differences in the aforementioned Stephen King adaptations.  There are some filmmakers that choose to withhold moments of terror in favor of building up the atmosphere, while there are others that don't waste a single moment in showing you every horrific thing it can.  The latter is usually what you'll find coming from the major Hollywood studios, because they are the safe and predictable choice.  Taking the former approach is not as ideal for studios to invest in, because it requires far more faith that the audience will jump on board and accept the unpredictable.  But, playing it safe when it comes to horror has it's pitfalls too, because if there is one thing that a horror movie fan hates, it's complacency.  You scare someone once, they become guarded for what comes next, so if you just repeat the same kind of scares over and over again, they audience just grows numb to it.  You could see this play out very clearly in the decade long glut of slasher flicks that we got during the 2000's, with movies like Final Destination (2000), Jeepers Creepers (2001), Valentine (2001) and many others trying perhaps way too hard to follow in the footsteps of Scream (1996).  Eventually the box office returns for these kinds of movies dried up and the studios began abandoning them.  It wasn't until Blumhouse Productions stepped in the 2010's that we've seen a revitalization for the genre, thanks to the indie producer's more manageable production budgets.  And by setting the genre on more grounded footing, it allows for more filmmakers to experiment with the pacing of their horror, which itself garners up some interesting results.
One of the most interesting things about horror as a genre is how it's very much driven by cinematic vision.  Indeed, the success rate for a horror film is determined by how well the filmmaker uses the medium to convey terror on screen.  This is where the groundwork of the pioneers of early cinema becomes so important, because they are the ones who wrote the language of visual horror in the first place.  We have visionaries like F.W. Murnau, Fritz Lang, James Whale and Tod Browning to thank for making us afraid of what lurks in the shadows at night.  Even when the genre shifted to more graphic violence thanks to the slasher flicks of the 1970's and 80's, the influence of those early films can still be felt.  Just look at how John Carpenter lights Michael Myers in Halloween (1978), almost completely in shadow with his mask being the one illuminated element.  Whether we know it or not, we are conscious of the rules of horror film-making, and adhering to those rules is what can make or break the effectiveness of a horror movie.  It's especially interesting to see this play out in horror franchises, when the cinematic vision is dramatically shifted between films.  For instance, there is such a dramatic shift in tone between William Friedkin's The Exorcist (1973) and the John Boorman directed sequel, Exorcist II: The Heretic (1977).  The original Exorcist is deliberately paced, almost procedural drama that smacks it's audience hard when it arrives at it's most horrifying moments, while Exorcist II is overblown, showy and decided less terrifying.  One director wanted to take his time building tension while the other wanted to show off, and that difference shows just how important it can be to give you audience the chance to absorb the film before being terrified.  This is one example of where a franchise was derailed by loosing it's grip on subtlety, but more recently, we've seen an example where the opposite was true.  In 2014, Universal and Hasbro made the very cynical move of turning their Ouija board game brand into a horror film franchise.  The result was a standard, cliche ridden mess that did nothing to help promote the game nor make a splash within the genre.  However, when they planned to make a sequel, they turned to an actual horror filmmaker named Michael Flanagan who had previously won raves for his breakout film Oculus (2013) and he crafted a far more subtle, well thought out, and more importantly, scary follow-up with Ouija: Origin of Evil, which was far better received by critics and audiences.
More recently we've been seeing movies that have followed that pattern, straying away from fright by the minute tactics and choosing to use atmosphere and tension to terrify their audiences.  One company in particular that seems to be delivering that example is independent outfit A24.  Their catalog of films spans a variety of genres, but what is particularly interesting is how they are delivering in the horror genre.  They seem to favor very artistic horror films, with a very deliberate directorial stamp on them, helping them to stand out among others in the genre.  Indeed, it really is hard to compare an A24 film with anything else in the genre.  They were the ones who put out Kevin Smith's foray into body horror film-making with Tusk (2014); they released the Robert Eggers period set The Witch (2015); and most recently they made a splash by putting out Ari Aster's controversial cult movie Midsommar (2019).  Midsommar in particular stands out within the genre, because stylistically it goes against so many horror film-making rules.  Nearly the entire movie is bathed in sunlight, eliminating any use of shadows to hide terrors hiding within view.  It's also a movie that doesn't rely on jump scares or significant moments of graphic violence.  It instead plays by the same principle that movies like The Shining and The Exorcist built their moments of horror on, which is to build a sense of growing terror over time, allowing the audience to grow comfortable with the movie before the terror begins to envelop them.  By the end of the movie, the audience has reached a level of unease that may not have shaken them to the core, but nevertheless has left them emotionally drained and petrified.  It's that kind of horror that really appeals to filmmakers, because it makes the film stick longer in the audiences memory.  Like I said before, audiences grow numb to consistent scares thrown at them, but slowing pulling them into a state of unease is something that leaves a lasting impact, and that's something that Midsommar relishes in doing.
However, it may surprise you that a movie doesn't even need to be about something supernatural or horrific to be terrifying.  Sometimes, a real life moment can create a sense of terror that is equal to what we see in any horror movies.  I can tell you that one of the most tense experiences that I had watching a movie this year was in watching the documentary Free Solo on an IMAX screen.  The movie is just about a free solo rock climber named Alex Hannold who tries to be the first person to ever scale the face of El Capitan in Yosemite National Park, without the assistance of safety ropes.  You know already just by the fact that the movie exists that he made it through alive, but even while watching the movie you feel this sense of dread that he could fall to his death at any moment, and that just fills you with this feeling of absolute dread while watching the movie; helped greatly by the you are there with him placements of the cameras.  And that's just a movie that feels like a horror movie while being something else entirely.  There is another movie I saw this year that on the surface wouldn't typically be looked at as a horror movie, but to me was absolutely the most terrifying thing I've seen all year.  That movie would be Gaspar Noe's new film Climax.  The French auteur is notorious for breaking cinematic conventions and assaulting his audience will sometimes overwhelming imagery.  With Climax, he presents a very unconventional horror movie by mixing it into the world of dance.  Imagine if Step Up (2006) had a drug trips in it, and that is basically what Climax turns into.  Members of a dance troupe discover that their after party punch has been spiked with LSD, and the remainder of the film becomes something of a bad trip turned into a nightmare, and Noe never holds back.  You feel the overwhelming dread that spreads throughout the movie as the characters are trapped in their inescapable drugged state, and you are right there in the middle of it too.  That to me was more horrifying to watch play out than anything in IT: Chapter Two, and that's because it's rooted in a very human horror of a waking nightmare that you can't escape until it's run it's coarse.
Sometimes I've found that the most terrifying movies ever made are the ones that are grounded in reality, which is probably why those kinds of movies endure longer than others.  Some of the greatest examples of the genre in fact ignore the cliches of the slasher killer or the supernatural monster, and instead remind us that the worst monsters of all are the ones around us.  To this day, only one movie from the horror genre has won Best Picture at the Oscars, and that's The Silence of the Lambs (1991).  Lambs on the surface isn't exactly a horror movie by traditional standards.  It's more of a police procedural, with FBI agent Clarice Starling hunting down a serial killer.  Though there are graphic elements in the movie, there are also very few onscreen deaths as well.  Most of the gore is shown after the fact, with only one scene in particular that you would describe as traditionally horrific; Hannibal Lector's escape scene.  This is a prime example of not playing tricks with the audience, but instead allowing them to absorb the movie and take in the growing tension before it's released.  When we think of The Silence of the Lambs, the most terrifying moments to us are not the scary moments, but rather the quiet dialogue scenes, where the camera is uncomfortably close to Anthony Hopkins face as he stares directly at us.   Again, it's using atmosphere to deliver the best effect for the moment.  A similar approach also resonated in David Fincher's Seven (1995), where much of the terrifying elements are suggested to us and never shown.  We never do see what's inside the box, but we can paint a terrifying picture in our mind, and that's just as effective.  It's all about knowing that right balance to get the audience to feel the dread even when they are not seeing all of it.  And in turn, it shows how we are still using the shadows to deliver the most terrifying of frights on the movie screen.
Horror goes through it's many different phases over the years, but in the end, several principles still endure to help keep it in line with it's roots.  That's the reason why even the silent era movies still manage to scare even all these years later.  The loosening of standards has helped filmmakers get away with a lot more, but as we've seen, sometimes it helps to show restraint as well when making a horror movie.  Indeed, one thing that has proven true over the years is that trusting your audience to fill in the gaps has been beneficial to most horror movies, and that by trying to force a scare through too much will end up dulling their senses over time.  That's why movies like The Shining, The Exorcist, The Silence of the Lambs and Seven are still terrifying today, no matter how many times people have seen them.  They give their audiences a full experience, and reward them for their patience.  I am encouraged to see movies like Midsommar try to follow that example.  Sure, there are the standard Hollywood horror films that serve their purpose, but the real force driving the horror genre into the future are the ones that are being produced on the fringes.  They show that a horror movie can come from any type of style and can be just about anything, like the movie Climax has shown.  Just chasing after scares is not the way to succeed in horror film-making.  It's finding that right balance between terror and atmosphere, and also just having a story worth telling in the end.  And most of all, it helps to have a genuine human connection, because as real life has shown us, horror is all too real in our lives, and sometimes the worst kinds of nightmares are the ones that we dream up ourselves.