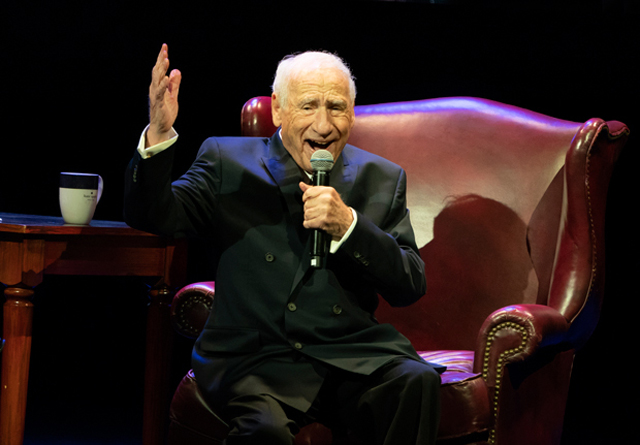 There are certainly quite a few filmmakers who have shaped what we know as American comedy.  From the silent era masters like Charlie Chaplin, Buster Keaton and Harold Lloyd to the current standard bearers of contemporary comedy like Adam McKay and Judd Apatow, there have been many great writers and directors who have helped us all to laugh over the last century of cinema.  One of the most prolific and influential filmmakers to have come out of this grand tradition is himself nearing the century mark, and not slowing down even into his late 90's.  That director is the timeless Mel Brooks.  Brooks is universally beloved throughout the world of comedy, and his films are continuously ranked among the funniest of all time.  He also has made movies that have remained hotly debated even many years later, as he was the kind of filmmaker that wasn't afraid to tackle some hot button issues with a satirical eye.  A lot of his style emerged out of his background in writing jokes and sketches for television.  There is a playfulness to his movies, straddling very much.  And even with his background in television, he surprisingly had a very cinematic eye, as his movies often go to great lengths to replicate the same kinds of movies that they are parodying.  Mel's filmography remains very much the gold standard of modern comedy when looking at how best to find truth in mockery.  Though his movies are often farcical and perversions of genre conventions, they at the same time can be considered prime examples of those same genres and quite impressive film achievements in their own right.  But what exactly is it that puts Mel Brooks' comedies in such high esteem.  For the most part, it's about trusting in the audience and subverting their expectations; comedy in the unexpected.  Whether it's with a funny line of dialogue, an elaborate visual gag that takes absurdity to another level, or just a general feeling of silliness through the whole movie, Mel Brooks seemed to have the instinctual knowledge of what would make every second of his movies the funniest it could be.
Born Melvin Kaminsky in Brooklyn 1926, Mel formed his comedic chops through working odd jobs in the Borscht Belt venues in Upstate New York.  Absorbing the influence of the entertainers and stand-up comedians that performed at these venues, he later gained the confidence to perform stand-up comedy himself; taking the stage for the first time at the age of 16.  Working in comedy clubs through the post-War years eventually helped him gain the attention of comedian Sid Caesar, who was about to launch a new career in television, with the program Your Show of Shows.  Mel was offered a position as a staff writer, where he met another writer and performer on the show, Carl Reiner, who would remain a lifelong friend of Mel's for the next 70 years, up until Carl's passing in 2020.  Mel would write several classic sketches Your Show of Shows and Caesar's Hour afterwards, and he even got to appear on screen a couple times himself, most notably as a character he dubbed the 2,000 Year Old Man.  In the 1960's, Mel teamed up with another legendary comedy writer, Buck Henry, to create what many consider to be one of the greatest TV comedies ever; the spy spoof called Get Smart.  Get Smart ran for 5 successful seasons, earning Mel a few Emmy awards along the way.  But, he found himself being drawn more and more towards film, and he knew he had a story that would be his big breakthrough.  He wrote and directed his first feature The Producers in 1967, starring Zero Mostel and newcomer Gene Wilder, and it was a smash hit and cemented Mel Brooks as a force on the big screen in addition to the small screen.  Over the next decade, he would be known as the King of Spoofs, as he exceled at flipping different genres on their head, as well as mocking quite a few other conventions in the process.  While he began with general genre send-ups like Westerns with Blazing Saddles (1974) and sword and sandal epics with History of the World Part I (1981), the later part of his career would make fun of very specific popular movies like Spaceballs (1987) being a parody of Star Wars (1977).  His last film, Dracula: Dead and Loving It (1995) sadly paled in comparison to his earlier work, but Mel would indeed find a new creative front in live theater where he achieved record breaking success with a musical adaptation of The Producers, netting him a record 12 Tonys in the process.  This resulted in him achieving EGOT status, and there's no doubt that he is deserving of that high honor.  Arguably he is the funniest person to ever become an EGOT.  But, it's his cinematic work that we are focusing on here, so let's examine the different elements that distinguish Mel Brooks as a filmmaker.
1.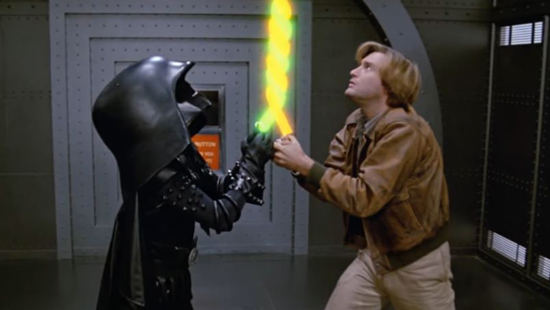 GENRE SPOOFING
Certainly the first thing you think about when looking over Mel Brooks' body of work is that he almost exclusively made parody movies.  It's something that he didn't set out to do initially, as his first two movies were either based on an original idea (The Producers) or a source novel (The Twelve Chairs).  The year that certainly pushed Mel towards the direction of parody movies was 1974, when he created two classics back to back.  Young Frankenstein (1974) and Blazing Saddles both released in the same year, and they both show Mel's incredible knack for not only parodying the plots of certain movie genres, but also their visual aesthetic.  Young Frankenstein is a beautiful black and white recreation of the classic Universal Monster movie, even down to the shot compositions and mood lighting, which contrast very well with the absurdist shenanigans that Mel has his actors do in each of the scenes.  Blazing Saddles likewise is shot the same way that Western masters like John Ford and Howard Hawkes would've filmed a John Wayne vehicle.  In fact, Mel tips his hat a little to the history of Hollywood westerns by zooming out of a climatic fight scene to show that he's making the movie on the same Warner Brothers Studio backlot that so many of those other Westerns were filmed on.  Subsequently, the raucous fight spills over into the other parts of the studio lot in a hilarious escalation, eventually ending in, of all places, the Chinese Theater.  One of his later films, Spaceballs, is probably the most elaborate spoof he's ever undertaken, recreating even some of the groundbreaking effects from the movie it's parodying, Star Wars, which helps to make the absurdity even more hilarious.  He one upped light speed with "ludicrous speed" and his special effects team managed to make even that look cutting edge on screen.  Though he is merciless to poking fun at these movies, you can also tell that Mel loves the films he's spoofing as well.  Parody is often the highest form flattery, and his send ups of these genres demonstrates his general love for the movies as a whole.  Considering the care he puts into recreating the look of the movies he's spoofing, it's clear that he is an enthusiastic student of film himself.
2.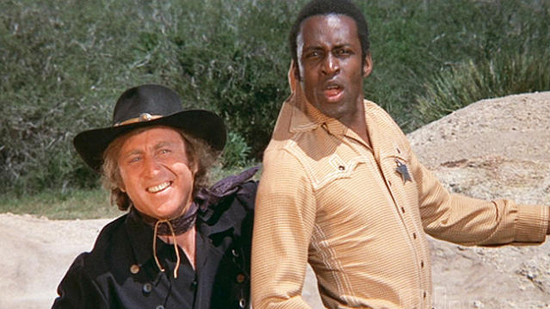 TACKLING TABOO SUBJECTS
While he always keeps his movies humorous and irreverent, Mel Brooks is also not afraid to take on some touchy subjects in his movies also.  This is definitely evident in his earlier films, which pushed quite a few buttons when they first came out.  The most obviously incendiary example of this was the movie Blazing Saddles.  The focal point of the movies is America's rough legacy of racism, something that was even baked in to the Westerns made by Hollywood in it's early years.  Mel came up with the novel idea of what it would be like if a small backwards racist town in the American West had to rely upon the protection of a black man as their sheriff.  Naturally, you would expect there to be tension, and Mel Brooks did not shy away.  Aided by a smart and fearless script co-written by legendary comedian Richard Pryor, the movie shows the ugly side of racism very blatantly, probably with the most uses of the "N-word" ever in a movie, but it's all done with the purpose of mocking those same racist attitudes and exposing how absurd they are.  The untarnished examination of racism shown in this film still makes it somewhat controversial to this day, but Mel's expert craftmanship still makes the overall tone of the movie hilarious and the message behind it all is still a potent one.  Likewise, Mel's comedy helps to steer the mockery in the right direction, aimed at the people and things that deserve it.  After the horrors of World War II, most people couldn't find themselves able to laugh at the aura of Nazi Germany anymore.  But, with The Producers, Mel showed us that we could indeed make fun of Nazi's again.  As a Jewish man himself, he probably took great pride in finding the right way to mock Hitler and the Nazis again in his movies.  In the face of evil, sometimes the greatest weapon one could have is to be able to laugh right at it.
3.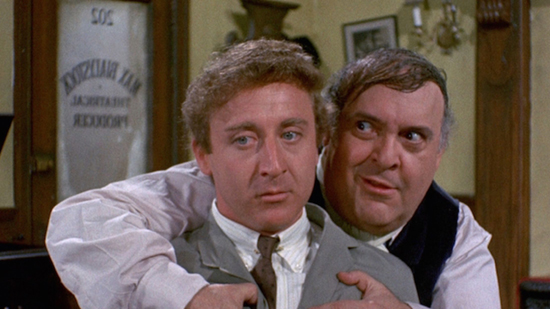 GENE WILDER
Though Mel often liked to work with some of the same people over and over again in his movies, with comedic icons like Harvey Korman, Madeline Kahn, Dom DeLuise and many others, the one frequent collaborator who left an indelible impression on his career was probably Gene Wilder.  Wilder only appeared in three of Mel's movies, but they were the films that came to define the ascent of both of their careers, and it was a symbiotic creative awakening for both of them.  When Mel cast Gene in the role of Leo Bloom opposite Zero Mostel's Max Bialystock, Gene was still a relative unknown, but his scene-stealing manic performance quickly turned him into an instant star.  By the time Mel and Gene crossed paths again, Gene had gained even more notoriety for playing the part of Willy Wonka in the 1973 adaptation of the Roald Dahl classic.  But the next collaboration would be entirely different than The Producers.  It could be said that Gene Wilder was the one who directed Mel into the path of making genre spoofs, because their next film, Young Frankenstein, started off as Gene's brainchild.  Gene clearly was attracted to the idea of playing a Dr. Frankenstein type character, as it fit with the manic over the top kind of performance that he exceled at.  The movie was certainly up Mel's alley too, because it allowed him to make a cinematic love letter to the horror classics of the past, while also utilizing the opportunity to create some hilarious situations to have fun with.  Mel stayed in that same genre send-up mode immediately after with Blazing Saddles, but while developing the film, he struggled to find the right actor to play the key role of the Waco Kid (or Jim as they call him).  Mel went through a number of actors (including John Wayne at one point), before ultimately asking his friend Gene to help him on short notice.  Though hesitant at first, Wilder did eventually accept and he delivered yet again another stand-out and hilarious performance.  The neat thing about Gene as the Waco Kid is that it is a very different kind of performance compared to the other two he played for Mel.  The Waco Kid is stoic and quiet, whereas Dr. Frankenstein and Leo Bloom are loud and manic, and yet he still got the same amount of laughs.  Though it was a brief collaboration, and minimal compared to some of Mell Brook's other regular players, this pairing of actor and director was perhaps the most monumental out of all of them, and one that left an indelible mark on both of their careers.
4.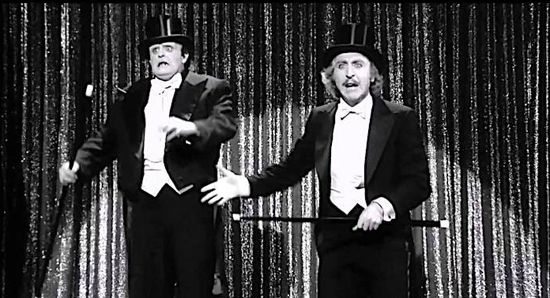 RANDOM ELABORATE MUSICAL NUMBERS
It was no surprise that Mel Brooks would find his way to Broadway eventually.  Hey, it's what his first film was all about anyway.  But, one of the reasons Mel had a destiny with the Broadway stage is because all the movies he made up to his Tony Award winning The Producers had at least one elaborate music number in them.  None of his movies would be considered a musical, but they had at least one scene with song and dance in them.  Whether it was Madeline Kahn's Dietrich inspired saloon show number "I'm Tired," from Blazing Saddles, to the title number from High Anxiety (1977), to the can-can line of "Men in Tights," each one of his movies took a moment to have the actors perform a little dance and song routine, but of course with a funny twist to them.  This is something that likely harkens back to the variety show days of You Show of Shows, which had musical performances woven frequently into the program.  Mel indeed is quite as good at writing lyrics to songs as he is writing jokes.  Of the big musical numbers found in his movies, there are two in particular that stand out.  One is the "Springtime for Hitler" musical performance that's central to The Producers, a scene that perfectly encapsulates Mel's style of comedy, with a ridiculously over the top Broadway number poking fun at a very taboo subject matter.  The other is one from Young Frankenstein, which may count as one of the funniest moments ever put on film.  As a demonstration of Dr. Frankenstein's achievement in reanimating the dead, he and the monster (a hilarious Peter Boyle) perform a routine of "Putting on the Ritz" complete with top hats and tails.  The sight of the monster dressed so fancifully is funny enough, but when it's his turn to sing the key part of the song, his mangled primal growl of the words "Putting on the Ritz" is enough to make you roll on the floor laughing.  Like with everything else with his parody movies, Mel is brilliant at spoofing the musical as well, and that scene in particular is proof of that.  Just like The Producers, Mel also brought Young Frankenstein to the Broadway stage, and though it was received well enough, I don't think it could come close to matching the sheer absurdity of that moment in the movie.  You can definitely see their through line of musical theater in Mel Brooks' movies, and they certainly contribute a lot to the overall hilarity of each movie.
5.
CARTOONISH VISUAL GAGS
Definitely the hallmark of absurdist comedy is crossing the line between reality and cartoonish logic, and that's something that is found throughout the films of Mel Brooks.  One top of all the verbal gags, Mel also loves to incorporate elaborate visual gags as well, and some of them are quite ingenious.  There are some very elaborate set piece gags, like the toll booth in the desert that stops the marauding bandits from attacking  a town, to the scene in Spaceballs, where the bad guys are literally "combing" the desert.  But there are also hilarious character details that are visually hilarious.  Madeline Kahn's character in High Anxiety color coordinates to the point where the paint job of her car matches the pattern of her dress.  And one of the funniest character visuals is seeing the villainous Dark Helmet's absurdly oversized head gear sitting on top of Rick Moranis' small frame.   Mel Brooks is also fond of his use of slapstick, which is prominent in most of his movies.  Some of the slapstick moments are crazy in of themselves, like football star Alex Karras punching a horse in Blazing Saddles, or Marty Feldman's Igor (pronounced Eye Gor) telling Dr. Frankenstein to "walk this way."  Mel made more use of visual gags in his latter films, to more diminishing degrees especially at the end, but there is definitely a sense of playfulness to how absurd he takes things to in his films.  In his latter movies, some of the more subtle visual gags are what works the best, like the fight in Robin hood: Men in Tights (1993) between Cary Elwes' Robin Hood and Eric Allen Kramer's Little John on a bridge spanning a tiny brook, which Little John later falls into and panics, because he can't swim.  Not every visual gag lands, but Mel Brooks throws enough at you that one is bound to get a huge laugh.  It's the same kind of manic energy that you would see from a Bugs Bunny cartoon, which Mel is better than most in bringing to real life on the big screen.
It is remarkable how even after a 70+ year career in entertainment, Mel Brooks is still out there creating.  Just this year, he made good on his promise and released History of the World Part II, a series sequel to his 1980 original film, streaming right now on Hulu.  Though he didn't direct this new series, he still contributed as a producer and he even provides the narration himself.  For a man now at the ripe old age of 96, his continued creative drive is truly remarkable.  In a way, creating History of the World Part II as a series filled with individual sketches mocking historical events is kind of a full-circle return to where his career started as a sketch writer.  Though his impact on television and the Broadway stage are undeniable, I think it's his collection of films that display his most genius work.  The trio of movies he made with Gene Wilder in particular (The Producers, Young Frankenstein, and Blazing Saddles) are almost universally considered to be among the greatest comedies ever made.  They also remain heavily influential so many years later.  The team of Zucker and Abrams probably wouldn't have made their classic Airplane (1980) so wall to wall filled with visual gags had Mel's movies not set the standard so high before.  And even more recently, Taika Waititi cited the films of Mel Brooks as a huge inspiration for his Oscar-winning comedy Jojo Rabbit (2019), especially with the way it mocks the Nazi regime and yet still finds the right tone to make the absurdity work with such a dark subject matter.  Taika was especially happy to have been given the seal of approval from Mel personally, which mattered a lot to him.  I would think that Mel must be especially blessed to have lived so long and see how much of an impact his legacy has made on cinema and comedy over the years.  The world would be a lot less funny had he not gotten out there and helped us all to laugh, even at the things we shouldn't.  And thankfully, at the time of writing this, he's still alive and well and ready to lighten out lives again.  It's good to be the king.