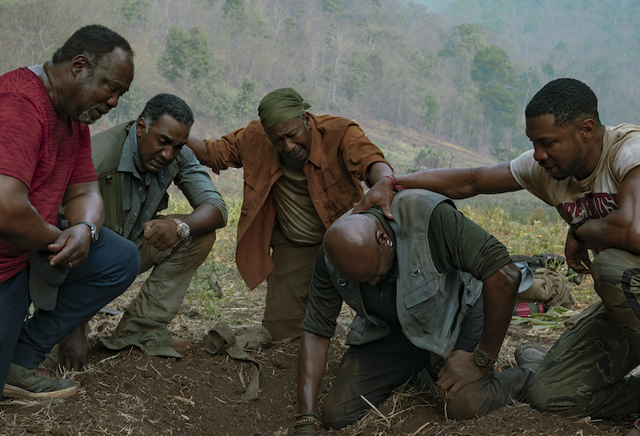 We definitely are living in a strange time right now.  The pandemic has kept us stuck at home for months now, with movie theaters remaining shuttered.  There is a light at the end of that tunnel, with theaters starting to be reopened this month, albeit at a much lower capacity.  But in the meantime, people have been turning to streaming services for fresh entertainment as an alternative, and that's driving more attention to movies and shows premiering on those platforms than they might have had otherwise.  While this is all happening, America is also in the middle of a profound call for justice, with protests happening across the nation in response to killings at the hands of law enforcement.  The confluence of both the pandemic and the nationwide social unrest has shaken up the country in a way that we haven't seen in several generations.  The fact that both are going on at the same time is making a lot of people broaden their perceptions about society, and that is reflecting greatly on the culture itself right now.  Just this week, we saw the newly launched HBO Max service pull Gone With the Wind off of it's platform in a temporary move meant to re-deliver the film with more consideration to it's historical context.  This of course led to an uproar about censorship, but it also led to a reckoning with the film industry about what kind of responsibility they hold with regards to the depictions and representations of people of color that extend throughout it's history.  As I said, it's a time of great turbulence both in society as a whole, but also with regards to the movie industry itself, and the media that we currently consume.  Now, if only a movie were to be released today that both deals head on with the social issues of the day while also bringing more of an audience to streaming content.  It would certainly be the right movie for this particular moment.
Enter the one and only Spike Lee.  Lee has been one of cinema's most consistent provocative voices over the last four decades.  Though he started off strong in his career with the now iconic one-two punch of Do the Right Thing (1989) and Malcolm X (1992), his movies in the years since have rarely reached that same lofty level.  His movies have either ranged from too mainstream (2006's Inside Man) to too small to be recognized (2012's Red Hook Summer).  But recently, Spike has seen something of a mid career resurgence.  This was due to a movie that clicked with audiences and also felt true to the director's sensibilities that was apparent from his earliest work.  BlackKklansman (2018) was a real return to form for Spike Lee; provocative, biting, but also infused with a sense of humanity and a witty sense of humor.  It was Spike finding that fine line between making the movie that he wanted to make and having it match exactly what audiences wanted to see.  And the result gave him his biggest box office hit in decades, as well as his very first ever Oscar win for Best Adapted Screenplay.  Certainly with the wind in his sails after BlackKklansman, Spike was ready to take on another project that satisfied his artistic and political sensibilities.  And thankfully, he found that avenue in a creative partnership with Netflix.  Not only would he be adapting one of his earliest films, She's Gotta Have It (1986) into a series for the streamer, but he got Netflix to also bankroll what may be one of his most ambitious films to date; a Vietnam War epic called Da 5 Bloods.  This new film couldn't have premiered at a more opportune time for Lee and Netflix, with race relations becoming such a hot button issue these last few weeks and the pandemic bringing a larger audience to streaming content.  It's a movie that I think is perfect to review right now, and also because I don't want to write a whole review on the disaster that is Artemis Fowl on Disney+.  So, does Da 5 Bloods continue Spike Lee's hot streak or is the director losing his touch again.
Da 5 Bloods could be considered a Vietnam War movie, but only in the sense of looking at the long term after effects of the prolonged conflict.  Most of the movie takes place in the present day, as the last surviving members of an all black unit of soldiers called Da Bloods are reunited in a return trip to Vietnam.  Da Bloods have returned to the now peaceful country under the pretense of a vacation, but their real purpose for the trip is to retrieve something they left behind 50 years prior; a stash of solid gold bricks they found in the wreckage of a down plane in the Vietnam jungle.  Now, much older and having been haunted by their experiences over the years, Da Bloods must retrace their steps through the jungle in order to find the treasure they left behind.  Those soldiers include Otis (Clarke Peters), the mild-mannered orchestrator of the mission who finds out he left more behind in Vietnam than he realized; Eddie (Norm Lewis), the semi-successful troop veteran who is bankrolling their trip; Melvin (Isiah Whitlock Jr.), the group's fun loving party animal; and Paul (Delroy Lindo), the MAGA-hat wearing, ultra conservative hot head who left Nam a changed person.  Before they go on their mission, Paul's son David (Jonathan Majors) shows up, having figured out what they are really up to.  In order to keep their mission a secret, the reluctantly have David accompany them, claiming an equal share.  As they make their way back to the gold, memories come flashing back to them about their years stuck in the jungle fighting in a war they never really believed in.  And many of their memories recall their beloved commander, Stormin' Norman (Chadwick Boseman), who made them all believe in themselves through hard times, and who they also had to leave behind in the jungle with the gold.  Once they find their treasure, and the remains of their commander, there is only one problem that remains, how do they make it back home in a country where the scars of war still run deep.
Da 5 Bloods is definitely not the kind of movie you'd expect right away.  Though it does show us glimpses of the Vietnam War in action throughout, it's primarily about the aftermath of war and how some wounds never heal.  And in the hands of Spike Lee, it tackles even more far reaching issues with regards to race.  The movie was adapted by Spike Lee and his BlackKklansman collaborator Kevin Willmott from an earlier screenplay written by Danny Bilson and Paul DeMeo, and no doubt much of what was added to the script was a stronger examination of the racial factor within the story.  You can really feel the Spike Lee touch in this movie, and that in itself is what makes the movie work as well as it does.  To be honest, I for one believe Da 5 Bloods is one of Spike Lee's best films ever; probably even the best he's made since Malcolm X.  This movie is Spike working on all cylinders and it is magnificent.  It's visually daring, it's unapologetic in it's messaging, and it is most importantly a compelling story of these diverse characters.  You can see his imprint all over the movie, whether it's the way that he intercuts still photography into a scene, or the way he has his characters interact with each other in a shared humanity way, or with just the boldness of the way he frames and blocks his shots.  The movie starts out with a rundown of how both the Vietnam War and the Civil Rights Movement were happening simultaneously in America, and how the two pivotal upheavals left their mark on black people who were fighting abroad.  This is a theme that Spike drives home throughout the movie, because we come to understand how each of these characters were shaped by the reality of fighting for a country that treated them as less than human and what in the long run they should be owed, both as people and as soldiers.
What I think is Spike Lee's most interesting message in the film is the different ways that time has changed things since the war, and how some things never changed at all.  The men return to a Vietnam that is peaceful and serene, and welcoming to them despite all the killing they did there years before.  By contrast, it's a country that seems to have moved on from the horrors of it's past, while Da Bloods are living in a country where history keeps repeating itself; where black people are still struggling for equality despite some of the progress made.  The scars of the past are not right in front of them, but buried deep, like the land mines that still litter the land.  As Spike keeps reminding us throughout the movie, the split between what you owe your country and what the country owes you in return becomes this almost insurmountable divide.  Duty and Honor feels almost like making a pact with the devil.  And yet, through the memories that they share with each other about Stormin' Norman, they keep their moral compass set towards staying true to their mission.  But, as Norman has become more distant as a memory, so is their bond to themselves.  The character of Paul in particular brings this theme out the most within the narrative.  I find it so interesting that Spike made Paul a Trump-supporting, ultra Patriot in his post Vietnam life.  That change seems so far removed from where the character should be, but it's also a perfect encapsulation of how far gone he has been post-war.  He's turned so self-destructive that he'll back the least likely politician to listen to his grievances, showing how much faith he has lost in the entire system.  The other Bloods have in their own ways have found some semblance of peace, but Paul never left the War behind; his whole life has been centered around finding more and more conflicts.  And that is the tragic element that Spike Lee perfectly encapsulates in the profound story of these characters.
And speaking more about the character of Paul, I feel that he is going to be the thing that most people are going to take away from this movie.  He is one of the most fascinating characters that I've seen brought to the screen in recent years.  Certainly the way he is written by Spike Lee is a big part of what makes him so captivating, but it's actor Delroy Lindo who really makes Paul shine as a character.  Lindo has been a consistently reliable character actor for decades, but has never up to now been granted anything close to a leading man part.  This is a fantastic, tour-de-force performance from the veteran actor and should earn him a whole lot more attention after this.  He at the very least should be on everyone's short list for an Academy Award nomination next year (if we do have the Oscars next year, hopefully).  One of my absolute favorite parts of the movie is a monologue delivered by Lindo as he treks his way through the jungle brush, with his face right in the camera staring directly at us.  It's a powerful moment, and is something that only Spike Lee as a director can pull off, with Delroy giving it his all.  Though he is the stand-out character, the remaining ensemble cast are no slouches either.  Clarke Peters, Norm Lewis, Isiah Whitlock Jr., and Jonathan Majors all contribute stellar performances in the movie, and they are so believable as these characters, that you almost feel like they have indeed fight together in Vietnam.  It's to Spike Lee's credit that he didn't go with A-List actors for these roles; any other studio might have pressured him to add Denzel Washington or Samuel L. Jackson to the roles.  The fact that these characters are played by relative unknowns is a great asset to the movie because it allows us to know the characters, and not be distracted by the fact that their played by a movie star.  The only blockbuster name in the movie is Chadwick Boseman, who works very well in his supporting role of Stormin' Norman.  It might be jarring sometimes to see Black Panther in army fatigues, but whenever he's on screen, he still commands his moments and gives you a good sense of why these old soldiers look back on their fallen comrade with such affection.
I also have to point out how artistically satisfying the movie is.  In an interesting move, Spike Lee lays around with aspect ratios in different parts of the film.  When we see Da Bloods first arriving in Vietnam and experiencing the contemporary changes that have happened since they were last there, the movie is framed cinematically in an anamorphic 2.40:1 aspect ratio.  When we see flashbacks to the combat days, the movie shifts to a restrictive 4:3 ratio, as well as a grainy 16 mm look.  And then, in the last half of the movie, where the men enter the jungle to find the gold, the movie changes to a opened-up 1.85:1 aspect ratio.  It's an interesting artistic choice that I felt really helped to separate the different parts of the movie in an interesting way.  It seems like when he wants to use the wider aspect ratio, it's in the scenes that feel more cinematic, like a mainstream Hollywood movie.  When it's in the Academy standard 4:3, it's to emulate the feel of actual wartime footage taken in the midst of the conflict.  And when he uses the 1.85 ratio, it's to make the movie feel more gritty, with more handheld, documentary style photography.  Naturally, like most other Spike Lee movies, Da 5 Bloods is awash with color.  He makes great use of the actual Vietnam locations that he was allowed to shoot within, although most of the jungle scenes were done in neighboring Thailand, due to the fact that the Vietnamese countryside is still a hot zone of un-triggered landmines.  Cinematographer Newton Thomas Sigel, working with Spike for the first time, really captures a serene beauty to the Southeast Asian locations.  The color of the movie especially makes this film feel like Spike returning to form as a visual story-teller because I can't recall a movie of his that used color this vividly since Do the Right Thing.  Even though it's a Netflix movie, which means that you won't find it playing on a big screen anytime soon, or ever, it's still a bold, epic experience that you should seek out the biggest screen you can find to fully appreciate.
If you are already a Netflix subscriber, there's really no reason why you should be passing this one over.  It is a remarkably profound story about race, war, trauma, and friendship that seems like the best possible movie we should be watching in this moment.  It's pointed in it's social messaging, but never preachy.  Spike knows first and foremost that this is a story about people, and it's their story that drives the narrative, and not the larger issues at play.  What the movie represents most is Spike Lee transforming into the director he was always meant to be, but rarely was given the opportunity to achieve it.  I don't think that he's going to be a director that will only occasionally knock one out of the park, but will now have every one of his movies become an event worth celebrating; finally achieving the due recognition that his peers like Quentin Tarantino and Paul Thomas Anderson always seem to receive.  He's managed to deliver two masterpieces in a row with BlackKklansman and Da 5 Bloods, and I am eager to see what he has next in store.  The movie works so well not just as a reflection of one of the darkest conflicts in this country's history, but also as a brilliant character study.  Delroy Lindo absolutely needs to remain in the conversation for an Oscar, and I'll be very upset if he's not given at least a nomination.  And for people right now looking for a film that examines the history of this country with regards to race, this movie will offer a valuable lesson on those who were tragically left behind in a war that should have brought them home honored for their service.  Even separated from this tumultuous moment in time, I think that this will be a movie well remembered in both Spike Lee's larger body of work and as a compelling statement made within American cinema as a whole.  Bloods don't die, they multiply.
Rating: 9/10