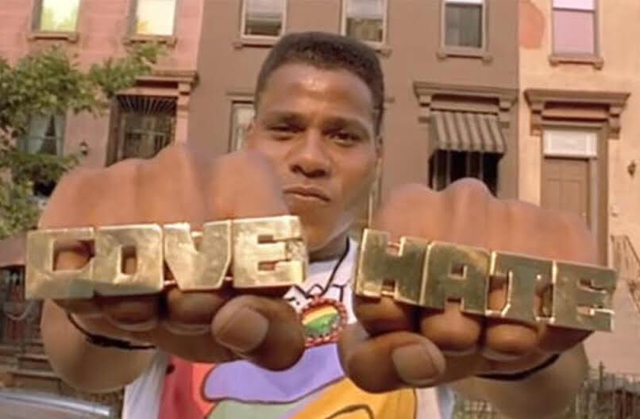 America as a nation has had to confront it's deep rooted problems with racial inequality throughout it's entire history.  The last century itself marked significant change with regards to racial issues, with the African-American community rising up and proclaiming their right to equality, against a long standing system designed to keep them out of power.  Though progress has been made over time, like Brown vs. Board of Education and the Civil Rights Act, the struggle for America's Black population still continues to remain a harsh reality, and over time it heats up into a national reckoning.  This past week, the protests following the murder of George Floyd at the hands of Minneapolis police became one of those flash-point moments in America, where the prejudice and subjugation on display could not be overlooked.  Massive protests and rioting in America is nothing new, but what made this one stand out was the sheer scale of it.  Every major city in America saw protests erupt, with marchers of all ages, race, creed and gender showing their solidarity with the Floyd family and the people holding the sadistic police force accountable in Minneapolis.  This was, far and away, the most widespread protesting that we've seen in over a generation.  Even nations across the world joined in.  And one hopes that it will lead to a lasting change in this country.  But, the sad reality is that we've already had this conversation many times, and it still keeps going.  The narrative of African-Americans being disproportionately discriminated against and abused by police forces is just as much a part of America as it's founding and it refrains throughout it's history.  The reason why these protests have become so widespread is not just about George Floyd alone, but about a whole history of oppression that both the black community and it's allies just can not tolerate anymore.
It's hard to know right now what effects these protests may have in the future, but the important thing right now is to be heard and to assess what responsibility we have with regards to how we respond to something as blatantly wrong as the killing of George Floyd.  I personally can only claim a deep sadness for what has happened on a level of basic human decency.  I've never had to suffer in the same way that most African-Americans have in this country.  I grew up in a pretty sheltered, white suburban upbringing where I thankfully was never taught to be racist towards people of color, but at the same time I was also never shown what issues in America were like from non-white cultural perspective.  In many ways, I had to seek out that information for myself, in order to broaden my mind past my own white perspective.  And usually, the place where I would find the most valuable lessons on race in America came from cinema.  Or at least, it's what I thought was a valuable lesson.  Hollywood has long prided itself on being ahead of the curve on race relations, and has touted itself as the shining force pushing progressive values across the world.  And while there are positive actions taken by the Hollywood community to break down barriers for people of color, they are often in response to barriers that they themselves have long been responsible for.  As my perspective on cinema has grown more broad over time, I have realized more and more that a large part of why America has struggles with confronting the sins of it's past is parallel to a similar attempt by the movie industry to paint itself in a more enlightened light while also sweeping it's own dirty history of intolerance.  Like everything else, cinema is a reflection of the culture that creates it, and the long road of African-American representation in Hollywood more or less draws a direct correlation with the larger society as a whole, with perhaps more consequential connections that we'd like to know of.
Today, African-American representation on screen is certainly far better than it once was.  You'll find a high number of major theatrical releases that feature a black actor as it's headlining star; from Will Smith to Denzel Washington, from Eddie Murphy to Kevin Hart, from Octavia Spenser to Tiffany Haddish.  During the Civil Rights movement of the 1960's, the only headliner in Hollywood of color was Sidney Poitier, and he wasn't paid anywhere close to the salary that today's stars get, nor as much as his white contemporaries were at the time, which is it's own crime.  The fact that Poitier's indisputable screen presence as a Hollywood icon paved the way for all to follow is a positive sign of progress; but it was also too long in the making.  Poitier was only the first actor of color to be given the spotlight of leading man, but his rise to fame came on the shoulders of so many who were not as fortunate.  The sad reality is that for any African-American to find work in the movie industry, they had to often remain in the background and fill either one of two kinds of roles; a servant or a criminal.  This was not particularly due to the filmmakers being prejudiced themselves; though you could find a few who were.  It was largely because of of money.  Hollywood wanted their films to play well in all parts of the country, including the deeply segregated South, and that meant pandering to the largely white audiences' expectations for the roles they believed blacks should play in society.  Hollywood could have stuck it's neck out and defied the societal prejudices of the day by elevating a black performer to headliner status, but for too long they chose to stick with the status quo.  And you wonder why prejudice still permeates American culture today.
That's why I don't really buy the Hollywood narrative that they've been this force for good all throughout it's history.  If anything, they've played a part in perpetuating stereotypes that continue to hurt black communities.   You look at some of the ugly racial coding used in Michael Bay's Transformers movies and you'll understand that Hollywood still has a problem with how it portrays non-white characters on screen.  Stereotypes are cheap shortcuts used by unfunny people to make themselves appear more edgy, and not an effective way to add shoe-horn "diversity" into the story.  And stereotyping extends all the way back to Hollywood's earliest days.  One of the most unfortunate aspects of movie history is that most of the techniques that we use today in film-making were first used in 1915 to create what is essentially a propaganda piece for the Ku Klux Klan; D.W. Griffith's The Birth of a Nation.  Hailed as the first blockbuster by early film historians, Nation is an ugly reminder of the casual racism that has existed throughout American history, and also of how white Americans at the time viewed people of color.  The movie depicts African-Americans as sex-crazed monsters preying on white women, which was an irrational fear that motivated many white supremacists in America to restrict the rights of black people and, most tragically of all, murder them in cold blood for any reason.  This is a narrative that Birth of a Nation whole-heartedly embraces and promotes, and while Griffith's revolutionary cinematic techniques propelled the art-form to another level, it also ingrained into America a portrait of itself that was blatantly false.  African-Americans have spent years trying to regain their dignity of human beings back from false impressions that have perpetuated throughout the culture, so when you see some Hollywood movies still trafficking in ugly stereotypes, it does call into question just how much progress they can claim to have been responsible for.
One thing that does sicken me is the fact that in order for Hollywood to adapt a message of racial tolerance, it's got to come attached with a white perspective.  Racial tolerance is not a two way street.  One thing that Hollywood justifiably gets criticized for is the "white savior" trope that permeates so many films about racial injustice.  They are movies that usually tackles issues about racial injustice, but does so through the perspective of an enlightened white protagonist.  These "white saviors" are usually liberal minded white people who stick their neck out for the oppressed and are given the reward of friendship and approval from the people who are being oppressed, who usually just become window dressing for the white character's noble crusade.  In other words, these are movies made to make white Hollywood liberals feel better about themselves.  Think Dances With Wolves (1990), Dangerous Minds (1995), or The Blind Side (2009), movies made to service the egos of vain white movie stars while at the same time paying only mouth service to the issues they are trying to raise.  They are just a plea for validation; the movies themselves actually achieve nothing in the long run with regards to changing the culture as a whole.  And that's because they are movies that are made by white people, for white people.  African-American filmmakers will tell you that these kinds of movies offer up nothing to the conversation, and in many ways end up trivializing the struggle their communities go through.  That's why so many people were upset with Green Book's (2018) Best Picture win, because it was viewed as a step backward for racial progress, showing that the white perspective was more valued than their own.
But, even given the struggle that African-Americans have gone through in their representation in Hollywood, progress has happened, and it's been from voices that refuse to be silenced.  One such voice is Spike Lee, whose prolific film career has been defined from a undeterred drive to shift the conversation of race in America.  Most of Spike Lee's movies center around the African-American experience, particularly when it comes to fighting for civil rights.  But no more statement from the provocative filmmaker has ever been as loud and impactful as the one found in his 1989 film, Do The Right Thing.  Filmed on the tail end of the Reagan Administration and released in the early days of the Bush Administration, Lee captured a perfect snapshot of race relations in America through a profound story of one inner city neighborhood and the people who live there.  In one incredible 2 hour block of time, Lee was able to encapsulate the racial divide of America in a narrative that was refreshingly honest.  And most importantly, he didn't pull any punches along the way.  He discusses issues like gentrification, dehumanization, radicalization, and ultimately police brutality and violence that sadly has far too often broken up and destroyed black communities across America.  The movie blew audiences away, and instantly made Lee a household name.  It also ushered in a new generation of black filmmakers like John Singleton and F. Gary Gray, who were able to tell stories of their communities their way.  But, most importantly, Do The Right Thing was the first time a movie became a success telling  the story of the black experience without the Hollywood filter to dilute the message.  It was often attacked as a call to arms for the black community, blamed irrationally for race riots in America like the ones in Los Angeles following the Rodney King beating.  But that's not at all what Lee meant with his film.  The movie is about a community, and how it's many different shades of people respond to an act of violence that violates their faith in the system.  He never once says that violence is the answer, but shows that it's a symptom of a history of injustice.  Ultimately, Lee spells it out for us what should be done about the problem and it's there in the title, "Do the Right Thing."  And he doesn't mean that just as a call for black people to stand up for themselves, but for people of all colors to recognize what the right course should be.
So, what more can Hollywood do to change the conversation about race.  For one thing, allowing more representation in all corners of the industry would help.  There are many people of color already working within the industry both in front and behind the camera, with many more on their way straight out of film school.  Even still, the opportunities given to them still fall well short of where they should be as represented as part of the industry as a whole.  Films centered on African-American issues still don't get the backing from major studios in the way that they should, and this still stems from the antiquated notion that movies about black people don't perform well at the box office.  I have no doubt that Ryan Coogler's Black Panther (2018) dispelled that notion pretty effectively, as it eviscerated numerous box office records; an unprecedented move for a movie written, directed, and starring black people.  It's like a long ignored demographic responded strongly to a movie that finally spoke to their own heritage and experience.  Funny how that happens.  It wouldn't hurt major studios to look into elevating executives of color to higher positions, so that they may be better able to tap into this growing market and craft movies that better reflect the African-American experience.  For a lot of African-American icons within the industry, their success has not come out of the open doors that have welcomed them in, but rather in spite of those that have remained shut.  It shouldn't be imperative on black filmmakers to change their attitudes in order to gain more access, but rather for Hollywood to rethink their own position with regards to racial issues, and determine whether or not it was wise for them to leave so much off the table while maintaining the status quo.  Tyler Perry, love him or hate him, has become a media mogul outside of the Hollywood system, and has managed to build his own empire close to home in Atlanta, Georgia, becoming a new ideal destination for up and coming filmmakers, and a welcoming space for productions like The Walking Dead and the Marvel Cinematic Universe.  Imagine if Hollywood had someone like that on their own home turf.
One hopes that the protests that we've seen over the course of this last week may in some way lead to a positive change.  What's more important than wanting change is to actually make that change a reality.  It's on all of us, black, white, Asian, Hispanic, middle eastern, everyone to hold the people in power accountable for any injustice we see in this world.  That also extends into the culture itself.  Hollywood wants to portray itself as a bastion for progressive ideas, but without action, that perception just ends up ringing hollow.  George Clooney, in a very smug self-congratulatory Oscar acceptance speech, proclaimed that he was proud to come from an industry that awarded Hattie McDaniel an Oscar for Gone With the Wind (1939) long before the Civil Rights Movement existed in America.  What he conveniently left out in that speech was that Ms.  McDaniel was forced to enter through the back kitchen door in order to attend the Awards ceremony, because the then owner of the Ambassador Hotel in Los Angeles would not allow her to walk the red carpet at the front entrance with her co-stars.  One small gesture, no matter how historic, did not excuse a history of racial inequality that unfortunately existed in Hollywood for decades.  the way Hollywood perceives itself is in stark contrast with the way it maintained the racist status quo in America for so many years.  Things have improved, but it was a long march forward to get there, and there still is a lot of work still left unfinished.  I can't claim to understand the full horror of racial intolerance that black people have endured in this country, but what I can do is listen and ask what I can do to help.  That's what all of us should be doing; listening and not ignore the problems like we have so many times before.  We need to hold people accountable, and that includes the culture at large, Hollywood included.  They say they are for changing attitudes towards racial injustice; we should all demand for them to back up words with actions.  As Reverend Martin Luther King Jr. said, "The arc of the moral universe is long, but it bends towards justice."  One hopes that this point of time is one of those bends in the right direction.