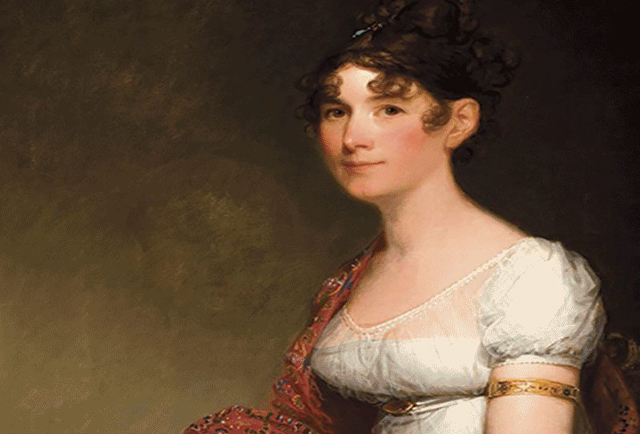 There exists a stereotypical viewpoint over the works of an author like Jane Austen.  The books that she wrote over the course of her all too brief life have been the inspiration for many costume period dramas that more often or not are targeted towards middle-aged women heading to the movies with their friends after an afternoon lunch at a local wine bar.  Sure, Austen's fan based has skewed female over the years, but it is such an underestimation of her impact on literature.  Her works are evocative of an era in pre-Victorian England, but the themes therein throughout her novels are just as provocative today as they were back when she wrote them.  On the surface, her novels are comedies of manners, but they also tackle harder issues such as class differences, the roles of women in society, and perhaps most pointedly, the manners of sexual activity.  She was not afraid to point out the abuses that men enact upon the "fairer" sex, and also challenge the definitions of masculinity and femininity in her novels.  Though still bound by the constraints of her time, Austen still managed to prove her free-thinking ideals through her writing.  It's probably why she has endured so long as a favorite writer to many, because her writing was so ahead of it's time.  As women have gained more equality over time, Austen's novels take on a far more nuanced poignancy, as modern day critics begin to view Jane Austen as a pioneer for cementing a feminine voice within the canonical institution of Western Literature.
What particularly stands out in Jane Austen's writing are her heroines.  In contrast to her contemporaries, Austen wrote about women burdened by societies expectations and constructed narratives that gave her female protagonists more control over their own destinies.  In the single most famous sentence of any of her works, the opening passage of her 1813 novel Pride and Prejudice, she wrote, "It is a truth universally acknowledged, that a single man in possession of a good fortune must be in want of a wife."  In a few simple words, she diminishes down exactly what men expect of the women in society, so that throughout the rest of the novel, she can focus far more on the complexity of her female characters, and how they challenge these "truths."  In her short lifetime, Jane only published four novels, with two more (Persuasion and Northhanger Abbey) published posthumously.  Each of her novels focuses on much of the same thing, women torn between their independence, societies expectations, and falling in love.  But for the most part, she also goes out of her way to draw sympathy from the reader towards her heroines throughout the narrative.  Except for one.  With her fourth, and last published novel, Emma (1816), Jane Austen set out to in her own words, "take a heroine whom no one but myself will much like."  With the character Emma Woodhouse, Jane created what may end up being her most richly complex character overall; spoiled rich and hopelessly naive, and yet endearing in her pursuit of self-realization and personal satisfaction.  What is interesting about Emma is that she is a character so far ahead of her time, that translating her story to modern day diminishes nothing from Jane Austen's original vision of the character.  That is what has given Emma Woodhouse such an interesting presence on film throughout the years.  What follows is an interesting collection of some of her most noteworthy screen appearances, with some interesting contrasts that enrich the character and Austen's writing even further.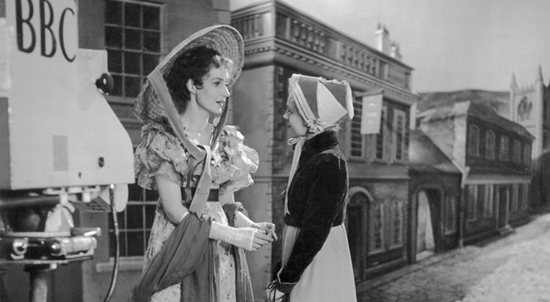 JUDY CAMPBELL from EMMA (BBC FILM) (1948)
It may be surprising to know that Emma's cinematic presence actually emerged relatively recently, as opposed to the other works of Jane Austen throughout the years.  Pride and Prejudice famously made it to the big screen in 1940 with Laurence Olivier and Greer Garson, but Emma would have to wait another half century before that would happen.  Instead, the story of Emma Woodhouse made it's debut mostly through the medium of television.  The first ever adaptation of the novel outside of theater was this televised production put on by the BBC network in England.  Unfortunately, because the BBC never kept back-ups of their aired content due to their routine of recycling old tapes (Doctor Who fans know about this all too well) the original broadcast of this film is lost to us, surviving now only in scant still photographs like the one above.  It's hard to judge how well this version translates Austen's story, but it is interesting noting how this version came to be.  The project was spear-headed by actress Judy Campbell, who played the title role in addition to writing the teleplay adaptation.  A colleague of notable playwright and actor Noel Coward, Campbell was popular performer in her native England and she used the new medium of television to give herself a creative spotlight in the post-War years.  No doubt she viewed Emma Woodhouse as an ideal role to play, showcasing her knack for comedy as well as drama.  Other roles of hers that have survived throughout the years give us a sense of her talent, and you can imagine what she likely brought to the character in her performance.  Sadly, the lack of forward thinking on the part of the BBC has prevented this very first adaptation from surviving to the present day.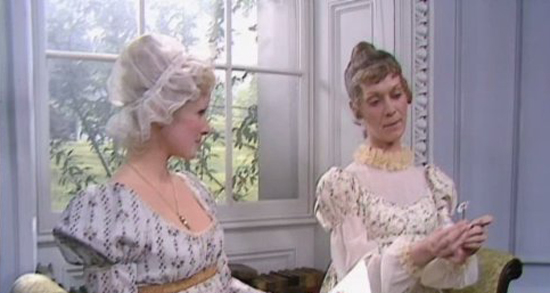 DOARN GODWIN from EMMA (BBC MINISERIES) (1972)
Given a couple decades to learn that it's better to preserve for posterity, the BBC finally revisited the story of Emma Woodhouse again, this time with a version that was intended to last.  The lavishly produced mini-series (which also aired here in the States the same year on PBS) leaves no stone un-turned in the 6 episodes devoted to telling this story.  With that amount of time, the series does give an extensive amount of time to developing all the characters within the fictional village of Highbury.  The character of Harriet Smith, Emma's friend and "pet project", gets far more extensive development of character here, as we see the effects of Emma's meddling in her advancement take a hold over the prolonged story-line, played effectively by actress Debbie Bowen.  Where I think that the mini-series falters slightly is in the depiction of Emma Woodhouse herself.  Actress Doran Godwin's portrayal is perhaps a bit too restrained for the character.  Emma has to be nosy and at times very rude, but Godwin's Emma is a bit too refined.  It's perhaps because the BBC was churning out all these similar themed period dramas, including others based on Jane Austen's other novels, that Doran Godwin was just filling in that expected Austen heroine persona, which she does convey well enough.  But, remember, Emma Woodhouse is not the same kind of character.  Her growth as a character is in discovering her own faults and that's something that I don't believe comes through in this telling of the story.  Emma, as a character, is Jane Austen's critique of misplaced confidence among the idle rich, and it's something that in many ways calls for a less conventional portrayal.  As classy as Doran Godwin's performance is, it's perhaps too refined for what the character needed.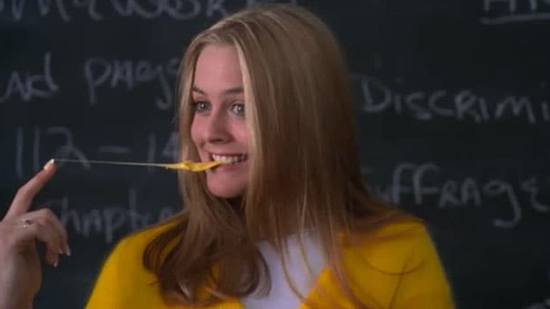 ALICIA SILVERSTONE from CLUELESS (1995)
Of course, this is as far from conventional as you can get for adapting a Jane Austen novel, and in doing so, it managed to hit a bullseye.  Writer and Director Amy Heckerling took Jane Austen's Emma and brought it up to date with a very contemporary re-telling.  To capture the essence of Austen's vision of wealth mixed with naivete over gender roles and sexual destinies, she changed the setting to the one place that still fits within those conventions today; Beverly Hills, California.  In doing so, she transformed Austen's high-spirited but naive heroine from a rosy-faced pre-Victorian debutante to a dim-witted but open-hearted American teenager.  A lot of the comedy comes from the different ways that Heckerling examines the "clueless" bubble in which her characters exist within.  Emma Woodhouse becomes Cher Horowitz (played to perfection by Alicia Silverstone) whose ambition to improve the lives of others clearly is over-matched by her lack of actual expertise, and whose focus is often dictated by fashion trends.  Despite the difference in time periods, Cher's story is nearly beat for beat what Jane Austen imagined for Emma.  She spends the movie delighting in playing matchmaker and giving social outcasts their time to shine, such as the Harriet Smith stand-in Tai (played by the late Brittany Murphy).  But like Emma, she only realizes later on that her ambitions have taught her nothing about actual love, and that part of her loneliness has come from misjudging others.  Her crush turns out to be gay (already wed in the book), and the one she really discovers feelings for is the one who always pushed back against her attitude, that being her ex-step-brother Josh.  One improvement that Heckerling made from the book was reduced the age difference between her heroine and her ultimate love, which she did well by casting the ageless Paul Rudd in the role (seriously, 25 years later, he still looks the same).  It's amazing that the best adaptation of Austen's novel is the one least like the book, and yet it's faithfulness to the ideals of the character as absolutely spot on.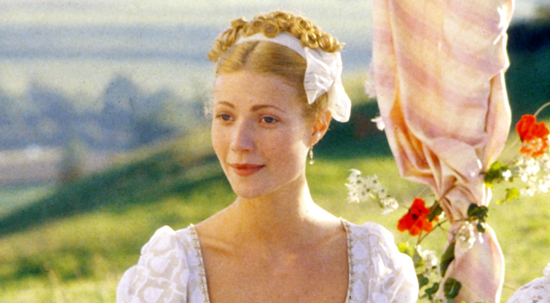 GWYNETH PALTROW from EMMA (1996)
Of course, it only took a year later for us to get a film adaptation of Emma that actually sets itself in it's original period.  In contrast to Clueless, this version of Emma is far less focused on pointing out the absurdities of it's main character.  For the most part, Emma's flaws come about more out of her tireless ambition that her lack of knowledge.  This version, played by then rising star Gwyneth Paltrow, is extremely assertive and intelligent, but is shown to be unfocused or perhaps too stubborn to understand what effect her meddling in other people's affairs is actually doing.  Following a string of lavish productions based on the works of English classics during the 1990's, including the many Merchant Ivory productions as well as Ang Lee's lavish adaptation of Sense and Sensibility  (1995) written by Emma Thompson, this adaptation of Emma was a no-brainer.  Given the recent popularity of Clueless a year prior as well, the works of Jane Austen were experiencing something of a revival, and many people were anxious to see how this movie would indeed stand up.  While the movie itself is wonderfully produced and looks beautiful, and also has some great supporting performances from the likes of Toni Collette and Ewan McGregor, it's portrayal of Emma herself unfortunately suffers, and there is something of a tragic reason for that.  American actress Gwyneth Paltrow was still fairly fresh in Hollywood at the time, and hadn't quite mastered the British accent at this point, though she would improve by the time she played her Oscar-winning role in Shakespeare in Love (1998) a couple years later.  At the same time, she was being haunted on the set by Miramax chairman Harvey Weinstein who was grooming her for stardom and "other things."  Now that we've seen the disgraced former producer finally be brought to justice,  Paltrow has come forward detailing  her own awful encounters with the predatory Weinstein, and it explains in a way the cloud that hangs over this movie and her performance.  It would have been interesting to see where she might have gone with the character had she performed under better circumstances.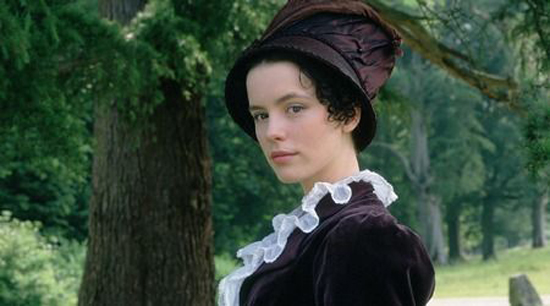 KATE BECKINSALE from EMMA (ITV FILM) (1996)
Not to be outdone by their American counterparts, but British television also offered up their own new adaptation of Emma in the same amount of time.  Produced by independent British cable company ITV, this adaptation is a beautifully lavish production that does indeed feel true to the time period of Austen's England.  Though lacking the budget of Miramax's version, this television is still impressively mounted and features a stellar cast of British character actors.  But, what makes it stand out even more is Kate Beckinsale in the title role.  Long before Pearl Harbor (2001) and the Underworld series, this was the role that launched the actress into stardom.  She was celebrated for her performance, and it's largely what got her attention in Hollywood soon after.  With regards to how it stacks up to Jane Austen's vision of the character, her performance is certainly closer to the book than any other we've seen up to now.  She is less restrained than Gwyneth Paltrow and Doran Godwin's portrayals, but is not a caricature like Alicia Silverstone's Cher.  She balances both the comical and the dramatic with ease, and captures the gentility of the character perfectly well, but at the same time shows a bit of edge that helps to ground her in present.  Of all the earnest adaptations of the novel, this is the version of Emma Woodhouse that feels the closest to what is on the page, and that is a testament to Beckinsale's range as a performer.  She would of course have a prolific career on the big screen, including a role in another Austen adaptation, Love & Friendship (2017), based on Jane Austen's last posthumously published novel, the unfinished Lady Susan.  Given the crowded market of new films all adapting the same novel in a two year span, it's a special thing to have this one stand out as well as it does.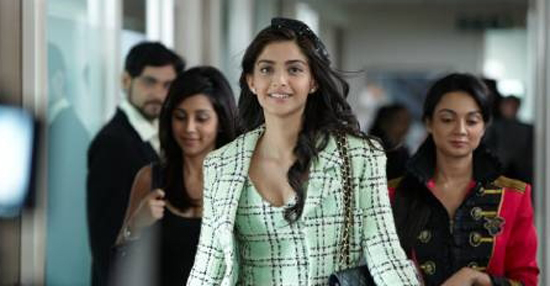 SONAM KAPOOR from AISHA (2010)
It seemed inevitable that Jane Austen and Emma Woodhouse would find their way to Bollywood eventually.  Set aside the troubled influence of the British Empire on the Indian subcontinent, but English literature has found an interesting niche within Indian society, and in particular, has been a reliable source for adaptation in their vibrant film industry.  Jane Austen's stories in particular fit very well with Bollywood's love of melodrama and glamour, and of course Emma would be among them too.  Indian society is still grappling with issues of class strata and the expanding roles of women in society, and the plot of Emma lends itself very well to this dynamic.  I also wonder if the movie Clueless also influenced this adaptation, as it sets the story in the present day and it also a movie centered on fashion and pretty people living in pretty houses.  But, the essence of Austen's story is still there, and the portrayal by actress Sonam Kapoor does follow the exact same attributes that we expect from the character.  She's open-hearted, but also oblivious to what she really needs to do in order to find happiness, and obviously that involves her looking beyond superficial status.  Integrated society is something relatively new to India in the last couple generations, so seeing the heroine here using her influence to help out her lower class friends is something bold to show in a Bollywood film.  Kapoor herself probably identifies a lot with the character given that she is Bollywood royalty herself, being the daughter of one of India's most famous actors, Anil Kapoor (Slumdog Millionaire).  What her portrayal definitely shows is the universality of Jane Austen's work across the world, inspiring women from all walks of life to define their own destiny, while also holding onto their ideals.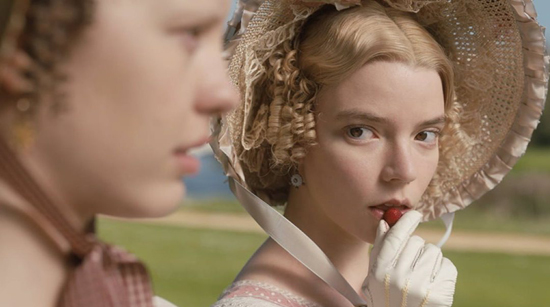 ANNA-TAYLOR JOY from EMMA. (2020)
The most recent adaptation of the novel brings the character far more into the 21st Century with a decidedly more cynical take on Austen's narrative.  This new film enjoyed a brief theatrical run in the early Spring of 2020, before theaters closed due to the COVID-19 pandemic, and largely got overlooked as a result.  Which is a shame, because it's probably the film version that more closely follows Jane Austen's intentions with the character than any other adaptation we've seen thus far.  In this version, we do get a version of Emma Woodhouse that is hard to like.  She is dismissive to others that she finds annoying, often rolls her eyes at inconveniences, and is clearly out of her depths with regards to what she believes is best for those around her.  It's like filmmakers made this earnest, straightforward adaptation of the novel, but with the awareness of the movie Clueless.  The satire of Amy Heckerling's modern adaptation certainly influenced this version, which places the story back in it's appropriate setting, but combines it with a knowing wink to it's audience about all the absurdity of it's era as well.  Anya Taylor-Joy certainly relishes her time in this role, and she conveys so much through just her facial expressions alone.  I especially like the fact that she captures Emma's unwarranted superiority in the early part of the film, showing the smugness of the character that I don't think I've seen in any other version to date.  Through this, we see much more of an evolution that the character undergoes throughout the story.  In many ways, it's a brave thing for the actor to do in starting off their performance by making the heroine less appealing and more spoiled.  If done correctly, the actor can earn far more goodwill from the audience when they see the hard edges of a character soften throughout the film, and Anya does that very well here.  It's still fairly new, but already I feel like this version of Emma Woodhouse has cemented her place in the albeit short cinematic history of the character.
The work of Jane Austen is likely not going to diminish anytime soon, and surprisingly it has been the inspiration for not only some lavishly produced period adaptations of a long ago time, but also some rather sharp social commentaries of our own times as well.  Clueless for one thing holds up remarkably well today on it's 25th anniversary as a satire of a specific class of people that still exist in our society; the idle rich.  When Austen first conceived of Emma Woodhouse as a character, she imagined this well-to-do upper class lady who felt that her own station in life granted her this authority to determine the destinies of those around her.  Though done without malice, Emma's naive notion of thinking that she can make the best choices of partners for all the people in her life comes out of her lack of awareness over her position.  People in lower class can figure out love for themselves, they don't need the guidance of an "enlightened" girl with very little to distress her.  Too often we see today people with wealth and influence try to inject themselves into an issue, and despite them meaning well, it only leads to more complications than what might have existed before, and in turn, reflects badly on said wealthy individual.  I think that is why Jane Austen wanted to write Emma as an experiment.  She wanted to shift the focus away the traditional "lowly" girl elevated to high standing through a dream husband that defined so many novels at the time, including her own, and instead show the flaws of a rich individual who understands so little while proclaiming to be an "expert" in love.  Emma Woodhouse as a result remains Austen's most layered character and a character that remains surprisingly and disturbingly relevant to today's society.