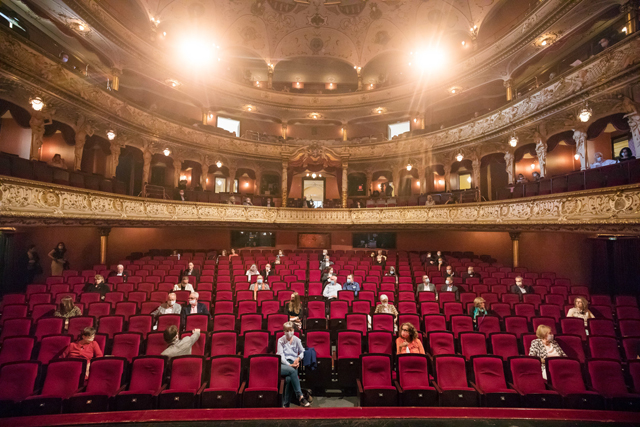 There is one thing that I want to extrapolate from my review of Tenet (2020) last week.  Putting the movie itself aside, there was a thing that mattered a lot to me on my experience watching the film from last week, and that was the feeling I had of just being in a movie theater again.  It's one of those things that I realized I had just taken for granted all these years, and it made a little emotional getting the chance to go back into a theater after such a long time away.  The COVID-19 pandemic led to a months long closure of the theatrical exhibition market, and as a result for me and many other film enthusiasts around the world, this has been the longest time we've had separated from our favorite local theaters.  Where I live, the City of Los Angeles, theaters are still closed, but in the nearby San Diego and Orange counties, they have been allowed to reopen.  Taking this opportunity, I drove far out of town to finally regain that experience and all I can say is that there really is no substitute.  After months of either consuming films at home on Netflix or driving out to the local Drive-In's, I can definitely say that the theatrical experience is absolutely the preferred way to go.  It's the best way to have a distraction free connection with a movie; sitting in a four-walled room in the dark with the silver screen aglow, transporting you into it's story.  An even better experience can be found when the theater is full of equally enthusiastic fans, all reacting to the movie in the same way, either through laughter, screams or cheers.  This has sadly been what the pandemic has taken away the most, and my hope is that as time heals the destruction of this pandemic, that we may be able to return to that shared experience again.  The only question is, are we trying to hard to bring that back right now?
Tenet had a lot of high expectations coming into the start of the year.  Christopher Nolan films are always big screen spectacles, and this was not going to be any different.  What I don't think Nolan and Warner Brothers ever anticipated was that Tenet would be tasked with being the "great white hope" of saving the movie theater industry.  The prolonged length of this pandemic and the shutdown that it has caused in order to control the spread has led to numerous tent pole films being pushed back from their original release dates.  Many opted to wait a year, while others decided to just skip theaters entirely, moving to video on demand instead.  There was no question what Nolan wanted for his film.  A passionate defender of the theatrical experience, Nolan has insisted that Tenet be screened in theaters first, and Warner Brothers has kept to their promise.  The only question is, why do it now, at a time when the pandemic is still raging?  The movie is releasing only in markets where the theaters have been allowed to reopen, which excludes the biggest ones of New York and Los Angeles, and the theaters that are screening it are doing so with ticket sales well bellow the usual capacity, in order to not violate the health guidelines of their community.  So, despite having the highest box office total in North America since the shutdown began, Tenet's box office returns for it's opening weekend were well below what it normally would've made under different circumstances.  It's opening was a paltry $22 million, which is Nolan's lowest opening weekend since The Prestiege (2006) fourteen years ago, and alarmingly short of what it needs to recoup the staggering $200 million budget of the movie; Nolan's most expensive film to date.  One has to wonder if pushing the movie back to next year could have changed the fortunes of this film.  By insisting on opening the movie in the middle of a pandemic, and seeing this expensive project fall well short of it's potential given the circumstances, it unfortunately casts a shadow of failure upon the movie, regardless of the quality of the film itself.  In the end, Warner Brothers and Nolan may have self-inflicted a negative blight on their reputations going forward.
The movies in themselves do matter, given how much work goes into making them from so many working professionals, but at the same time, so does the safety of the people who choose to go to the movie theaters.  A lot of people are just not ready to take that risk right now.  I consider myself one of those willing to venture back to the theaters as soon as possible, but I understand the concern of those who are not ready.  The reality is, Hollywood is just going to have to deal with this for probably the rest of the year and some time after that as well, and that maybe the rest of 2020 should be blockbuster free until we can get this pandemic under control.  Unfortunately for Tenet, it has become the sacrificial canary in the coal mine telling us that it's not time yet to have things return to normal.  Just having theaters open at all is incurring some level of risk, especially for those who are working there.  I can tell you from my experience in San Diego last week that I felt very safe in the hands of the staff at the theater I attended.  Run by the ailing theater chain AMC, the Mission Valley multiplex that I visited had an attentive, friendly and most importantly cautious staff who worked hard to make the place as clean and worry free as possible.  In each theater, there was a large amount of space separating each person in their seats, and I felt very confident in the fact that I wouldn't be infected while watching a movie in there.  Even still, the staff at the theater is under enormous pressure to make everyone feel safe in their establishment, and every day for them now becomes a march to the front lines in combating this illness.  We don't know at this point how much of an impact working through this pandemic will have on theater workers across the world, and my heart really goes out to them considering that I too once worked in a theater like them, albeit in much more stable and healthy times.
No doubt, the worries about what might happen in the weeks and months ahead is still giving Hollywood pause.  Tenet's soft opening is now causing another round of delays across the industry, as more and more blockbuster are pulling out of their release dates, and moving back even more.  Wonder Woman 1984, which was supposed to have been out last June, is now on it's third delay, releasing on Christmas Day, and even that might not even be the last of it.  We also don't know what effect that Disney's Mulan (2020) experiment on Disney+ may have, and if more blockbuster films are just going to abandon theaters altogether.  It may end up leading to a year without blockbuster films at the theaters.  As Tenet has shown, it's just impossible right now for any movie to generate the kind of record-breaking box office that we saw in the last decade.  My prediction is that theaters will remain open, but for the next year, you're only going to see smaller films released on the big screen.  While Tenet and The New Mutants are suffering from mediocre box office numbers, smaller budget films playing right now at the same time like the Russell Crowe headlined Unhinged (2020) and the period drama The Personal History of David Copperfield (2019) are performing at an appropriate level reflective of their substantially lower budgets.  In fact, the movie Unhinged has reached the point now where it is turning in a small profit.  I think this is going to be the pattern for a while moving forward; lower risk films carrying the burden of helping the theaters businesses stay open, while the tent pole blockbusters wait out the storm until it's ready to open up big again.  I don't know if that is how it will exactly play out in the end, since major studios don't want to sit on their expensive projects for very long, but it may have to be the necessary route in order to bring things back to normal.
I certainly want a return to normal sooner rather than later, but it simply isn't possible right now.  What Hollywood and the theatrical industry have to do right now is follow the recommendations of the health experts and follow their guidelines.  We have thankfully reached a point where a reopening is possible now, and that theaters no longer have to keep their doors shut.    There is one thing that I remember well from my time as theater employee, and that is to always make the customer feel at home when they come to see a movie at our establishment.  It's all about driving customers to want to return again, and that aspect of the job could not be more important right now than it has ever been.  I do see an innate desire in people towards wanting to get out of their homes and go out to the movies again, but that takes a level of trust between the theaters and the audience that is in desperate need of being reaffirmed.  From my experience, I saw a theater staff ready and happy to welcome customers back, but I don't know what the rest of the country is seeing right now.  Movie theaters are going to be going through a lot of changes in order to reaffirm their standing in the eyes of audience members, and it will probably extend to a significant alteration in how they do business.  For the foreseeable, I believe we're going to see a lot of cost cutting from some of the major chains, including smaller staffs, fewer showtimes, and even the permanent closures of some facilities.  In order to bring more customers back, a lot of theaters are likely going to be lowering prices on tickets and concessions, just so that they can generate any money they can.  Even if the pandemic ended tomorrow, the damage is already done on the theatrical industry, and they are going to be recuperating for a long time.  But, they have no other choice but to cater to the needs of their audience, because they are going to be what is essential to their survival in the years ahead.
I did find it interesting upon my experience how much emphasis AMC put into thanking their theater patrons on returning to their venues.  Right before the movie trailers began, the screen projected a big thank you message to all of us in the theater for returning.  It's all marketing to be sure, but the push their trying to make is an understandable one.  AMC, above all the others, was the most vulnerable theater chain in the country during this pandemic.  Taking on massive amounts of debt just to fend off bankruptcy, as well as cutting a very one-sided deal with Universal Studios, AMC is at a make or break point where they need theaters open just to survive.  And the other chains are also dealing with their own financial liquidity problems, which likely haunt them for many years.  The one thing that could make things better for the chains going forward is an expansion of their subscriber based ticketing.  AMC was already benefiting from such a program, but had to put it on hold for all their subscribers once the shutdown started.  What could help convince subscribers to restart their monthly subscription is to incentive-ize people to rejoin.  This could be either through more perks, credits, free monthly gifts, or even a tie-in offer with a partnered company.  It's all about convincing customers that it's in their interest to remain a loyal subscriber.  I can see AMC and Regal trying a whole variety of ideas to help boost their numbers back up to where they were before.  Their MoviePass inspired programs were after all only a couple years into their life-span before the shutdown happened; it wouldn't be impossible for them to get back to those numbers again in the same amount of time.  Reduced pricing of concessions may be harder to implement, because it would greatly reduce the profit margin of the theater companies who are dependent on strong concessions sales, but introducing quantitative bargains could help drive more people towards wanting to buy snacks from the theaters.  Necessity is the mother of all invention after all, and movie theaters are going to be experimenting with a lot of ideas in order to bring back their lost audiences.
A lot of things could happen in the next year in order to bring people back to the theaters, but I think that perhaps the most effective tool for bringing audiences back to the theaters will be the feeling of Nostalgia.  It's certainly what I felt when I walked back into a theater.  We all have fond memories of watching movies in a theater, whether with family or friends, or alone with a bunch of complete strangers.  The powerful effect that movies have on us comes from the shared way we respond to them.  Sometimes the greatest entertainment that we can have in a theater is in seeing the reaction the film can have on the people who are watching it.  And it's those reactions that in themselves become part of our nostalgia for the movies.  There's been videos floating around the internet since the pandemic began that show the audience reaction to last year's climatic finale to Avengers: Endgame (2019).  It's an experience that I can recall first hand myself because it was just like the response I saw at the IMAX screening I was at.  It's the moment when all the superheroes who were killed off by the villain Thanos in the previous film, Avengers: Infinity War (2018) return and join the Avengers on the battle field, passing through magically produced portals.  It's one of the most amazing audience experiences I've ever had, with the whole audience hollering and cheering, and a few even crying, all in response to this powerful moment in the movie.  It's one of those moments in life that you could only have with a totally engaged audience, and I'm thankful that someone has preserved that moment in a video and shared it online for everyone to relive.  It reminds us what we have been missing and what we should strive to get back, and that in itself is a powerful reminder of why we need the theatrical experience.  The response that that video has received gives me hope that we may return back to normal someday, because the desire to have that experience is still out there.  It'll take some time, but we'll get back there.
So, for the moment, if you are still weary of returning to the movie theaters because of fear of the pandemic still raging, I don't blame you.  Things are certainly not back to normal yet.  But I have hope that we are getting past the worst of it, and are beginning the long climb back to where we were before.  Based on the response I hear about people hoping for the reopening of their local theaters, and the strong business I see from the local Drive-In's in my area, there is a desire out there to go to the movies again.  It's just going to take some time in order to return to the way it was before.  Movie theaters are in a moment of renewal, where they have to start again from scratch after a long pause.  We may see a renewed focus on the customer experience that could turn into a positive for the industry going down the road, but we'll also see a significant downturn in the market reach that they once had.  At the same time, Hollywood is going to have to consider what is in the best interest of their biggest movies in the years ahead.  Clearly putting Tenet out there as a test run did not generate the desired effect, and it may have even unfortunately tarnished the track record of one of the industry's most celebrated filmmakers.  I'd say it would be best to just put the rest of 2020 on hold when it comes to the big tent-pole films.  It would be better to have the smaller movies carry the load for a while.  It is Awards season after all, and it's the moment where low risk, critically acclaimed films can take this opportunity to shine, without making it look like they are putting the audience at risk.  That's ultimately what is going to ensure the survival of the industry after all, the level of trust between the filmmakers, the theaters, and the audience.  The pandemic has disrupted the happy medium between all parties, but out of that disruption, we could see a renewed effort to make the theatrical experience better as a whole.  People want to go out to see movies; that's apparent now.  It's just about making it so that audiences don't have to feel that there is a risk involved in doing so.  Things are bad right now, but this too will pass, and it's up to us to hold Hollywood and the movie theaters accountable for taking the right measures in welcoming us back in a way that is not reckless.  No matter what, I will always choose movie theaters first when it comes to the cinematic experience, and I want it to come back in a way that ensures that it will have a bright and prosperous future.