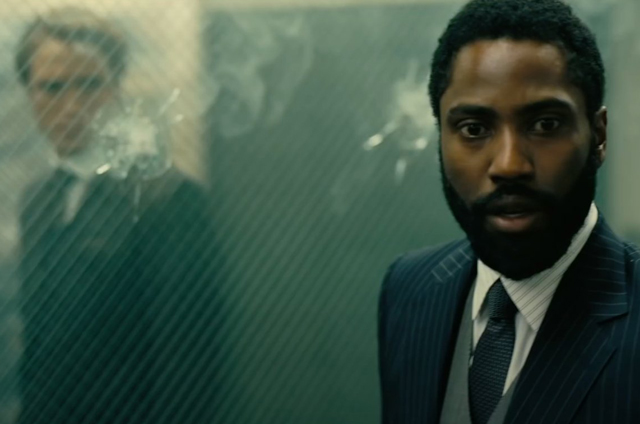 The Summer season of 2020 came and went, and for the first time in a century, movie theaters remained silent.  There have been a few individual theaters open here and there across the country where the COVID-19 pandemic has been less virulent, but for the major chains across the country, it has been anything but a normal year for them.  With the major studios either moving all their major tent-poles to next year or dropping them off onto streaming services, there has been no reason for the theaters to reopen and return to normal business.  The next year or so is going to be a long, slow return to normalcy for the theater industry, and the feats they had to go through over this Summer just to keep themselves afloat may have made the marker for normalcy far different from what it used to be.  At this point, we don't know where the end game of all of this will land, and that is making everyone worried.  Hollywood is facing it's most existential crisis since the advent of television, and they are being increasingly confronted with the hard choice of what they must do in order to survive this pandemic year.  Do they sacrifice the theatrical market in order to secure financial stability for the year ahead, or do they assist the theatrical market with new releases, at the risk of receiving less than normal returns.  After a Summer that made it impossible to do any business normally in the movie theaters, Hollywood is now trying some new experiments with their upcoming releases.  As we head into Labor Day weekend, two of the year's biggest new films are making their debut, but with entirely different roll outs.  Disney's long delayed Mulan (2020) is skipping a theatrical release in favor of a premium streaming debut on Disney+.  At the same time, Christopher Nolan's Tenet (2020), which was originally set for mid-July, is also coming out this weekend, but exclusively on the big screen, and only in areas of the country where it is allowed.  Whoever prevails out of these experiments may in fact be the one that ultimately determines the future of movie theaters as we know it.
For the movie Tenet, it's clear that a theatrical premiere was the only logical choice for it's debut.  Christopher Nolan has built his reputation as a filmmaker on being the master of grandiose, cinematic spectacles that can only be fully appreciated on a big screen.  Ever since The Dark Knight (2008), Nolan has utilized the large format IMAX process as his favorite cinematic tool.  With every new movie he makes, he has incorporated more and more scenes shot with those very big and very expensive cameras.  Nearly 80% of his last feature in fact, the World War II epic Dunkirk (2017), had been filmed in IMAX.  So, even considering taking his newest film Tenet, which purportedly is his first entirely IMAX movie, and dumping it off on Warner Brothers' new streamer, HBO Max, would be sacrilege to both Nolan and his fan-base.  So, a theatrical run of this movie needed to happen at some point.  The only question is, why now?  Why put this movie out while the country has yet to clear itself of this pandemic.  I understand wanting to assist the struggling theatrical industry, but with social distancing protocols still in place in theaters across the world, theaters aren't exactly going to be a full house for quite a while.  Universal, Sony, and Paramount all moved their big tent-poles to next Summer, while Disney opted to push everything they could to November and December.  For some reason, Warner Brothers' is making a gamble here, and they are betting high on Nolan to help bail them and the theatrical industry out.  The only question is, will Tenet indeed be that movie that will save the theatrical experience?  Can Christopher Nolan deliver a spectacle that lives up to it's important status, or will it have proved that we were far from ready from returning back to normal?
Tenet, probably more than any other movie in the director's oeuvre, plays around with Nolan's fascination with the element of Time.  A reoccurring trope in all of his movies, the flow of time and it's many different branches of theory, is clearly something that Nolan loves to explore in his stories.  Whether it's in the nonlinear way he can tell a chronological story, like with Memento (2000) and Dunkirk, or the way he can manipulate time as a plot device, like in Inception (2010) or Interstellar (2014), he's always looked at the flow of time as an interesting cinematic device.  Tenet places time front and center within it's narrative, but adds a new flavor to Nolan's use of the gimmick; inversion.  The movie follows an unnamed, highly-trained mercenary known as The Protagonist (John David Washington) who finds himself recruited into a secret underworld squad of spies tasked with stopping a world-ending event that is making use of inverted technology.  He learns that objects are being transported from the future to the past through a process of Inversion; meaning that they are moving backwards in time while everything else in moving forward.  A Russian crime lord named Andrei Sator (Kenneth Branagh) is the one smuggling all the future objects and has intentions of using them to create a nuclear bomb.  The Protagonist embarks on his mission towards stopping Sator's plot by infiltrating his organization through a relationship with Sator's wife, Kat (Elizabeth Dibicki).  Along the way, The Protagonist also receives assistance from a resourceful but mysterious British operative named Neil (Robert Pattinson), who helps him uncover the heart of Sator's organization, as well as the technology he's using to actually created the Inversion effect on both objects, and people.  With time literally in the balance, can the Protagonist manage to stop Sator from enacting his evil plan, and can he also end up making sense of what which way through time is the right course.
For me personally, just being able to see this movie was an adventure in itself.  I am un-apologetically an ardent fan of Christopher Nolan's work; especially with not one but two of his movies making my best of the 2010's list right here; Inception and Dunkirk respectively.  I have been eagerly anticipating Tenet ever since it was announced back in 2018, and was hoping that it would continue his track record of success.  When the pandemic began closing theaters, my hope was that things would get back to normal sooner rather than later, so that Tenet could still premiere on time.  With every new push back of the date, it became clear that this was just wishful thinking.  Now, some theaters are beginning to reopen, and Tenet is the movie being touted as the first big blockbuster to usher in this return to business.  Unfortunately, movie theaters are still not ready to reopen in all parts of the country where hot spots still exist, and sadly, I just happen to live in one of those hot spots.  Movie theaters in the Los Angeles metro area are still closed as of this writing, which made me worry that I would be having to wait weeks and maybe even months before I could see this movie while the rest of the country had already had their opportunity.  But, there has been a silver lining, which is that although LA remains a hot spot, it's neighboring metropolis to the south, San Diego, is in the process of reopening, including it's many movie theaters.  For some film enthusiasts, there is a limit to how far one will travel in order to see a movie, and for me, a 130 mile drive falls under that ceiling.  I decided that it was worth the long trip and I made my way down to sunny San Diego just so I could finally see Tenet at the same time that most of the rest of the country was.  So, did it live up to my lofty expectations and justify the long road trip that I took.  Well, yes and no.
I will say that my overall reaction to the movie is a positive one.  I would say that I don't feel like I wasted my time and effort to travel down to  San Diego just to watch this movie.  At the same time, I do acknowledge that as far as movies within Christopher Nolan's filmography go, I would've felt more satisfied with the risks if it had been for Inception, The Dark Knight, or Dunkirk.  Tenet is a massive spectacle that certainly needs to be experienced on the big screen to be fully appreciated.  At the same time, it also is probably the flimsiest story that Nolan has ever constructed for any of his movies.  Tenet is very plot heavy, and as a result, it has to rely upon excessive amounts of exposition just to make everything make sense for the viewer.  In the process, it sacrifices other important narrative elements like character development and emotional resonance.  It's like Nolan spent so much time trying to make all the pieces of his intricate puzzle of a movie fall into place in a way that made sense while writing the screenplay that he forgot to add all the other important things that should belong in the story.  As a result, there is a bit of coldness to the story that may alienate the film from some viewers.  But, that being said, what Nolan lacks in emotional resonance he makes up for in daring visual extravagance.  Sometimes he has fallen in the trap of doing the exact opposite and relying too heavily on emotion to carry the story.  That's why I liked Tenet over Interstellar for example.  Nolan injected too much emotion into that story to the point where it became sappy and inauthentic, despite delivering some incredible visual complexity at the same time.  Tenet is cold, but it's also a thrilling adrenaline rush that kept me engaged all the way through.  It does pick up in the second half of the movie, where all the pieces do come into place and things start to make more sense.  But, I can see the slow burn of the first half as a being a make or break point for many viewers, and Tenet will likely be the most polarizing film he's made to date.
One thing that helped me get through some of the more lackluster parts of the movie was in recognizing what Nolan was actually trying to accomplish with this movie.  Though Nolan is working with some very heavy, philosophical themes and out-of-this-world concepts, he's also making what is essentially a very standard genre film too.  In particular, he's making an espionage thriller, bearing the marks of a lot of tropes within the genre.  There is a very not so uncanny resemblance between Tenet and the likes of films from the James Bond franchise; much less a parody as a homage of sorts.  If you're going to borrow inspiration, borrow from the gold standard I say.  Tenet has all the makings of a Bond film, but through Nolan's unique vision.  As a result, I was able to go along with the movie in it's more languid first act, because I anticipated that it was all going to lead to something pretty grand by the end, which it did.  And Nolan certainly makes his movies with an eye for what will look best through the lenses of the IMAX cameras.  Whether it something on a grand scale like a 747 airplane crashing into a storage warehouse, or something more intimate like a hallway fight scene between two characters, one moving through inverted time, he captures it with an incredible cinematic flair that is unparalleled in Hollywood.  And like the Bond movies he's emulating, Nolan also does some incredible globe-trotting photography for his many locations.  The way that he crafted the inverted time environments are also pretty incredible, especially considering that much of it was done with very little digital touch-up.  Once the characters do enter inverted time, it does take the movie into surreal territory, which changes the whole dynamic of the movie in a positive way from it's more straightforward set-up.  Working again with with the same cinematographer of Interstellar and Dunkirk (Hoyte Van Hoytema), Nolan has managed to craft a movie that still feels akin to his previous work, but also unique enough in it's own right to stand out.
Another great thing about the movie is just how solid the cast is.  Albeit, their characters are written as pretty flimsy compared to those from other Nolan films, but the cast makes up for that with strong, engaging performances.  In particular, John David Washington carries the weight of the movie perfectly on his shoulders.  His character is such a blank slate on the script that Nolan didn't even bother to give him a name, just merely calling him the Protagonist.  And yet, Washington stands out by giving a wonderfully charismatic performance.  He can be charming, authoritative, and even vulnerable throughout the film, and I get the feeling that Nolan left much of the development of the character up to the interpretation of the actor who plays him, and thankfully Washington brought a lot of talent into the role.  He's also supported very well by Robert Pattinson in another departure for the heartthrob actor.  Pattinson's performance feels like a throwback to the roles once played by Peter O'Toole, Robert Harris, or loyal Nolan stand-by Michael Caine (who cameos in Tenet) in the old espionage thrillers of the 1960's, and he too does stand out as much more likable than he might have been originally written.  Kenneth Branagh gives the movie it's most over the top performance as a growling, Russian thug, but this too feels at home in a movie like this, and he makes for an effective antagonist to John David Washington's Protagonist.  There's also solid work coming from Elizabeth Debicki, Aaron Taylor-Johnson, and Himesh Patel in their supporting roles.  What I also found rewarding was the pulse-pounding musical score for this film, which in itself marks a departure for Christopher Nolan.  For the first time in nearly 20 years, Nolan is working without his frequent composer Hans Zimmer, who actually turned this down to work on Denis Villeneuve's upcoming Dune (2020) instead.  So, in his place, Nolan turned to Ludwig Goransson; famous for his Oscar-winning score to Black Panther (2018).  And Goransson actually proved to be capable of filling Zimmer's big shoes, and create a musical symphony that matches Nolan's bold vision perfectly.
It may not be among my favorite of Christopher Nolan's films, but a B-grade Nolan movie is still far better than most other movies out there.  Nolan may have become a victim of his own success, in that he has to hit one out of the park every time in order to maintain his reputation in Hollywood.  That's why I think that many may end up being disappointed by Tenet.  It finds the director at his most uneven, particularly at the script level.  And yet at the same time, you can't also say that he's lost his touch when it comes to crafting mind-blowing scale within his movies either.  Though it may lack some narrative punch, Tenet may also be the director's most ambitious movie to date, which is saying a lot.  He really is pushing the envelope in a way you see from few directors in the business, and I am happy to see that he's continuing to build his artistic vision around more and more original concepts.  He's working within a familiar genre, yes, but doing so in a way that you've never seen before.  Honestly, I don't think anyone has ever seen a movie that utilizes the different flows of time the same way we see here.  I think that Tenet is going to see a lot of repeat viewing from people wanting to see all the things they missed the first time around.  That could be the key to Tenet finding success on the big screen, but that'll all depend on the kind of access audiences will have to endure during this ongoing pandemic.  For me, I may not have understood all of it, and may have found some of the movie lacking in certain aspects, but I am glad that I managed to see it at all, and in a movie theater setting no less.  Part of my enjoyment certainly came from being able to sit in a theater seat again, after having missed out on it for 6 months.  There really is no replacement for the theatrical experience, and I hope that it comes roaring back soon.  I would absolutely go see this movie again, if it were closer to home.  Hopefully I can see it in the even better 70mm IMAX format when it comes to LA finally.  When that happens, or if you are already near an open theater, obey the guidelines and wear a mask.  Tenet is flawed, but it is still an enjoyable ride nonetheless, and a great reminder of why we need to keep the theatrical experience going.
Rating: 8.5/10