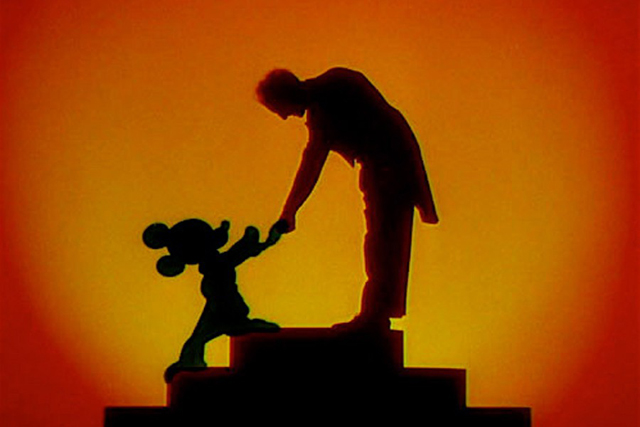 It is abundantly clear that Walt Disney had a strong interest in music.  Once he was able to bring synchronized sound to his Mickey Mouse shorts, he would continue to make music an integral part of every project he put together thereafter.  In addition to the popular Mickey Mouse shorts, Disney also created a separate series of cartoons centered completely around musical arrangements called the Silly Symphonies.  With a combination of established and original tunes, the Silly Symphony series not only became a popular collection of cartoons in their own right, but also a good testing ground for experimentation.  Walt Disney could do in the Silly Symphony shorts what he otherwise was unable to do with Mickey Mouse and Friends.  The experimental animation done throughout the Silly Symphony brand of the 1930's paved the way for the kinds of advancements that would make it possible for Walt Disney and his crew to undertake the even more bold adventure of feature length animation.  In 1937, Disney released the fulfillment of all that hard work and ambition with his first ever feature, Snow White and the Seven Dwarves, and it became a box office phenomenon.  With the profits off of Snow White, Disney expanded his base of operations, moved his company to a bigger lot in Burbank, and quickly moved towards completing his second feature, Pinocchio (1940).  However, Walt still wanted to give due recognition to the mouse that started it all, as well as give the waning Silly Symphony series a refreshed new direction.  So, Walt and his team of animators decided to create one of the most ambitious Mickey Mouse shorts ever, set to a popular piece of classical music.  The story of The Sorcerer's Apprentice was chosen because of the wildly popular orchestral piece by French composer Paul Dukas.  But, over time, the project proved to be too ambitious, as the short was going wildly over-budget and couldn't continue being just a simple stand alone short anymore.  As a result, Walt Disney would head down the path of creating what would ultimately be the most experimental and unique film of his entire career.
The road to Fantasia (1940) becoming a reality would begin upon the crucial meeting between Walt Disney and famed orchestra conductor, Leopold Stokowski.  Stokowski was at that time one of the most highly respected figures in the world of music.  The English born conductor was famous for his striking presence in music halls around the world, orchestrating with his hands instead of a baton.  His rise in popularity led him to becoming not just the director of the Philadelphia Symphony Orchestra, but the founder of many more across America and Europe.  He was especially popular in Hollywood because of his involvement in the creation of the iconic Hollywood Bowl, and it led to him even appearing as himself in multiple musical films.  Of course Walt Disney wanted Stokowski's involvement in the orchestration of The Sorcerer's Apprentice, and Stokowski was likewise interested in collaborating with Disney too.  Stokowski agreed to arrange a recording of his orchestra for Sorcerer's Apprentice, but as meetings between the two artistic giants continued, it would become apparent that there was going to be a lot more to this arrangement.  Walt and Leopold began discussing other ideas for shorts based on classical music, and it eventually led to Stokowski coming up with the idea for what he dubbed a "Concert Feature."  The movie would be like visiting one of Stokowski's concerts at the Philadelphia Performing Arts Center, only the musical pieces would come alive on screen with the artistry of Disney's team of animators.  It was a way of bringing the Symphony Orchestra concert experience to a mass audience through cinema, and the idea pleased both Disney and Stokowski equally.  It was decided that The Sorcerer's Apprentice would now become a part of a larger program that would include multiple animated sequences set to classical music from some of the greatest composers in history.
Stokowski would work extensively on the project as the musical director, making the necessary edits needed to condense the lengthy pieces of music.  He also, alongside Disney, chose what would ultimately be the musical pieces that would make up the program.  In addition to Dukas' Sorcerer's Apprentice, the feature would also include the Toccata Fugue in D Minor from Johann Sabastian Bach, the Nutcracker Suite from Peter Tchaikovsky, The Rite of Spring by Igor Stravinsky, The Pastoral (6th) Symphony by Ludwig van Beethoven, the Dance of the Hours by Amilcare Ponchielli, the Night on Bald Mountain by Modest Mussorgsky, and finally the Ave Maria by Franz Schubert.  Though all the pieces were well known in classical music circles, some may have been unfamiliar to a broader audience, and there needed to be context given to why they were bundled together in this feature.  So, Walt Disney and Leopold Stokowski turned to another collaborator; popular music critic Deems Taylor.  Taylor was a contributing writer to publications like New York World and Musical America, and sometimes a composer in his own right, and he built a reputation both in print and on the radio for explaining the artistry and impact of classical music in a way that the "average joe" could comprehend.  His direct and personable communication style was ideal for shaping the program for Disney's "Concert Feature," and Disney granted Deems Taylor the opportunity to both write the introductions to each segment as well as appear as the on screen host.  Through Taylor's guidance, the movie found it's connective thread, thanks to him laying out the different blocks of music that each of the chosen pieces fell into.  In his intro, he plainly explains that music falls into three types; one that tells a definite story, another that isn't specific but still paints a picture in one's mind, and a third kind that is music that exists simply for it's own sake.  And with those concepts in place, Disney's team of artists and animators were able to flex their creative wings.
It's interesting that the "Concert Feature" does not begin with the short that launched the project from the start, The Sorcerer's Apprentice.   Instead, it begins with a piece based on the third kind of music; the one of pure abstraction.  It makes sense that Bach's Toccata Fugue opens the film, given that it's music simply for it's own sake.  Famous for it's ominous opening segment, often used in silent horror films, Toccata Fugue introduces us to the orchestra itself, filmed in a daring surrealist way by soon to be legendary cinematographer James Wong Howe.  Soon the orchestra gives way to abstract, formless animation of shapes and colors set to the music that was unlike anything seen on film before.  Combined with that iconic silhouette of Stokowski conducting commandingly with his arms and his back to the camera, it is a bold start to the feature that follows.  What is even more surprising is that the second segment takes a piece of music that does tell a familiar story, The Nutcracker, but removes the narrative entirely.  Instead, the Nutcracker Suite uses the familiar melodies to showcase a symphony of nature, complete with dancing mushrooms, flowers, goldfish, and fairy sprites.  Disney could've easily have retold the famous Nutcracker story, but what they did instead was make this segment fall into the category of music that suggests something entirely different.  The Sorcerer's Apprentice, a very definite story told through music follows, and it very much is as masterful as Disney intended it to be.  Mickey's Sorcerer outfit is almost as universally recognized as his normal get-up, and the segment is without a doubt the most popular of the film all these years later.  The fourth segment is probably the most controversial inclusion of the film.  When Igor Stravinsky premiered his Rite of Spring ballet in Paris in 1914, it was so scandalous that it caused a riot.  Interesting enough, Stravinsky was the only composer still living during the making of this film.  Living in exile away from his native Russia post-Revolution, Stravinsky was now living in Beverly Hills, and Walt Disney did indeed welcome him to visit the studio.  Perhaps Stravinsky never anticipated that Disney would take his orchestrations to tribal dance and shape them into a chronicle of the evolution of life on Earth, all the way to the age of the Dinosaurs.  Stravinsky soured on the film over the years, though it's been said that he was more upset by Stokowski's edits than the artistry of Disney's artists.  Even still, the inclusion of The Rite of Spring in the film is a bold choice, and one that is particularly heavy dramatically for animation, not shying away from gruesome onscreen death and violence.
After an intermission, the only one in any Disney movie, the orchestra returns to the screen and Deems Taylor introduces the audience to a "special member" of the crew; the Soundtrack.  The Soundtrack is personified as a simple line across the screen that comes to animated life synchronized to the accompanied music of different instruments.  It's quite an achievement on the animators part that they manage to put personality in something as simple as a soundtrack line, but it does present the audience with an identifiable representation of an instrument used by studio orchestras that help them stay synchronized when recording for a film.  From there, the movie continues with two segments that suggest stories that the animation team freely adapted.  First off, they take Beethoven's Pastoral Symphony, which was inspired by the splendor of Bavarian countryside, and instead expand it into a portrayal of Greek mythological creatures frolicking in the shadow of Mount Olympus.  After that, the animators take the Ponchielli's Dance of the Hours ballet from the opera La Giaconda, and supplant the dancers with wild animals such as hippos, ostriches, elephants, and alligators.  These two segments are the ones closest to the traditional Disney formula, and as a result, the most overtly comical, especially Dance of the Hours.  If you ever wanted to see a hippo in a tutu, the animators certainly deliver on that promise.  These more light-hearted segments help to comfort the audience before the film reaches it's very profound finale.  The closing of the film combines two pieces of music that are the antithesis of each other, representing what Deems Taylor states is a clash between the profane and the sacred.  It begins with Mussorgsky's Night on Bald Mountain, another favorite of silent horror, and we are introduced to one of Disney's most iconic evil characters in their entire library; the demon god Chernabog.  Animated by legendary artist Vladimir "Bill" Tytla, Chernabog is a tour de force creation, representing some of the most profound character animation ever.  The segment also features some of the most disturbing and macabre artwork ever in a animated feature, let alone a Disney one.  How Walt Disney was able to get away with something this unapologetically dark and foreboding in that time is a mystery, and the segment continues to be popular to this day, especially around Halloween.  After the madness of Bald Mountain, the movie concludes with a soulful rendition of Ave Maria, with an incredible showcase of Disney's most valued device, the multiplane camera, giving stunning depth to the artwork in the segment.
To say that Walt Disney's plans for Fantasia were ambitious would be an understatement.  Not only was he pushing the studio on an artistic level, but he was also experimenting on the music front as well.  Walt wanted to recreate the music hall experience as much as he could for the big screen, and that called for inventing an entirely new kind of soundtrack.  The Disney Studio technicians invented what they called Fantasound, which was a forerunner to stereo surround sound that we all know today.  It is amazing to think that long before 5.1 surround sound would become the norm in sound mixing for every film made by Hollywood, the Disney studio had already invented it just for this one film alone.  The only problem was that Fantasound was expensive, and required movie theaters to install new equipment just to run the film to it's full potential.  As a result, Walt Disney opted to premiere Fantasia as a Roadshow, premiering the movie in select markets that could support his Fantasound experience before he could present a monoaural version in smaller markets later.  But, even with a finished film, Walt was no where near done.  His plan was to have Fantasia be continuously renewed every year, swapping one segment out for a new one in a continuous chain.  Fantasia would be a movie without end that would continuously refresh itself year after year.  And indeed, he wasted no time, putting new segments quickly into production.  These included segments based on Wagner's Ride of the Valkyries for instance.  Walt even began collaborating with artist Salvador Dali on a segment called Destino, which would have centered around Dali's surrealist style.  However, real life put the breaks on Walt's ambitious plans.  The outbreak of World War II cut off the crucial European market, and Walt's expensive Roadshow presentation was not able to recover it's cost.  With only an adaptation of Claude Debussy's Claire de Lune complete, Disney had to permanently shelve his Fantasia plans in order to salvage the studio after the double whammy hit of disappointing box office returns for both Pinocchio and Fantasia.  A year later, America would enter the war and Walt Disney would open his studio up to produce propaganda pictures for the war effort; a drastic move that Walt might have avoided had he been on stronger financial footing.
After the War, Walt Disney decided to give Fantasia another chance, however with much less fanfare than he had previously planned.   A 1946 re-release removed the surround sound track in favor of a standard mono recording.  It also shredded most of Deems Taylor's introductions down to the bare minimum. It was certainly a shell of it's former self, but thankfully for Walt Disney, the re-release was a success, and helped to keep the movie in the public eye.  Walt never again tried to attempt another film like Fantasia again, and refrained from re-booting his plans for more segments through the rest of his life.  Subsequent re-releases over the years helped to build Fantasia's reputation and it developed a strong following.  A 50th anniversary re-release in 1990 proved to be a pivotal one, because it restore the five channel surround sound of the audio tracks, as well as helped to clean up the image that was definitely showing it's age at this point.  There was also the controversial removal of centaurs from the Pastoral Symphony sequence that were deemed offensive black stereotypes.  This 50th anniversary was both popular in theaters and on a special home video release.  But, it was a restoration of the 1946 version.  One of the most ardent champions for Fantasia at the Disney studio at the time was Walt's nephew Roy E. Disney, who was now the head of Animation.  Roy took it upon himself to fulfill Walt's dream by creating a fresh continuation of Fantasia in a new sequel called Fantasia Continued.  But, at the same time, Roy desperately wanted to find the original 1940 version of the film and see if it could be restored.  Thankfully, the Disney Archives were able to find and restore the original film elements of the 1940 version.  Unfortunately, the 5 track audio was not in a complete form, as only the musical tracks survived.  So, the restoration team made the tough decision to dub over Deems Taylor's complete narration with a soundalike (in this case, veteran voice actor Corey Burton).  Even still, Roy was able to have a complete version of Walt's original Fantasia ready to premiere to the public alongside his brand new Fantasia sequel.
Fantasia 2000, as it would later be called, launched off as the first movie of the new millennium, premiering on January 1, 2000.  And like Walt's original, the movie's premiere plan was perhaps a little too ambitious for it's time.  Instead of a wide theatrical release, Fantasia 2000 would instead play exclusively on IMAX screens across the world for six months; a first for a major studio release.  Keep in mind, this was years before The Dark Knight would popularize IMAX as a filmmaking tool for Hollywood releases, so IMAX screens were few and far between, and were often used more for nature documentaries.  So, Fantasia 2000, like it's predecessor, would also be hailed as an artistic achievement that unnecessarily was hampered by a limited theatrical release.  But, also like Fantasia, it would continue to build a strong reputation over time and now on it's own 20th anniversary, it is recognized as a classic in it's own right.  But, it is the original that still stands tall as a icon in film history.  There is honestly no other movie like it, other than it's long in the making sequel.  It's a perfect blending of two great artforms, elevating the potential of each other.  The classic music pieces chosen for the film underscore some of the most imaginative imagery ever captured in animation, and the movie likewise helped to keep these particular classical pieces popular in the public consciousness, even through the changing musical landscape of the 20th century.  Fantasia even changed the way that we experience music in a visual medium.  You can see it's influence in the way that music videos try to match the tempo of the music to the visuals, or in the way that some movies will sometimes edit to music cues.  The short that started it all, The Sorcerer's Apprentice, is also today an integral part of the Disney Company's iconography, with the Sorcerer's hat found in even the architectural framework of key Disney properties like the Animation building on the Burbank Lot, and at the Disneyland Hotel.  After two groundbreaking but still narratively familiar feature films to start off his legacy in Hollywood, it is quite remarkable that Walt Disney would undertake something as experimental and unique with his third feature.  Thanks to a pivotal meeting with the likes of Stokowski, Walt Disney not only changed the concept of what could be considered a film with his "Concert Feature," but he also changed the way we experience music as well.  Fantasia truly is a monumental film in the history of cinema, and though it faced an uphill climb beyond it's original release, with technology finally catching up to it's ambitious vision, we now see it today 80 years later as the game-changing experience that Walt Disney had always wanted it to be.