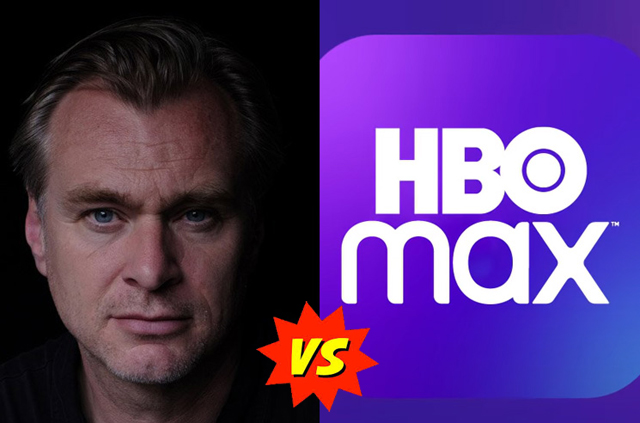 Desperate times call for desperate measures, and the same holds true for a period of great upheaval like the one that we are experiencing now.  The long term effects of the COVID-19 pandemic are still unknown, but for the moment, it has had devastating effects on the worldwide economy.  No where has that been more apparent than within the film industry.  With production ground to a halt for many months and theatrical exhibition pretty much on life support, TInseltown has pretty much spent the entire year of 2020 reassessing it's priorities, in addition to having to quickly shift to new economic norms.  The pandemic also came at a crucial junction within the shifting industry itself, as this was also the year that several new streaming services were launching their platforms to enormous fanfare.  We knew for a long time that streaming was going to emerge as a rapidly growing new arm of distribution for the entertainment industry in the years ahead.  What I'm sure that no one expected at the start of this year was that streaming would become the sole outlet for the major studios to premiere their new and expensive content after the majority of theatrical venues were forced to close their doors.  It was fortuitous for the big Hollywood studios that their streaming platforms were launching in the middle of this worldwide catastrophe, but at the same time, they never anticipated it to be their sole lifeline either.  Indeed, streaming was never the planned destination for movies that were meant to gross over a billion dollars worldwide.  But, given the state of the theatrical industry going into next year, we may have to reconsider what we deem as a blockbuster, because business as normal may be impossible for a long time if ever.
So, Hollywood is at a crossroads right now.  Either patiently wait for the theatrical industry to sort itself out and hold out their big properties until they are able to safely recoup their investment, or go all in on streaming.  For the theatrical industry, they are deeply worried that Hollywood is going to choose the latter.  The largest chain in the North American market, the largest theatrical market in the world, is AMC, and their financial situation is the most dire of all.  With only enough cash to see them remain solvent into January of next year, AMC may be forced to declare bankruptcy within the next month or so, significantly hampering any chance of the theatrical market returning to normal business within the foreseeable future.  Before this point, AMC had already cut deals that they otherwise would not have in other circumstances with the major studios in order to cut the theatrical window shorter.  Their landmark deal with Universal, which reduced the theatrical exclusive window down to a mere three weeks, already uprooted decades old norms about the dynamics of power between Hollywood and the theaters.  The even older Paramount statute, which barred studio ownership of movie theaters is also being lapsed as a way of possibly opening the window for studios investing more in the future of the theatrical market.  As we can see, even before the pandemic has reached it's end or even it's zenith, the theater industry is already forever changed, and the uncertainty that brings to a film industry that has relied heavily on box office dollars is going to lead to a lot more changes.  Right now, a streaming service with a monthly subscriber base just seems more like a surer bet for some people, but that is also dependent on how well the services are able to sign up and secure new subscribers.  In addition to making their big, publicized launches in the year 2020, most of these streaming services are also making their big push to convince people that their content is worthy of the monthly fee to access it, and that has led to a lot of dramatic re-shuffling of distribution.  And of course change is not accomplished without some resistance.
Which brings us to the controversial move made this past week by Warner Brothers and their parent company AT&T to move their entire catalog of new films slated for 2021 to a hybrid theatrical and streaming option.  This means that every movie released by the studio next year will premiere both in theaters and on Warner Media's streaming service, HBO Max, at the same exact time, with the streaming option being at no extra charge on top on the subscription price.  The hybrid model is nothing new, but up until now it has only been used on a movie to movie basis.  The fact that Warner Brother went out of their way to state that all their movies in the next year would be following this model, regardless of the conditions of the market and the pandemic, is what gave pause to the film industry this week, and raised an alarm amongst the theater chains.  AMC CEO Adam Aron blasted the news, saying that Warner Media was "sacrificing box office profitability in order to subsidize their streaming platform" and that he "wouldn't allow them to do so at their (AMC's) expense," according to a statement to The Hollywood Reporter.  What is alarming many, in addition to AMC, is that Warner Media seemed to make this decision unilaterally, without consultation, and that it seems to be a brazen way of just generating more attention to their HBO Max platform.  Originally, Warner Brothers did make a free-standing agreement with the movie theaters to try such a release model with Wonder Woman 1984, which is slated for a Christmas 2020 release after two prior delays.  AMC and others gladly accepted the terms, because they believed it to be a special case and it would allow them to have a blockbuster level movie that could help drive up business for them in a difficult time.  As the pandemic subsides, and the restrictions loosen, then the theaters and the studios could return back to the old model.  But it seems that Warner Brothers used this opportunity to take the precedent of this deal, and apply it to everything else on their plate for the foreseeable future.  And to the theater industry, this is not only seen as a betrayal, but a possible threat to their very survival if other movie studios follow suit.
The movie theaters do have industry insiders that are championing their side in the fight.  Chief among them this past week has been celebrated director Christopher Nolan, who has long been a passionate advocate of the theatrical experience.  And Nolan's injunction into this argument is a fascinating one to watch because for the past couple decades, his home base has been the Warner Brothers studio, which has had a hand in producing all his movies from Insomnia (2002) to this year's Tenet (2020).  Nolan did not parse words, saying in an NPR interview that "the economics are unsound," and in a separate statement to the Hollywood Reporter, he even went on to say the most damning statement yet, saying, "Some of our industry's biggest filmmakers and most important movie stars went to bed the night before thinking they were working for the greatest movie studio and woke up to find out they were working for the worst streaming service."  That final few words, "worst streaming service," went especially viral in the days after, because it really spelled out the bad blood that has developed between Warner Brothers and their "Golden Boy" director.  Warner Brothers and AT&T have spent the better part of the year trying to promote their expensive new streaming platform, and here was their most celebrated filmmaker publicly trashing it.  Warner Brothers fired back, stating that the underperformance at the box office for Tenet is what prompted the economic decision to invest more in streaming; a situation that Nolan bared some responsibility for putting them in with his insistence on a theatrical run.  No doubt about it, the creative partnership between Christopher Nolan and Warner Brothers might be forever frayed, and who knows if Nolan will continue on with them after his contract is up.  Some certainly have criticized Nolan's statements as self-serving in a pandemic affected climate, labeling him as putting his own self-interest over the health and safety of theater patrons.  There are arguments that filmmaker vanity could be behind why Nolan has come at Warner Brothers so hard, but the case grows stronger against the studio when he is not the only aggrieved party.
Denis Villeneuve, whose upcoming sci-fi epic Dune (2021) is also affected by the HBO Max decision, backed up what Christopher Nolan said, even going so far as to attack parent company AT&T for what he sees as brazen corporate meddling.  Speaking to Variety, Villeneuve said of AT&T, "hijacked one of the most respectable and important studios in film history."  Further support has come from filmmakers all across the spectrum of the industry, all stating that AT&T and Warner Brother's choice of diminishing box office in favor of boosting streaming subscriptions was an unfair move driven by economics and not by creative choices.  Warner Media would argue, as they have in response to Christopher Nolan's remarks, that the situation has left them with no other alternative, as the likelihood of a return to normal box office appears to be impossible.  The dire situation that the big theater chains find themselves in seems to back up the Warner Media claim, as there will likely be a diminished number of theaters open throughout most of next year, and it will likely never bounce back.  For Warner Brothers, they see themselves adjusting to a new market reality, where their movies can still reach the largest possible audience, without having to deal with disappointing box office returns from a diminished market.  But the filmmakers point out that HBO Max is in no position to supplant theaters so soon.  Nolan's sharp critique of HBO Max as the "Worst Streaming Service," does bear some fruit, at least in it's first year.  If it weren't for the catastrophic collapse of Quibi to make it look good by comparison, HBO Max would have had the most disastrous launch of any of the new streaming services this year.  Paralyzed by terrible marketing, a confusing user interface, lack of buzzworthy original content, and an unusually high starting subscription price, there have been a number of problems that have dragged HBO Max down, and now it's supposed to carry the weight of the studio going forward.  This is why a lot of filmmakers are not happy with the decision by AT&T and Warner Brothers to go all in at the expense of the theatrical market.
Another major complaint is that it also violates already existing labor contracts as well.  This was the point made by the most clout worthy critic of the move made by Warner Media regarding streaming; the Director's Guild of America.  Their concern is over how the move from theatrical to streaming will affect the pre-existing contracts of not only those within it's union, but with all the technicians and crew men and woman working on the sets of productions at the studio.  They claim that Warner Brothers acted unilaterally in making this decision, without consulting the unions and the talent involved, whose compensation may be affected by the shift to the hybrid model.  For a lot of contracts in Hollywood, particularly for directors and actors, residual compensation is dependent on box office performance.  There is a separate contractual compensation once a movie goes to streaming, but it's worked out as a fixed amount upfront.  Numerous contracts have had to be reassessed because of the pandemic this year, but it's been done on a movie to movie basis.  Where the issue hits on this HBO Max situation is that because of the hybrid model of theatrical and streaming at the same time is that it appears Warner Brothers is intentionally diminishing the potential for higher than expected box office grosses, thereby also diminishing the residual compensation they must also honor on the contracts.  And the DGA is looking at this as an abuse of pre-existing contracts to ensure more money on the studio side and less of the talent side.  No doubt there will be lawsuits filed over the issue, with arguments made over what is owed to the the people involved in the making of these movies, making sure that they are getting their due compensation, even with the emergency actions in response to the pandemic.  But, if it can be proven that AT&T and Warner Media made this change with the intention of diminishing residuals based on box office in violation of these contracts, then Warner Brothers could seriously be facing a significant blow to their reputation within the industry.
One of the biggest concerns on the part of filmmakers and the unions and agencies that are representing them is that Warner Brothers' unilateral action is going to make other studios follow suit, including studios with a much stronger footing in the streaming world.   A year after it's November 2019 launch, it's abundantly clear that the strongest challenger to the Netflix dominance in the streaming market is Disney+, reaching an unheard of first year subscriber base of 83 million in one year.  That's why, immediately on the heels of HBO Max's industry shaking news, a lot of eyes were on Disney's Investor Day announcements on December 10, 2020.  Disney has been indicating with their corporate shuffling that there would be a renewed shift towards more interest in Disney+.  The only question was, would they abandon theaters in the process.  Though a lot of huge announcements were made, the majority of the news was about the ongoing and limited series slated for Disney+.  As far as feature films, a few announcements of Disney+ exclusives were detailed, but for some of the biggest brands (Star Wars, Marvel, Pixar), there was no stated announcement of a hybrid theatrical/streaming release plan.  The only movie that is receiving the treatment that they announced in the presentation is Disney Animation's Raya and the Last Dragon (2021), scheduled for early March.  Considering that the release date is so near, it makes sense to have it available for both options, similar to what Wonder Woman 1984 is doing.  But, for the next big Disney release, Marvel's Black Widow (2021), they announced nothing other a theatrical release, which I'm sure was a welcome sign for the theater industry.  Plans could indeed change, but it appears that Disney, a clear industry leader, is in no hurry to abandon theaters just yet.   Still, the worry is that as long as the theaters continue to struggle, the more the studios will feel inclined to lean more heavily on streaming as a preferred mode of distribution.  And what Warner Brothers' move has shown is that such a pivot will likely meet a good deal of resistance from within the industry itself.
Christopher Nolan's words against HBO Max were certainly harsh, but he's not a solitary voice screaming into the void.  A lot of industry players certainly know that streaming is a part of the future going forward, but they are feeling like they are being dragged by the collar into accepting the new normal without their say.  Warner Brothers, or more appropriately parent company AT&T, made a choice clearly driven by economics and didn't consult anyone else within the film industry.  For filmmakers, unions, and production companies that partner with the major studios, it feels to them like a power grab that diminishes their say in the creative process.  AT&T, who bought the Warner Media library fairly recently, has probably never had to deal with talent and production in this way before, and their lack of experience in the matter was apparent in their hasty decision.  They're a telecom giant trying to branch out in the business of entertainment, and they believed that the film industry would gel just as well into their longstanding corporate structure.  But, as we saw with this rushed decision, the film industry is not ready yet to fully conform.  It goes beyond those filmmakers who are insistent on their art being shown on the biggest screen possible.  Certainly films like Dune or Godzilla vs. Kong and Matrix 4 (also 2021) are movies that demand a big screen showing, but they are not the only ones with skin in the game.  Mid-level and micro budget films made under the Warner Media umbrella also are affected by the move, and they are making their voices heard as well.  So, is it all Warner Media using the pandemic as an excuse to shift priorities and reduce expenses on pre-existing contracts, or is it a necessary change to boost their struggling streaming service and position itself in a new normal post-pandemic.  It's strange that a company built on communications would be so terrible at communicating to it's own pool of talent.  There is room for improvement on HBO Max, but doing so at the expense of relationships with the theatrical market could lead to a variety of problems to Warner Media's long term prospects going forward.  We'll see if these plans stick in the long run, but for right now, many different parties believe that this is a shot across the bow to change the industry for good and leave movie theaters in the dust behind them.  And there is far more support to honor the way things were before than what they could be based on what a spreadsheet might say.  More than anything, whether it's based out of the home or out at a movie theater, make it worthwhile for the audience themselves to give their money willingly to be entertained.  That way you can going from being the worst service, to the best.