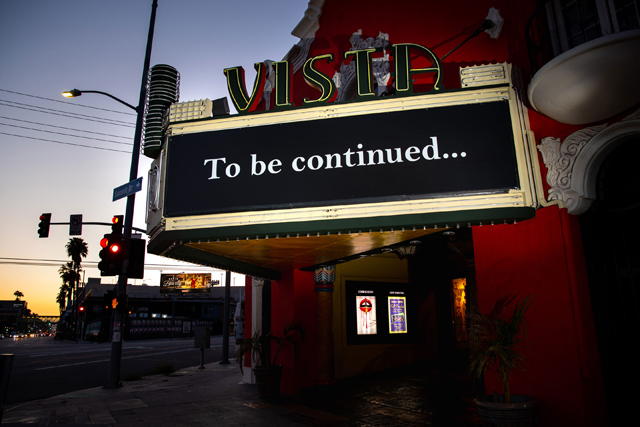 It's been quite a year. Since the start of the COVID-19 pandemic in the United States from March of last year, the future of theatrical releases remained seriously in doubt.  Theater closures moved release dates for nearly every film on the horizon, and that in turn made the return to normal business for the theatrical industry extremely dire.  Even the biggest chains were facing down the possibility of bankruptcy by year's end, and for some others (like the beloved Arclight chain in Hollywood) the end did come.  But, as the tide of the pandemic is finally starting to recede, things are slowly beginning to settle in the world of film.  Release dates are no longer being pushed back; theaters that have been closed for close to or over a year are finally opening the doors; and most importantly people are making the return to movie theaters in big numbers as well.  Recovery will still take a long time to reach pre-pandemic levels, but the early signs are positive, and as more and more people get vaccinated and more restrictions begin to be loosened, the back end of 2021 could be very good for Hollywood.  Thanks to all the maneuvers and business deals made between the studios and the movie theater chains, we finally seem to be having a Summer movie season that looks as close to normal as we it can be.  Because of this, I  can finally return to my usual movie season previews that I have done for years prior, without the added "hopefully" title on top of it.  Quite a few of this summer's movies were ones that were supposed to be released last year, but were pushed back to now, but things are now finally set in stone, so we will be seeing all the movies I spotlight here this Summer.  Like years before, I will be splitting the movies here into the ones that I believe are the must sees, the ones that have me worried, and the ones that I believe are worth skipping.  And even on the lower end, it may be a soft dismissal of the movies to skip, because in general I want to encourage people to go back to the movies, even if the movie in question is not a good one.  So, I am excited to finally bring back my full look at the movies of the Summer in this year of 2021.
MUST SEES: 
THE SUICIDE SQUAD (AUGUST 6)
Let's start off with what for me is the most anticipated movie of the Summer.  Thanks to Warner Brothers' controversial plan for simultaneous releases in theaters and on the HBO Max app, this is also one of the rare 2021 movies that is actually meeting it's original release date as scheduled.  And as Godzilla vs. Kong has shown us, the split availability is not hurting box office one bit, so the future is bright for this film.  The circumstances that led to this movie are also fascinating, as it became possible after writer/director James Gunn was briefly let go by Marvel over some dug up offensive tweets he made in the past.  Not wanting to waste an opportunity, WB picked Gunn up and granted him the chance to play in the DC comics sandbox instead.  Gunn of course was delighted to jump on board and he immediately found the ideal franchise to bring his unique filmmaking style to; that of the Suicide Squad.  After the mixed reception of David Ayer's 2016 film, Suicide Squad was in desperate need of a refresh, and there is no better fit for this franchise than James Gunn, who already has plenty of experience bringing a team of quirky misfits to the big screen in Marvel's Guardians of the Galaxy movies.  With his unique blend of humor and action, I am especially excited to see what James Gunn has in store for us with this rag tag team of DC rogues.  I'm especially happy that Gunn still brought along the best cast members from the first movie, including Margot Robbie's Harley Quinn and Viola Davis' Amanda Waller, including introducing a whole bunch of new ones.  I guarantee that King Shark (voiced by Sylvester Stallone) will be to this movie what Groot was to Guardians, and will become the breakout star character.  You've got to love the fact that the movie advertises itself as being from the horribly beautiful mind of James Gunn.  He will return to Marvel soon after to make a third Guardians movie, but for this brief moment in time, let's all be grateful that he had the time to deliver the Suicide Squad movie that we all deserve.
BLACK WIDOW (JULY 9)
Now we have a film that has not met it's release date multiple times.  With it's original release set so close to the outbreak of the pandemic last year, this one has been moved around three times on the calendar since, moving to November 2020 initially, then again to May 2021, before finally landing on July 9, 2021.  But, with things the way they are now, Black Widow is unlikely to be moved any more.  As an extra insurance, Disney is also making this a premium access title on Disney+, so that they can still make the movie available to view just in case the movie theaters are not back to normal business by July.  For the movie itself, this reshuffle in the schedule has greatly changed it's important role in the ongoing Marvel Cinematic Universe.  This was originally supposed to be the movie that was going to launch Phase Four of the MCU, but as a result of the pandemic, that new launch point went to the Wandavision mini-series on Disney+ instead.  Hopefully that doesn't change the viewing experience of this film too much.  It will be nice to see a Marvel title back on the big screen again, and with a movie devoted to one of the beloved original members of the Avengers team, who was long overdue for a film of her own.  I am interested in seeing how this movie works it's way into the Marvel timeline, given what we know from the last Avengers' film, and what it will add to the franchise as a whole.  This will be a nice showcase for Scarlett Johansson, who has been exceptional in the part for over a decade.  And the spy thriller style of filmmaking is another flavor of genre that will be interesting to see play out in the Marvel Universe.  I'm also interested in seeing the way that the new villain, Taskmaster, fits within this narrative.  Of all the pandemic effected movies, this is one that has been among the most eagerly anticipated, and now we finally will have our opportunity, with no more delays from now on.
LUCA (JUNE 18)
Unlike the other movies I mentioned, this one rather shockingly is not getting a theatrical release.  Disney is giving the other movies on it's summer calendar the hybrid theatrical/streaming release, but not this one from their usually reliable Pixar Animation studio.  This one is going to stream on Disney+ for no extra fee.  It's an odd choice, and one that already is understandably upsetting people within the Pixar ranks.  Pixar's most recent movie, Soul (2020) also premiered solely on Disney+ without a theatrical release, but that choice was understandable given that America was hitting it's deadly second wave of the pandemic during the holidays.  But with theaters reopening and performing better now, it's a shame that they are not allowing a new film from Pixar to make it to the big screen.  I was saddened by the fact that I wasn't able to see a movie like Soul the way it was made to be seen, on the big screen, and the same applies to Luca as well.  This movie, with it's colorful palette and imaginatively designed characters, should be experienced in a theatrical setting to really fully appreciate.  Perhaps, based on Soul's performance on Disney+ was strong enough to make the company feel like streaming was a better option (Soul did go on to win the Animated Feature Oscar this last week).  I just hope this is not the start of a trend.  Luca, like Soul, is a movie that deserves a theatrical release, and I hope Disney changes it's mind in the coming months.  Even still, I'll be watching it, because it does look like the usual appealing experience that Pixar delivers with every movie they make.  I just hope that Disney hears from the fans and the people at Pixar who are passionate about these movies and want to see them in a venue that captures to the true grandeur of these films, which honestly feels quite small when shown on a TV or laptop screen.
IN THE HEIGHTS (JUNE 11)
Another exile from 2020 making it's new home in Summer 2021.  Originally slated for release last Summer, this movie may be one of the few films that benefitted from the circumstances that saw it moved into this year.  One, 2021 in general is a less crowded year at the box office, which is going to help this movie gain a spotlight it otherwise wouldn't have had in 2020.  And second, this movie also is given a little extra assist in it's premiere by a little thing called Hamilton.  This movie musical is based on the original Broadway production that had music written by an up-and-comer named Lin-Manuel Miranda.  The Broadway production became a huge, Tony-winning success, but a couple years later, Miranda would top himself with his career defining blockbuster, Hamilton, which turned him into an instant legend of the Broadway stage.  When the pandemic hit, and Broadway shut down at the same time as movie theaters, the world desperately needed something to fill that void.  Disney, who have been collaborating with Lin-Manuel on numerous projects, decided to move up a release of a taped version of Hamilton that they were saving for theaters later on and put it out on Disney+ to resounding success.  Because of that surprise early release, Lin-Manuel and company were suddenly able to have their work seen by an even wider audience, and that in turn has increased renewed interest in Lin-Manuel's other work.  Being delayed an entire year actually benefits In the Heights now because so many more people are familiar with Miranda's work and are more interested in seeing how this will translate to the silver screen.  From the looks of it, director Jon M. Chu appears to be bringing the an incredible visual flair to the musical, making the movie appear like a modern day West Side Story (1961).   We'll see how well it manages to achieve it's goal, but the circumstances couldn't be better for it this year, because if there is one thing that the culture needs right now, it's an uplifting musical extravaganza, just like what Hollywood used to make in better times.
THE GREEN KNIGHT (JULY 30)
In addition to the big summer tentpoles returning to the schedule, it's also a time for some of the individual indie movies to also make a return to the big screen.  After a year of modest releases either on demand through digital retailers or in a handful of Drive-In theaters across the country, some of the mid-level movies that used to provide counter-programming to the bigger titles are finally returning as well.  Of course, some of the most eagerly anticipated ones are coming from a reliable independent studio like A24, which has one of the industry's strongest track records at the moment.  One of the movies that they held onto in the pandemic shuffle that I have been eagerly anticipating, and one that I hoped at the time could have been an early contender in a reopened box office last year, is this weird little twist on Arthurian knights tales from auteur filmmaker David Lowery.  Lowery has been one of the most interesting artistic filmmakers of recent years, working in a multitude of different genres, including most surprisingly a remake of Disney's Pete's Dragon (2016).  Making a movie like this definitely still seems within character for the non-archetypal director, and I am very much interested in seeing what he does with the medieval setting and the classic story that has it's roots in early English folklore.  It will definitely not be a movie for everyone, but even still A24 opted to not drop this movie onto streaming or premium on demand like they did with some of their other titles this last year.  They held onto this one, waiting to have it shown in theaters, which is a great sign of their confidence in how this movie will play.  It's a movie that I'm guessing from this delay demands a big screen presentation, and that is why I am hopeful it will stand out as a must see movie for those of us who are eager to see something weird and unique on the big screen again.
MOVIES THAT HAVE ME WORRIED:
CRUELLA (MAY 28)
This one is a mixed bag in many ways.  Disney's track record with live action remakes of their animated classics is not very good.  And the last time they attempted to tell a back story for one of their famous villainous characters (with a sympathetic eye no less) it resulted in Maleficent (2014), which was a creative misfire.  I'm especially worried about this one, because 101 Dalmatians is an all time favorite of mine in the Disney canon, and Cruella De Vil stands as one of the greatest baddies they've ever committed to the big screen.  I don't want to see that legacy tarnished by a misguided cash grab.  101 Dalmatians has been turned into a live action film before, but it was one that skewed close to the formula, made changes when need, and featured an incredible star performance from a perfectly cast Glenn Close as Cruella.  It was also made at a time in the late 90's when there wasn't a remake craze at the Disney company like there is now, so it manages to stand alone perfectly fine.  This one, however, is following a trend and that's what worries me about it.  So many of the recent Disney remakes completely forget what made the others so great and they instead just feel like mediocre re-treads that pale compared to the originals.  The things that do work in this movie's favor is the fact that it is going way off book and is trying to tell it's own story, divorced from the original.  The choice of director, Craig Gillespie, is an interesting one, as he previously brought the story of Tonya Harding to the big screen in the Oscar-winning I, Tonya (2017).  And it does seem like Emma Stone is putting her all into the role as well, which is a good sign.  I just hope that they don't do any injustice to the legacy of the character and make her too sympathetic.  This is a villainess famous for wanting to make dog skin coats after all.  If it sticks to the depraved individual dueling against even more depraved individuals plotting that the trailer suggests, than it might work, but then again I've been tricked by Disney before.
JUNGLE CRUISE (JULY 30)
One other avenue that Disney has a spotty record with on the big screen is movies based on theme park attractions.  It did strike gold with Pirates of the Caribbean franchise, but it also misfired with The Haunted Mansion (2003), and even Pirates ran out of steam eventually.  So it seems weird that Disney is choosing to tap this mine again with a movie based on their Jungle Cruise attraction.  For anyone that has been to a Disney park, you'll know that Jungle Cruise is one of the more leisurely rides in the park, without a whole lot of thrills to drive a movie plot from.  And yet, that's just what they did.  In many ways, this movie appears like a reskinned version of their Pirates movies, with weird CGI monsters doing battle with the heroes.  The movie also seems like another Indiana Jones knock off, where the characters are travelling into more and more perilous situations in search for a mystical treasure.  So far, from the clips we've seen, Jungle Cruise just seems like too many other movies we've seen before.  And in the time that it was delayed from release last year to now, there has been almost no hype built for it, which is not a good sign.  The one thing that may turn into a positive for this movie is the chemistry between the two leads, Dwayne "The Rock" Johnson and Emily Blunt.  These are two of the most charismatic movie stars working today, and their on screen interactions could be the movie's saving grace in the long run.  I just hope that not too much is going to be resting on their shoulders as the movie seems to lack a lot of originality.  I'm sure that Disney is hoping some of that star power translates to a strong box office, because with a pandemic driven delay leading to many people already forgetting that this movie exist before it comes out, it's already got a lot of trouble up ahead.
OLD (JULY 23)
This one has me worried more based on the overall track record that director M. Night Shyamalan has had over his entire career.  When he's doing well, Shyamalan can deliver some of the most taught and original thrillers, like The Sixth Sense (1999), Unbreakable (2000) and Split (2016).  But when he's not, he can make some of the most laughably awful ones as well like Lady in the Water (2006) and The Happening (2008).  More recently, he's been doing much better both critically and at the box office, with the movies Split and Glass (2019) both performing well.  With this new film, he's delivering another Twilight Zone style scenario that seems to be within his wheelhouse, with characters mysteriously aging rapidly on a secluded beach with no clear explanation.  My hope is that this movie brings out the best in Shyamalan's instincts and not the worst.  It's hard to tell from this brief preview, and already I have my worries.  The performances for one thing seem a little off, which to be honest has always been one of Shyamalan's weakest aspects as a filmmaker.  You can only rely on professionals like Samuel L. Jackson, Joaquin Phoenix, or James McAvoy to carry the clunky dialogue so much.  This could indeed be another movie that falls under the weight of it's own self-indulgence, but then again, M. Night has been doing a better job recently of keeping that under check.  My hope is that the intriguing premise is executed well enough that it helps lift the movie above Shyamalan's shortcomings as a writer and director, because he still is a filmmaker with a lot of neat ideas that can still work if executed well.
FAST & FURIOUS 9 (JUNE 25)
For nearly 20 years now, I have tried my best to get into the Fast & Furious  movie franchise, and every time I just end up leaving underwhelmed by it all.  Maybe I am just not a car person.  The films in general are just a whole lot of noise and mayhem to me, with none of the emotional connection that would normally hook me in.  I'll take the likes of Mission: Impossible and John Wick to satisfy me with over-the-top action.  What will be interesting to see is how this movie is going to perform at the box office.  I hate to say this about a movie franchise that I honestly don't care for that much, but if there was any movie that will save the Summer box office this year, it's probably going to be this one.  The fanbase for this franchise is loyal, and they are still very much eager to see it in theaters as well.  If I were to bet on the box office this year, either Fast & Furious 9 or Black Widow will be the first movie to cross the $200 million mark in domestic box office since the start of the pandemic.  And if that happens, it will be a great moral booster for the theatrical industry as well as give movie studios confidence in the recovery of the market overall.  I'll be grateful to the movie if it manages to do that, and even excel past expectations if possible.  But I'm also sure that I won't have the same love for it that other people do.  Still, I am impressed with how well excitement for this movie has not waned in the last year, and that unlike Disney's Jungle Cruise, people are still talking about it.  The addition of John Cena to the mix will be interesting, but they've put a lot of other actors that I admire into this franchise like Dwayne Johnson and Jason Statham, and it still didn't grab me.  So, I am hopeful that this movie will be a boost of adrenaline to a desperate theatrical market in need of a hit, but I'm probably going to be underwhelmed by it just like all the ones that came before.
MOVIES TO SKIP:
SPACE JAM: A NEW LEGACY (JULY 16)
I've made my disdain for the original Space Jam (1996) very apparent on this blog before.  But, I did hold out for some positive signs about the up-coming sequel.  Honestly, they couldn't do any worse than the original.  But, seeing this trailer, it's presenting a whole bunch of other concerns that really have me worried again.  First of all, it just looks like a shameless cross promotion tool on Warner Brothers' part to showcase all the different IP they have in their library.  Did I also mention that this movie is also premiering day and date on HBO Max, where a lot of the pop cultural references shown in the movie also can be seen on.  I do like some Iron Giant love, but it just seems like Space Jam went from shamelessly shilling Nike footwear to shamelessly shilling everything under the WB tent.  I was also hopeful for LeBron James, who has a better cinematic track record than his predecessor Michael Jordan does, whose still awkward and bland performance in the original movie is his one and only movie role.   But, LeBron so far is coming off just as flat as MJ.  And the CGI enhanced Looney Tunes are also not giving me much hope overall.  It remains to be seen if I dislike this movie as much as the original.  The first Space Jam is a monumentally flawed movie with no redeeming qualities whatsoever.  This one may be bad, but it could be so in a boring way, which would put it ahead of it's predecessor, but we'll just see.  Safe to say, I'm not holding too much hope for this to be a turn around for the series.  They should've just left it as a commercial for sneakers like it originally was.  I just hope Bill Murray had the common sense to say no this time.
THE HITMAN'S WIFE'S BODYGUARD (JUNE 16)
How this became a franchise I will never know.  The original movie wasted the talents of two usually great movie stars, Ryan Reynolds and Samuel L. Jackson with an unfunny script and mediocre action.  And somehow it did well enough to warrant a sequel?  In this one they expand Salma Hayek's cameo role from the original to a third lead, and add Antonio Banderas and Morgan Freeman to the mix.  I was underwhelmed by the original, and I have a feeling that the same will happen with this movie as well.  What really depresses me is that the movie has both Reynolds and Jackson in the leads, a combo that should've been ideal for some hilarious back and forth banter.  Instead, the original movie was about as stock as any other bland action movie.  If this movie wants to redeem this franchise, set these two loose, and Salma Hayek as well.  We know how great they can be off the cuff.  Sure, they shouldn't have to carry a movie on their shoulders, but when you give them nothing to work with, just at least let them look like they're having fun and allow them to use their instincts in a creative way.  Overall, I expect this movie to be just another average action flick that wastes it's opportunity to be a comedic powerhouse.
SPIRIT UNTAMED (JUNE 4)
Once upon a time, when competing against their rival Disney, Dreamworks Animation did dabble briefly in the medium of traditional, hand-drawn animation.  They only made 4 films in that format, The Prince of Egypt (1998), The Road to El Dorado (2000), Spirit: Stallion of the Cimarron (2002), and Sinbad: Legend of the Seven Seas (2003), before abandoning it after the success of Shrek (2001).  Of those four, I would argue that the most successful dramatically and artistically was Spirt, a beautiful Western themed adventure that took full advantage of the hand drawn format.  In the years since, the movie has gained a cult following, and even spawned a Netflix series.  This new film, however, comes from the main studio, which seems to be taking the story in a far more sanitized direction, geared solely towards younger audiences.  It's a shame to see Dreamworks Animation move into a more pandering sensibility, and with a character from one of it's most dramatic films in general.  The movie did retain the titular character's original design, but it just looks weird in CGI form, and he fares better than the rest of the cast of characters.  If they wanted to sequelize the original, they should've stayed true to the grit of the original, which was a strong parable about the loss of the wilderness in America's westward expansion.  This movie just seems to be hand waving all that off and just makes it a horse movie for kiddies.  Do yourself a favor, seek out the original (especially if it's widescreen) and watch that instead.  It will remind you of a time when Dreamworks was really trying to prove something, instead of just resting on their laurels.
So, there you have it, a Summer movie preview that will hopefully, finally pan out for real.  Now I can finally talk about these movies with certainty about when they are going to be released.  The question marks about when and if these movies will see the light of day are no longer a problem.  I'm just hoping that the movie theater industry is able to return to normal business soon, so that all these movies can thrive and bring back confidence in the market again.  Sadly, we are going to likely see compromises made for the rest of the year, like the hybrid releases that the movie studios are using as an insurance policy.  I also highly doubt that we'll reach the record breaking numbers like the ones that we saw throughout 2019, before the pandemic was even on the horizon.  I hope that the studios in the long term look at the theatrical industry as a worthwhile market to continue investing in.  I would especially like it if some of the upcoming movies do well enough that it will enable some of the fence-sitters to reconsider their release plans and move more movies to the big screen.  It will be a short window for something like Luca, but I am praying that Disney has a change of heart.  Thus far, from the few movies that have released in the Spring, there are a lot positive signs that point to a recovery.  Warner Brothers' HBO Max gamble has not harmed box office one bit, and every major studio has stopped shuffling things around and in some cases are moving movies forward instead of backward.  Normal may still be a ways off, but we are going back to the movies finally, and people are realizing just how much they have missed.  Absence makes the heart grow fonder, and that's what I think will help lead people back to the movie theaters.  There really is no substitute for the theatrical experience, and it's an experience that is right now reminding people of better times.  It's that allure that could indeed give movie theaters the bright future that it needs.