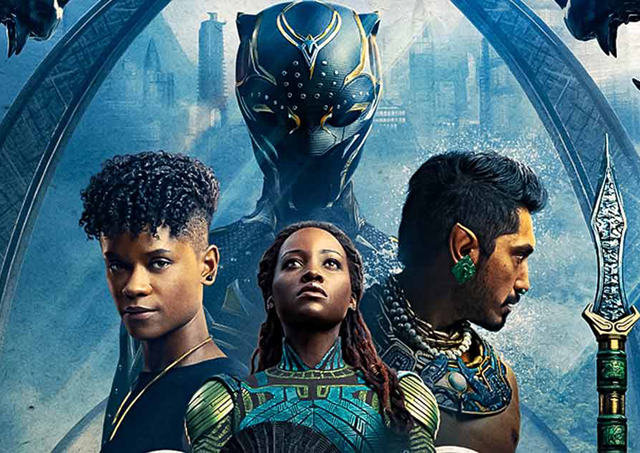 Out of all the success that Marvel Studios has had in the last decade, perhaps the most monumental contribution it has brought to the culture at large is the film Black Panther (2018). Despite being a cog in the mighty Marvel Cinematic Universe machine, Black Panther transcended into a historic, full blown cultural phenomena. This was a touchstone movie for African-American filmmaking, with director Ryan Coogler granted a large budget and creative freedom to present black culture on the big screen on a scale never dreamed of before, with a mostly black cast and crew in tow. Coogler was able to present the cultural influences that shaped him into this mighty fictional world called Wakanda, the Afro-futuristic utopia from the Black Panther comic books, and bring a very African sensibility to the art and geopolitical themes of this world and mainstream it with the full blessing of Marvel Studios. Suffice to say, of all the movies Marvel has made, none have impacted the culture as much as Black Panther has, as it elevated black voices in cinema to much higher degree, as the movie became one of Marvel's highest grossing films ever. It also in turn made it's lead star, Chadwick Boseman, into an A-list star. Boseman would continue to shine as the Black Panther in the subsequent appearances he made in the Avengers films, and he also began to shine in movies made outside of the Marvel banner as well. But, in the summer of 2020, the world received the shocking news that Chadwick had succumbed to his private battle with cancer at the age of 43. A life cut tragically short right when it was taking off into the stratosphere. Chadwick Boseman's loss left the world a much emptier place, especially in a year full of tragedy like 2020, and the question quickly arose about what it meant for the future of the character that he will be forever celebrated for: King T'Challa of Wakanda, the Black Panther.
Before anyone knew of Chadwick's condition, plans were already set in place for a Black Panther sequel. Ryan Coogleralready had his script written and a release date was announced at the D23 Expo in 2019. But, plans were inevitably thrown into blender the following year. Boseman was gone, and the world was reeling from a catastrophic pandemic, which delayed the film's start of production. Inevitably, the entire Marvel calendar had to be moved back a year, which had it's silver lining for Ryan Coogler as it now gave him more time to work out how he would continue with this project without his leading man. Working with the Marvel team on what to do, the decision that came forward became a surprising one for many. The role of T'Challa would not be re-cast. This led many to speculate how Marvel and Ryan Coogler were going to move forward with the franchise. Could you make a Black Panther movie without Black Panther? From the promotional materials surrounding the movie, it looked like the solution was to focus was to put the world of Wakanda front and center this time, with all the supporting characters from the original movie now being the focus of attention. Also, the new threat facing the nation of Wakanda would also be a major factor in the story; an ocean based race of super-beings led by a mutant king named Namor. The inclusion of Namor is significant because he is one of Marvel's oldest and most iconic characters, dating all the way back to Marvel Comics Issue #1, but here he will be making his big screen debut into the MCU. Despite the challenges put up against this movie, which included a struggling production shoot in the middle of a pandemic, Black Panther: Wakanda Forever managed to finally come together and is now ready to be brought before an eagerly awaiting fan base. The only question is, does the movie manage to overcome the obstacles that were placed in front of it and rise up to the level of it's predecessor or does it struggle to find it's way without it's mighty king.
The film opens with Princess Shuri (Letitia Wright) frantically working in her lab to synthesize medicine for her brother T'Challa who has suddenly fallen deathly ill. She tries as quickly as she can to do all that is possible, but soon her mother Queen Ramonda (Angela Bassett) enter the lab to deliver the terrible news; her brother has joined with the ancestors. Wakanda enters a period of mourning, now finding itself vulnerable without their king. Despite T'Challa's sudden death, Queen Ramonda asserts that Wakanda remains a strong and independent nation, still closely guarding it's most valuable resource, Vibranium, the super strong metal that among other things has been used to create things like the Black Panther armor and Captain America's shield. However, scientists exploring the Atlantic Ocean discover another deposit of the precious metal beneath the waves. Their discovery unfortunately brings attackers from the ocean itself to disrupt the excavation of the Vibranium from the sea. Among them is the sea people's leader, a wing-footed flying super being named K'uk'ulkan, or as he is known to his enemies, Namor (TenochHuerta). Namor, equally protective of his claim to Vibranium, approaches Queen Ramonda and Princess Shuri to offer an alliance, uniting Wakanda and his underwater kingdom of Talokan against the rest of the world. As part of this offer, he wishes for Wakanda to help him seek justice against the scientist that invented the Vibranium finding machine that was illegally used in his kingdom. Ramonda and Shuri don't want to wage war with the rest of the world, so they decide to seek out this scientist in the hopes of guarding them from Namor's wrath. They soon discover that the scientist is in fact an MIT student named Riri Williams (Dominique Thorne). With the help of Dora Milaje general Okoye (Danai Gurira) Shuri manages to track Riri down, but not before the Talokan warriors working on behalf of Namor get to them first. Both Shuri and Riri are captured and taken beneath the waves, with Okoye left to explain the situation to an already grieving Queen. Ramonda, through her power and influence, seeks help from other allies, including American agent Everett Ross (Martin Freeman) and Wakandan agent Nakia (Lupita Nyong'o). With multiple forces bearing down on the nation of Wakanda, from Namor and the Talokans to hostile intentions from people working within the governments of other nations, can Wakanda manage to survive what is coming without their "protector."
What I just described is merely the set up for the movie Black Panther: Wakanda Forever, as this is a very plot heavy film. There is no question that this movie, due to the circumstances surrounding it's production, had to do a lot of heavy lifting in order to ground itself again not just as a follow-up to the original film but also as a continuation of the MCU as a whole. In the end, the movie does a commendable job of pulling things together under the harshest of circumstances, but it also suffers from some issues as well. One of the things that it does absolutely perfectly, however, is honoring it's fallen hero. T'Challa's presence is still felt throughout the film, and in a way that feels respectful to Chadwick Boseman's memory. It doesn't go too far in dwelling on the tragedy, but does an adequate job of using that feeling of loss as a motivating factor within the story. Each character has their own different way of dealing with the loss, whether it's in Shuri's distractions or Ramonda'sdefiance. Each reaction to the tragedy informs how the story can progress in a variety of directions. It also establishes how Wakanda itself finds itself in a position that it didn't know it would be in; vulnerable. This is also a Wakanda that has lost their king twice, first to Thanos and now to this sudden illness, and unfortunately there is no coming back from the latter. It's in looking at the degrees of grief that Ryan Coogler really finds the heart of this story. He is very good at getting emotion out of his stories, so given the harsh hand he was dealt with, he thankfully had the skill and the imagination to weave that grief into his art without losing any of the magic that made this world work in the first place.
Where the movie struggles unfortunately is in it's plot. The movie is a beefy 2 hours and 41 minutes, the second longest film Marvel film overall (behind Avengers: Endgame's 3 hours and 1 minute run time). to Ryan Coogler's credit, the movie never feels that long, but there are points in the story where the movie does come up a little hollow. I think that this is due to having to juggle so many plotlines all at the same time. Not only is he having to continue the story he set up with the first Black Panther, but he also has to incorporate what has happened in the larger MCU as well (especially with a 5 year time jump established in Endgame), as well as establish important new characters like Namor and Riri Williams, and the entire nation of Talokan and it's entire history as well. It's a lot on his plate and despite Coogler's best efforts not all of it manages to geltogether. The Talokan part of the plot seems to suffer the most. It feels like we merely get the cliffs notes version of their cultural history as the plot desperately needs to move forward, which is in contrast to how immersed we were able to be in the world of Wakanda in the first Black Panther. Namor and the Kingdom of Talokan needed their own movie's worth of development to really grasp the significance of their place in the world, but the movie unfortunately does not have time for that, even at it's extended length. The Wakandan side of the story also suffers because of that, as we don't really see anything new from that world in this movie. It's been said the thing that unfortunately works against this movie is that we can no longer be re-introduced to the Kingdom of Wakanda again. One of the most magical moments of any Marvel movie was that first glimpse of Wakanda's mighty capital from the first movie. Such a scene doesn't exist this time around as now we are all too familiar with this world. Not to mention there are side plots a plenty involving how Agent Ross is dealing with protecting Wakanda from hostile intentions within his own government, as well as the internal politics of Wakanda also coming into play, as Shuri has to confront more of her role in the future of her country. Needless to say the movie buckles under the weight of it's plot, but Coogler does manage to keep it from collapsing completely.
One of the movie's best strengths is the performances of it'sactors. Everyone, probably with the knowledge of the film's significance in honoring the high bar set by Chadwick Boseman, brings their A-game to the film with some emotionally charged acting. Though working outside her strength built up in previous appearances in the MCU, playing a mischievous supporting character at Black Panther's side as Shuri, Letitia Wright does her best to bring emotional depth to the character now that she is front and center in this story. Shuri thus far has been one of the more comic relief characters, being a carefree quartermaster to her brother with a slight proclivity towards mischief. But this movie now has to put that character into the position of picking up the emotional weight of this journey with Wakanda and it's connection with the Black Panther. It's not an easy shift to make, and you can't help but miss the version of Shuri that was more comical in nature. But, Letitia Wright picks up the challenge and manages to shine despite the obstacles. She is also equally matched with Tenoch Huerta who brings the mighty Namor to life. Namor of course comes with this long history behind him, but thus far he has yet to appear on the big screen, mainly due to some rights issues where Marvel had initially granted them to Universal Studios but the purchase by Disney made it impossible for Universal to make any use of their rights. So basically, Namor can appear in a MCU film, but cannot star in one, similar to the deal regarding the Hulk. So, this movie managed to work Namor into this story by making him the villain, as opposed to the anti-hero that he is in the comics. Tenoch does a great job of making Namor this threatening presence but at the same time making him relatable given his tragic backstory. In the end, they do the iconic character justice, even though he has to piggyback on the shoulders of another Marvel property. Dominique Thorne thankfully brings some much needed comic relief as RiriWilliams and she steals every scene she is in. It's good that she stands out as well as she does given that she'll be back in a spin-off series called Ironheart on Disney+. Great performance come from many of the supporting cast as well including returning stars like Lupita N'yongo, Danai Gurira, and Winston Duke, who also brings some wonderful comic relief as M'Baku. Of course the performance that most people will talk about is Angela Bassett as Queen Ramonda. Ramonda has a more important role to play in this film and Angela brings some of her most powerful acting chops to her performance here, with some especially electrifying moments of Oscar-worthy acting. In a series already known for stand-out acting, Wakanda Foreverraises the bar even more for powerful performances in the Black Panther franchise.
The production quality has also translated over from the original movie. It makes sense as most of the same production team has returned. Oscar winner Ruth Carter, the costume design genius who created the look of Wakanda with her award-winning designs is back and not only is she working with more of the look of Wakanda, but she also has the unenviable task of imagining the look of Talokan as well. She has come up with some incredible designs for this underwater kingdom, taking cue from Mesoamerican influence. One of the especially incredible designs she has accomplished in this movie is the re-imagined look of Namor. In the comic books, Namor is merely defined by a green speedo and red boots. For Namor in this film, Carter has added an incredible metallic bead collar that hangs across Namor's chest that really defines the majesty of his character. In addition, when he sits on the throne in his kingdom, he wears a majestic headdress that really invokes this image of a Mayan god come to life. Carter's costumes also updates the look of the Wakandan citizens as well, including some truly majestic dresses that Angela Bassett gets to wear throughout the movie. It's stuff like Ruth Carter's costumes that really help to set the world of Wakanda apart in the MCU. Also returning to deliver even more incredible work is Ludwig Gorranson, who also won an Oscar for his work on the last Black Panther. Gorranson, who has been busy as of late in other major franchises like Star Wars delivers the same Wakandan sound that we've grown to love, but also adds to it the unique sound of Talokan as well. Remarkably he manages to capture Mesoamerican melody just as well as he does with African sounds and the mix of the two cultures really helps to underline the theme of that clash within the movie. What I especially love about Gorranson's work this time around is how he uses silence in his score. Whenever memories of T'Challa come up in the movie, the music suddenly goes silent as if it too was showing it's respect to the dead. It's an emotional wallop when you hear that wall of sound from Gorranson's score suddenly go silent, understating the loss that's felt by both the characters and those of us watching the movie. The only thing that I think doesn't work as well this time around is the cinematography. Rachel Morrison, the DP of Black Panther was not available this time around, so the duty fell to Autumn Durald Arkapaw, who previously shot the series Lokifor Marvel. Autumn is a capable cameraperson, but her sense of color schemes is less refined as Morrison's, who managed to bathe the original Black Panther in a gorgeous palette. Arkapawdoes competent work, but it makes the movie feel more in line with the generic Marvel film look that feels a bit too repetitive. Otherwise, this is a solidly mounted production that mostly falls in line with the high standard of the Black Panther franchise.
Given that the Marvel Cinematic Universe reached a high-point with the original Black Panther, you would think that the bar would be set very high with the newest entry in the series. This film, given it's shortcomings, may end up being a let down for some, but in this critic's case, I feel that some of those expectations were set a little too high. I for one admire the first Black Panther quite a bit, but it's not one of the all timegreats for me. In my original review here, I stated that I had some reservations about the story while at the same time praising it highly for it's world building. Though I loved Chadwick Boseman's performance, I thought the original movie lacked character development for T'Challa, as most of his character arc happened in Captain America: Civil War (2016). It was the world around him that stood out more to me in the original movie, something that gets more of the spotlight this time around. It's sad that T'Challa's story ends so abrubtly for us, but it can't be helped. We can't bring Chadwick Bosemanback, and Marvel and Ryan Coogler made the choice to not recast the part. It will remain to be seen if that was the right choice in the long run. It wouldn't have been the first time Marvel has recast a major character (Mark Ruffalo as the Hulk, Don Cheadle as War Machine) nor will it be the last time (Harrison Ford replacing William Hurt as Thunderbolt Ross). Coogler decided for his story that Boseman alone was going to be his T'Challa and that for the franchise to progress it fell upon the rest of Wakanda to become future of the series. I won't spoil how the Black Panther itself is worked into that story, but there is a reason why this is still a Black Panther movie. For the most part, it's a commendable sequel that I think is pretty close to being on par with the original, but doesn't exactly exceed it. The performances are amazing, as is the production design. And Namor is an absolute stand out villain that does justice to the iconic character from the comic books. Perhaps with the difficult task of moving on from the tragedy of the past out of the way we may see a bright future ahead for this franchise. It remains to be seen what that will actually mean, but the end credits promises "Black Panther Will Return." For now, Marvel and director Ryan Coogler have done a magnificent job of honoring the memory of Chadwick Boseman with this emotional tribute of a film and hopefully the future remains bright for Black Panther in the years ahead. Indeed, Wakanda Forever.
Rating: 8/10