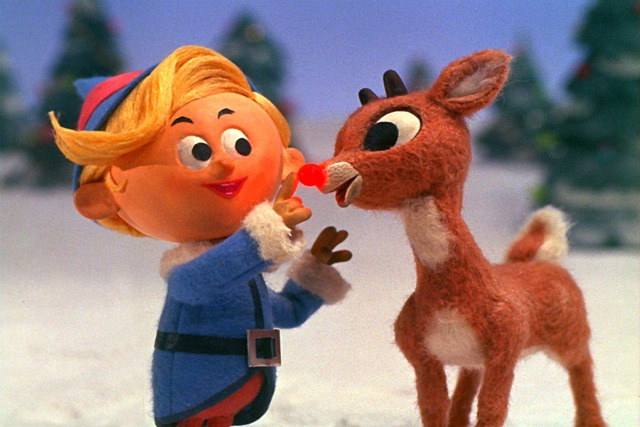 On this Christmas Eve many people are no doubt indulging in their favorite Holiday festivities on the night before the big day.  For many, it's spending the night partying with friends, coworkers, or just family.  Some may go out to the movies, or others may just stay home and watch a holiday standard on television.  There are of course many movies made just for that occasion, from the perennials like Home Alone (1990) and It's a Wonderful Life (1946), or for something more recent there is a whole marathon of saccharine rom coms from the Hallmark Channel ready to satisfy that feeling of Christmas spirt.  But, for those not looking for a long sit, there is also the tradition of Holiday specials that have been a part of television since the early days.  More often the Holiday special has been used as a variety show for TV audiences, showcasing musical or comedy acts tied around the Holidays with celebrities getting into the festive spirit for the entertainment of audiences who tuned in.  But, Holiday specials were also used for one off short form programming, meant to draw in audiences looking to be entertained with something more substantial than a glorified concert.  These were often a great opportunity for animation studios, particularly smaller independent ones, to reach a wider audience that they couldn't otherwise have gotten to on the big screen.  Of those animation studios vying to make a name for themselves, one not only emerged as a strong contender, but they also managed to excel so much as a producer of Christmas specials that their name is to this day synonymous with the Christmas season in the world of entertainment.  That studio is of course Rankin Bass.  For a whole generation, Rankin Bass became the authors of many childhood Christmas memories with their colorful and quirky holiday specials that even to this day enjoy a yearly revival on broadcast television.  So how did a pair of New York based ad men manage to conquer the airwaves as the masters of the Holiday special.
Arthur Rankin Jr. and Jules Bass grew up on opposite sides of the country, but during the late 1950's, both fresh out of college upstarts had their chance meeting while working in marketing at ABC.  Rankin was a junior art director and Bass a copywriter, and after a couple years of collaborating on numerous television commercials (which included their first forays into animation) the pair parted ways with ABC in 1960 to form their own independent studio.  Their company was called Videocraft International and like many start-up production companies, they were focused on creating programming for television.  The company started off with cel-based animated series for Saturday morning cartoon blocks, including shows like The New Adventures of Pinocchio and Tales of the Wizard of Oz.  Thus far, these animated series gave them plenty of work, but not much notoriety.  This was until they had a chance meeting with a Japanese based stop-motion animator named Tadahito Mochinaga.  Mochinaga had for years been developing his own animation studio utilizing puppets made from wood rather than the usual clay that most other stop motion had utilized.  Mochinaga's puppets were doll like and highly expressive, and this immediately caught the attention of Rankin Bass who believed that Mochinaga's style of animation would blend perfectly well with their own unique house style.  They formed a partnership with Mochinaga's studio to produce television specials, with the characters being designed by Arthur Rankin himself and the animation itself being conducted at the Tokyo based stop-motion studio.  The style that came as a result of the Rankin Bass designs and the Mochinaga animation was dubbed "Animagic."  This was a fortuitous partnership, but it needed a special kind of story to give these two animation studios a chance to really stand out in the crowd.
There's no denying that stop motion is a costly and time consuming form of animation, so for Rankin Bass to convince any broadcaster to take on the project and provide the necessary funding for the project, they needed a surefire story that would connect with discerning holiday audiences.  What the studio ultimately landed upon was the story of "Rudolph the Red Nose Reindeer."  The special would be based on the 1949 song written by Johnny Marks, which itself was based on a poem from 1939 written by Robert L. May, commissioned by retailer Montgomery Ward.  The song was popularized by recording artist Gene Autry, and by the time Rankin Bass were about to approach it, the song had become a holiday standard.  With many people already familiar with the lyrics to the song, all Rankin Bass had to do was fill out a story around it.  Jules Bass collaborated on the script with writer Romeo Mueller, finding a story that could fill the needed hour's worth or programming that they need.  It seems like the lyric from the song, "They never let poor Rudolph, join in any reindeer games," provided the driving force in the story.  Their Rudolph would start off as an outcast, shunned by his fellow Reindeer for being different; a "misfit" as it were.  As a result, this lead to Rudolph befriending other Misfits like him, giving the special a fuller cast of original characters; including Hermey, the elf who wants to be a Dentist, and Yukon Cornelius, the very unlucky Klondike explorer.  They even visit a whole Island of Misfit Toys, which gives the movie a surprisingly open minded message of tolerance for those who are different.  Ultimately, Rudolph shows he has value despite the shiny nose than has given him grief most of his life, and ultimately turns that deformity into an asset when Santa needs Rudolph to guide his sleigh through a stormy night.  Rankin Bass' treatment of the story won over executives at NBC, and they were given a greenlight to produce their special.  It aired for the first time on the network on December 6, 1964, and was an immediate hit with audiences.  It later was picked up by CBS in 1972, and since then has aired on network television every year since.
Rankin Bass suddenly found themselves in demand as an animation studio, with the big networks now looking to them to repeat the success of Rudolph the Red Nose Reindeer.  Of course, Rankin Bass continued to look to other well known holiday stories to provide their own twists on the tales.  They continued to work with Mochinaga on their "Animagic" projects, including 1968's The Little Drummer Boy.  At the same time, they continued to also put out animated specials in their traditional, hand drawn style, with animation services provided by another Japanese based studio, Toei Animation; a studio that would go on to become one of the powerhouse names in Anime.  In the hand drawn animation style, Rankin Bass had another massive hit with the short Frosty, the Snow Man (1969), which like Rudolph was also based on a popular song.  The following decade saw a lot more success for Rankin Bass, as they seemed to have a new special every year lined up.  This included Santa Claus is Coming to Town (1970), 'Twas the Night Before Christmas (1974), The Year Without a Santa Claus (1974) which famously introduced us to the Miser Brothers, Rudolph's Shiny New Year (1976) a psudo-sequel, Jack Frost (1979), and many more.  They also produced specials and films for other holidays as well, like Mad Monster Party (1967) which was Mochinaga's final film collaboration with them.  They also were not just successful in making hit shows for television, but they also helped contribute greatly to the holiday time songbook as well.  Most of the specials featured songs from Maury Laws, as well as new covers of classic standards that were often the story basis for the specials.  It helped that some of the best singers at the time were involved as voice talent in these specials, like Burl Ives, Fred Astaire, Jimmy Durante, Joel Grey and many more.  In fact, the Rankin Bass specials were a great showcase all around for some of the best voice actors around.  Mickey Rooney was always reliable as a go to Santa Claus, and the legendary Paul Frees often was voicing multiple characters all at once in many specials.  In additions to the popular new covers, the Maury Laws songs themselves became popular standards themselves, like Rudolph's "Have a Holly Jolly Christmas" and 'Twas the Night Before Christmas' "Even a Miracle Needs a Hand."
But, Rankin Bass was not just looking to make their name in holiday specials alone.  They wanted to compete in the same field as the Disney's and Warner Brothers' when it came to animation.  Building on the success of their Christmas specials, the studio was looking to expand into feature animation.  They had managed to make simple family friendly animated features in the wake of their Rudolph success, including Willy McBean and His Magic Machine (1965), The Daydreamer (1966) and The Wacky World of Mother Goose (1967).  But, in the latter part of the 1970's, they wanted to go in a direction that ran contrary to where the bigger studios were going with animation, which were stories with a darker theme to them.  And they managed to secure the enviable task of taking audiences for the first time into a mythical place called Middle Earth.  Somehow, Rankin Bass managed to secure the coveted rights to the writings of J.R.R. Tolkein, and they were very much interested in bringing the famed Fantasy writer's first novel, The Hobbit, to animated life.  The Hobbit (1977) became a made for television animated feature that was decidedly more mature in style and theme than what we had seen from Rankin Bass up to that point.  With a voice cast including Orson Bean as Bilbo Baggins, Hans Conreid as Thorin Oakenshield, and legendary film director John Huston as Gandalf the Wizard, The Hobbit may have divided Tolkein purists with it's condensation of the author's expansive mythology, but it enchanted young viewer who were getting their first introduction to the world of Middle Earth.  A couple years later, Rankin Bass followed up the success of their Hobbit adaptation with a film version of the third book in Tolkein's "Lord of the Rings" trilogy, The Return of the King (1980).  A few years after that they created a cult hit with the dark animated feature The Last Unicorn (1982).  Though they enjoyed a long and varied career in animation, changing times eventually caught up to Rankin Bass.  The specials of the 80's were nowhere near as popular as their earlier work, with their last stop-motion special The Life and Adventures of Santa Claus (1985) and their last hand drawn special The Wind in the Willows (1987) both performing very poorly in the ratings.  Even though they still had some success with their Saturday Morning Cartoon Thundercats, the studio ultimately couldn't right the decline and in 1987, the studio dissolved.  Arthur Rankin and Jules Bass would collaborate one more time in 2001, on appropriately enough a Christmas special called Santa, Baby, but apart from that it was the end of an era for one of the greatest teams in animation history.
So, looking back on the body of work that Rankin Bass left behind, what do we understand about their legacy as animators as well as contributors to the holiday season.  For one thing, the ubiquitous-ness of the Rankin Bass brand with the holidays is undeniable, particularly for GenX'ers out there.  For many, who were raised during the 1970's and 80's, the holidays were not complete without seeing that Rankin Bass logo at the end of the credits on each special.  When you sat in front of the TV during the holiday season and saw one of the Rankin Bass specials, it gave you that special feeling of the holiday season being in full swing.  Drawing from my own family experience, my Mom recorded a few holiday specials from TV airings onto a VHS tape, and it included a couple of Rankin Bass programs on it, including Rudolph, Frosty, and The Night Before Christmas, as well as a couple other holiday classics like  the Grinch and Charlie Brown specials.  I probably wore that tape out through years of re-watches, but it did it's job because it put me very much in the holiday spirit every year.  The same I'm sure is true for many others in my generation of late Gen X and early Millennial kids.  One other thing that the Rankin Bass holiday specials did to help make Christmas time even better is that it moved other like minded studios to elevate their game as well.  The success of Rudolph helped to launch a who new generation of holiday classics, including How the Grinch Stole Christmas (1966) from animation legend Chuck Jones, as well as A Charlie Brown Christmas (1965) from former Disney artist Bill Melendez and written for television by Charles Schultz himself.  Even Disney stepped up to offer their own holiday short, Mickey's Christmas Carol (1983), based on the Charles Dickens classic.  Holiday specials were standard before on television, but Rankin Bass carved out a special place for the art of animation into that block of programming every year.  The reason that there is so many cartoons to this day as a part of the holiday playlist for many households each year is because Rankin Bass was always a present player in the television that we watched during this time of year.
You can still see the influence of Rankin Bass in many new holiday films and specials made today.  Anytime a TV show does a holiday episode that features an animated segment, it almost always is stop motion in tribute to the Rankin Bass specials.  This includes sitcoms as varied as Home Improvement and Community, all with clear nods to the Rankin Bass style.  The style has also been spoofed on shows like Saturday Night Live and South Park, more often affectionately.  Though perhaps the biggest nods to Rankin Bass have been on the big screen.  The 2003 comedy Elf starring Will Farrell features stop-motion animation mixed in with live action to represent a vey Rankin Bass like vision of the North Pole.  The movie even goes as far to have Farrell's character, Buddy the Elf, having a heart to heart talk with the Burl Ives' Snowman from Rudolph The Red Nose Reindeer.  It's an affectionate nod to Rankin Bass that clearly knows just how indelible those specials were to the holiday season.  A less obvious nod to the Rankin Bass legacy is found in another film that has become a holiday classic.  I honestly believe that if it weren't for the proven success of Rankin Bass use of stop motion, director Tim Burton might not have pursued it as the ideal animation style to bring his story of The Nightmare Before Christmas (1993) to life.  Stylistically, there is little to compare Nightmare Before Christmas with the films of Rankin Bass, but you can see the influence is still there.  The fact that stop motion animation has such a connection to the holiday season is purely the result of Rankin Bass' influence.  That's why so many holiday commercials still use the animation style, banking on people's familiarity with the holiday specials.  It seems reasonable that Tim Burton saw this connection too, and wanted to invoke the familiarity of the Rankin Bass holiday special style while at the same time subverting it in his own way.  You'll also find references to characters from the Rankin Bass specials in unlikely places, including an appearance of Snowmiser from The Year Without a Santa Claus in the lair for Schwarzenegger's Mr. Freeze in Batman and Robin (1997).  Despite their studio being out of the game in the last 30-plus years, Rankin Bass' place as an iconic part of the holiday season still remains as strong as ever.
Of course, Rankin Bass is not just an iconic part of the holiday season, but also a  highly celebrated name in the field of animation in general as well.  They helped to carve out a special place in the market and elevate independent animation studios at a time when the medium really needed it.  Their "Amimagic" stop motion puppets have this toy like quality to them that makes them appealing to audiences both young and old, and the specials they made continue to resonate across generations.  And Rankin Bass helped to elevate other parts of the animation field as well.  Toei Animation, which through it's subsidiary Topcraft animated many of the hand drawn specials for Rankin Bass, would go on to make a name for themselves as producers of major anime hits like DragonBall Z and One Piece.  And before Peter Jackson embarked on his own groundbreaking cinematic trilogy, Rankin Bass' The Hobbit would stand as the preeminent adaptation of J.R.R. Tolkein's classic adventure.  For many of my generation, Rankin Bass was our entry point into Middle Earth.  But, it's unmistakable that the thing that Rankin Bass will be most remembered for are their holiday specials, and for good reason.  The short programs may be simple and quaint, but they are as cozy as warm sit by the fireplace with a warm cup of hot chocolate on a Christmas night.  The holidays are just not the same without them on TV every year.  While Rudolph still gets it's annual airing on network TV, many of the lesser seen holiday specials have made their way to other avenues of broadcast.  Freeform, formally the Family Channel, has been the home to the Rankin Bass collection for many years now as part of their 25 Days of Christmas block of programming, and you can still find many of the standards like Frosty the Snowman and Santa Claus is Coming to Town there.  There are also DVD and Blu-ray compilations out there, though it's hard to find complete collections as the rights to the Rankin Bass library is scattered between NBC Universal and Warner Media.  But, regardless of where you find the specials, just know that they feel just as festive today as they did when they first aired.  Both Arthur Rankin and Jules Bass left behind a marvelous legacy to be proud of, and even into long retirement, they managed to see that legacy grow after they long called it quits.  Arthur Rankin passed away in 2014 and Jules Bass passed just this last October, at the ripe old ages of 89 and 87.  They were valuable pioneers in the field of animation and I hope in their last few years they were able to understand how much they made the holidays for a whole generation of children, including myself, that much more merry and bright.  And with that, may all of you have a holly, jolly Christmas this year.