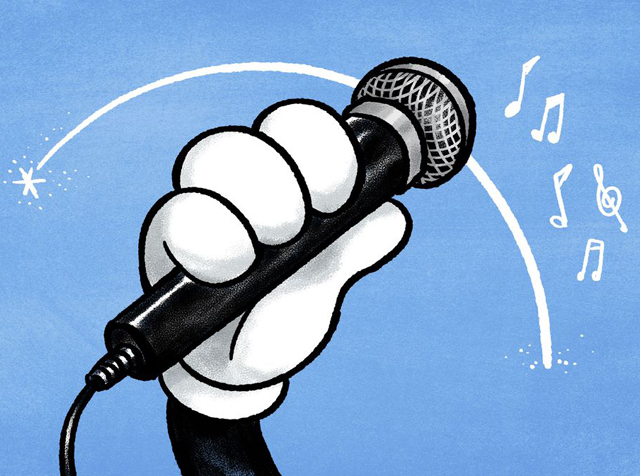 If you were to cobble together many of the greatest songs to ever feature in works of cinema, a pretty good chunk of them will likely have been from a Disney movie.  The Disney Company has assembled one of the most renowned songbooks ever, with newer hits being added to it's catalog constantly.  On more than one occasion, Disney has been praised for saving the movie musical from irrelevance, and that's in large part due to the fact that so much of their songs are written by many of the titans of musical theater.  From the early days of Tin Pan Alley songsmiths brought into the halls of Disney like Frank Churchill and Oliver Wallace, to pop chart songwriters like the Sherman Brothers, and then later Broadway veterans like Howard Ashman, Alan Menken, Stephen Swartz, Robert Lopez and Lin-Manuel Miranda, the pool of talent that Disney has assembled over the years is staggering.  And with all that, we have been given some of the most memorable songs ever written for any medium.  For many people who grew up with Disney movies, every lyric is written into our hearts and we can sing-a-long at the drop of a hat without even having to look up the words.  How many people have gleefully clocked out at work while whistling "Heigh-Ho" or gone swimming while having the words "We've got no troubles, life is the bubbles, Under the Sea," rolling around in their head.  Disney movies have provided us with the foundation for the soundtrack of our lives, and it's a musical legacy that continues to build upon itself year after year.
With The Walt Disney company reaching it's 100th anniversary, I thought it would be fun to mark the occasion with a series of lists throughout the year.  Piggybacking off my last list in October with the best Disney Villain Songs, I thought it would be worthwhile to look at my favorite Disney songs in general.  My choices will likely be different than others, so please don't be offended if I left one of your favorites out.  There are a lot of great songs to choose from, and many that don't make my list are still pretty valid choices for anyone else.  Before I begin my list, I do want to point out that I am limiting the choices to films made solely by Walt Disney Pictures.  That means any song written for another branch of the Disney company, such as Pixar Animation or the Disney Theme Parks, won't be on this particular list (though they are noteworthy songs and deserving of their own separate lists which I may someday get to).  I will however consider songs from Disney movies that are outside of the Animation canon, including a couple of their live action entries.  To give a spotlight to some of the songs that nearly missed my list, here are some of the titles listed in chronological order: "Someday My Prince Will Come" from Snow White and the Seven Dwarves (1937), "Zip-a-Dee-Do-Dah" from Song of the South (1947) "Bibiddi Bobbidi Boo" from Cinderella (1950), "Belle Notte" from Lady and the Tramp (1955), "Once Upon a Dream" from Sleeping Beauty (1959), "I Wanna Be Like You" from The Jungle Book (1967), "O-de-Lally" from Robin Hood (1973), "Under the Sea" from The Little Mermaid (1989), "Beauty and the Beast" from Beauty and the Beast (1991), "A Whole New World" from Aladdin (1992), "What's This" from The Nightmare Before Christmas (1993), "Zero to Hero" from Hercules (1997), "Reflections" from Mulan (1998), "Son of Man" from Tarzan (1999), "Almost There" from The Princess and the Frog (2009) and "How Far I'll Go" from Moana (2016).  If many of those songs missed the list, then you know I've had to make some tough exclusions to get to the following ten.  With that, let's take a look at my Top 10 Favorite Disney Songs.
10.
OUT THERE from THE HUNCHBACK OF NOTRE DAME (1996)
Music by Alan Menken; Lyrics by Stephen Schwartz; Sung by Tom Hulce
One thing to note is that you'll be seeing quite a bit of the Disney Renaissance represented on this list.  This time period had a particular effect on me, as it was the era that I grew up with, which made me not just a passionate Disney fan, but a fan of cinema in general.  And it was also an era that was noteworthy for it's revival of the Disney musical.  Long dormant in the post-Walt years, the musical came back with a vengeance in the Renaissance years, with movies like The Little Mermaid, Beauty and the Beast, and Aladdin all adding dozens of new songs to the already legendary Disney songbook.  The latter Disney Renaissance years were a bit more spotty when it came to musicals, but a few films did stand out.  One of the most noteworthy films during that time, particularly for it's music, was The Hunchback of Notre Dame.  It was a big gamble for Disney to try to adapt Victor Hugo's grim medieval novel into a G-Rated musical but somehow they managed to do it.  One thing that really helped in making Hunchback's musical score work is that it leaned in to the darker tone of the story and went into a far more epic territory than past Disney musicals.  It's a score heavy in choirs and pipe organs, and a much fuller orchestral sound.  The songs for the most part match the heaviness of the subject matter (except for the misplaced Gargoyles tune).  Included is one of the greatest villain songs, "Hellfire" which I already spotlighted in my last list.  The film also contains one of the grandest "I Want" songs in the Disney canon. "Out There" is the titular Hunchback Quasimodo's expression of wanting to live out of the shadows and in the world like everyone else after being hidden away in the towers of the Notre Dame Cathedral.  Longtime Disney composer Alan Menken builds the song from a quiet lamentation to a rousing crescendo by the end in a melodic journey that just hits with a powerful bang.  The lyrics, written by future Wicked creator Stephen Schwartz are heartfelt, and it's remarkable that the voice of Quasimodo, Tom Hulce, had the kind of range to pull a song like this off.  Most famous for playing Mozart in Amadeus (1984), Hulce was not exactly known for his singing voice, so to hear him hit those high notes as gracefully as he does in this song was quite a welcome surprise.  For many Disney fans, this song has taken on a life of it's own outside of the movie, becoming an anthem for marginalized people throughout society, especially the LGBTQ community.  That's what makes this an especially important song in the whole Disney songbook overall.
9.
LET IT GO from FROZEN (2013)
Music and Lyrics by Robert Lopez and Kristen Anderson-Lopez; Sung by Idina Menzel
Apologies for putting this earworm back into your head.  When this song first landed during the release of Frozen in the Fall of 2013, it became a monster hit the likes of which we hadn't seen since the heydays of the Disney Renaissance.  Much like how The Little Mermaid brought back the Disney musical for a long dormant period, so did Frozen; though The Princess and the Frog managed to be a mild success a couple years prior.  But Frozen was the movie that solidified the Disney musical in the Digital Age, as Disney's computer animated films had yet to fully embrace the genre up to that point.  Calling upon Broadway vets like the Robert Lopez and his writing partner and wife Kristen Anderson-Lopez, who had achieved success prior on Broadway with shows like Avenue Q and The Book of Mormon, Disney had the kind of musical talent to really bring back that quintessential Disney sound into their movies once again.  Based on the Hans Christen Andersen fairy tale The Snow Queen, Frozen by it's very nature cries out to be a throwback to the Disney musicals of the past like Cinderella and Sleeping Beauty, but with the modern sensibilities of The Little Mermaid and Beauty and the Beast.  A lot of the songs are peppy tunes, like "Do You Want to Build a Snowman?" or "Love is an Open Door."  But it's the power ballad of "Let it Go" that put Frozen firmly on the map, and even someone like me who is lukewarm on the movie itself cannot deny the effectiveness of this tune.  I think the key to the success of the song is the one who performs it; Broadway vet Idina Menzel whose impressive voice takes this song to it's fullest potential.  "Let it Go" much like Hunchback's "Out There" is another passionate expression of self worth and the desire to live as one wishes without judgement, which is why it's been embraced by modern audiences in a big way.  Sure, it may have been overplayed over the last decade, but it's one of Disney's biggest hits for a reason, and one that cannot be denied a place on anyone's list.
8.
YOU CAN FLY from PETER PAN (1953)
Music by Sammy Fain; Lyrics by Sammy Cahn; Sung by the Jud Conlon Chorus and The Mellowmen Quartet
The post-War Disney Silver Age was a time period when Disney had finally found it's groove again after years of making propaganda and package features during WWII.  In that time, they created a fair amount of classics, many with the same traditional musical qualities that put Disney on the map in it's early years.  Cinderella was a grand emotional romance, while Alice in Wonderland (1951) was a whacky, surreal trip, each with songs that gave the story the needed melodies that they needed.  Sleeping Beauty even did the impressive trick of adding lyrics to the melodies of Tchaikovsky's nearly century old at the time ballet score.  But perhaps the song that stuck out the most from this period was from the movie that was least like a traditional musical.  Disney's Peter Pan featured a number of songs, but they are for the most part nondiegetic within the context of the story.  Case in point, the film's most famous song "You Can Fly."  The song isn't even sung by the characters, but rather spoken word delivered in rhyme, that is until the characters actually begin flying.  Then the chorus takes over and the song properly begins.  What is so special about "You Can Fly" is that it perfectly captures the sensation of flight through it's melody.  The tempo constantly changes from slow to fast, with peaks and valley, giving that feeling of gliding through the air.  It's a wonderfully uplifting tune throughout, with the Sammy Cahn lyrics that feeling a nursery rhyme, like "Take the path that moonbeams make; if the moon is still awake.  You'll see it blink it's eye.  You Can Fly! You Can Fly! You Can Fly!"  This song is one that Disney still features prominently in their songbook, and it's definitely one of those cross generational hits that still impacts many years later.  Whenever people go on the Peter Pan ride in any of the theme parks, most will get that special feeling of whimsy as the sensation of flight takes them upon hearing this song again during the ride.  One of the definite classics, and a good example of a great song coming from a movie that doesn't have to adhere to the traditional musical form.
7.
I'LL MAKE A MAN OUT OF YOU from MULAN (1998)
Music by Matthew Wilder; Lyrics by David Zippel; Sung by Donny Osmond
Mulan is another of those late Renaissance Disney movies that began to move further away from the traditional Disney musical formula.  It had songs, but they mostly seemed second tier to the story that was being told.  The songs in Mulan for the most part are pretty forgettable, apart from the ballad "Reflections" and the song spotlighted here, which may be one of the all time catchiest tunes in Disney history.  This training montage tune is a motivational work out song on the level of an "Eye of the Tiger" and something you wouldn't expect in a Disney musical.  And yet, it's perfect for a movie like this.  Mulan's story isn't a fairy tale like other Disney movies, but rather a ballad about a woman who impersonates a man in order to fight in the army in place of her ill father.  Making this into a musical meant Disney had to rethink what kind of songs would be here, and this Rocky style motivation song not only fits the movie perfectly, but it elevates the movie itself.  Anyone who was lukewarm on the movie before this song had to have been feeling juiced up by the end as this is a fantastic motivational song.  And to sing this Asian influenced song about a Chinese Folk Legend you of course turn to; Donny Osmond?  Truth be told, despite the mismatch in cultural representation, Osmond does deliver a spirited performance of this song, hitting all the notes perfectly.  One other major surprise is that this song was written by Matthew "Never Gonna Break My Stride" Wilder; a pop music obscurity who somehow managed to deliver an all time great tune for Disney.  I know a few Disney fans who have this on their workout playlist (I might be one of those people too).  Mysterious as the dark side of the moon, this is one of the unexpectedly greatest Disney songs ever.
6.
SUPERCALIFRAGILISTICEXPIALIDOCIOUS from MARY POPPINS (1964)
Music and Lyrics by Robert and Richard Sherman; Sung by Julie Andrews and Dick Van Dyke
You definitely can't talk about the Disney Songbook without mentioning the Sherman Brothers.  The Boys, as Walt Disney affectionately called them, were responsible for a string of hits for the Walt Disney company during it's peak period during the 1960's.  The contributed songs to animated hits like The Sword in the Stone (1963) and The Jungle Book (1967), as well as famous theme park melodies like "There's a Great Big Beautiful Tomorrow" and "It's a Small World."  But what they are most celebrated for is their collection of classic tunes from Walt Disney's magnum opus film musical, Mary Poppins. Poppins is widely considered to be one of the greatest movie musicals of all time; in the same league as classics like West Side Story (1961) and The Sound of Music (1965).  The Sherman Brothers crafted a collection of unforgettable tunes based on the different adventures of the magical nanny created by P. L. Travers, and each one can be considered an all time great on it's own.  There's the Oscar winning "Chim Chim Cheree," the elegant "A Spoonful of Sugar," the rousing "Step in Time," and the soulful "Feed the Birds" (Walt's personal favorite).  But if I were to choose a favorite, it would be the song devoted to the longest word in the English language.  "Supercalifragilisticexpilalidocious" is Mary Poppin's at it's most playful, taking the extra long nonsense word and having fun with it.  This is the kind of song to easily put a person in a lighter mood, and it is quite amazing how the Sherman Brothers managed to make such a long word so easy to sing.  Add in the playfulness of Julie Andrews and Dick Van Dyke's performances, each delivering infectious enthusiasm into their singing.  The staging of the song itself is also memorable, with the seamless integration of live action actors in an animated environment which still impresses to this day.  Andrews and Van Dyke's synchronized dance routine also is perfectly matched in this sequence as well.  The Sherman Brothers made an indelible mark on Disney's musical legacy, and this song is a great demonstration of their talents creating something practically perfect in every way.
5.
BE OUR GUEST from BEAUTY AND THE BEAST (1991)
Music by Alan Menken; Lyrics by Howard Ashman; Sung by Jerry Orbach and Angela Lansbury
The height of the Disney Renaissance in terms of classic musicals can arguably be found with Beauty and the Beast.  This is the Disney machine in full swing, with show tunes that can find a home easily on the Broadway stage, which did in fact happen a couple of years later with a Broadway adaptation of this film.  There are definitely a lot of great songs in this movie, including the fantastic opening number "Belle," the hilarious villain song "Gaston," as well as the Oscar-winning title number.  But for me, the highlight of the film is it's biggest show-stopping number; a song that represents everything great about a Disney movie musical.  "Be Our Guest" is a song that feels very much like a throwback to the musical numbers of Old Hollywood, particularly the ones choreographed by famed musical director Busby Berkeley.  Most Disney songs tend to lend support to the action of the film, but this one definitely is here to put on a show.  The animation in this scene is spectacular, with very clear nods to the Busby Berkeley, as the plates and silverware dance and spin across the screen.  It's also a tour de force for two legends of the Broadway stage; Jerry Orbach, who plays the Maurice Chevalier inspired candelabra Lumiere, and Angela Lansbury as the warm hearted teapot Mrs. Potts.  Also making this song a classic is the brilliant lyrics by Howard Ashman.  A master of word play, Ashman puts together some incredible lines in this song, including underscoring a can-can with phrasing like "Course by Course, one by one, til you shout 'enough, I'm done.'  Then we'll sing you off to sleep as you digest."  it definitely brings new meaning to dinner and a show.  All the songs are great in Beauty and the Beast, but this was definitely the one that kids like me and I'm sure quite a few adults were humming as they left the theater.  As an adult, the familiarity with the classic Hollywood musicals of old adds even more delight to this musical sequence.  It puts it's service to the test, and all of us are all very much happy to be a guest to this tune every time we hear it.
4.
FRIEND LIKE ME from ALADDIN (1992)
Music by Alan Menken; Lyrics by Howard Ashman; Sung by Robin Williams
You couldn't ask for a more perfect marriage of song and performer.  People have tried to take on this song in other re-tellings of this story, including Will Smith in the live action remake.   But no one has come close to capturing the exuberant energy of Robin Williams performance of this song.  "Friend Like Me" is the song that showcases everything that the magical Genie is capable of as he tries to convince Aladdin of the potential of the wishes he can grant.  In typical Disney fashion, the song is a tour de force of what animation can do, which is boundless.  I do wonder what led to the all the imaginative transformations that the Genie undertakes; where they all conceived from the beginning, or did they take inspiration from the different voices that Robin Williams slips into in his performance.  I like to think that the animators were following Robin's lead, because the man was so much of a real life cartoon himself.  I imagine that when they hear him put on the voice of a French waiter for one lyric, the animators had no other choice than to do exactly what the performance is telling them, and there's the Genie on screen with a stereotypical stuffy French waiter complete with a pencil thin moustache.  The bridge of the song where Robin Williams does a Cab Calloway scat routine must have also been fun to animate to, especially with the oversized hands dancing along.  Again, Howard Ashman's clever word play is put to amazing use, including finding a way to work the word Baklava in there.  Sadly, this was Ashman's final project, as he passed away from AIDS during the making of Beauty and the Beast, with his work on Aladdin only half finished.  Thankfully "Friend Like Me" survived into the finished film, and it represents the master songwriter at the height of his talent.  Menken's big band jazz infused scoring also brings a great amount of energy to this song.  If there ever was a song worthy of an applause sign, which the Genie comically flashes at the end of the song, this is definitely it.  It's songwriting, animation, an vocal performance all working together to create a perfect blend of just unmatched fun.  A wish well granted.
3.
PART OF YOUR WORLD from THE LITTLE MERMAID (1989)
Music by Alan Menken; Lyrics by Howard Ashman; Sung by Jodie Benson
That's three in a row for team Menken and Ashman, showing just how influential they were to the Disney songbook.  An interesting backstory, before they came to Disney, the musical duo worked off Broadway on underground hit musicals like Little Shop of Horrors.  For a time, Ashman tried to make a Broadway debut with composer Marvin Hamlisch on a little musical called Smile.  In that musical, there was an "I Want" song called "Disneyland," sung by an up-and-coming performer named Jodi Benson.  I don't think anyone at the time knew that the songwriter of that tune would one day write songs that would actually play for real in Disneyland, and that the singer would become one of the most celebrated Disney princesses.  Smile was a Broadway flop, but Disney took notice and brought Ashman and his friend Alan Menken into their fold hoping that they would revive the long dormant Disney fairy tale musical.  They not only rose to the occasion, but they created one of the most beloved musical scores of all time.  "Under the Sea" may be the Oscar-winning tune, but I think the song that best embodies the spirit of this film the most is "Part of Your World."  This is the gold standard of all the "I Want" songs in the Disney canon, which has become a staple in most of the musicals made since.  Much of the power of this song comes from Jodi Benson's heartfelt performance as Ariel.  For a character described so much for having the most beautiful voice in all the ocean, she doesn't disappoint.  Remarkably, this song almost didn't make it into the movie, as studio exec Jeffrey Katzenberg almost excised it because he thought it slowed the movie down.  Thankfully directors Ron Clements and John Musker and especially Howard Ashman pleaded their case passionately to keep the song in and thank god it worked, because the movie wouldn't have worked without it.  It's a song about chasing a dream, and you can't help but feel a chill as Ariel reaches out to the surface world as she hits that high note; a tour de force on Jodi Benson's part.  Whozits and Whatzits galore, this song has everything that makes a Disney song great.
2.
WHEN YOU WISH UPON A STAR from PINOCCHIO (1940)
Music by Leigh Harline; Lyrics by Ned Washington; Sung by Cliff Edwards
A song that is so intrinsically linked to all things Disney that it's the first thing you hear in everything Disney film, playing over the company's opening logo.  This song has become the anthem of the Walt Disney Company and has remained so for over 80 years since the original release of Pinocchio.  Disney's first feature, Snow White and the Seven Dwarves had it's fair share of classic tunes, but "When You Wish Upon a Star" is a song that carries so much universal meaning beyond it's place in the film it came from, and it's amazing that Disney found that kind of song in only it's second feature film.  "When You Wish Upon a Star" in many ways is the Disney company's mission statement, a call to keep dreaming even if that dream is far away like a star.  The Disney company has from the very beginning been focused on creative thinking, something that Walt Disney valued as essential to his company.  And it's something that he wanted to inspire in everyone who watched one of his movies or visited one of his parks.  The cycle of creativity is what he saw as essential to building the future of his company, and it's why he held up the message of a song like "When You Wish Upon a Star" as a key part of his company's mission; wish upon your dreams, and make the impossible, possible.  There's a little naivete in there to be sure, but it's still something that resonates about the song itself.  Though it's been covered many times over the years, I don't think anything has matched the soulfulness of the original Cliff Edwards rendition.  Edwards, who voiced Jiminy Cricket in the movie, wasn't typically known for soulful songs like this; often singing more light-hearted fare with a ukulele, which earned him the nickname "Ukulele Ike."  But there is no doubt that his performance of the song is iconic, giving it the heartfelt weight it deserves.  If there was ever a song deserving of being the fanfare for all things Disney, this is it.  It's a song of inspiration, and who knows how many of the other songs on this list were written by writers who were inspired to wish upon a star in their youths when they saw Pinocchio for the first time.  Like a bolt out of the blue, this song has an immeasurable legacy as part of the Disney Songbook.
1.
CIRCLE OF LIFE from THE LION KING (1994)
Music by Elton John; Lyrics by Tim Rice; Sung by Carmen Twillie and Lebo M
If there was ever a song to rival, and perhaps even exceed the impact of "When You Wish Upon a Star" in the Disney library, it might be the song that kicks off the biggest film they ever made.  "Circle of Life" is a movie that stands for so much of New Disney as "Star" stands for much of Old Disney.  The movie The Lion King was mostly dismissed by much of the Disney brass at the time as a B-picture project worked on the side amidst it's more ambitious projects like Aladdin, Pocahontas (1995) and The Hunchback of Notre Dame (1996).  It was the only movie of that era not scored by mainstay Alan Menken (with Hans Zimmer instead filling that role), and instead of turning to Broadway talent to compose the songs, they went to pop star Elton John instead.  Sure, Elton John had Broadway lyricist Tim Rice to guide him through, but for the pop singer writing musical numbers for an animated film (one set in Africa no less) was a uncharted territory for him.  Thankfully he rose to the challenge, creating some of the most memorable songs in the Disney library as a result.  Of the five main tunes in the film, there is no doubt that the most powerful one is the song that opens the film.  "Can You Feel the Love Tonight" may have netted the Oscar, due to it being a radio friendly love ballad that Elton John excelled at, but over time "Circle of Life" has become the song that's been seen as the greater achievement.  So much so, that I don't think it has any rival in the whole of the Disney songbook.  It's a song that commands attention like the regal namesake of the film.  A large part of the song's power comes from that spectacular opening note, provided by the choir director Lebo M.  That primal "Naaaaaaaaah" set against the rising of the sun is a hell of a way to open a movie, let alone a song.  The remaining part of the song keeps that spiritual feeling high, with Carmen Twillie's passionate performance carrying the weight of the song through.  Once Disney executives saw the finished song in it's entirety for the first time, I think they may have changed their mind about calling The Lion King a B-Picture.  I for one cannot find any other song from Disney that impresses me more than this one.  It really is the finest bit of music ever captured in animation.  "When You Wish Upon a Star" will certainly always stand as the company's anthem, and it's well earned.  But "Circle of Life" with all of it's epic glory may be the high point of any musical sequence ever in a Disney movie.  Mighty as a lion's roar, this is the song that demands and receives the respect that it deserves.
So, there you have my choices for the greatest songs from Disney Movies.  There are so many great ones out there and it was hard to thin the herd down to just 10.  Surprisingly, I left a lot of the Oscar winners off of my list.  Of the 10 I listed here, only "When You Wish Upon a Star" and "Let it Go" came away with the gold the year they premiered.  Some of these songs were instant hits, while others like "Out There" and "I'll Make a Man Out of You" have had to build their esteem over time.  But, there is no doubt that they have contributed to an amazing assortment of songs that span across the 100 years of Disney's history.  There are a lot of amazing songs even in forgotten movies from Disney's past as well, as well as songs that may have been overshadowed originally by other tunes and have only come into their own over time.  If there is one thing that the great Disney musical songs have in common, it's that they stick with you for years after hearing them.  More than just being unforgettable earworms, they are songs that are easily accessible to audiences of all ages.  You don't have to work very hard to remember all the lyrics, because in some cases the songs utilize clever repetition of the main theme.  Songs like 'Be Our Guest," "Under the Sea," "Hakuna Matata," "Heigh Ho," and "You Can Fly" are by design meant to be easy to sing along to.  I know a lot of children of the 80's and 90's like myself were introduced to these songs through Sing-A-Long video tape compilations.  Most re-releases of these movies on DVD and Blu-ray also include subtitled lyric tracks for just that purpose as well, and sometimes they'll even put sing-a-long versions of the movies in theaters.  While there is definitely a commercial aspect of the perpetuity of the Disney Songbook, it cannot be denied that many of these songs are indeed masterful works of music.  The Disney musical has seen many different lives and faces, and there is little doubt that the catalog of songs to come from the century old company will continue to grow.  Hopefully I've spotlighted a few that will indeed bring back some memories for many of you.  Have a wonderful musical time with this playlist I provided for you, and hopefully your dreams will come true wishing upon that star.