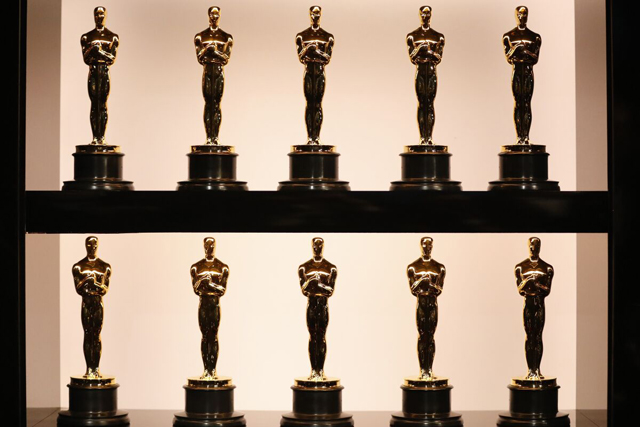 The time has come again.  With 2022 standing as a recovery year for the film industry after the subsiding of the Covid-19 pandemic, the same sort of return to normalcy is also happening with the biggest Awards show of the season.  The Oscars, after spending the last couple years in a later to early spring time slot, is now settling back into it's late winter placement, creating a much tighter frame for Awards season to build momentum for any certain movie.  But, apart from scheduling, the make-up of these Oscars are also looking more like Awards seasons of the pre-pandemic past, and then some.  For the first time in a long while, the year's top grossing movies are contending in the Best Picture race; those films this year being Top Gun: Maverick (2022) and Avatar: The Way of Water (2022).  Neither has a snowball's chance in hell of winning, but still it's a good sign that the Academy is beginning to recognize that it's in their best interest to acknowledge that blockbuster films beloved by the masses are deserving of these honors too.  Apart from those two films, the overall race this year is a very interesting collection of different kinds of movies that typically are overlooked by the Academy; a good sign of different attitudes taking hold within the Academy ranks.  It will remain to be seen if the actual award winners reflect those changing attitudes, or if the Academy will still default towards their safe bet choices.  Like in years past, I will be taking a look at the top eight categories (Picture, Director, Actor, Actress, Supporting Actor, Supporting Actress, Original Screenplay, and Adapted Screenplay) and give you my thoughts as well as my pair of picks; those who I think will win, and those who I think should win.  Keep in mind, I'm an amateur when it comes to picking winners with a so-so track record, and my own biases certainly come into play, so don't put any money on my choices here.  I will say that I make these picks having seen all the nominated movies, so I at least come to this with an informed mind.  With all that said, let's take a look at the nominees for the 2023 Academy Awards.
BEST ADAPTED SCREENPLAY
Nominees: Edward Berger, Lesley Paterson and Ian Stokell, All Quiet on the Western Front; Rian Johnson, Glass Onion: A Knives Out Mystery; Kazuo Ishiguro, Living; Ehren Kruger, Eric Warren Singer, Christopher McQuarrie, Peter Craig and Justin Marks, Top Gun: Maverick; Sarah Polley, Women Talking
Pretty easy to dismiss off the bat is Top Gun: Maverick.  Even the most die hard fans of the movie will admit that the blockbuster film's best asset was not it's screenplay.  And there is no doubt that it will be well represented in the technical awards categories.  Usually every year, one of the blockbuster movies sneaks into a screenplay competition, and this was the one for this year.  Rian John follows up his nomination for Knives Out (2019) with another nod here, and his satirical sleuth sequel is definitely the kind of smart and twisty script that the Academy loves.  Unfortunately, being the only nomination for that film probably hurts it's chances here.  Novelist Ishiguro gets his first nomination for screenwriting here, but it's for a movie that many acknowledge is not as strong as the Japanese original made by Akira Kurosawa.  What I think has the advantage in this race is Sarah Polley's Women Talking.  It's a screenplay where the dialogue is the driving force of the movie, as the whole film is essentially a prolonged debate between women deciding whether or not to leave their Mennonite colony after years of abuse.  The themes of the film will probably resonate strongly with Academy voters as well, given the political climate and the reckoning over the last few years with regards to the #MeToo movement.  Polley is certainly deserving of the honor, but my own favorite in this category is the one film nominated not in the English language.  The screenplay for All Quiet on the Western Front breathes new life into the nearly century old anti-war novel and really brings the harrowing horrors described on the page to terrifying life.  But what is special in the movie is the way it expertly humanizes it's characters and makes every moment they share on the battlefield all the more agonizing.  On top of that, it expertly weaves in the ticking clock of signing the armistice treaty that ultimately ends WWI.  I'm sure that Sarah Polley will be the victor here, given her victory already at the WGA awards, but if All Quiet has a good night overall in the other categories, it could be a surprise spoiler here, and one that I would be happy to see win as this was indeed one of my favorites of the year.
Who Will Win: Sarah Polley, Women Talking
Who Should Win:  Edward Berger, Lesley Paterson and Ian Stokell, All Quiet on the Western Front
BEST ORIGINAL SCREENPLAY
Nominees: Daniel Kwan and Daniel Scheinert, Everything Everywhere All at Once; Martin McDonagh, The Banshees of Inisherin; Steven Spielberg and Tony Kushner, The Fablemans; Ruben Ostlund, Triangle of Sadness; Todd Field, Tar
One of the big narratives that has emerged out of this Oscar season is the dominance of Everything Everywhere All at Once.  The film that came out in theaters in March, around the same time as the Oscars last year, and stuck around in people's minds long enough to lead all other Awards nominees, is not only not loosing steam going into Oscar weekend, but it also seems to be gaining momentum.  The film, if it keeps this up, could be one of the biggest winners at the Oscars in recent memory and this could indeed be one of their pick-ups in an overall successful night.  The Daniels (Kwan and Scheinert), as they are known in the industry, have already picked up the WGA award (a strong precursor), so they are likely to do the same at the Oscars barring any surprise upsets.  It's overall a strong category, as each screenplay is for a film nominated for Best Picture.  My favorite film of the year, The Fablemans, is recognized here, but it's a screenplay that may be too middle of the road for the Academy this year; though it is interesting that this is Spielberg's first screenplay nomination in 45 years, the last being for Close Encounters of the Third Kind (1977).  A possible spoiler here could be Martin McDonagh's pitch black comedy The Banshees of Inisherin, which I would certainly agree is one of the cleverest scripts of the year.  But, it's also very bleak compared with the rest, which is why the Academy may overlook it.  However, my pick here would be the screenplay that took the longest to write.  Todd Field supposedly worked on the script for Tar over a 12 year period, refining it multiple times until it became the intricate character study that the final film became.  Of the nominees here, it's the least showy script, playing much more with subtleties of character, but like his two other films In the Bedroom (2001) and Little Children (2006), the brilliance of Tar is in the unexpected and ruthless turns it takes.  So, if Everything Everywhere has a big night, expect it to win here, but Tar for me would make for the most satisfying of upsets.
Who Will Win:  Daniel Kwan and Daniel Scheinert, Everything Everywhere All at Once
Who Should Win:  Todd Field, Tar
BEST SUPPORTING ACTOR
Nominees: Barry Keoghan, The Banshees of Inisherin; Brendan Gleeson, The Banshees of Inisherin; Brian Tyree Henry, Causeway; Judd Hirsch, The Fablemans; Ke Huy Quan, Everything Everywhere All at Once
As we get into the acting categories, let's get the most sure thing out of the way.  This one is Ke Huy Quan's to lose.  All the way through Awards season, Quan has been the favorite for this award, not just for the great performance he gave in Everything Everywhere All at Once, but also because of the incredible narrative of his own real life comeback story.  He was a child actor in the 1980's, best known for playing Short Round opposite Harrison Ford in Indiana Jones and the Temple of Doom (1984), but he quit acting as a teenager because of the lack of good roles for Asian actors in Hollywood at the time.  After over 30 years out of the spotlight, working mostly behind the camera with stunt choreography, he was inspired to return to acting after having seen the hit film Crazy Rich Asians (2018), which was a movie that he believed showed him that there were better opportunities now for Asian actors in the business.  He miraculously landed a role immediately upon returning, and his return has been met with universal praise across the board.  Thus far, he has been a darling of the awards season, bringing people to tears with his heartfelt acceptance speeches, and there is little doubt that he'll also be doing the same on the Oscar stage.  The Academy loves a comeback story, and his is one of the most inspiring in recent memory.  Are there any spoilers in this race.  The only ones I can think of might be the duo of actors nominated here from Banshees of Inisherin;  Barry Keoghan and Brendan Gleeson, who like Quan are first time nominees here.  They both give great performances, but they also don't have the comeback story factor putting wind in their sails.  I for one will absolutely be happy to see Ke Huy Quan win, and not just because of my fandom for Temple of Doom.  His performance is clearly the standout in this category, and it will be a wonderful cap to an improbable comeback story that has defined his road to Oscar.
Who Will Win:  Ke Huy Quan, Everything Everywhere All at Once
Who Should Win:  Ke Huy Quan, Everything Everywhere All at Once
BEST SUPPORTING ACTRESS
Nominees:  Angela Bassett, Black Panther: Wakanda Forever; Hong Chau, The Whale; Jamie Lee Curtis, Everything Everywhere All at Once; Kerry Condon, The Banshees of Inisherin; Stephanie Hsu, Everything Everywhere All at Once
We go from the surest thing to the category that is probably the most open-ended.  The supporting actress race is interesting for a variety of reasons.  One, the nomination of Angela Bassett is historic because it's the first acting nomination ever for a film from Marvel Studios; a big feather in the cap for the brand which has been trying hard and coming up short over the years in getting the Academy's attention.  For a while, Bassett also looked like the favorite in this race, but fellow industry veteran Jamie Lee Curtis is coming on strong in the last couple of weeks, buoyed by her win at the SAG awards.  Both Angela Bassett and Jamie Lee Curtis have storied careers over many decades working in Hollywood, and a win for either would be a strong acknowledgement of their contributions to cinema over the years.  But, neither are a sure thing either, as there is the opportunity for an upset here as well.  Jamie Lee Curtis' co-star Stephanie Hsu may not have the same stacked resume, but her performance in Everything Everywhere All at Once is the one that stands out a bit more in the film, and is far more layered and experimental than many of the other nominees here.  But my own personal choice would be Kerry Condon for her tragi-comic performance in The Banshees of Inisherin.  Here clear-minded character in that movie is a wonderful counterbalance to the understated lunacy of her male co-stars, and she especially excels at making her character feel fully human and lived in as part of the film.  It's hard to say which way the category will go, but if Everything Everywhere All at Once has a huge night, it might lift the tide in Jamie Lee Curtis' favor, given her career up to now, and she'll be deserving too.  It's honestly better to be an established movie star in this category this year than a fresh newcomer, and that's something that could put either Bassett or Curtis on top in the end.
Who Will Win: Jamie Lee Curtis, Everything Everywhere All at Once
Who Should Win: Kerry Condon, The Banshees of Inisherin
BEST ACTOR
Nominees: Austin Butler, Elvis; Bill Nighy, Living; Brendan Fraser, The Whale; Colin Farrell, The Banshees of Inisherin; Paul Mescal; Aftersun
Interesting thing to note, everyone in this category is a first time nominee, which is surprising for some given that actors like Colin Farrell, Brendan Fraser and Bill Nighy have been around in the movies for decades.  As of right now, one of the fresher faces is carrying the momentum going into Oscar night.  Austin Butler is following in the footsteps of other past winners in this category who won for playing a famous figure in a biopic.  In this case, he is looking to be the odds on favorite for his transformative performance playing "the King" himself, Elvis Presley in the Baz Luhrmann directed film Elvis (2022).  Don't get me wrong, he is amazing in the movie and clearly the highlight of that film by a wide margin.  But, like most awards given to actors for playing famous figures in entertainment, is the academy really rewarding the performance, or the transformation.  I honestly feel like Austin Butler will win her, but for all the wrong reasons.  The Academy are just suckers for performances that are imitations, and it sadly leads to more original performances that are more deserving getting overlooked in the process.  Case in point, I feel like the buzz around Butler's Elvis transformation is going to take away from the absolutely groundbreaking work done by Brendan Fraser in The Whale (2022).  Fraser, like Ke Huy Quan in the supporting category, is having a triumphant comeback story unfolding this year, after returning from a long hiatus with a renewed sense of what he wants to be as an actor.  His performance in The Whale, completely disappearing into the persona of a dying 600 pound man, is one for the ages, and I would love it if it gone the due recognition from the Academy.  We'll see if the Oscars can break out of it's comfort zone and help give Fraser's comeback story a powerful benchmark with an Oscar win, but we've also seen this scenario play out before, and it's likely they'll go with the safe pick of Austin Butler for his noteworthy but still standard performance as Elvis.
Who Will Win: Austin Butler, Elvis
Who Should Win: Brendan Fraser, The Whale
BEST ACTRESS
Nominees: Ana de Armas, Blonde; Andrea Riseborough, To Leslie; Cate Blanchett, Tar; Michelle Williams, The Fablemans; Michelle Yeoh, Everything Everywhere All at Once
This category certainly drew some controversy immediately after the nominations were announced.  Andrea Riseborough's out-of-the-blue nomination took everyone by surprise, and the unlikelihood of her inclusion in this category even drew speculation of unlawful campaigning on her behalf that led to her nomination.  The probe turned up no wrongdoing, but unfortunately Ms. Riseborough's nomination is unfairly tainted by the controversy that surrounds it; with even more controversy surrounding it because it came with the exclusion of Actresses of color in this category, including Viola Davis for The Woman King (2022) and Danielle Deadwyler for Till (2022).  But, Riseborough has little chance of winning here, as the category is pretty much a two woman race going into the final stretch.  Cate Blanchett came into Oscar season as an early front runner, with her virtuoso performance as the titular figure in Todd Field's Tar.  Her character, Lydia Tar, is a fascinating figure all the way through the movie and it's an utterly original kind of performance from the legendary performer; fearlessly taking on a character that in many ways is hard to like as she sinks deeper into self-destruction throughout the movie.  But, in recent weeks the groundswell of support for Everything Everywhere All at Once has also lifted up it's star Michelle Yeoh to being a potential spoiler in this race.  If Yeoh wins, it would be historic as she would be the first Asian actress to ever win the Oscar for a Leading Role, and that would be a landmark too good for the Academy to pass up.  Still, Blanchett is an icon in Hollywood, and many consider her performance in Tar to be her best yet.  She may still yet be the victor, but I would love to see history made with Michelle Yeoh this year.  I've loved her work since seeing her in the James Bond film Tomorrow Never Dies (1997), and all the way through Crouching Tiger, Hidden Dragon (2000) and many other great performances.  We'll see how mighty Everything Everywhere All at Once's dominance is at the Oscars.  Despite having liked the movie Tar more, I still would love to see Michelle Yeoh win the Oscar here, just because her performance is the more dynamic of the two, and I also like seeing history made at the Oscars.
Who Will Win:  Cate Blanchett, Tar
Who Should Win:  Michelle Yeoh, Everything Everywhere All at Once
BEST DIRECTOR
Nominees: Daniel Kwan and Daniel Scheinert, Everything Everywhere All at Once; Martin McDonagh, The Banshees of Inisherin; Ruben Ostlund, Triangle of Sadness; Steven Spielberg, The Fablemans; Todd Field, Tar
One would expect the Daniels to be triumphant here given that they have picked up the lions share of past Awards this season, including the indicative DGA award.  That's quite the feat for a team that is only on their second feature film (the first being Swiss Army Man).  It's also not unusual for the award to be shared by two individuals; it's happened twice before in 1961 with West Side Story (Robert Wise and Jerome Robbins) and 2007 with No Country for Old Men (Joel and Ethan Coen).  If Everything Everywhere All at Once has a monster of a night, this will be an easy one to call.  Is it the one that I choose.  I do love what the Daniels have done and their win would be a great boost for filmmakers that work outside of the studio system with visions that cannot be so easily pigeon-holed within this industry.  But, given my own bias here, my own favorite runs contradictory to that idea as he is the most insider-y of Hollywood insiders; Steven Spielberg.  The Fablemans was my favorite movie of the year and Spielberg's direction was the work that impressed me the most of any movie this last year.  It is amazing how well Spielberg's style works so well in even telling the personal story of his own life.  All of Spielberg's trademarks are there in the movie, and it takes on a whole different level knowing that the film is a self-portrait.  Another worthy alternative in this category is Todd Field, whose subtle work on Tar shows that he hasn't lost any of his directorial talent in the 16 years he was absent behind the camera.  So, I do expect the Daniels to win here, but I also would love to see my favorite movie win something at this Oscars, and I feel Spielberg is the best shot it has in the ceremony as a whole, and I would indeed love to see a possible upset here, but it's highly unlikely, and it's not like Spielberg hasn't won here before.
Who Will Win:  Daniel Kwan and Daniel Scheinert, Everything Everywhere All at Once
Who Should Win:  Steven Spielberg, The Fablemans
BEST PICTURE
Nominees:  All Quiet on the Western Front; Avatar: The Way of Water; Elvis; Everything Everywhere All at Once; The Banshees of Inisherin; The Fablemans; Top Gun: Maverick; Triangle of Sadness; Tar; Women Talking
Some interesting developments this year in the Best Picture race.  Not only are the two highest grossing movies of the year represented, but this also shows a shift from trends in recent years that favored movies from streaming platforms.  Only one movie on this list (All Quiet of the Western Front) was made by a streaming producer; Netflix in this case.  All the others were made for theatrical distribution.  During the pandemic years, up to half of the nominees had been streaming exclusives, which shows just how much the dynamic has changed in favor of the theatrical model.  I personally think this is a strong field, mainly because 5 of the 10 nominees made it onto my list this year.  Of all of these, I of course would like to see my favorite movie of the year, The Fablemans, take home the top honor, though I do recognize that this is now a long shot prospect.  Everything Everywhere All at Once has had the strongest legs I've seen in the Oscar race in very long time.  Typically, the movie that earns the most nominations at the beginning of the race loses momentum by the time that the awards are given out, but that doesn't seem to be happening with Everywhere, as it is sweeping up the precursor awards left and right.  A full guild award sweep is always a strong indicator that the same film will win Best Picture here, but stranger things have happened before to "sure things" in the past (La La Land for example).  We'll have to see how much the Academy's ranked choice voting system plays a factor, and if some of the older Academy voters are able to wrap their heads around the weirdness of Everything Everywhere.  I do expect that Everything Everywhere All at Once has enough goodwill behind it to get past the goal line, and the question will not be so much if it can will, but how big of a win will it have throughout the ceremony.  More traditional Oscar films like Fablemans or Tar, or even Elvis could play spoiler, but safe money is on Everything winning the night overall.
What Will Win:  Everything Everywhere All at Once
What Should Win:  The Fablemans
And now to quickly run down all the other categories with my picks for what and who I think will win:
Best Cinematography: All Quiet on the Western Front; Best Film Editing: Everything Everywhere All at Once; Best Production Design: Elvis; Best Costume Design: Elvis; Best Sound: Top Gun: Maverick; Best Make-up and Hairstyling: The Whale; Best Original Score: Everything Everywhere All at Once; Best Original Song: "Naatu Naatu" from RRR; Best Visual Effects: Avatar: The Way of Water; Best Documentary Feature: Navalny; Best Documentary Short: Stranger at the Gate; Best Animated Feature: Guillermo Del Toro's Pinocchio; Best Animated Short: The Boy, the Mole, the Fox, and the Horse; Best Live Action Short: Le Pupille; Best International Feature: All Quiet on the Western Front
So there you have my picks for the 2023 Oscars.  In the Best Picture race, I can definitely say that I had a positive reaction to each of the nominees, with 5 in particular making my Top 10 for the year.  Those 5 will certainly be the ones that I'll root for at this year's ceremony.  One thing to look out for is if Everything Everywhere All at Once is picking up a lot of Awards early in some of the down ballot categories.  This will give an indication of how much momentum it took into the final stretch of the voting, and if it looks as good as it has in the last couple of weeks, we might see the biggest Awards winner in this ceremony in a long time.  It won't be Titanic (1997) or The Lord of the Rings: The Return of the King (2003) big, but given how light Best Picture winners have been lately (like last year's CODA with just three wins) a night with a movie winning as many as 5-6 or more would be great to see.  Since it's March release last year, Everything Everywhere All at Once has been the talk of Hollywood ever since, and it would be natural if it swept all the way to the top of the pack at this years Oscars, considering how much it stuck with so many people.  For the most part, I hope this is a year where the Academy Awards gains a bit of it's respectability back.  The last couple years have been defined by missteps and controversy.  Sadly the only thing that people remember about the last Oscars was the slap that Will Smith gave presenter Christ Rock on stage; a disgusting act that sadly overshadowed the show overall.  It should be a ceremony that looks more like Award shows of the past, with Covid protocols no longer needed to keep people in the Dolby Theater spaced apart.  One thing I'm definitely looking forward to is how RRR's (2022) show-stopping dance number "Natuu Natuu" gets translated onto the Oscar stage.  If it's even remotely like what we saw in the movie, we are in for a good show come Sunday.  Here's hoping for a good Oscar ceremony that sees deserving and even historical wins, as well as a general positive improvement in the audience interest in the awards overall.  And of course, let's look forward to seeing what may show up at the Oscars a year from now after all the movie premieres lined up in the months ahead.