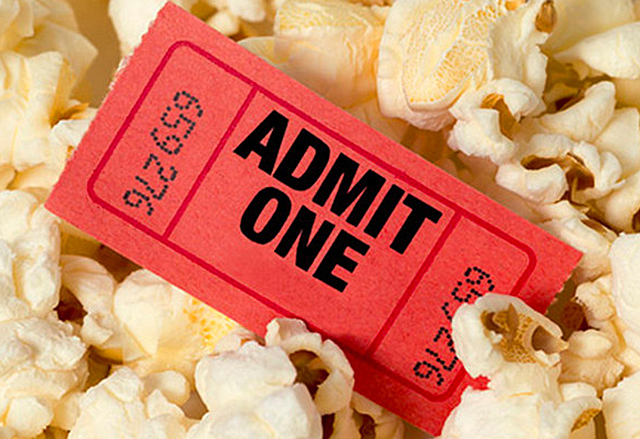 So, 2016 is over, and to many that is a blessing.  Not to delve into the politics of the world, but it's safe to say that there was a lot of turmoil that shook people to their core and made them weary of the state of things looking into the future.  Naturally, when people are depressed or in need of a pick me up, they turn to the escapism of cinema, and this year's box office numbers reflected that.  Last year saw a record number of grosses at the box office, with the Disney company alone accounting for nearly 20% of all that.  Disney's mammoth year saw the huge success of both their animated films Zootopia and Moana, plus two more huge hits from their Pixar and Marvel brands (Finding Dory and Captain America: Civil War, the two highest grossing films of the year coincidentally enough), as well as big returns from their Jungle Book remake, and also from a little thing called Rogue One.  Apart from that, 2016 also saw surprising success in the off seasons as well, with Spring films in particular like Deadpool and Batman v Superman: Dawn of Justice doing amazingly well.  This year also saw it's fair share of failures too, with former powerhouses like Johnny Depp and Tom Hanks taking a hit with their respective flops, Alice Through the Looking Glass and Inferno, as well as well respected filmmakers like Steven Spielberg and Oliver Stone failing to make an impact with their new ambitious features, despite some critical praise (The BFG and Snowden).  In general, 2016 was an offbeat year, and the movies this year reflected that, both good and bad.  Naturally, like every year, I have put together my picks for the top 10 films of the year, as well as my bottom 5.  And in a year as unpredictable as this one, my choices were just as surprising to me as I'm sure it will be to you.
First of all, before I go into the list itself, I would like to spotlight the movies that nearly made my top 10.  Out of the over 60 movies I saw this year, there were plenty to choose from, and though these fell short, they are still worth seeing.  So, in alphabetical order: 10 Cloverfield Lane, Arrival, The BFG, The Birth of a Nation, Captain America: Civil War, Doctor Strange, Fences, Finding Dory, Hacksaw Ridge, Kubo and the Two Strings, Loving, Moana, Pete's Dragon, Rogue One, Silence, Sing Street, Star Trek Beyond, Swiss Army Man, and War Dogs.  Also, keep in mind, these are all movies that I saw in the calendar year of 2016, so any critically acclaimed movies released in the last year that I didn't get to like 20th Century Women, Florence Foster Jenkins, Nocturnal Animals, Queen of Katwe, and Paterson won't be on this list.  I hope you find all of these interesting choices.  I tried to reflect in this list the movies that left the biggest impact on me this year, and not what I think will be everyone else's favorite.  So, with that, lest's begin the countdown.
10.
LA LA LAND
Directed by Damien Chazelle
Perhaps the most talked about film of this still young awards season, Damien Chazelle's sophomore feature after his Oscar-winning breakout Whiplash (2014) is a one of the year's most audacious films.  Chazelle tells a story of the movie capital of the world today with some of the tools that the city was built upon.  With classic style musical numbers that harken back to memories of movies like Swing Time (1939) and Singing in the Rain (1952), La La Land is blissfully nostalgic, but it's the story in between the songs that really makes this movie stand out.  The movie is about the harsh reality that many young dreamers have to go through when they move to a place like Los Angeles and find that their dreams of love and success may sadly always be out of their reach.  In the film, we follow two characters played wonderfully by Ryan Gosling and Emma Stone, who seek love as well as success, and sadly realize towards the end that in order to achieve one, they may have to give up the other.  In this movie, director Chazelle clearly knows his film history, and he tries his best to bring the magic of the old Hollywood dream machine into a very modern story.  It's a celebration of the wonder that is Los Angeles, as well as a cautionary tale.  And, considering that I myself am an aspiring writer living in Los Angeles and trying to find success on my own, it's easy to see why I identify a little with the main characters of this story, and the ups and downs they go through.  Chazelle's direction may be at times a little too inconsistent, but when you have moments as creative and unique as a dance number on an LA freeway during rush hour, you can easily forgive the shortcomings and just enjoy the spectacle.
9.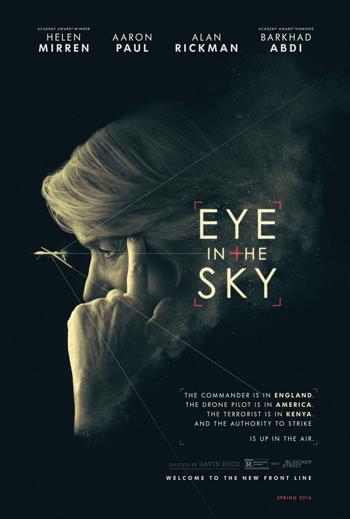 EYE IN THE SKY 
Directed by Gavin Hood
One of the most interesting discoveries this year was this little seen but extremely effective thriller about military drone strikes.  After struggling in the Hollywood machine for the last decade, with underwhelming to bad films like Ender's Game and X-Men Origins: Wolverine, director Gavin Hood finally delivers a provocative and intense film that shows the full potential of his talents.  Taking place in real time, the film presents a scenario of a difficult military decision to surveillance potential terrorist and decide whether or not to preemptively strike once they learn of the deadly plot that is being hatched.  The fascinating part of this movie is that we see the entire decision making process unfold from all the participants and how such decisions must go through several hurdles before they are executed; which becomes especially complicated when they are faced with the possibility of severe collateral damage when an innocent little girl ends up in the crossfire zone.  Told from three different perspectives (the command center in Britain, the drone pilot station in America, and on the ground with the spies watching the terrorists closely) the movie plays out like 12 Angry Men in a war film, and it's the debate before the actual strike that provides the best tension throughout.  The actors play their roles well, and are surprisingly effective against type in some cases.  Helen Mirren is wonderful as always, and Breaking Bad's Aaron Paul holds his own with some heavy hitters.  But especially memorable is Alan Rickman in what is sadly his final film role.  Watching him perform here just reminds you how much he will be missed, and it's a worthy finale to his incredible career.  This movie was, so to speak, under the radar all year, but it is well worth seeing because it's more than just your average war film and it spotlights an issue that's well worth talking about more.
8.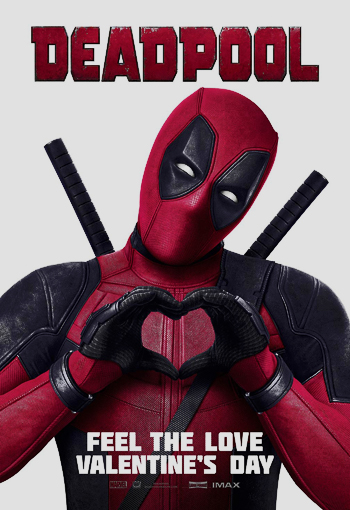 DEADPOOL
Directed by Tim Miller
I know that in my earlier review of this movie that I was a bit more reserved in my judgement on the film, knocking some points off for some of it's generic super hero origin bits.  But, if there was ever a movie this year that grew on me, this would be it.  It's hard to believe that the best Marvel super hero movie of the year was one that was not made by Marvel Studios.  Sure, I like Civil War and Doctor Strange well enough, but in the long run, I think that Deadpool offered something more to the genre; that being a very much needed skewering.  With a script that was worked on for years and a lead actor who believed so much in this role and could not have been better cast, Deadpool is a near perfect translation of Marvel's iconic "merc with a mouth" to the big screen; far better in fact than most other characters we've seen from other recent Marvel and DC properties.  It is also one of the flat out funniest movies of the year.  From the hilarious opening credits to the appropriately absurd film end credits tag, every moment of this movie is perfectly constructed to tickle our funny bone.  Whether it's Deadpool's constant fourth wall breaking quips, the running gag centered on the main villain's real name, or the several jabs at a certain Aussie actor from the X-Men franchise, every gag hits it's mark.  This was a movie that actor Ryan Reynolds and crew had to make under the radar at Fox and it's great to see it pay off.  And for a genre that's starting to show signs of fatigue, this movie was very much needed right now.  It's a genre send-up that holds it's own among the finest.  If The Avengers (2012) was the super hero genre's Magnificent Seven (1960), this would be it's Blazing Saddles (1974), and that's a high, high compliment.
7.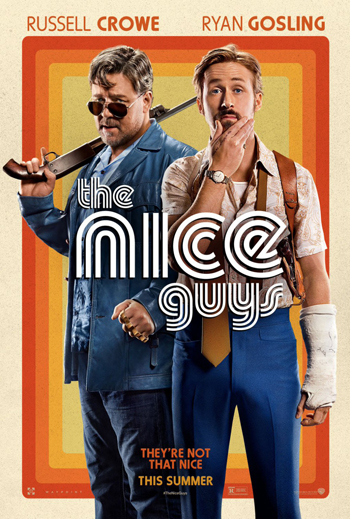 THE NICE GUYS
Directed by Shane Black
The even better genre throwback starring Ryan Gosling from 2016.  This movie finds the genius mind behind Lethal Weapon (1987), The Last Boy Scout (1991), and Kiss Kiss Bang Bang (2004) back on familiar ground and in his element.  After a disappointing venture into the Marvel universe with Iron Man 3 (2013), director Shane Black feels much more at home working within this tongue-in-cheek throwback to buddy cop movies of the 1970's.  But what is especially surprising is that he got these comical performances out of two actors not known for their comedic chops.  Ryan Gosling and Russell Crowe prove to be remarkably adept at matching the sometimes absurdist style of Black's character driven comedy, feeling almost like they've been working off each other for years like an Abbott and Costello style team.  Gosling in particular gets the film's biggest laughs as a perpetually drunk and inept private eye.  One bit where he tries to bust open a window with his bare hand only to cut open his wrist and bleed in the process is one of the movies best moments and a brilliant dissection of a genre cliche.  The whole movie is like this and it makes for both a great parody of a long worn out Hollywood genre as well as a worthy representation of it.  And like the previous genre throwback with Ryan Gosling on this list, it is also a fantastic love letter to the city of Los Angeles, only this time spotlighting the grittier, sleazy side of the city that defined it in the 1970's, in which this movie is set.  My hope is that Shane Black continues to deliver more character driven genre farces like this one, and that both Gosling and Russell Crowe continue to branch out into more comedic territory, because this movie showed that they have a surprisingly strong knack for it.
6.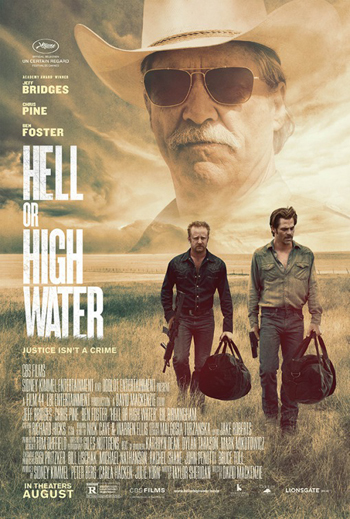 HELL OR HIGH WATER
Directed by David Mackenzie
There are some movies out there that really transport you into a different place that feels like a different time, but is really just a window into the everyday world that the people in this setting live everyday.  This Neo Western comes from the same screenwriter (Taylor Sheridan) who wrote my favorite film of 2015, Sicario.  And like Sicario, Hell or High Water throws the viewer head first into it's world with all it's detail, only instead of showcasing borderland drug wars, this movie focuses on the quiet isolation of West Texas.  Following two bank robbing brothers (played by Chris Pine and Ben Foster) as well as the dogged state trooper in pursuit of them (played by wonderfully grizzled Jeff Bridges) the movie plays out like a snapshot of Americana come to life, with rich characters and setting driving the narrative.  I loved the way that this movie sort of steps backs and let's the story play out naturally without any melodramatic tampering.  It's gorgeous to look at, with the wide Texas plains dominating the landscape, and the detail put into the setting is exquisite.  There is plenty of local flavoring that gives this movie character, like a great bit where Bridges stops at hole in the wall diner and has to deal with the tough as nails waitress who works there.  The performances too are exceptional.  Bridges is in his element here, riding a fine line between being affable and intimidating.  The way he teases his put upon partner (played by Gil Birmingham) also gives the movie some much needed levity.  Chris Pine also is wonderfully restrained here, and helps to ground the movie as a whole.  But, it's Ben Foster that steals the movie with his performance as the brother on a deadly death wish spiral throughout the movie.  It's one of the year's most beautifully atmospheric films and a modern Western that does the genre proud.
5.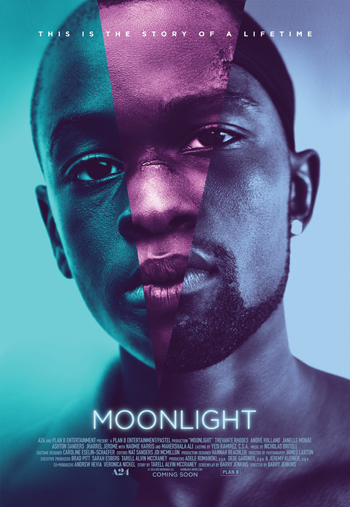 MOONLIGHT
Directed by Barry Jenkins
This little indie wonder takes a very difficult and often times overlooked subject, and paints this beautifully visual poem around it.  The movie follows the life of a young African-American boy living in the projects of the City of Miami through three different ages in his life; late childhood, high school, and early adulthood.  And in those different time periods, we see him struggle through many different issues that plague his life and ultimately close him off from the rest of the world.  He suffers through an abusive relationship with his drug addicted mother (played brilliantly by Skyfall's Naomie Harris), finds a father figure in a drug dealer (played by House of Card's Mahershala Ali), get's bullied in school, and all the while he is struggling to deal with the growing awareness of his homosexuality.  The movie is grounded in it's humanity, but it's also not afraid to delve into some very lyrical moments.  There are some beautifully constructed moments that are both dreamlike and nightmarish at the same time, giving a cinematic window into the inner turmoil of our main character.  The three actors who play the main character (going by the names Little, Chiron, and Black at the different stages) all do a superb job.  You really get a sense from this movie of the evolution this person has gone through, and how he has been shaped by where he has come from and the people he has known.  I also really admired the very delicate way that it deals with the issue of being gay in the black community.  It doesn't sensationalize the issue, but instead makes the character's struggle a very personal one, and as a result make it feel much more authentic as an issue.  It's hard to believe that this is a feature debut for director Barry Jenkins because his grasp of style and story is remarkable here and it stands as one of the better artistic statements made at the movies in recent years.
4.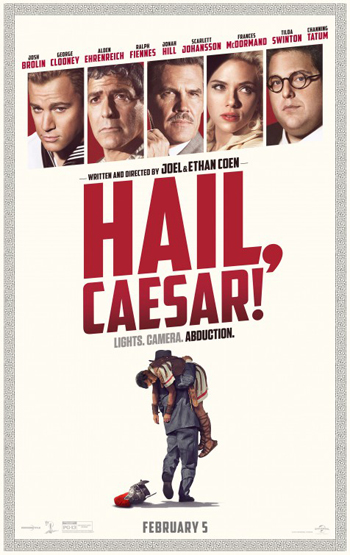 HAIL, CAESAR!
Directed by Joel and Ethan Coen
This movie came out so early in the year, that I think a lot of people have forgotten that this was a 2016 release, which unfortunately has led to it being mostly forgotten by year's end.  However, I didn't forget and I especially want to give it it's due as one of the year's best because this is yet again another masterpiece from some of the best filmmakers working today; the always brilliant Coen Brothers.  Hail, Caesar is a pitch perfect send up of classic Hollywood; much more so than the also commendable La La Land.  In it, we see all the quirks behind dream factory, and the often eccentric people who live and work within it.  Like all the best Coen Brother comedies, it's the characters that make this movie memorable; from George Clooney's dimwitted leading man, to Scarlett Johansson's foul-mouthed beauty queen, to the wonderfully hokey singing cowboy played by the scene-stealing Alden Ehrenreich.  And like other Coen Brother movies, the film is grounded by a put upon character in the form of Josh Brolin's studio executive, who unfortunately has to keep his studio under tight control even with all the missteps committed by his sometimes lackwitted cast and crew.  There was just something about this movie that tickled the classic Hollywood cinephile in me, and I think the thing I adored the most were the beautifully constructed representation of old Hollywood film-making.  Really, every single parody of a classic film within this movie is something i would honestly watch without sarcasm.  You can tell this was a cinematic love letter, but, it's also not without the Coen Brothers' patented sense for the absurd.  With literal Communist conspiracies, misguided self-destructive behavior, and tabloid driven back stabbing, the Coens show that the Hollywood dream machine was often built on a very corrupt and shady foundation.  And through that, the Coen's find the catalyst for some brilliant comedy.
3.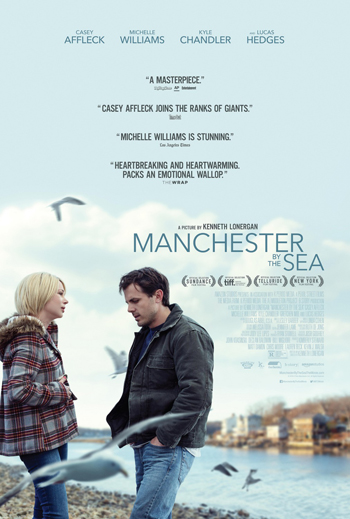 MANCHESTER BY THE SEA
Directed by Kenneth Lonergan
Veteran screenwriter Lonergan rarely steps behind the camera, with 2000's You Can Count on Me and 2011's Margaret being his only other two directorial efforts.  But, when he does, he proves to be a master at portraying slice of life stories in small town America.  Manchester by the Sea is a brilliantly told story about a man (played in a stand out performance from Casey Affleck) dealing with grief that too often proves inescapable.  In the movie, Affleck's character learns of his older brother's untimely death and has to return to his titular hometown in order to look after his teenage nephew (played by Lucas Hedges).  As he deals with this new tragedy in his life, we also slowly piece together what exactly made him leave town in the first place, and it's a devastating revelation that tells you all you need to know why someone would turn their back on a quaint little paradise like Manchester.  The movie is very deliberately paced and never melodramatic, which helps to greatly absorb us the viewer into the story.  Lonergan has this incredible knack for capturing authenticity in his characters, and making it feel like they are real people to us, and not just actors giving a performance.  Affleck in particular gives one of the best performances of the year in a quiet, understated portrayal that perfectly conveys the mindset of a tortured soul just trying to make it through life.  The supporting cast is also wonderfully realized in their roles, including Michelle Williams as the ex-wife who has one scene in the movie where she confronts Affleck's character that is heartbreaking and achingly authentic.  The wintertime New England setting is also beautifully presented and does a wonderful job of transplanting us into this community.  It's another triumph for Kenneth Lonergan who, even though he has a small body of work to his name, still shows amazing talent as a director.
2.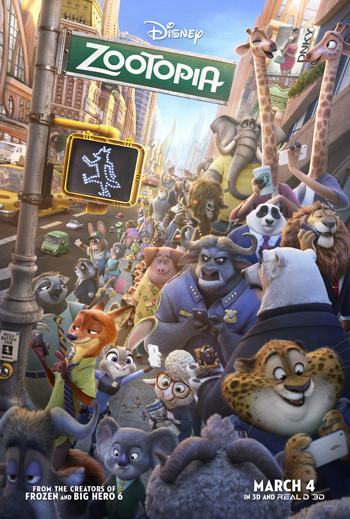 ZOOTOPIA
Directed by Byron Howard and Rich Moore
Disney had a stellar year at the box office, but it seems fitting that the best film to come from the studio this year was from out of their legendary Animation department.  Zootopia is not just the best animated film of the year, but also one of the best animated movies ever made, and one that stands strong alongside many of the other classics from the legendary studio.  The premise seemed simple enough from the outset; a world like our own, only inhabited by animals instead of humans, which is brilliantly realized in the film.  But beyond the skill of the animation, it's the story behind it that really made this movie exceptional.  This is one of the smartest scripts I've ever seen for an animated film, as it tackles the very serious subject of prejudice in society in a way that speaks to audiences of all ages.  Most other animated films tend to sugar coat issues like racism and bigotry in their movies, or sometimes forget the subtlety of their portrayals as well.  Zootopia deals with it perfectly by showing the full reality of it head on, and how sometimes even the good guys can be guilty of perpetuating an unfair system of prejudice.  Honestly, if there was ever a movie that summed up the year 2016, this would be it, as issues of racial division, excessive force from law enforcement, and a political climate manipulated to drive communities apart for the benefit of a select few have dominated our public discourse this year.  But, even with the more serious subject matter, Zootopia is wonderfully entertaining in the way that the best Disney films are.  Also, Jason Bateman and Ginnifer Goodwin give some of the best vocal performances in recent memory for an animated film, and endear their characters of Nick Wilde and Judy Hopps as among Disney's best.  It's amazing that the best portrayal of human behavior in our modern society this year came from a movie starring an all animal cast.  It's a cinematic social lesson that I hope leaves a valuable impression on younger audiences, and motivates them to rise above the prejudices that plague us in society today.
And finally….
1.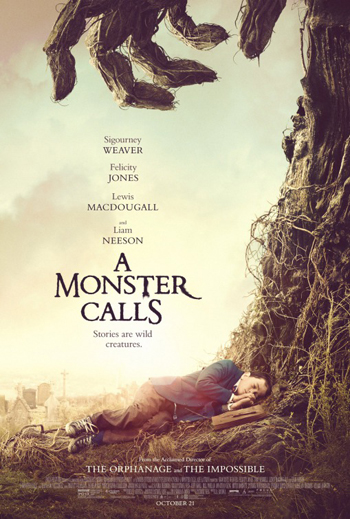 A MONSTER CALLS
Directed by J. A. Bayona
It was a tough call between this and Zootopia as the best film of 2016 for me, but in the end, A Monster Calls just won me over with it's devastatingly beautiful story.  I caught the film in limited release here in LA, and it is just now being rolled out nationwide, and I strongly recommend it to everyone.  Although, be forewarned; this is a devastating movie that will drive some of you to tears.  The movie deals with a young boy (played by newcomer Lewis MacDougall) who is trying to cope with the failing health of his cancer-striken mother (played by Rogue One's Felicity Jones) which leads him to a surprising confrontation with a giant, tree born monster (voiced by Liam Neeson) who asks the boy to listen to three stories.  The stories of course are meant to educate the boy and help him deal with his grief, and it proves to be a surprisingly effective form of therapy for him.  The movie may not be for every, and I acknowledge that some of the movie is intentionally manipulative.  But, I was completely absorb by the near perfect execution of this film.  It represented the best cinematic storytelling that I saw all this year and it's what propelled it to the top of my list.  It felt like a spiritual successor to the character building boyhood movies of my childhood like E.T. The Extra-Terrestrial (1982) and The NeverEnding Story (1987), which underscored the story of a young boy's coming of age with extraordinary supernatural elements.  The animation of the monster himself is exceptional, riding that fine line between feeling authentically alive, but still cartoonish enough to be a magical manifestation.  Also, Lewis MacDougall gives one of the best performances from a child actor that I've seen in recent memory and he carries this film on his shoulders like a true pro.  Blending fantasy and reality together in such a vivid way, A Monster Calls is a new classic in the making and the best cinematic experience I had this last year.
Now, as promised, I will include my choices for the worst films of the year. Keep in mind, I usually try to avoid wasting my money on movies that I know will be bad, but even still, I still managed to wander into a few that sadly reinforced all my worries about all the bad things about the Hollywood machine.  And like 2016 itself, some of them were too ugly reminders of the society we live in.  So, let's go through the worst movies I saw this year.
5. ALICE THROUGH THE LOOKING GLASS – The Tim Burton movie was bad enough, but this lifeless sequel added nothing better, and just felt like nothing more than the obvious cash-in that it was.  And again, it's another troubling failure for the once reliable Johnny Depp, who is in desperate need of a new direction in his career.
4. THE LOBSTER – Sometimes there are surrealist films that manage to land and become entertaining, and then there are those that have their head up their ass.  This one is sadly the latter.  A surrealist film that's confused whether it wants to be a comedy or a drama, and succeeds at neither.  It also wastes committed performances from the likes of Colin Farrell and Rachel Weisz.  In the end, it was one of the most boring experiences I had at the movies this year.
3. THE BROTHERS GRIMSBY – Sascha Baron Cohen rocked the world with his delightfully absurd film Borat (2006), but a decade later, he has lost much of the brilliance in his comedy and is now sadly just falling back on disgusting bodily humor to carry his films.  This spy movie spoof makes you sit through scenes of elephant sex, teabagging, and many more gross-out scenarios that only makes you cringe and never laugh.  Even a bit where Donald Trump ends up accidentally swallowing AIDS tainted blood falls flat.
2. GHOSTBUSTERS (2016) – Honestly, the ugly controversy surrounding this film was worse than the movie itself, but the movie was still bad regardless.  The all-female cast was one of the better aspects of the film, but they are handcuffed by a lame script that is completely devoid of any of the brilliance that was found in the original Ghostbusters (1984).  What we get instead is a studio driven cash-in that is masquerading as a revival of the series.  This movie is a lesson in Hollywood hubris and how you can't just manufacture a hit franchise, you need to let it be it's own thing.  Never did I ever think that a movie called Ghostbusters would fail to entertain me, but here it is.
And the worst of 2016 is…
1. INDEPENDENCE DAY: RESURGENCE – There were plenty of bad sequels in 2016, but this monstrosity managed to stink the worst of all.  The original Independence Day (1996) was a dumb movie as well, but it had charm to it, as well as a charismatic performance from star Will Smith.  Both the charm and Smith are missing from this movie, and it's probably the smartest move for an actor's career since Keanu Reeves sat out Speed 2 (1997).  Sadly, the other returning actors were not as smart.  Even the always entertaining Jeff Goldblum can't save this.  Unlike most other filmmakers who refine and mature with every new feature, Roland Emmerich somehow seems to get worse with each new film he makes; and Resurgence is his worst one yet.  Seriously, fans of the original had to wait 20 years for this?  How is it possible that the visual effects for a two decade old movie look better than the ones seen in it's "more advanced" sequel?  This is a mind-numbingly dumb movie and far and away the most infuriating movie experience that I had last year.
So, there you go.  My 2016 film experience in a nutshell.  Overall, it was a mixed year.  There were fewer movies that I outright hated this year, but also very few that actually left a positive impact as well.  It was more a less a year of passable cinema, which to some is not a good sign of things to come for the industry.  I for one am hoping for 2017 to be a year of pleasant surprises.  In the months ahead, we are going to see if DC Comics are able to sink or swim in this competitive super hero genre as they release their long awaited Justice League and Wonder Woman movies.  Disney hopes to continue it's hot streak with the ambitious Beauty and the Beast remake, as well as films from their Pixar (Cars 3 and Coco) and Marvel (Guardians of the Galaxy 2, Spiderman: Homecoming, and Thor: Ragnarok) divisions.  Also, let's not forget the juggernaut that is Star Wars, with the continuation of it's saga in Episode VIII.  There are also ambitious continuations of the Fast and the Furious, Pirates of the Caribbbean, Alien, Planet of the Apes, and Transformers franchises as well; some audiences are looking more forward to than others. We are also going to see the next big epic from Christopher Nolan (Dunkirk), as well as some new re-imaginings of old monster movies as well (The Mummy and Kong: Skull Island).  Of course, the upcoming festival season will also provide us with movies to look forward to in the more critically acclaimed fall season, but it's anyone's guess where the best and worst of 2017 will be found.  As every year before, I will continue to share my thoughts and critical opinions on all the new offerings this year.  I hope my 2016 list helpful for spotlighting some great films you may have missed and that you all continue to have a fun time watching movies this next year.