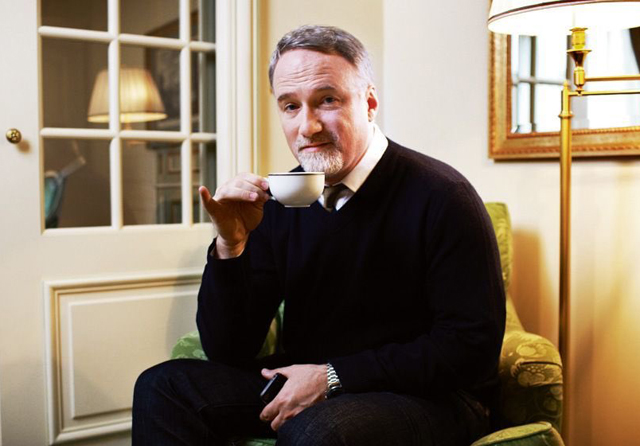 Some film directors launch right out of film school and become major players almost immediately, while some take years and even decades to just make that one movie that will define them.  And then there are the journeyman filmmakers; the ones who don't immediately make their mark, but instead mature within the system until they rise to the top and become established artists.  These kinds of filmmakers develop from simple means, but they often are the ones who in the end have the most consistently successful bodies of work.  Spielberg, for example, started out this way, beginning as an intern on the Universal Studio lot until he was given a contract to direct television episodes at the studio.  Eventually that led to feature films and of course a legendary directorial career followed.  There are other paths that rising filmmakers have take to establish themselves as an artist before Hollywood came calling.  A lot of the most prolific filmmakers of our time began their journeys directing projects like commercials and music videos.  Though these kinds of projects may seem small in comparison to what Hollywood rolls out, they are nevertheless great incubators for future filmmaking talent, because they allow for wannabe directors to develop a style and technique that they otherwise wouldn't be allowed to try within the studio run machine.  One such film director who managed to climb his way into the industry through music video and commercial production was David Fincher, whose style of filmmaking has made him a standout over the last 30 years.  Known for his fluid camera work and often shadowy atmosphere, Fincher has become one of the most sought after directors in Hollywood, and he has managed to get to this point while still maintaining an uncompromised vision as a director.
Born in Colorado, Fincher spent most of his developing years living in between California and Oregon.  His father Jack, a successful writer for publications such as Life Magazine, helped to give David a privilaged upbringing, including sharing a neighborhood with a future all star filmmaker like George Lucas.  That early connection would prove to be fortuitous, as right out of school, Fincher would begin work as a camera operator for his local Medford, Oregon news studio.  That job eventually led him back to Marin County, where he became an effects camera assistant at the newly formed Industrial Light and Magic (ILM), a company owned by former neighbor Lucas.  After his time at ILM, Fincher co-founded his own production outfit called Propaganda Films, which specialized in commercial and music videos.  Along with Fincher, Propaganda became a successful launching ground for a variety of future filmmakers, like Michael Bay, Spike Jonze, Gore Verbinski, Antoine Fuqua, and Zach Snyder to name a few.  For Fincher, he managed to carve out a successful run of music videos for artists as varied as Michael Jackson, George Michaels, Aerosmith, and Billy Idol.  It was his work with Madonna on videos for the songs "Vogue" and "Express Yourself" that particularly caught the eye of the executives at 20th Century Fox.  There, they offered Fincher his first chance at directing a feature; the third film in the Alien franchise, Alien3 (1992).  However, the experience proved to be a disaster for the first time feature director, with the studio constantly interfering, to the point where Fincher once demanded to have his name taken off the movie.  But,  Alien3 led to his next project, Seven (1995) which satisfied his filmmaking interests much better, and it continued into a prosperous and influential body of work ever since.  The following is an examination of all the traits within Fincher's filmography that has made him a standout in Hollywood, and one of the most influential filmmakers of his generation.
1.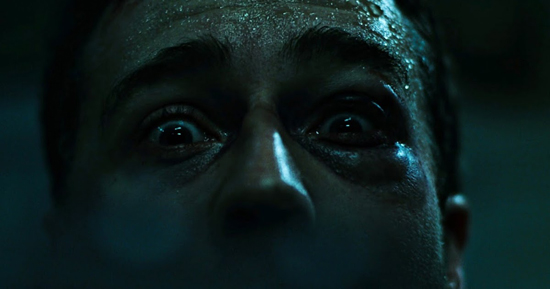 THE IMPOSSIBLE CAMERA SHOT
If there's anything about a David Fincher movie that immediately stands out, it's the way that he uses he uses the camera to basically go anywhere.  It's that kind of shot in a movie where the camera appears to move freely, through impossible places with movement that can't be accomplished practically without the aid of CGI.  It's like in a movie where you see the point of view of the camera move through a tiny space like a keyhole, or up and down through different floors of a building.  This has been commonly termed within the industry as the "Fincher Shot."  And though David Fincher has popularized this kind of technique, it's actually something that only marks a small period in his career.  What is consistent about David Fincher's style of shot composition is that he does rely on a steady, locked down camera.  Only in his early films like Seven and The Game (1997) do you see use of handheld photography, and even then it's kept to a minimum.  But starting with his next film, Fight Club (1999), we finally see him begin to play around with what can be done with Computer Animation.  In Fight Club, we see some amazing photography, accomplished with the aid of frequent collaborator DP Jeff Cronenweth, where the camera just flat out defies the laws of physics.  This includes a journey through the microscopic space of Edward Norton's sweat glands during the opening credits as well as a death defying plunge off a skyscraper and down through the street level into the underground parking garage, all in one shot.  Fight Club's  Impossible Shot style would become highly influential in the years ahead, and Fincher would continue using it in his follow-up films Panic Room (2004) and Zodiac (2007).  But, surprisingly, in the last decade, Fincher has abandoned this style in favor of more steady shots in The Social Network (2010) and Gone Girl (2014).  Even still, anytime a movie attempts a similar style of shot, it'll still bear his name, even if he has abandoned it himself.
2.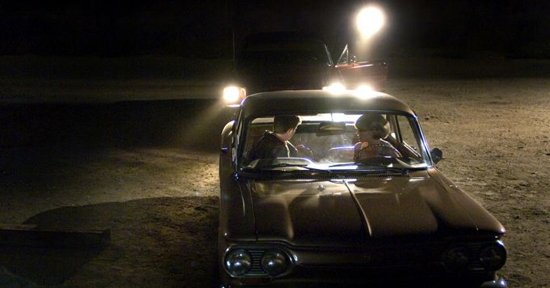 SHADOWY AND COLD ATMOSPHERE
Another aspect to the style of David Fincher films is the way he portrays the atmosphere.  In many ways, this was something that really carried over from his days in commercials and music videos.  Fincher loves to light his movies dark, and make extra use of shadow and high contrast to influence the atmosphere of his scene.  You can see that clearly in many of his movies, which seem to constantly be taking place mostly at night for some reason.  But not only does he like using shadows and darkness to create atmosphere in his story, he also drenches his movies in a cold, chilling effect as well.  The color timing of his movies always seem to favor a grading that evokes cool temperature.  This is especially ironic for a movie like Zodiac, which takes place in sunny California, but features an atmosphere as chilling as the subject matter of the story itself.  It's a trait that you can find in almost all of his movies, where everything, including warm interiors take on this weathered, almost haunted quality.  It's especially amplified when his movies are set in specifically cold places.  You can just feel the damp coldness of the snow covered Harvard campus in The Social Network, or the sub zero emptiness of the Swedish countryside in The Girl with the Dragon Tattoo (2011).  He hasn't always evoked this in all his movies though.  The fairy tale like The Curious Case of Benjamin Button (2008) featured a decidedly warmer atmosphere, reflective of it's deep south setting and it's more romanticized story.  But it's a rare stand out for a filmmaker with an eye more for the shadowy side of the world.  And indeed, if the fluid, unbound camera movement defined most of Fincher's earlier work, it's the dark and cold atmosphere that clearly defines him as a filmmaker in his more recent films.
3.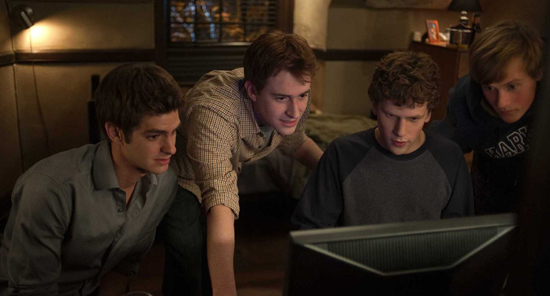 MASCULINITY UNDER A MICROSCOPE
Aside from his stylistic vision on film, Fincher also has consistent themes that have defined many of his films overall.  Chief among them is the exploration of masculinity within his movies.  In particular, he takes a look at the psychology of men in his movies; what makes them tick, what drives them to accomplish certain feats, and of course what ultimately make many men succumb to their own demons.  This is a thread that weaves pretty much through all of his movies, but certainly in some more than others.  This is particularly true with Fight Club, which is absolutely a deconstruction of the absolute limits of unchecked masculinity.  The film's narrator, played by Edward Norton, is so emasculated by his life trying to be a functional citizen in society, that eventually he begins to crack and (spoilers) forms an entirely new persona in the form of Tyler Durden (Brad Pitt).  Durden, the manifestation of all of the narrator's subconscious id, becomes that idealized male role model that the narrator wishes he was, not realizing that Tyler is still him.  Fight Club is the most obvious exploration of masculinity in Fincher's filmography, but it's likewise explored in his other movies too.  We see it in the clash between egos in The Social Network, or in the forensic exploration of what drives a serial killer in Zodiac.  And in each of his movies, with one notable exception, there is an idealized feminine presence that either resists the toxic masculinity of the male characters, or forces a reckoning that drives them to reexamine their ways.  This includes Marla from Fight Club, Daisy from Benjamin Button, Erica Albright from Social Network, or Lisebeth Salander from Dragon Tattoo.  Benjamin Button in fact takes the interesting turn of examining male development in reverse, which offers an entirely different angle to the theme in Fincher's movies.  From Seven and up to the recent Mank (2020), David Fincher's movies has always been fascinated by the effect of Masculinity, good and bad, on his character's development, and how the conflicts that develop from it provide the fuel for most of his movies.
4.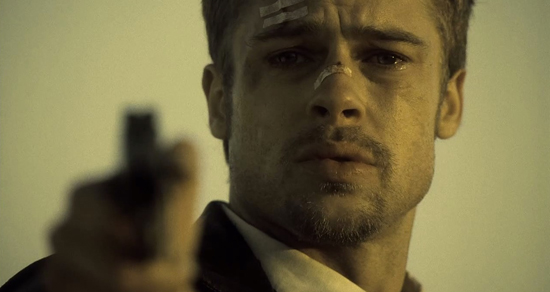 THE UNRESOLVED ENDING
One other theme that David Fincher likes to include in his movies is the denial of a conventional ending.  Fincher's movies often leave us on either a tragic note, or an open-ended one, and rarely does it leave the viewer with the riding off into the sunset kind of resolution.  Fincher's not against happy endings per say, but he seems to find it more satisfactory to leave the audience on a note that in real life, there are no easy answers that a pat ending could resolve.  No movie better exemplifies this than Seven, which completely subverts expectations on it's way to one tragic finale.  We believe that the two detectives investigating the string of Seven Deadly Sin murders, played by Brad Pitt and Morgan Freeman, are going to catch up to the killer and bring him to justice.  But then the killer, John Doe (Kevin Spacey) suddenly turns himself in and your expectations are completely flipped.  What happens next is a complete reversal of the murder mystery trope; Pitt kills John Doe and both he and Freeman's characters live to the end.  But, there is no victory, because John Doe got what he wanted and the Detective's life is forever ruined.  That's the kind of sour note that Fincher can perfectly orchestrate into a satisfactory ending.  We are denied the expected ending and are instead treated to something that while subversive still feels naturally earned within each particular story.  And that's something that carries through his other films.  In Zodiac, the mystery remains unsolved to the end, despite some promising leads.  In Social Network, Zuckerberg is left alone and isolated, despite being the founder of a website meant to bring people together.  And Gone Girl brings it's story right back to where it began, only with a chilling new context.  Never once does it feel like Fincher is cheating his audience out of a resolution, because he perfectly balances it out with compelling narratives that naturally should leave it's audience jolted and asking many more questions.
5.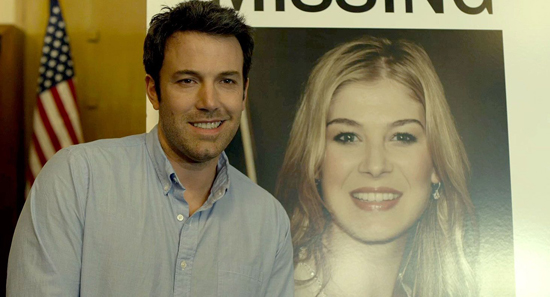 THE DEVIL NEXT DOOR
One other common trait of Fincher's movies is the way that he explores the darker side of humanity that lies just under the surface.  This is quite literally the case in Fight Club, as Tyler Durden becomes the living embodiment of the protagonist's worst subconscious impulses.  But Fincher also explores how even ordinary every day people around us can be capable of committing evil acts.  No one in The Social Network is inherently evil, but greed has motivated the characters in the film to backstab and destroy the lives of each other.  Fincher also likes exploring the idea of truly monstrous characters that on the surface appear to be completely normal.  In Seven, John Doe comes out of nowhere and is the least likely of suspects.  His name literally is the moniker given by crime scene investigators for individuals who remain "unknown."  The Zodiac Killer haunts the collective imagination of suburbia, and yet despite some likely suspects, we never know for sure who he really is, and David Fincher makes sure that mystery remains to the very end.  But perhaps the most profound exploration of this kind of character can be found in the persona of Amy Dunne from Gone Girl.  Played to perfection by Rosamund Pike, Amy appears on the surface to be an everyday suburban housewife who has fallen victim to her suspicious philandering husband (played by Ben Affleck).  But, as we learn through the course of the movie, she has a diabolical side to her that has enabled her to fake her own death and blame it on her husband.  Not only that, she's willing to commit murder and self harm just to maintain further control over her "narrative."  I think what interests Fincher the most with these characters is just exploring the depths people will go to achieve their goals, as sinister as they may be.  More than anything, there seems to be a rebellious nature to exploring the underbelly of society in his films, because it allows him to pull the curtain back on what are ultimately false assertions about how human beings are supposed to act within society, and how life is never like what we often see in the movies.
From the way he shoots his movies to the different themes that he likes to explore within his narratives, David Fincher has carved out a very respectable place within cinema history.  What is particularly interesting about him as an artist is that he is not one to rest on his laurels.  Even when we believe we've figured his style out, he begins to reinvent himself and creates a whole different technique to his filmmaking.  That's certainly the case with his newest film releasing on Netflix this weekend, Mank, which tells the story of famed Citizen Kane (1941) screenwriter Herman J. Mankiewicz.  Mank is completely different visually from anything else Fincher has made up to now, deliberately aping a throwback style reminiscent of movies of the 1940's in which the movie is set, and yet at the same time it feels like a natural move for the prolific filmmaker to undertake.  One thing that also has defined his career is the variety of movies he has made.  He rarely uses the same screenwriters on each of his movies, allowing for each film to have it's own voice, and that's allowed him to work with some amazing writers like Aaron Sorkin (Social Network), Eric Roth (Benjamin Button), Gillian Flynn (Gone Girl), and now even his own late father Jack Fincher (Mank).  And even though he has largely abandoned it in recent years, the "Fincher Shot" is still widely used on various films and it still bears his name.  There's no doubt that David Fincher will continue to be a productive and inspirational filmmaker for years to come, and his versatility and inventiveness almost certainly reflects what he learned the most in his early years in commercials and music videos; the constant drive to keep experimenting.  With every new movie, we see him try something new, and that's what has kept his movies remain fresh and exciting all these years later.  And if Mank is any indication, we are going to be treated to a whole new batch of interesting and new things from the director.