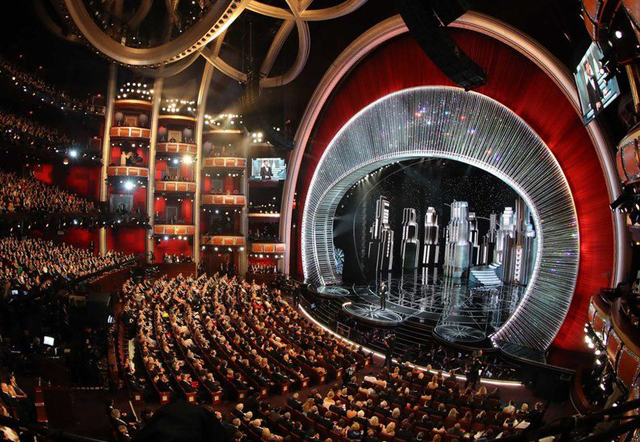 In it's 93 year history, the Academy Awards have grown into the film industry's highest level of achievement for every year.  In the last couple decades in particular, winning an Academy Award (or Oscar for short) is the ultimate goal that every studio and production company hinges their best hopes on when they reach the year's end.  The Oscars are an industry driver in of themselves, influencing the choices in casting, the amount of money devoted to a movie's production and it's promotion, as well as what a movie studio is willing to invest in buying the rights for a strong performer out of the festival circuit.  In the end, it all leads to one night time ceremony where all the efforts come to fruition, and the Hollywood elite are able to gather together and take part in a yearly celebration of their community.  The Oscars telecast itself has seen highs and lows over the years, and in many cases have offered up some truly memorable moments.  Whether it's an overly enthusiastic acceptance speech, a somber moment of reflection, an impassioned call for action, or just a crazy, out-of-the-blue moment of spontaneous insanity.  The history of the Oscars is just as fascinating as the history of Hollywood itself, with it's own twists and turns over it's near century of existence.  What follows is my own list of what I think are some of the most memorable and groundbreaking moments in the history of the Oscars.  They range between historic milestones to moments that will live in infamy.  I've also included embeds of those specific moments from the Oscars own YouTube page (I do not claim any ownership of these clips and they are the sole property of the Academy of Motion Pictures Arts and Sciences).  So let's take a trip down Oscar memory lane and look at the most memorable moments from the Academy Awards.
10.
TOM HANKS THANKS HIS GAY MENTORS IN FIRST OSCAR WIN (1994)
Tom Hanks is without a doubt his generation's most respected movie star.  With a career that now spans across 5 decades, he has been a part of some of cinema's most iconic films in the last half century, and has been duly honored for his many iconic performances.  He stands alongside the likes of Spencer Tracy, Kathrine Hepburn, Luise Rainer and Jason Robards as one of the few who have won back to back honors at the Oscars in the same category.  His two Oscars were for the movies Philadelphia (1993) and Forrest Gump (1994).  While both Oscar wins were well deserved for the extremely versatile performer, it was his performance as an AIDS stricken gay man fighting for his rights in Philadelphia that is especially well remembered.  Also remembered fondly was Hank's impassioned acceptance speech that night.  After thanking his loved ones and creative collaborators, Tom continued with a special recognition of two people in particular.  One was his high school drama teacher, Raleigh Farnsworth, and the other a close friend and classmate named John Gilkerson.  He named these two individuals in particular because they were the first people who he knew that were gay, and their friendship with him helped to shape Tom's compassionate attitude towards the gay community.  In his speech, Hanks goes beyond just acknowledging the many victims of the AIDS epidemic, and makes a plea for tolerance for the entire Queer community in general.  "My were honored here tonight is magnified by the fact that the streets in heaven are crowded with angels," he remarked, and it was a more powerful statement in that ceremony than any red ribbon worn on a dress or coat could have made.  The moment was so memorable in fact, that it inspired it's own movie, In & Out (1997), with the twist being the teacher thanked in the speech was not fully out of the closet.  Queer acceptance in society has faced a long uphill road, but with moments like Tom Hank's win and acceptance speech for Philadelphia, the conversation was thankfully moved in a direction that made it possible for future progress to be made.
9.
"IT'S…A TIE" (1969)
The voting results of the Oscars are a closely held secret, but we do know for certain how the Academy votes are tallied.  What the Academy uses for many categories is a weighted system based on ranking members choices for each category, and then having those rankings weighted together with the straight across vote count.  This system is still in use today for many categories, including Best Picture, which has led to some interesting results over the years (more on that later).  One of the interesting results of this voting system is that it often leads to a tie in some categories, even though the base vote count may favor one winner over the other.  Usually this happens in some of the lower tier categories, and even then only rarely.  The last time it occurred was in 2012 with Sound Editing, with Zero Dark Thirty and Skyfall sharing the honor.  However, the categories that don't use the weighted system are the acting categories, which are determined solely by popular vote.  This was enacted in 1968 by then President of the Academy, Gregory Peck, and the Board of Directors in the hopes that it would eliminate any confusion over the winner and prevent a thing like a tie from happening.  So, you can see why presenter Ingrid Bergman was so surprised when she opened the envelope for Best Actress to see two winners.  For a tie to happen in this new system, it means that the winners had to have had the same exact number of votes, meaning that this moment achieved the even rarer feat of being the only ever exact tie in Oscar history.  The honors in that unprecedented moment went to Kathrine Hepburn for The Lion in Winter (her third overall) and Barbara Streisand for Funny Girl (her first and only).  Ms. Hepburn, a perennial no-show, had director Anthony Harvey accept for her instead, so Babs had the spotlight to herself in this crazy moment.  The feat of an exact tie has yet to be repeated since, but what this moment proved is that nothing is impossible at the Oscars.
8.
THE STREAKER (1974)
The Oscars are first and foremost a classy, refined presentation, sometimes to a fault.  The intent is to showcase the glamourous side of the business, with so much effort put into showmanship and eye catching fashion during each ceremony.  But, every now and then, whether planned or not, some moments break through the stuffiness and instantly become the thing of Academy Awards legend. One such moment happened near the end of the 1974 Oscars ceremony.  Jack Lemmon had just left the stage after picking up his Best Actor honor for Save the Tiger (1973) and David Niven approached the podium to introduce the next presenter.  Niven expected in that moment to give a respectful introduction to Elizabeth Taylor, spotlighting her impact on the silver screen and her charitable endeavors off it, but not everything went as planned.  Suddenly out of the wings of the Oscars stage came a man running behind David Niven completely naked.  The "Streaker" was an amateur photographer named Robert Opel who somehow managed to sneak into the backstage of the Dorothy Chandler Pavilion, strip nude, and run across the stage while cameras were rolling live across the world.  He was immediately apprehended by security, but not before causing mayhem on stage and giving the the Hollywood elite an unexpected shock.  Poor David Niven was in the the awkward situation of trying to get the ceremony back on track, but with some savage and dry British wit, he did just that, saying, "isn't it fascinating to think that the only laugh that man will ever get in life is by stripping off and showing his shortcomings?"  It was a spectacular bit of chaos to shake up the stuffiness of the Oscars and also a pitch perfect response from one of Hollywood's most quick witted actors.
7.
CHRIS ROCK'S "OSCARS SO WHITE" MONOLOGUE (2016)
One of the long standing traditions at the Academy Awards ceremonies is having a well known comedian, actor or stage performer take on hosting duties.  Sometimes the Academy will enjoy a host so much, they'll ask them to come back multiple times.  Bob Hope, Johnny Carson, and Billy Crystal in particular were prolific in their multiple appearances at the Oscars.  And usually one of the things that made their appearances so entertaining were the monologues that they performed at the opening of the ceremony.  During these monologues, the host is able to take the opportunity to poke a little fun at the industry, and help deflate some of the pomp and circumstance a bit in order to allow the people watching at home to have a good laugh at Hollywood's expense.  It's all in good fun, but oftentimes, the host is made to toe the line in order not to offend those in the audience too much, and steer clear of touchy subjects as well that might reflect badly on the industry.  However, when the Oscars court controversy of their own, and have to eat crow for their own shortcomings, it does free up the host to take the gloves off and actually hit a little harder.  One such confluence happened in the aftermath of the "Oscars So White" controversy, where for several repeated years in a row, the Academy had failed to nominate an actor of color in their top categories.  By coincidence, this controversy arose the same year that black comedian Chris Rock was set to host.  So, with the Oscars in a position where they needed to be publicly shamed and a comedian whose proficient in tackling racial issues in his stand-up, the result ended up being one of the funniest, no-holds-barred Oscar Monologues in it's entire history.  Chris Rock did not hold back, with some hilarious zingers like "Welcome to the White People's Choice Awards," as well as a couple of jokes so hard hitting that you could feel the audience at the Dolby Theater squirm in their seats a little.  Even still, it was great to see Chris Rock take his opportunity and run with it, even going beyond critiquing just the Oscars and actually addressing the problem with lack of representation across the entire industry.  Most importantly, he kept it funny while at the same time pointed and it resulted in the best Academy Awards opening ever.
6.
HATTIE MCDANIEL MAKES HISTORY (1940)
Speaking of racial barriers in Hollywood, the early Golden Age of Hollywood was one marred by a history of racism that prevented many people of color from achieving any semblance of equality within the industry.  Black actors in particular were pretty much relegated to servant roles, with very little presence on screen and even less influence behind the camera.  It was sadly a result of not just Hollywood's racist past, but America's as well, where movies were made to prop up the false narrative of black servitude in a world of white superiority.  Very few black actors that chose to work through that system very rarely ever won praise from it, often being looked down by their white co-stars and being chastised by black activists who blamed them for propagating these negative stereotypes.  There were a couple of black actors that did rise above the prejudices of the day and demanded attention from both Hollywood and audiences alike.  One of those trailblazers was Hattie McDaniel.  McDaniel had been a popular stage performer before making her way to Hollywood.  She broke through the prejudices of the day by becoming a scene stealer in the Kathrine Hepburn screwball comedy Alice Adams (1935), playing an assertive, sharp-tonged household maid, upending the common stereotype.  She took her newfound popularity to help build a healthy career as an actor, even despite being relegated to servant roles, because she could make them her own.  This led to a highly coveted role of Mammy in the epic Gone With the Wind (1939), a role that though controversial would still turn her into an icon.  The historic success of that movie carried through to the Oscars, and Hattie too made history by becoming the first ever person of color to receive the honor of an Oscar win.  Even still, Ms. McDaniel had to enter the Ambassador Hotel venue through a back door kitchen entry instead of walk the red carpet with her co-stars, and she was made to sit in the back of the room well out of view of the rest of the attendees.  It was a small, maybe even empty gesture, but it was one that carried a lot of weight for black actors everywhere who strived to build upon what Hattie had started.
5.
JACK PALANCE SHOWS OFF ON STAGE (1992)
One of the little thrills of the Oscars ceremony is not knowing what the winner might do once they take the stage to accept their honor.  For the most part, the winners give a heartfelt thanks to their loved ones, their co-stars and their agents.  Some take their moment on stage to use as a soap box for a cause that is special to them.  And then you have the wild cards who do something on the stage during their acceptance speech that you would've never expected.  Jack Palance was one of those wild cards when he won his Oscar for Supporting Actor in City Slickers (1991).  Now, Palance's win was not unexpected.  He was one of the industry's most beloved and well-respected actors whose place in the pantheon of Academy Award winners was long overdue.  But, when he took the stage to accept his Award, what followed was not what anyone expected.  The often ornery and hilariously callous actor immediately began by taking a jab at his City Slicker co-star, Billy Crystal, who was also hosting that night, saying, "Billy Crystal; I crap bigger than him."  He then went into a diatribe about young vs. old actors, which led to the then septuagenarian actor towards feeling compelled to show off his virility there in that moment.  He walked away from the podium, and proceeded to do one-armed push-ups in front of the whole audience.  The moment received a raucous amount of laughter, and remained the talk of the night for the rest of the ceremony.  It was especially mana from heaven for host Billy Crystal, because now he had fodder to make fun of for the rest of the ceremony.  What's especially great about Jack Palance's speech is just how spontaneously off-the-wall it was, with the actor clearly not giving a damn how he looked in the moment and just showing off what a good time he was having.  It's moments like this that people love to watch the Oscars for, and it's especially great when a legendary performer like Palance basically gives us what we wanted.
4.
SIDNEY POITIER BREAKS DOWN BARRIERS (1964)
Hattie McDaniel's Oscar win for Gone With the Wind was historic to be sure, but the world was very different twenty-three year later when that feat would be repeated once again.  The Civil Rights movement had taken hold in America, as black people across the country demanded an end to the Jim Crow laws and racial segregation that had blocked them from gaining any meaningful sense of equality in society.  Hollywood went through it's own reckoning, as more and more filmmakers were addressing the issue of Racism in America more head on than before.  And more importantly, it was doing away with the racial stereotyping that had long been used to misrepresent people of color in modern society.  One of the pioneers of this period in time who managed to rise above and become the first black performer to become a head-lining movie star was Sidney Poitier.  Poitier commanded the screen with dignified, powerful performances that broke free of stereotype in beloved movies like No Way Out (1950) and Blackboard Jungle (1955) and The Defiant Ones (1958).  But, in the early 60's when civil rights marches were happening all over America, Poitier not only proved to be a powerful actor on screen, but a defining symbol of empowerment for black people in all walks of life.  It seemed inevitable that Hollywood would come to recognize that too.  With his acclaimed performance in the movie Lillies of the Field (1963), Poitier made history as the first actor of color to win an Oscar for a Leading Role.  Picking up where Hattie McDaniel left off, Sidney's win was an important statement and so much more than an empty gesture.  It was Hollywood declaring that things were going to change and that black performers were no longer going to be a novelty but rather an integral part of the industry going forward.  Sadly, it would take another long spell for a black actor to win again, with Denzel Washington winning Best Actor for Training Day in 2002.  Poitier's win meant a lot for America, it's just too bad that it's taken us so long to live up to it as a society.
3.
MARLON BRANDO REFUSES HIS OSCAR WIN (1973)
Politics have always managed to find their way into the Oscars ceremony.  Most often there are jokes made at the expense of certain political figures, and at other times a winner will use their moment on stage to make a statement on any certain issue.  And then there are moments where the very acceptance of an award becomes a statement on it's own.  It's sometimes hard to believe that anyone would want to refuse something as monumental as an Oscar win, but it has actually happened twice in the history of the Oscars.  The first was in 1971, where actor George C. Scott refused his win in the Best Actor category for the movie Patton (1970) because he considered the very idea of popularity contest like the Oscars to be detrimental to the art of acting.  More of a personal choice than a political one.  However, only two years later, another Hollywood icon would likewise refuse his win for Best Actor as well, and he did so in the most unexpected of ways.  Marlon Brando was a no-show when his name was read on stage for his winning performance in The Godfather (1972).  But to everyone's surprise, a woman dressed in Native American clothing took the stage on his behalf.  Her name was Sacheen Littlefeather, a representative of the Apache tribe.  She first refused to take the Oscar from the presenters and instead took to the podium and delivered a statement from Brando addressing the misrepresentation and lack of support for Native Americans within the film industry.  She was immediately met with boos from the audience, as well as a few cheers of support.  Immediately, the industry complained that this was disrespectful troll on Brando's part, and conspiracies persisted that Sacheen wasn't even a real Native American but was instead was an adult performer that Brando had paid off to prank the Oscars.  Sadly, the moment's peculiar circumstance overshadowed the very real statement that was being made, and it was perhaps unfair to ridicule an activist like Ms. Littlefeather just as a way to knock down Brando for disrupting their, as he put it, "little fantasy."  Even still, it's a moment in Oscar History infamy, and one that honestly deserves a more enlightened reexamining.
2.
CHARLIE CHAPLAIN RETURNS FROM HIS HOLLYWOOD EXILE (1972)
There has long been a tradition of singling out a beloved member of the Hollywood community for a special recognition, often as a celebration of their entire body of work towards the later part of their career.  It's also a great way of giving beloved actors and filmmakers an Oscar that often eluded them in competitive races.  Basically, it gives these perennial bridesmaids a chance to finally take an award home for themselves.  For a lot of moments like these, they are a great trip down memory lane for everyone, both industry professionals and audiences alike.  But sometimes the honors take on an even more poignant significance.  That was the case at the end of the 1972 Oscar ceremony.  This year, the Academy was honoring one of the pioneering icons of the entire film industry, the legendary Charlie Chaplain.  Chaplain being honored by the Oscars was obviously inevitable, given his irreplaceable influence on the artform.  But what proved to be especially surprising was that Chaplain was there to receive the honor for himself.  Mr. Chaplain had for years been blacklisted by Hollywood, because of his support for liberal causes that unfairly labeled him as a Communist agent by the US Government.  Even as the Blacklist was lifted, Chaplain still chose to remain exiled, fearing further mistreatment by the film industry that he helped to build.  But, when news came that the Academy wanted to honor him with an Honorary Award, he decided it was time to reconcile the pain of the past and he returned to America to accept the honor in person.  His return was greeted with a rousing standing ovation from the attendees at that years awards, and he appeared visibly touched by the moment.  After accepting the Award, presenter Jack Lemmon gave Charlie an extra surprise by also presenting him the trademark bowler hat and cane that he used for his famous Tramp character for years.  Chaplain returned the loving gesture by recreating a simple but memorable physical bit with the hat, showing that the master still had a little bit of that playfulness in him all these years later.  Sometimes the Oscars can bring a moment of genuine love for the art of film, and it was a great way to also give a legend like Chaplain the true Hollywood ending he deserved.
1.
THE MOONLIGHT/LA LA LAND INCIDENT (2017)
Through all the years of the Academy Awards, there has never been a moment that has ever been as crazy as this.  Sure there have been unexpected surprises and moments of shock, often from the unpredictability of what happens once that envelope opens.  But, until this Oscar ceremony, everything still went according to plan.  That was until presenters Warren Beatty and Faye Dunaway took the stage to deliver the last award of the night, Best Picture.  Up to this point, it was just another average Oscar ceremony.  But once the envelope was opened, Warren immediately had a confused look on his face.  The audience thought he was clowning around in order to milk the moment, as did Faye.  She took the initiative and just read the title that she saw on the card and declared the winner to be La La Land (2016).  Now, nobody in the audience was suspicious of anything being wrong; La La Land had long been a heavy favorite for Best Picture, and had already cleaned up throughout the show.  But, as the La La Land team took the stage and delivered their acceptance speeches, the shows producers suddenly stepped in as well.  Then unexpected truth had been revealed; the wrong card had been read, and La La Land didn't actually win Best Picture.  Thankfully, La La Land's producer Jordan Horowitz sought to set things right and graciously handed the award to the true winner, Moonlight; a moment of true selflessness that you rarely see happen at these ceremonies.  Warren of course received unfair blame for what happened, and he tried to explain himself on stage; the real culprit for the mix-up was a careless accountant backstage who mistakenly gave Beatty the envelope for Best Actress instead, which went to Emma Stone for La La Land.  Warren and Faye were able to redeem the moment by returning the following year for a do over, which they thankfully got the right envelope for (with The Shape of Water winning).  It's hard to think that a mix up like this would happen at a ceremony as tightly controlled as the Oscars, and with the biggest award of the night no less, but that's what happened, and it was a moment that no doubt will never be topped as the craziest moment in Oscars history, as well as it's most memorable.
Regardless of who wins the awards each year, the thing that makes the Academy Awards such an interesting institution in the film industry is the fact that it is a snapshot in time of what was going on in the evolution of Hollywood over the years.  You can look back on the many different ceremonies of the Academy Awards and see just how much the industry has changed.  More than just the famous faces that come and go throughout the years, we also see a big change in the ways that Hollywood deals with the issues of the day, how they respond to rise and fall of many of their own, and how they try to keep tradition moving on even as the world around the ceremony is constantly changing.  This year in particular will be an interesting chapter added to the overall story of the Academy Awards, as we are about to see an Oscars affected heavily by the pandemic, both in the movies represented and also in the choices of how to present the winners with their award.  It will be interesting to see if this year's awards have a larger affect on the future of the Oscars, as changes often take hold and leave an impression on the Awards.  Even still, you can still see a common thread throughout Oscars history of change being a good thing, like the increased representation and more tolerant attitudes to movies that fall outside of the norm.  And the fact that the Academy Awards holding itself up as the highest honor the industry can give has not even waned over the years still shows that the Oscars are going to be an important part of movie history for many years to come.   It can be a bit of a stuffy, self-important ceremony that often feels behind the times, but it still offers some unforgettable moments that in themselves contribute to this beautiful and continuing narrative that is the history of the Oscars.  Hopefully this year, we may see even more moments that will stand along with the ones I spotlighted here.  Like the movies they honor, the Oscars are an adventure in of themselves, and one that can really take it's audience for a wild ride.