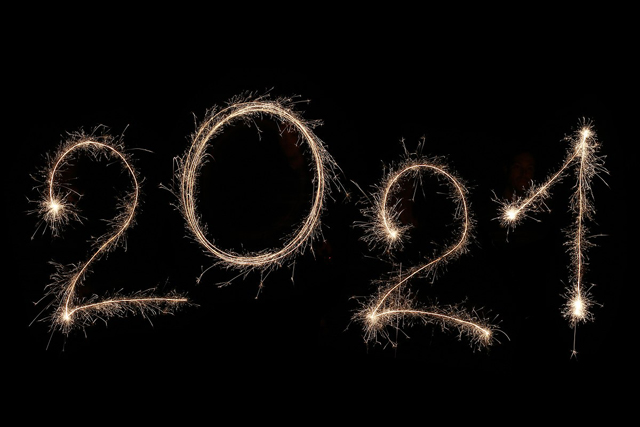 From where the year 2021 started to where we are now is in many ways more of the same, but in other ways it was also a big change.  This is certainly something that has been felt at the movies.  When the year began for me, I was continuing the same pattern of film going that I had spent most of 2020 doing; mainly finding open theaters where I could.  Here in Los Angeles, movie theaters remained closed for the first two months, and it was also the case statewide, so even driving to a movie theater on a day trip was impossible.  All I had were the local drive-ins, which is where I went on almost a weekly basis to catch the last minute Oscar films that were slowly being rolled out, even in the wake of the pandemic.  Then, finally, after a full year of closure, my local area movie theaters reopened in early March 2021.  And since then, I've been making up for lost time like crazy.  Thankfully my AMC A-List membership is still valid, and I made good use of it all year long.  It took a while for things to actually look like normal again at the movie theaters, as many of the bigger films were holding off until the Summer, but once they did start coming, it was a deluge.  2021 was in fact a record breaking year for me as a movie-goer, as I saw more movies in a theater this year than I have in any year prior; which is quite remarkable when you consider this is coming right after a year long pandemic lockdown.  I think it's probably due to my enthusiasm for being back in a theater setting, and also the fact that the theatrical schedule was very jam packed this year.  Not only were we getting the movies planned originally for 2021, but we were also getting all the exiles from 2020 that had found a new home on the schedule this year.  Suffice to say, I had a lot of movies to go through in order to make my end of the year list here.  It's quite a year when filmmakers that I adore like Steven Spielberg, Wes Anderson, James Gunn, Guillermo Del Toro and Edgar Wright all had excellent movies this year and still didn't make my list.  It's just shows that this was a year full of riches, but in many ways, it was the experience of being back in movie theaters that made 2021 feel so rewarding.
Here are a few of the movies that I found noteworthy, but fell just outside my top ten: Annette, Benedetta, The Card Counter, Drive My Car, Don't Look Up, The Father, The French Dispatch, The Green Knight, In the Heights, Judas and the Black Messiah, Last Night in Soho, Nightmare Alley, No Time to Die, Nomadland, One Night in Miami, Raya and the Last Dragon, The Suicide Squad, Spider-Man: No Way Home, The Tragedy of Macbeth, and West Side Story (2021).  And with that, let's take a look at the movies that I believe were the Top Ten of 2021:
10.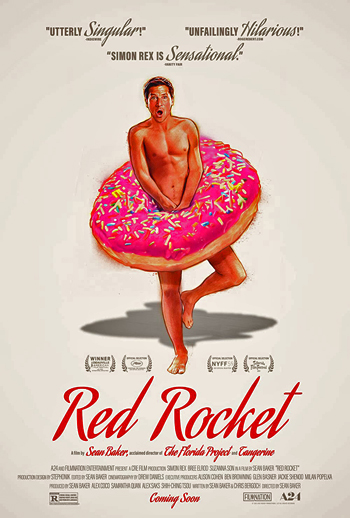 RED ROCKET
Directed by Sean Baker
The films of Sean Baker thus far have carried a consistent theme up to now.  He seems to be attracted to characters that live on the fringes of paradise, showing the underbelly of American society while also at the same time finding the beauty in those small stories that the rest of us often look the other way from.  In Tangerine (2015), we follow the story of Transgender hookers making it through a hard night on the outskirts of Hollywood.  In The Florida Project (2017), we follow the story of a little girl and her messed up mom living in a slum just beyond the boundaries of Walt Disney World in Florida.  With Red Rocket (2021), Baker turns his sights to the misfit denizens of Texas City, Texas; a tiny oil-refinery town that most people would drive right past and not stay a second longer.  Like those two other films, Sean Baker brilliantly brings you into this often ignored world with his authentic American neo-realism, making you forget that you are watching a movie and instead makes you feel like you're ease-dropping.  And that at times can become uncomfortable, but still entirely fascinating.  What really carries this movie through is an unforgettable performance from a revelatory Simon Rex, playing a washed up porn actor trying to worm his way back into his past life.  Rex manages to walk that tight rope between making his huckster character thoroughly repulsive while at the fascinating to watch.  The movie also works a subtle political allegory into the story of Rex's Mikey Saber, having the film take place during the rise of Donald Trump during the 2016 presidential election, and drawing parallels between the dual sleazy con men; obviously one at a much smaller scale.  At the same time, Baker creates this remarkably charming pastoral of Americana on the fringes, casting his film with bright colorful sunshine and vibrant colors.  And it also makes surprising thematic use of N'Sync's "Bye, Bye, Bye," as a through line in the story.  Another strong American parable from one of our quietly subtle master directors.
9.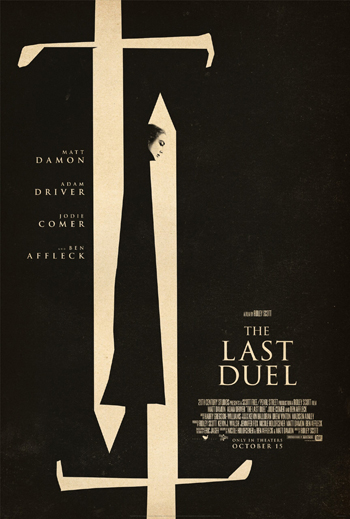 THE LAST DUEL
Directed by Ridley Scott
2021 proved to be a surprisingly strong year for films about medieval times.  Some of that had to do with movies that were holdovers from 2020, but it was still a year of riches for the sub-genre.  We got the surreal The Green Knight (2021) from director David Lowry, which turned the classic poem into a surreal work of art.  Paul Verhoeven tapped back into his sensationalist provocative style with his film Benedetta (2021), which was about lesbian nuns in a medieval French convent, one of whom also lusts for Jesus.  And then the year closed out with Joel Coen (flying solo this time without his brother and longtime filmmaking partner Ethan) reimagining The Tragedy of Macbeth in an abstract, monochromatic art film.  All were interesting in their own way, but I feel like the one that stood out the most was the extravagant drama put together by the always bigger than life Ridley Scott.  The Last Duel has all the pagentry and epic scope you'd expect from the man who made Gladiator (2000), but there is surprisingly a lot more to this movie than production design.  It is also a provocative examination of justice with regards to the aftermath of a sexual assault.  Scott breaks from a conventional narrative structure and tells the story of a French noblewoman who broke her silence to accuse her rapist publicly and hold him accountable through three different points of view.  Borrowing from Akira Kurosawa's Rashomon (1950), The Last Duel shows us the same story three time, but each one from a different perspective (the lady, the man who raped her, and the lady's husband).  Each story offers up an interesting examination of what the truth really means, and it's interesting how each character is viewed differently in each version.  Each of the film's stars (Matt Damon, Adam Driver, and especially Jodie Comer) magnificently capture the different subtleties of character, while still keeping the through line interesting.  The movie also marks the first screenwriting collaboration between Matt Damon and Ben Affleck (who also has a juicy supporting role) since Good Will Hunting (1997), with contribution from Nicole Holofcener as well.  It's a remarkably strong statement of a film for the #MeToo moment in our society, and it shows that even into his eighties, Ridley Scott can still deliver a film that is both epic and provocative at the same time.
8.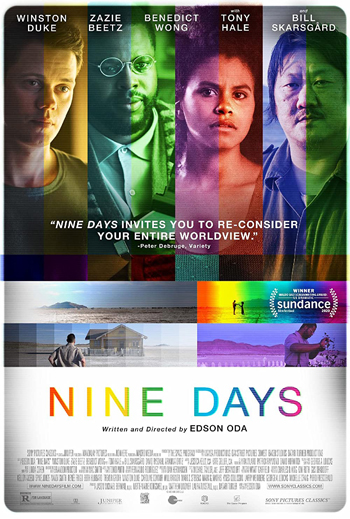 NINE DAYS
Directed by Edson Oda
Going from a big movie to a very small one, but still one with very big ideas.  I was probably one of only a handful of people who saw this movie during it's brief run in theaters last summer, but I'm absolutely glad I did, because it became this unexpected discovery.  This small indie, which was picked up at Sundance in 2020 right before the advent of Covid, had probably the most original story premise that I saw all year.  It's about a bureaucrat (played by Winston Duke) living in a stage of pre-life, and his job is to select from a group of a dozen candidates a person who will get to live.  All the others he doesn't chose will cease to exist entirely.  And he must do so in the titular nine days.  It kind of treads the same ground as Pixar's Soul (2020), but does so in a very stripped down and even more emotionally weighty way.  The focus is not on the potential souls waiting to be chosen for life.  It's on the person who has to carefully make that decision.  It's a real introspective film in the best possible way.  The movie asks us what the purpose of living is meant to be; are we using the time given to us to it's fullest potential.  The movie's most heartwarming moments come when our main character has to let each of the unselected souls go, but not before granting them one wish before they disappear.  The way he and his assistant (played by Benedict Wong) put together these wishes are especially imaginative and touching.  The movie also features some strong performances from the various and different candidates, including Bill Skarsgard, Tony Hale, and Zazie Beetz.  Beetz's character is an especially interesting wild card who definitely makes the most of her nine days and even makes Duke's bureaucrat reconsider his own outlook on life.  I love the little world-building that this movie undertakes, making this fantastical concept feel believable while at the same time feeling intimate in that kind of indie film way.  It's a movie that really has a character all it's own, and manages to grasp big concepts in a way that feels natural to it's small scope.  Trust me, it's a movie well worth seeking out and getting lost in.  It might even make you look at the world and your own place in it a very different way, and hopefully show you how much life and the time we spend should be valued.
7.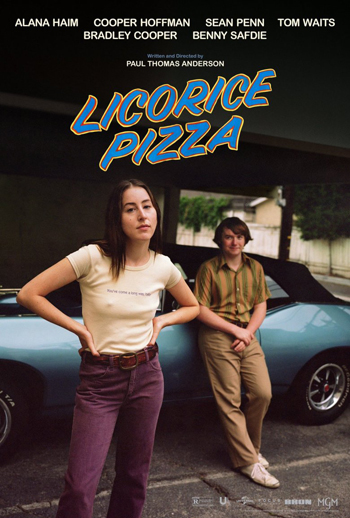 LICORICE PIZZA
Directed by Paul Thomas Anderson
The forever daring P.T. Anderson returns to his San Fernando Valley roots with this new, personal ode to the Los Angeles of his youth.  It's definitely a welcome departure from Anderson's recent slate of heavier themed films like There Will Be Blood (2007), The Master (2012), and Phantom Thread (2017), and is more akin to his earlier work like Boogie Nights (1997) and especially Punch-Drunk Love (2002).  It also sees him returning to an episodic narrative as well like Magnolia (1999), except with a through line following an unconventional love story.  At the center is our destined couple, one a brash young child actor named Gary (played by Cooper Hoffman) whose hustling his way to his next big idea, and the other a dazed and confused young woman whose almost 10 years his senior named Alana (played by Alana Haim) who he has somehow has managed to coax into tagging along on his adventures.  And from there, Anderson takes us on an often comical journey through a bygone era in the Southland.  The different ups and downs of their relationship helps to fuel the film's most memorable moments, and the movie offers a very comical look at youth in a community driven by opportunity.  Like most of Anderson's movies, he puts an incredible amount of work into crafting a look and feel of the period in which his movies are set, and Licorice Pizza feels especially authentic.  From the use of time capsule locations, to the period costuming, to the perfectly chosen needle drops, this is a movie that really transports you back to 1970's Los Angeles.  And being a San Fernando Valley resident, it's especially rewarding to see places I'm familiar with show up in this movie.  Both Hoffman (taking over from his late father Phillip Seymour Hoffman as an Anderson leading man) and Alana Haim play their respective roles to perfection, especially the firecracker performance that Ms. Haim puts in.  The supporting cast of notable names are also on point as well, especially a scene-stealing Bradley Cooper as notorious Hollywood producer Jon Peters.  It's definitely a movie personally connected to Anderson based on his own life, and it's a joy seeing this loving tribute to the other side of Hollywood so lovingly brought to life.
6.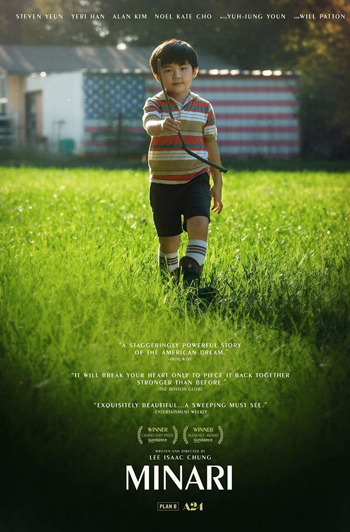 MINARI
Directed by Lee Isaac Chung
As a consequence of the chaotic year that was 2020, most of the movies that ended up being the front-runners for that year's Oscars were not widely available to view until later in the awards season, spilling over into Winter of 2021.  Because the Oscars were delayed until late April, it extended the qualifying runs up to the end of February last year, and that's when I was able to see most of the 2020 Best Picture contenders.  And it was a few: The Father, One Night in Miami, Promising Young Woman, and the eventual victor, Nomadland.  And while many of them were excellent films, the one that stuck with me all through the rest of the year was this delightful little drama about a Korean immigrant family trying to start a farm in rural Arkansas.  Though I didn't mind the Chloe Zhao directed juggernaut of Nomadland winning the top award at the Oscars, this was without a doubt my favorite pick of the bunch, and I feel it's worth spotlighting again as this was technically a movie that was released widely this year and should be on a best of the year list.  I just adored this family drama, and it's mainly due to the wonderful characters that are a part of it.  Steven Yeun is fantastic in his Oscar-nominated role as the downtrodden patriarch of the family, trying his best to set roots for his family in a part of the country where they definitely stick out.  But the real stand outs in the film are the little boy and his mischievous grandma.  Alan S. Kim perfectly captures this precocious young kid stuck in between two worlds as a first generation Korean American.  And Yuh-Jung Youn absolutely shines in the role that won her an Oscar as the often vulgar old dowager of the family.  Lee Isaac Chung, who based the movie largely on his own upbringing, injects this beautiful humanity into the film, and manages to avoid sensationalizing the underlying politics of the film.  It could've been so easy to mishandle this kind of immigrant story and inject too much of a broader worldview into it.  Instead, Chung keeps the story earthbound, and that helps the themes resonate all the more.  It's a real testament that even with all the many films that I saw this year, this contender from last year's Oscars that I saw all the way back in February managed to still make my best of the year list after so many months.  That's a mark of a really good film.
5.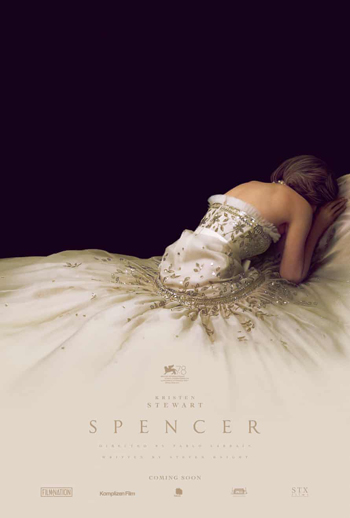 SPENCER
Directed by Pablo Larrain
Both a true life drama, and also a sort of anti-biopic, this interesting new film from the director of Jackie (2016) takes another historically fated iconic woman from recent history and creates an imagined look what a day in her life might have been like.  Showing a fateful Christmas weekend for the one time Princess of Wales, the movie creates this unforgettable and oftentimes harrowing examination into the personal life of Princess Diana.  While the movie is extraordinary in it's lavish and yet earthbound visuals, what sets this film apart is the unconventional and outside the box casting of Kristen Stewart as Diana.  Going into this movie, Stewart would seem to be among the least likely choices to play such an iconic historic figure, and yet, she absolutely nails it in the end.  There are even some points where the resemblance is uncanny.  She get the voice right, the walk, and even the upward glance stare.  It's without a doubt one of the best performances of the year (if not the best) and will almost assuredly net Kristen at least her first Oscar nomination.  But, even without that performance, the movie would have still been an excellent production overall.  I love the way that director Pablo Larrain uses very wide angle lenses to make the hallways of Sandringham Palace feel even more isolating for Diana.  There's also this very interesting subtext throughout the movie, with Diana constantly being haunted by the spectral memory of Anne Boleyn, whose ultimate fate feels like an omen for Diana's future, an idea which drives the current princess to some deep despair.  And yet, even through the sometimes oppressive gloom, the movie manages to surprise with moments of true joy, especially when Diana is with her two sons, William and Harry.  Even though we all know Diana's full story, and almost every facet of her life has been examined throughout the media, this movie still manages to craft a story that shows a side of her as a character that we haven't seen before, or at the very least never considered.  It also, despite all the gloom, manages to find a happy ending for this ultimately doomed figure, and even more surprisingly it involves KFC chicken.  One of the most surprisingly emotional character studies of the year.
4.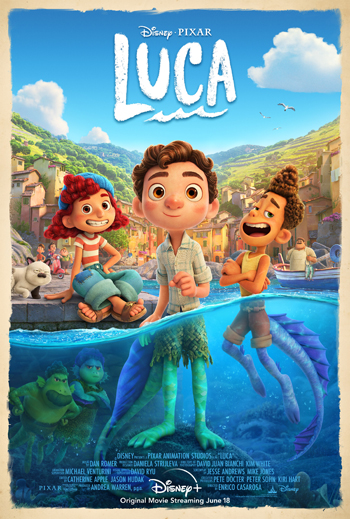 LUCA 
Directed by Enrico Casarosa
Tragically, because of the on-going effects of the pandemic, most people were unable to watch this movie the way it was intended; on a big screen (a practice that sadly is still affecting Pixar films).  But, whether on a big or small screen, this was one of the most entertaining and delightful films of the year.  Pixar again delivers with this charming coming-of-age tale of two young sea monsters hoping to make their dreams come true in the human world.  The movie of course makes the most of it's "what if?" scenario, which has been a thing that the master filmmakers at Pixar have always excelled at.  But even by their own high standards, Luca is especially effecting and inspiring in it's narrative.  The friendship at the heart of the story, between Luca (voiced by Jacob Tremblay) and his more adventurous companion Alberto (voiced by Jack Dylan Glazer), is what really drives the story to delightful ends.  The movie's montages of them trying to emulate human activity, like riding a Vespa, and failing badly, are some of the film's most charming moments.  At the same time, the movie also becomes surprisingly inspirational.  Whether it was intended this way or not, the movie works very well as an allegory for queer youth coming to terms with their identity and wanting to motivate the world around them to accept them for who they are.  Pixar may not have set out to make a movie like that to begin with, but they're not opposed to that interpretation either and have in retrospect quietly given the idea their approval.  It is already being heralded within the LGBTQ community, so I think it's only a matter of time before this becomes a future officially acknowledge queer themed movie.  Regardless, it's another triumph for Pixar, with a genuinely charming story and imaginative visuals, which owe a bit of inspiration to the films of Hayao Miyazaki.  Hopefully, one day, this movie gets a big screen revival, but until then, for this year it's another definite winner for Pixar Animation.
3.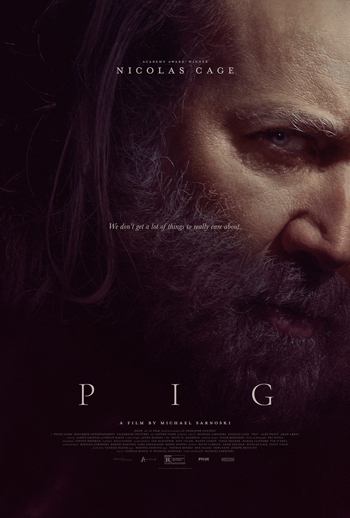 PIG
Directed by Michael Sarnoski
I may be a bit biased on this one, because this is a film that both takes place and was shot in my home state of Oregon.  But even if it wasn't, I still would've loved everything about this surprisingly emotional and unconventional film.  It's also surprising that I'm finding myself putting a film starring Nicolas Cage into my top 3 for the year, but that's where we're at.  This is a remarkably well crafted and unpredictable movie that manages to balance humor, genuine pathos, and even a little bit of suspense into a brilliantly observed character study.  It's also a bit of an art-house John Wick (2014) in that Nicolas Cage's character is a man with a past whose layers are peeled back as the plot progresses.  It doesn't turn violent like the Wick movies do, but it does do the same interesting trick of introducing it's main character as one thing and over the course of the movie reveal him to have had a whole different kind of life before hand.  The movie even throws some wild card, subculture surprises at us, including an underground fight club made up of waiters and dishwashers.  Nicolas Cage delivers what may be his most nuanced performance ever, and certainly his best in a very long time.  I love the fact that even as he ends up getting more beat up and bloody as the movie goes on, he still commands respect and authority from the culinary world that he once inhabited.  It's a movie that also finds the absurdity of the high end culinary world to be a especially potent target, but at the same time, it also gives us an appetizing look at the art of cuisine.  The film could have easily been derailed by a less subtle approach to it's world-building, and thankfully the filmmakers keep this movie grounded and maintain it's humanity.  Like the character that Nicolas Cage plays in the movie, there are so many layers of this film to unravel, and I'm sure many are going to end up finding a movie they didn't expect to see going into this film.  Who knew a movie about a feral wild man of the forest trying to find his stolen truffle pig would garner up one of the year's most rewarding cinematic experiences.
2.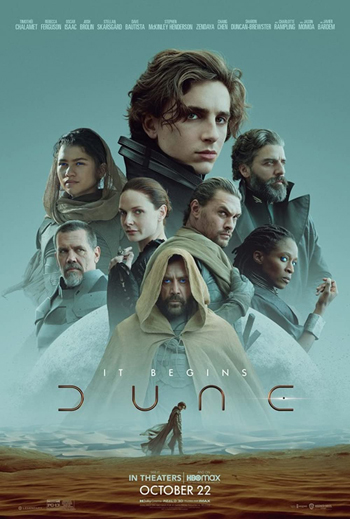 DUNE
Directed by Denis Villeneuve
A thankful return to the kind of provocative, big screen spectacle that we were sorely missing throughout the pandemic.  Denis Villeneuve had long wanted to adapt Frank Herbert's seminal Science Fiction epic novel to the big screen, and boy did he not waste his opportunity.  Surely, the David Lynch directed 1984 adaptation has it's fans, but this is the movie that really does the writing of Frank Herbert justice.  Denis Villeneuve does for Dune what Peter Jackson did for J.R.R. Tolkien's The Lord of the Rings, which is bring it to it's fullest cinematic potential.  You can tell that Denis had been planning the shots in his head for years, maybe even decades prior.  There is an ambition of vision here that really helps to make the story leap off the page like never before.  Once thought to be an un-filmable book, as evidenced by the messy Lynch film, Villeneuve has managed to make all the bizarre and surreal elements of Herbert's novel work on screen here.  Or at least half of the novel, as Warner Brothers made the short sighted decision to let Villeneuve break the story into two films, but did not plan to shot both back to back; a foolish decision in light of the movie opening in a challenging pandemic marketplace.  Thankfully, it did well enough to greenlight Part Two, but it seemed uncertain for a time.  The movie has some of the most amazing visuals seen all year; perfectly capturing the awe inspiring sights of the world of Arrakis.  The all star cast likewise lives up to the hype; with Timothee Chalamet leading the film perfectly in the difficult role of Paul Atredes.  Josh Brolin, Rebecca Ferguson, Oscar Isaac and Jason Mamoa are also stand outs.  More than anything, it's seeing an ambitious cinematic treatment of an often mishandled source material done right that makes this film one of the years best.  And it makes me hopeful that studios will continue to treat these kinds of properties with respect instead of focusing on the marketability of these properties.  Hopefully, Dune does for science fiction what The Lord of the Rings did for fantasy on the silver screen.  More importantly, it showed that indeed there are some movies best savored on the biggest screen possible and that's hopefully something that we'll see more of, which will hopefully bring audiences back to the cinemas.
And now, my choice for the best movie of 2021 is…
1.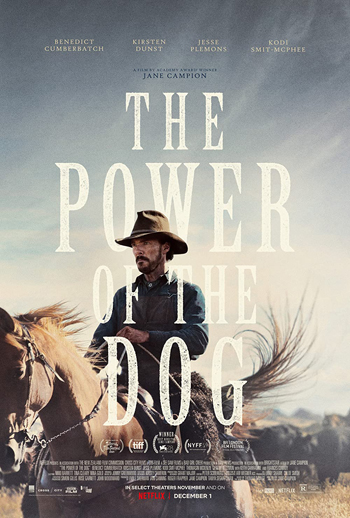 THE POWER OF THE DOG
Directed by Jane Campion
Jane Campion has not directed a feature film in over 12 years, but you wouldn't know that after seeing this movie.  She steps back into feature filmmaking effortlessly with what is probably her most refined film yet, and certainly her best since her Oscar-winning The Piano (1993).  In this revisionist Western, she gives us an interesting examination into the nature of toxic masculinity.  Perfectly embodied through an incredible performance by Benedict Cumberbatch (probably his best work yet), we see a cowboy whose crafted this harsh masculine shell around himself to hide his own insecurities about his own identity, and this in turn make him a tyrannical presence in the lives of those around him, especially his put upon little brother (played by Jesse Plemons) and his new sister-in-law (played by Kirsten Dunst).  It's only when he meets his new nephew-in-law (played by Kodi Smit-McPhee) who displays more feminine traits, that we seen the hard veneer start to crack around this character, which lead to some shocking confrontations along the way.  Of all the movies that I saw this year, none were as finely crafted from beginning to end as this was. Campion remarkably manages to substitute her native New Zealand for rural Montana, and you would never know the difference.  The movie is also perfectly edited, without an ounce of fat on the story at all.  It also features some truly memorable moments, like one of the most unnerving musical duets you will see in any movie.  The musical score by Johnny Greenwood is also one of the best of the year.  It's just the movie that hit all the right notes for me this year, and even still offered up surprises that I wasn't expecting at all.  It's good to see Jane Campion continuing to mesh her provocative voice with these often sanctified genres.  Seeing her especially breaking down the mythic representation of a rugged cowboy and showing the dangers of masculinity without balance is a lesson that we especially need explored through cinema.  The film is a gorgeous, extremely well acted and shot ode to the Western genre that is not afraid to explain that the myths that were borne out of it are not something we should continue to idolize in modern society today.  A thorough and undisputed triumph.
So there you have my choices for the top ten films of 2021.  Of course, any examination of the best of the year is not complete without the counterpoint.  So, of course, I have my choices for the Bottom 5 of 2021 below.  Here's a brief rundown of my least favorite movies of the year:
5. WAREWOLVES WITHIN – This uninteresting Edgar Wight-wannabe film from video game producer Ubisoft believes itself to be more clever than it really is.  Like I mentioned beforehand, the movies of Edgar Wright are far more witty and balanced as a mixture of comedy and horror.  This one just regurgitates a lot of obvious, low hanging fruit puns and sadly even descends into stereotypes of gay people and middle American rednecks.  You would think the bar would already be low for a movie based on a little known video game, but this one managed to find a way to sink even lower.
4. THE NIGHT HOUSE – Probably the single dullest movie that I saw all year.  What could have been an interesting twist on a haunted house storyline instead turns into a mediocre waste of talent.  I get the feeling that even the filmmakers didn't know what the ultimate mystery was going to be either.  Is the house haunted by ghosts? Demons?  Is it all an elaborate hoax or just in the heroine's head.  The movie's frustratingly vague ending just seems to say that all the above are true, which shows that indeed nobody knew what this movie was supposed to be about.  It's just spooky for spooky sake, and that in no way is scary.  Consider more effective scary movies from this year like A Quiet Place Part II or Malignant, and make a hard pass on this unsatisfying failure of a horror movie.
3. EARWIG & THE WITCH – This one is especially painful, because it comes from one of the greatest animation studios in the world; Japan based Studio Ghibli.  After becoming legends in the anime industry, this film marked their first ever foray into full computer animation.  And boy did it not work out.  There's just something about the Studio Ghibli style that does not translate to 3D animation.  Couple this with a painfully mediocre and unimaginative story and one of the most insufferably annoying main characters ever as well.  The good news is that Studio Ghibli founder, the legendary Hayao Miyazaki, is once again breaking his retirement and making another film, and it will thankfully be hand drawn, traditional animation.  Maybe Studio Ghibli can one day make 3D animation compatible with their house style, but man oh man was this experiment an absolute failure.
2. SNAKE EYES: G.I. JOE ORIGINS – Another failed attempt to launch this franchise off the ground.  Instead of going for a full G.I. Joe team-up, this one decides to focus solely on one of the most iconic characters from the brand.  And yet, they found nothing interesting at all with the character to justify a full length movie.  It especially seems like a wasted opportunity for actor Henry Golding, whose headlining a film for the first time here.  The usually charismatic Crazy Rich Asians star just seems lost and unmotivated here.  Not to mention that for the majority of the movie, his character is selfish and narrowminded.  Why should we be rooting for him?  Some shoehorned G.I. Joe lore thrown into the mix can't do much to elevate this movie beyond genre clichés.  If the G.I. Joe franchise was on life support before, this was the flatline that almost assuredly doomed it forever.
And the worst movie of 2021 is…
1. DEAR EVAN HANSEN – The past year gave us some great examples of how to adapt a musical for the big screen right.  From Warner Brother's In the Heights, to Spielberg's West Side Story, to the double whammy of Lin-Manuel Miranda productions Tick, Tick, Boom, and Encanto.  This misguided adaptation of an award winning stage musical is a text book example of how not to adapt a musical.  For one thing, the movie made the wrong choice in casting the original Broadway Evan Hansen, Ben Platt, to reprise his role.  Platt is now way too old to play the part of a teenager and his presence here acting alongside more age appropriate actors just gives this movie an overall creepy feeling.  And then there's director Stephen Chbosky's matter of fact style of filmmaking, which removes any and all spectacle that a movie musical should have.  And then there's the inherent problem with the musical itself in that Evan Hansen is just a very hatable character to begin with.  What he does over the course of the story is pretty much emotional terrorism, injecting himself into the loving arms of a grieving family based on a lie, just to make himself feel better.  Maybe the earnestness plays better on a stage, but in this film adaptation, it just feels creepy and infuriating.  An absolute disaster of a musical adaptation, and pretty much the most overall worst experience I had at the movies this year; and that's saying a lot given that a pandemic is still making movie-going a hassle.  Bye, Evan Hansen.
So, there you have my choices for the best and worst of 2021 at the movies.  It was honestly a harder list to put together this year, just because of the quantity of movies that I managed to see this year, as well as the fact that my viewing habits changed dramatically as movie theaters were finally starting to reopen after a year of closure. In some ways, I feel like this is going to be one of those years where I'll be reassessing some of these movies again as the year go bye, as some films probably left a different impression on me just because of the times we are living in.  My hope is that going into 2022 that we see continued stability in the theater going experience, which already is being challenged as new variants are keeping the end of this pandemic from being in sight.  Already we are seeing movies being pushed back again, or being sent to streaming, all because uncertainty is on the rise again.  Thankfully, with vaccinations and masking becoming mandatory in most places, I think we'll avoid another theater shut down like we saw in 2020.  It's just going to take a while to get audiences back to feeling comfortable again for all types of movies; not just the super hero ones which seem to be doing alright.  I think by the summer we'll see more normal box office again, and hopefully the pandemic will have seen it's final massive wave by that point.  In any case, it's good to have a contentious year like 2021 behind us now, and more importantly, it's nice to see a calendar that no longer is packed with the remnants of all the pandemic exiles that were clogging up the system.  This will likely be one of the most normal looking years at the movies that we've seen in a long while, and my hope is that it offers up plenty of worthwhile entertainment, as well as a few surprises along the way.  Anyway, thank you for reading and have a great 2022 at the movies.