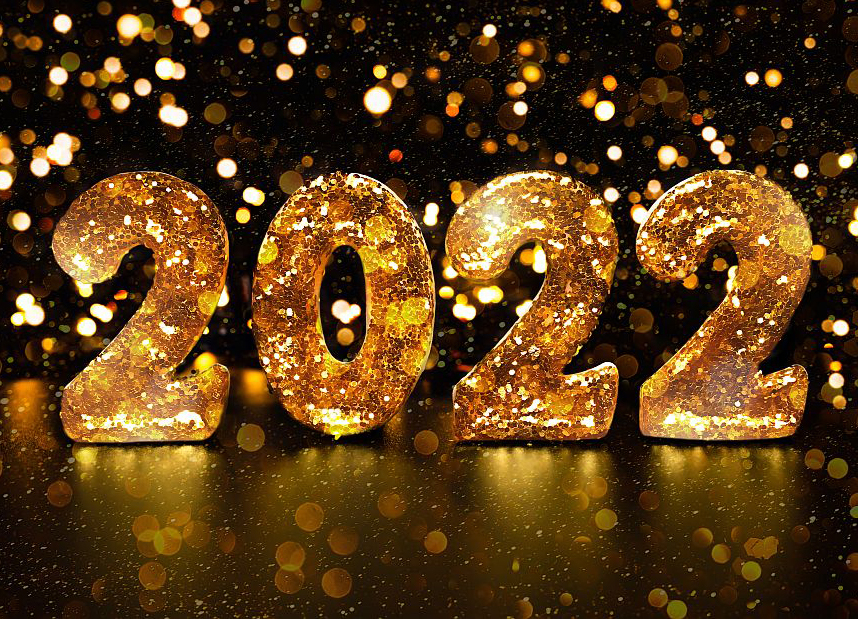 With having come and gone, naturally we have to look back at the year that was when it came to the movies we watched. Movie theaters in general saw improved business, but it still lagged behind pre-pandemic levels. What is definitely surprising is that Hollywood toward the end of the year just seemed to abandon the fall season. There were very few tentpoles released in the Fall, and awards fare didn't seem to fill that gap like they had in years past. If not for Avatar: The Way of Water (2022) and Marvel's Black Panther: Wakanda Forever (2022), this would've been the worst Fall season since the start of the pandemic. But, thankfully, the year 2022 did start off strong, with better than expected box office for Winter releases like Uncharted (2022) and Sonic the Hedgehog 2 (2022), as well as a strong reboot for DC's The Batman (2022). But what really stunned people this year, and provided a good sign for the future of theatrical releases, were the strong word of mouth performances of many different sleeper hits throughout the year. In the Spring, the A24 surrealist action flick Everything, Everywhere, All at Once (2022) became the biggest all time grosser for the beloved indie lable and a must see in a quiet box office field. Then in the summer, we saw the complete domination of Top Gun: Maverick (2022), a movie that makes Paramount Pictures seem very wise now for keeping it on the shelf for 2 years until movie theaters were back to normal business. A sleeper hit even found it's way into the very depressed Fall season, with the horror film Smile (2022) managing to stay atop the box office in a way that few horror movies do. Overall, despite the studio's hesitancy to recommit, there is plenty of evidence that the theatrical market is alive and well, but is in desperate need of more product. But, to get a good perspective on the year of 2022, it's time to take a look at the highs and lows of the year in cinema by listing my top 10 best and 5 worst movies of the year.
This last year, I managed to break the 100 films in a theater mark, a new personal best for me. It was a lot of movies to go out to the cinemas for, and it doesn't even include the ones I saw on streaming as well, which are also eligible for this list. It was hard dwindling down my lists to the 10 you'll see below. Keep in mind, my list is only the films that I saw within the calendar year of 2022; anything new that I saw in the last week doesn't count, but they could be eligible for next year's list. Before I delve into my top 10 favorite movies of 2022, let me list off a few that almost made my list and that I would recommend seeing: Armageddon Time, The Batman, Benedicton, Black Panther: Wakanda Forever, Bullet Train, Emily the Criminal, Glass Onion: A Knives Out Mystery, Guillermo Del Toro's Pinocchio, The Inspection, The Menu, The Northman, Thirteen Lives, Triangle of Sadness, Top Gun: Maverick, and Turning Red, Violent Night and Weird: The Al Yankovic Story. Now that we've narrowed things down, let's take a look at my choices for the Top Ten Movies of 2022.
10.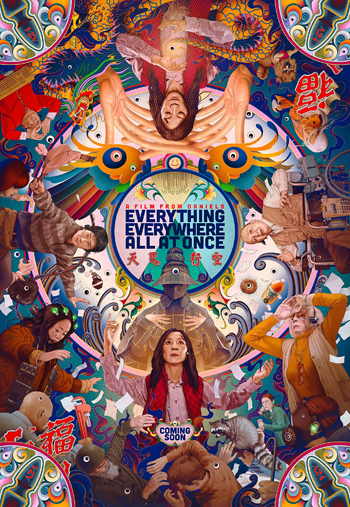 EVERYTHING, EVERYWHERE, ALL AT ONCE
Directed by Daniel Kwan and Daniel Scheinert
It certainly seemed like a year to explore concepts of a multiverse on the big screen. Marvel was taking their stab at it with their sequel Doctor Strange in the Multiverse of Madness (2022), but in that film the most they explored within the multiverse was maybe three or four dimensions. Another film, made on a fraction of the budget of Doctor Strange, on the other hand took the multiverse adventure concept and ran with it. Coming from the same duo of oddball directors behind the film Swiss Army Man (2016), Everything, Everywhere, All at Once was absolutely a movie that lived up to it's title. It's remarkable watching this movie and seeing how much the Daniels were able to milk this multiverse concept with an A24 budget and still make it feel huge and epic in the process. It's a movie where every kind of movie comes into play as well, with cinematic inspirations as varied as the movies of Wong Kar-Wai and Ratatouille (2007). The only reason I don't have it higher is because at times the movie feels a little too much and nearly buckles from the relentless motion of it's universe jumping. But, what manages to hold this movie together are the performances from it's cast. In particular, this is movie has a career best turn from Michelle Yeoh, one of the greatest actresses of her generation who is now finally getting her due recognition because of this film. She is also perfectly complimented in her role by a breakout return to film for Ke Huy Quan (Short Round from Temple of Doom as he was most well known for before this movie). Stephanie Hsu, James Hong, and Jamie Lee Curtis also deliver exceptional work, especially in witnessing them play so many different versions of the same people across the multiverse. Honestly, Marvel should take note from how this movie managed to make the multiverse work on screen as they build towards their Secret Wars endgame. There really was no other film like this all year, and it's great to see a film fit so much interdimensional mayhem into what is ultimately an intimate family drama at the end of the day. Everything, Everywhere, All at Once manages to find the cosmic within the struggles of one family in a single day and it's a spectacular ride along the way.
9.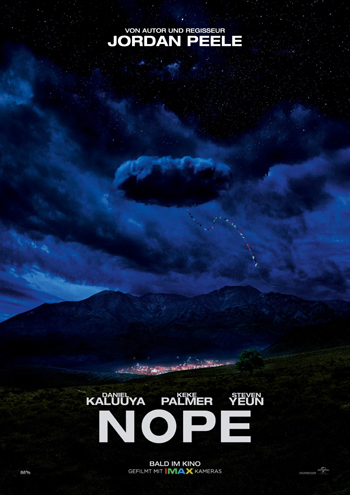 NOPE
Directed by Jordan Peele
Top Gun: Maverick may have dominated the summer at the box office, and certainly it deserved all the success that it got. But for me, this was the highlight of the Summer 2022 season for me. Jordan Peele, in his third directorial effort, changed things up a bit and instead of digging into his horror bag of tricks like he used for the movies Get Out (2017) and Us (2019), this time he decided to test his skills at science fiction. And the results are his most skillfully directed film yet. Here, Peele goes more monster movie, and it felt like a nice return to the paranoia monster flicks of the 70's and 80's, like Jaws (1975) or The Blob (1988). Of course there is always a subtext when it comes to Peele's movies, and in this case it's about the pursuit of fame that often puts people at risk to themselves and others. There is a wonderful metaphor woven into the story, with the film cutting back to the past where a chimpanzee rampaged on the set of sitcom in the early 90's. In it, we see the folly of trying to control the un-controllable, and it contrasts perfectly with an extreme case involving this UFO terrorizing the characters in this film. The UFO itself is one of the most original and terrifying movie monsters in recent memory, especially when it's lurking silently in the shadows. It also is a perfect examination of the fringes of the Hollywood dream machine; focusing on people chasing that elusive glory. A disillusioned movie horse trainer, his out spoken hustler of a sister, a failed sitcom star still looking for that big showstopper, a grizzled cameraman seeking that one perfect shot, and a Fry's Electronics security expert who's just a little too nosey. Peele manages to make all these characters shine as they try to survive the unknown terror in the skies. This is also a big leap forward for Peele as a director, as Nope really shows him going for grand spectacle for the first time. It helps that he's working here with Christopher Nolan's frequent collaborator, cinematographer Hoyte van Hoytema, because this movie looked spectacular on an IMAX screen. Whatever Jordan Peele's got next for us, my hope is that he continues to challenge himself with more variety of stories like this one, because it turns out he's got the skills to tackle all kinds of different genres with his own unique style.
8.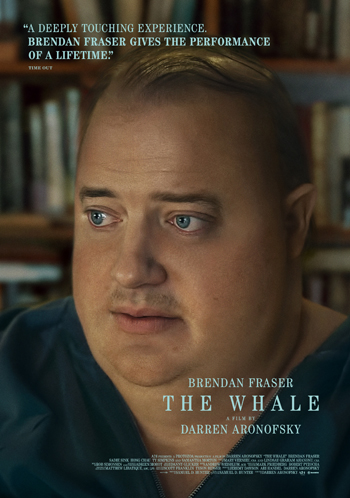 THE WHALE
Directed by Darren Aronofsky
Everything you have heard about Brendan Fraser's Oscar-worthy comeback role is true. Fraser's performance really goes beyond just the physical transformation from all the prosthetic applications to have him appear as a 600 pound man. He creates a character that genuinely feels authentic and personable; giving depth and empathy to the character that doesn't feel like awards bait at all. His character, named Charlie, is a fascinating mix of contradictions; intelligent but also clueless about what's best for himself, opinionated but also a bit of a sap, and also willing to see the best in people even while he is slowly destroying himself. Fraser captures all of this with a great amount of subtlety, and quite literally disappears into the role. The film may be polarizing to many; with some seeing the film as exploitive and depressing, and I totally understand that feeling. This is not an easy movie to watch, as the movie doesn't shy away from the more grotesque realities of Charlie's state of life. But, this has always been part of director's Darren Aronofsky's style. Almost every movie he has made has put his audience at unease at some point. From his debut with Pi (1998) to Requiem for a Dream (2000), to more recent movies like mother! (2016), he has pushed the boundaries of what audiences will accept before they are repulsed. Even more conventional movies of his, like Black Swan (2010) and Noah (2014) had elements that shocked and bewildered audiences. The Whale continues that tradition, but Aronofsky balances it with a tender sense of humanity involved, something he also excelled with in The Wrestler (2008). Everyone will no doubt praise Brendan Fraser's performance, as they should, but opinions on the movie will likely fall between the love and hate variety, and I found myself in the former. This is perfect marriage of a great performance finding the right director and it resulted in a fascinating character study of a subject that cinema is often too afraid to depict on screen.
7.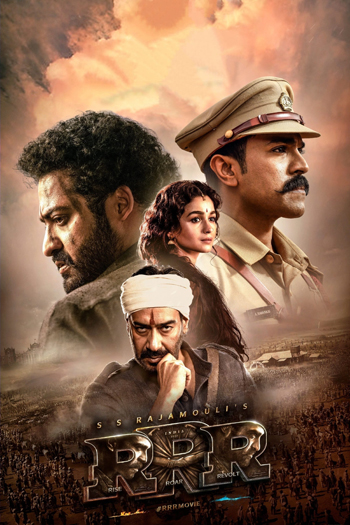 RRR
Directed by S. S. Rajamouli
There's a phrase where sometimes for something to garner the right amount of attention, it has to be so good that it can't be ignored. For a long time the second biggest film industry in world was the one coming from the country of India, which over time earned it the nickname Bollywood. Indian films were certainly successful in their part of the world, but too often they've been looked down on as a niche market here in America. That was until this year when Bollywood hitmaker S.S. Rajamouli released his most ambitious film yet: RRR, which is short for Rise, Roar, Revolt. RRR without a doubt is the most insane, grandiose, and earnest action film to have come across American cinemas in some time, and Hollywood would ignore it to it's own peril. The movie really does have everything; elaborate action sequences with insanely staged stunts, moments of high tension, romance, bromance, lions, tigers, bears, and a couple of spectacular song and dance routines to round it out. It's so much movie, thrown into a blender and tossed back out seeing what's sticks with the audience. And yet, even at 3 hours in length, there is not one frame of this movie that is wasted. The movie definitely benefits from the infectious chemistry between it's two main characters, Raju and Bheem (played by Ram Charan and NTR Jr. respectively), who pull off some of the most insane action moments you will ever see, including one moment where Bheem uses a motorcycle as a club to knock out British soldiers. The movie remarkably is based on the lives of two real life freedom fighters from the Indian liberation movement, but the movie is not at all concerned with historical accuracy. It's like a Bollywood Braveheart (1995), except this one is aware of how historically inaccurate it is and doesn't care. In the end, it's all about making a movie that is just fun to watch from beginning to end, taking no chances with subtlety, and just going with whatever feels awesome, no matter how ridiculous it may be. Perhaps it's time for Hollywood to look harder towards what they are brewing in Indian cinemas right now. RRR is that breakout movie that has to be seen to be believed, and thankfully it's a movie that earns every laugh, tear, and cheer along the way.
6.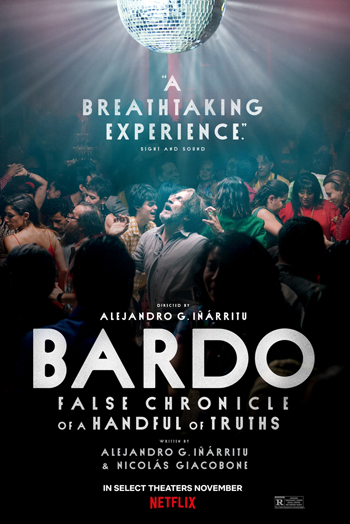 BARDO: FALSE CHRONICLES OF A HANDFUL OF TRUTHS
Directed by Alejandro G. Inarritu
One of the big themes this year it seemed was film directors becoming introspective about their careers, their upbringings, and about the art of cinema itself. This was definitely felt in Damien Chazelle's look at Hollywood of the Silent Era in Babylon, which looked at cinema's beginnings. There were also films like Armageddon Time (2022) which weren't about the movies per say, but did include autobiographical details based on the childhood of director James Gray, as well as another movie that I'll get to later. But perhaps the most unique of these movies about the movies this year was the one by two time Oscar winner Alejandro G. Inarritu. Bardo finds the director taking a more Fellini-esque journey through several ideas and thoughts that no doubt have been on his mind. The film flows through different states of reality and hyper-reality, with the director's avatar, a Mexican documentarian named Silverio, moving dream like through different vignettes that contemplates on issues like artistic integrity, immigration, war, colonialism, being a seen an outsider in the country you live in and a sell out in the country you were born, and many more. To some, the movie may come across and meandering and self-indulgent, but I found myself enjoying the journey that Inarritu took me on. It's weird in all the best ways, and features many of the director's trademark cinematic tricks. It's very much a companion piece with his Oscar-winning Birdman (2014) which was one of my favorite movies of the last decade, though with far less of a direct line for his audience to follow. There are some hauntingly beautiful moments in this movie, including the opening scene with a shadow cast against a desert landscape, as well as a spectacularly staged party scene in a Mexican night club. He also does take the movie into some very personal areas that also take you by surprise, like an imagined conversation with his father where we see Silverio's body reduced to that of a boy but his head still remaining the same in a strange but thought provoking image. It's definitely not a movie for everyone, and I seem to be one of it's few champions, but Bardo was a cinematic journey that I could accept for all it's eccentricities.
5.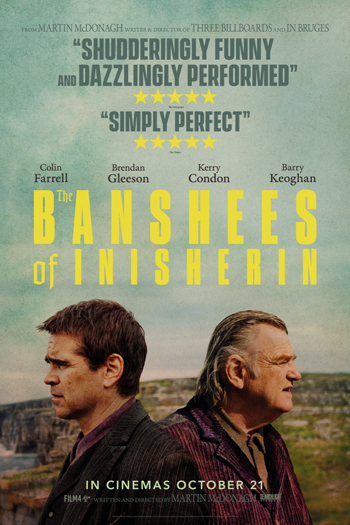 THE BANSHEES OF INISHERIN
Directed by Martin McDonough
McDonough has been an accomplished writer and director both on screen and on the stage. For most of his career, he has been one of the best scribes when it comes to capturing a very Irish sensibility in his stories and characters, at least on the stage. His movies on the other hand have gone to places like Bruges, the outskirts of Hollywood, and the American Midwest with the small town of Ebbing, Missouri. Now, with his fourth cinematic outing, he finally comes home on the big screen and focuses his sharp witted writing on the Isle of Ireland. In particular, he tells the story of a friendship gone sour on the remote island of Inisherin. The movie reunites McDonough with his two In Bruges (2008) leads, Colin Farrell and Brendan Gleeson, both of whom are excellent in this movie. McDonough, in all his movies, has been exceptional in crafting darkly humorous situations with characters so colorfully absurd that you can't help but be transfixed towards seeing just how far they'll succumb to their own shortcomings. There's a great examination of how simple misunderstandings can snowball into far dire consequences, and it's very entertaining to watch Farrell's simple minded farmer slowly come to the realization that his unhealthy attachment to companionship may be a destructive force in the lives of those around him. McDonough's script is very well constructed, knowing when to use humor at the right times without breaking the dark tone of the movie. The movie is also quite beautiful to look at, with McDonough giving the magnificent Irish countryside the pastoral splendor that it deserves. And Farrell and Gleeson are an unforgettable pair that balance each other perfectly, with plenty of character subtleties coming from every line reading that they give. It's not easy to make an audience laugh one second and then make them horrified in the next, but The Banshees of Inisherin walks that tightrope with finesse, and it shows that Martin McDonough is probably one of the most accomplished and unique writers working today. And here, we see him finally bringing that darkly comic Irish sensibility back to it's roots in a very memorable way.
4.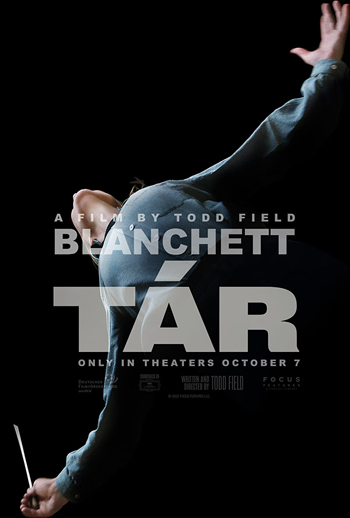 TAR
Directed by Todd Field
Todd Field is a filmmaker that certainly takes his time between movies. It's been 16 years since he last stepped behind the camera, with the drama Little Children (2006), but he has now finally returned with a new film that takes a look at the downfall of an individual in the world of music. The movie is much more than an examination of cancel culture though. It's a truly immersive character study of a person who's experiencing the collapse of her own reputation primarily through her eyes, with the downfall being surprisingly swift and thorough. The movie also wisely doesn't take a stance on whether the character of Lydia Tar is deserving of this quick dismantling of her life. There are times when we sympathize with her in the way she is blindsided by the severity of the attacks on her and in her often cogent arguments in her defense, but then there are other times when we witness just how nasty a monster she can sometimes be to people, and we understand that she may be due for a comeuppance by the end. Todd Field expertly guides us through the whole journey that we take with the character, delightfully peeling back every layer over the course of the movie's 2 1/2 hours. And to the movie's credit, it knows when to take it's time to build towards that catharsis. At the center of the storm, of course, is a masterful performance from Cate Blanchett, here at the height of her powers. She is fascinating to watch in this movie, perfectly constructing this larger than life character that has conquered the world of orchestral music at the very beginning, only to end up begging for any job she can get by the end. Lydia Tar may be 2022's most memorable character overall, and it will almost certainly earn Blanchett many more awards to put on her mantle. Todd Field, who has also only directed three films total in his entire career, really establishes himself as a master filmmaker with Tar, and it makes you wonder why he doesn't do this more often. Hopefully, he won't take so long to deliver his next film, because with the visually beautiful and superbly written treat he delivered this year, he has shown that his talent as a filmmaker has only improved over time.
3.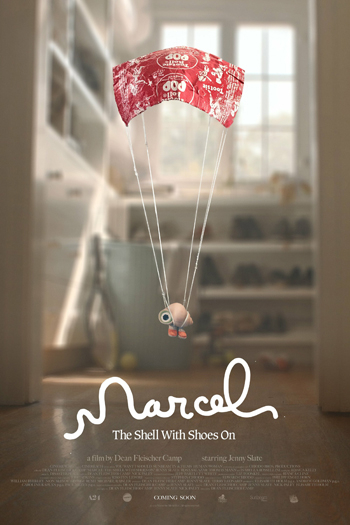 MARCEL THE SHELL WITH SHOES ON
Directed by Dean Fleischer Camp
It's surprising that the best animated feature of the year didn't come from any of the usual suspects like Disney, Pixar or Dreamworks. Nor did it come from a very valiant effort by Guillermo Del Toro with his Pinocchio, which just barely missed my Top 10 this year. No, the best animated movie of the year came from A24, making it's first ever family film. Make no mistake, this is still an A24 film, complete with it's atypical premise and style that defies genre conventions. This mockumentary style film uses stop-motion animation to tell the story of a andromorphic snail shell with a single eye and the titular red shoes. It's a very simply animated movie, with characters created from household objects that have gained sentience and live in the small corners of human homes. Marcel is our subject and he is a delightful creation. Voiced by SNL alum Jenny Slate, Marcel is soft-spoken but outgoing, and immediately endearing. The movie does a fantastic job of constructing the world of this character, looking at a commonplace location like a suburban home through the eyes of a tiny creature, and giving a simple house the feeling of being this expansive world, much like what the Toy Story movies did. And like a documentary, the movie gives the sense we are observing this world and this life without pandering to sentimentality. The low-key animation has it's own surprises too, especially in the subtle ways it presents personality through just a look or a movement from Marcel and his grandmother (voiced by Isabella Rossellini). There are plenty of silly moments that generate a well-deserved laugh, like when Marcel has to deal with human scale things like phones, or taming his full sized pet dog. The movie also genuinely knows when to elicit emotion in the right moments. But, overall, it's Marcel as a character that is going to win people over with this movie. Based on YouTube shorts from 10 years ago, the movie managed to expand it's world and concept to full length without ever sacrificing it's charm and it comes down to the character at it's center who remains an endearing guide through it all. It's great to see even small scale animated features like this manage to satisfy on so many levels, even with competition from the big studios who honestly had strong contenders this year too like with Turning Red and Puss in Boots 2. Definitely step into the world of Marcel and see just how mighty this little guy can be on the big screen.
2.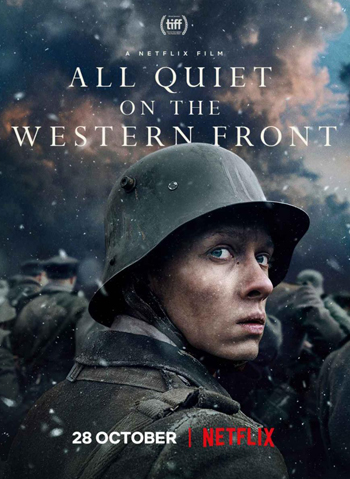 ALL QUIET ON THE WESTERN FRONT
Directed by Edward Berger
This of course isn't the first adaptation of this story. The original novel by German novelist Erich Maria Remarque was picked up by Hollywood immediately after it's publication in 1929, and was turned into a groundbreaking movie. All Quiet on the Western Front (1930) was only the third film to win Best Picture at the Academy Awards, and is widely considered to be the first truly great movie to take home that top honor. Now, nearly a century later, another film adaptation of this classic piece of anti-war literature has been undertaken, but this time, it's by the country of it's origin; the nation that lost the war in the first place. That kind of perspective brings a whole new dimension to the story and the result is one of the most harrowing war movies in recent memory. This movie goes to even more brutal depths in depicting the horror that was the Great War, even more so than the recent acclaimed 1917 (2019). What the movie really does well is put you right there on the battle field and gives you the sense of the unrelenting terror that each of these soldiers must of felt each and every day on the front lines of this costly war. It also does a great job of establishing the inhumanity of war, and how it takes passionate young men and breaks them down into nothing. A powerful early moment illustrates this perfectly, as bloody uniforms are pulled off the dead, then washed and mended, and handed off to the new batch of recruits who are oblivious that they are putting on recycled combat uniforms. Apart from a small supporting role from Daniel Bruhl (who plays Baron Zemo in the Marvel Universe), the cast is filled with fresh faced newcomers, which adds to the everyman aspect of their character. They perfectly convey the despair and desperation that must have come from being relentlessly shot at in that War. This is, in my opinion, the best war movie since Saving Private Ryan (1998) and one of the most powerful anti-war movies I have ever seen. Being a Netflix film, it's unfortunate that too many people aren't likely to see this on a big screen, but if it is available, I strongly recommend it. Absolutely powerful cinema, and one of the most unforgettable movie experiences of the year.
And finally….
1.
THE FABLEMANS
Directed by Steven Spielberg
You know, in the 20-plus years that I've been keeping track of what my favorite movie of the year has been, not once has Steven Spielberg ever made it to the top spot, until now. It seems fitting that the movie that finally did it was the one where Spielberg tells his own life's story. The Fablemans is a movie about falling in love with the movies, and focusing that passion into a creative drive that leads to a career in filmmaking. As someone who has tried my best to follow in those same footsteps, there is so much to like in this film. But it's not an indulgent movie either. Sure Steven Spielberg is drawing inspiration from his own life, but the movie isn't entirely about him either. Telling the story of the Fableman family, a fictionalized version of Spielberg's own, the movie is just as much about the mother and father as it is about Steven's own stand-in. While we see the blossoming of a young man finding his passion in making movies, we also see the dissolution of his parent's marriage taking place, and how that has an effect on everyone. Michelle Williams and Paul Dano perfectly encapsulate the opposing personalities of the two parents, with the mother being a free spirit creative and the father being a mild mannered but also naïve man of science and innovation. Spielberg treats these depictions of his parents with great love and care, but isn't afraid to depict the faults in their character that led to the ultimate break-up of their family. Overall, Spielberg's style ends up perfectly suiting his own life's story, and it's interesting how the Spielbergian trademarks play out in this very personal story. The movie also features probably my favorite final scene of any movie in recent memory, which shows the Spielberg surrogate Sammy Fableman reaching the point of meeting one of his heroes. With Spielberg delivering the expected deft direction, and an intelligent and heartfelt screenplay by Steven and his co-writer Tony Kushner, as well as great work by Spielberg mainstays like cinematographer Janusz Kaminski and the legendary composer John Williams, this was the best cinematic experience I had all year. Turns out Spielberg at his most personal delivers Spielberg at his very best.
And now, let me quickly run down the 5 worst movies of the year. There were some movies not found on this list that were objectively worse made, but these were the 5 movies that left me personally the least satisfied at the movies. So, let's take one last look before I can officially put these movies behind me.
5. JURASSIC WORLD: DOMINION – I should have known better than to put my hopes up with the return of the original stars from Jurassic Park (Sam Neill, Laura Dern, and Jeff Goldblum) to this franchise. All three are wasted, as more time is still given to the blander new characters from Jurassic World (2015) and it's sequel Jurassic World: Fallen Kingdom (2018). It's just slightly better than Fallen Kingdom, but not by much, and it clearly shows that any creative momentum this franchise has had in the past has certainly become extinct like the dinosaurs.
4. BABYLON – Damien Chazelle's new flick is one of the clearest examples of trying too hard that I've seen from a studio film chasing after Oscar gold. This three hour behemoth is trying to wrap it's arms around something in it's depiction of Silent Era Hollywood, but in the end it just feels hollow. The characters are never truly interesting, or really likable, and it seems at times like Chazelle is getting desperate by adding shock value to some of the more debaucherous moments. The ending especially ticked me off, because it's just blatantly stealing from the ending of Paul Thomas Anderson's Boogie Nights (1997), except they swapped out Doc Ock with Spider-Man. If you want to see a better movie romanticizing a bygone era in Hollywood that also stars Brad Pitt and Margot Robbie, watch Once Upon a Time in Hollywood (2019) instead.
3. PINOCCHIO (2022) – Rest assured, this is not the vastly superior stop-motion film made by Guillermo Del Toro. This is sadly yet another spot taken up by a Disney live action remake of one of the animated classics; something that has become all too common on these worst of the year lists. Like most of the other Disney remakes of late, this one fails to make the fundamental case as to why it needs to exist in the first place. It doesn't improve on the original film at all and in fact is very insulting to the Disney classic as it shoehorns in contemporary jokes, like that awful Chris Pine pun, that betray the spirit of the story. The usually reliable Tom Hanks seems pretty lost in his attempt to portray Geppetto, and this marks another career low point for director Robert Zemeckis. The dismal reception this received, even in direct to streaming on Disney+, hopefully sends a message to the new Disney regime that we are growing tired of these pointless remakes.
2. THE GRAY MAN – The closest you'll get to seeing actual money burn cinematically. Since the Russo Brothers signed their exclusives deal with Netflix, they've brought some of their Marvel contacts over to start-up new action franchises on their own. They made the action film Extraction (2020) with Chris Hemsworth, and the drama Cherry (2021) with Tom Holland over at Apple. This year, they got Netflix to spend a whopping $200 million for this, quite frankly, boring James Bond wannabe that didn't even register in the top 5 most watched movie premieres on the streamer this year. Marvel alum Chris Evans delivers a campy villainous turn, but that isn't enough to make this movie even remotely close to entertaining. It's a pure paint by numbers spy flick, but with a colossal waste of money and talent behind it.
And the worst movie of 2022 is…
1. MOONFALL – No big shock, a Roland Emmerich movie made my bottom spot for the year. Even by the already low standards of Roland Emmerich movies, this was a whole new level of stupid. Some may argue it falls into the so bad it's good category, but it was just bad all around for me. The premise is absurd, with the title pretty much telling you all you need to know, and when you learn why the moon is falling, it makes the dumb idea even dumber. Anyone with even a middle school level of understanding of how physics work will be pulling their hair out watching this movie. How can the gravitational pull of the Moon lift giant chunks of the Earth itself up into the air, but not a car that's driving across it? Good actors like Patrick Wilson and Halle Berry are clearly just here to collect paychecks, and they're giving nothing at all to work with. If you keep falling for the same mistake of continuing to invest money into yet another Roland Emmerich action flick, you certainly deserve to live with the consequences of those actions. This was supposedly the most expensive independently financed movie off all time, and to no ones surprise except maybe the clueless financiers, one of the biggest money losers of the year. A definite low point for 2022.
So, there you have my choices for the best and worst of 2022. There were definitely some bright spots, and I actually had a difficult time figuring out who would take that final 10 spot, as there was a lot of near misses this year. Clearly the moment I walked out of the theater watching The Fablemans, I knew it was the movie to beat, and two months later, it still beat all challengers to stay #1. There were definitely some surprises that I discovered as I was preparing this list. Particularly with how well movies like RRR and Nope stuck with me all through the Summer and to the end of the year. Same with Everything, Everywhere, All at Once, which was a Spring release. It shows that not all the best movies of the year come out in the final 3 months of Awards season. The best ones are the movies that stick with you all the way to years end, no matter how much distance that is. That's always been my metric. Some of my favorites here are probably on the worst list for others, like what I've seen in some cases with Bardo and The Whale. That's the great thing about seeing everyone's list, because there are sometimes examples where a critic may be the sole champion for one particular movie that meant a lot to them, but for no one else. After seeing over a hundred movies over the last year in the cinemas, as well as through streaming, I feel confident that I did my homework this year and had an extensive list of choices to definitely make an informed list of movies this year. Hopefully those of you who have read this far will find this end of the year list helpful. With all that, let's hope for a good year ahead at the movies, and that next year's list will be strong one as well.