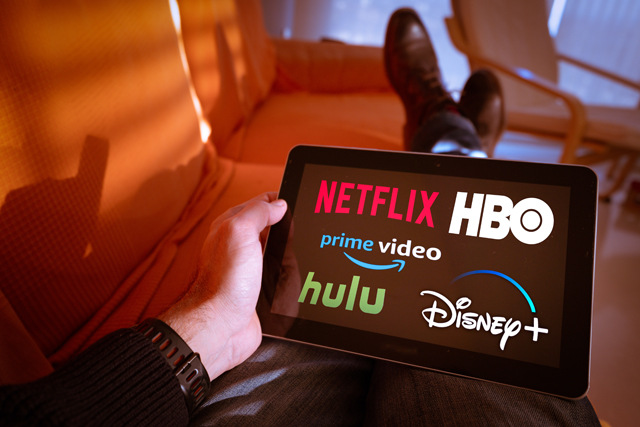 In the late 2010's, it seemed like the next revolution in entertainment was upon us.  Streaming was the way of the future.  The models of distribution for movies and television were seen as primitive in a world that was now more interconnected than ever thanks to the internet.  On demand entertainment was preferable to a whole new audience that wanted to consume their content on their own schedule.  So, the movie industry, seeing the potential for billions of dollars in revenue that was there for the taking, began to dive head on into this new mode of distribution.  Though they weren't the first to dip their toes into the uncharted waters of streaming online, Netflix did take the platform to the next level.  They shifted from their lucrative business model of by-mail video rental (which had previously killed Blockbuster Video), and began to invest heavily in online streaming as the new primary focus of their business.  Many analysts at the time called them crazy with their plans to invest billions of dollars annually into content creation for their streaming service, which initially caused their market value to plummet.  But, as people began to see the results of this investment, Netflix streaming not only became a success story, it became a juggernaut in the film industry in general.  Netflix shows and original movies became essential viewing, and Netflix made their imprint in Hollywood at a rate that caused the establishment studios to take notice.  With their films and shows becoming international successes within their own insulated platform, and without the need of distributing through theatrical or network television intermediaries, Netflix changed the industry's idea of what entertainment could be.  Movie studios could bring their films and shows directly to their audience without paying the costs associated with distribution.  It seemed like Hollywood had the answer to a brighter, productive future.  But as time went on, it may have been more of a false hope than a true revolution.
What is it that got Hollywood's attention in the first place about streaming.  To access Netflix's library of films and shows, users must set up an account and agree to pay the service a monthly fee.  Those who had signed up for Netflix's previous by-mail service were automatically signed up for streaming in the early days, until they eventually split that service off into an add-on and then eventually sun-setted it altogether.  Netflix makes it's money through the subscription fees much in the same way that people use their gym membership; the value remains the same each month no matter how frequently you use it.  As the membership numbers grew into the millions, it provided Netflix with a guaranteed monthly income that over time became billions of dollars in capital.  Even though they had this income in the billions, Netflix still remained a company with significant debt, because they were taking out loans not just to build out their infrastructure (including server capacity and expanding their office footprint in Hollywood) but to also invest an insane amount into original movies and shows.  It was a gamble, but it overall worked out for them as they eventually grew to become a major Hollywood studio on their own, competitive with the Big 5 (Disney/Fox, Warner Brothers, Paramount, Universal, Sony).  Even today Netflix has a market value greater than any of the other movie studios, though they still are not as widely spread out into other divisions as them.  Still, the Netflix model was envied by the other studios, and it was determined industry wide that this was the model for the future.  Though many studios worked initially with Netflix to air their catalog of films and shows on their platform, it was only a matter of time before they got the idea that they should try it themselves.  And thus began the streaming wars.
Each of the Big 5 studios (except Sony) put into action a plan to begin their own streaming platforms.  Paramount would re-brand their fledgling mini-streaming service (CBS All Access) into a company wide platform.  Warner Brothers would piggyback off of their HBO streaming app and expand it into their own legacy streamer.  Disney and Universal meanwhile, who were the most involved with Netflix from the outset, were looking to build up platforms from scratch.  Not only that, but tech giants and start-ups were also looking to cast their sails into the streaming market.  Apple was intent on putting their name into the streaming world.  And there was also the ill-fated Quibi, which was hoping to make a splash with shorter formatted shows.  All the while, Netflix expanded their reach into bigger and more prestigious exclusives for their platform, seeing as they would have to rely upon them in a more competitive market.  They got filmmakers on board like Martin Scorsese, the Coen Brothers and David Fincher, heralding themselves as the more friendly home to celebrated creatives within Hollywood.  In turn, the movie studios promised that their own platforms too would see investment into prestigious and epic exclusives rivaling what Netflix was making.  For a lot of Hollywood creatives, this was an exciting time because it meant a huge surge in new productions, meaning a lot of jobs created within the industry.  At least that was the hope.  Hollywood certainly was thinking this way, as there were plans to increase the number of production facilities across Hollywood and it's surrounding communities.  Netflix had already bought up space at the old Sunset Bronson Studios, with additional facilities across Los Angeles.  Apple and Amazon both leased out soundstages in nearby Culver City.  Warner Brothers currently is in the process of expanding their production space near their Burbank lot.  And Disney's entire acquisition of Fox possibly was motivated by the need to have a more robust library for their platform.  Beginning in 2019, the culmination of all this planning was set for it's premiere.  This was to be the big test for the future of the film industry; seeing if that Netflix model of subscription based streaming would be the cash cow to deliver a new Golden Age for Hollywood.
There were some things that Hollywood unfortunately didn't factor in with their plans for streaming.  One was of course a global pandemic.  The effects of the Covid-19 pandemic created a shockwave across the industry.  With movie theaters closed across the world, and production brought to a halt, the movie studios only had their newly launched streaming services to rely upon.  Now this may have looked like a fortuitous moment for streaming, as they were now the only game in town.  But, because so many of them were brand new, they were far more reliant upon what they had ready for their launch dates, which in the beginning was not that much.  Unlike Netflix which had the benefit of building up their library of originals over an extended period of time, these newly launched streaming platforms had to knock it out of the park right away.  Considering that the original plan for many of these new streamers was to gradually build up their exclusives over the first few years, their new pandemic effected time table suddenly becoming accelerated put a heavy amount of pressure on each of them to perform more strongly.  Projects that were supposed to be held for later suddenly had their releases moved up.  Movies that were originally meant for theaters now had to shift to streaming, despite promises made to theaters.  It was all a desperate jumble to ensure that investors would be happy with the performance of the streaming platforms and to show that Hollywood was filling in the vacuum of a pandemic stricken market.  Initially it looked like streaming would be the savior of the industry, though it wasn't a universal result for everyone.  Disney+ benefitted from buzzworthy content on their platform like the Mandalorian series.  Universal's Peacock and Warner Brothers' HBO Max inherited the binge worthy shows of The Office and Friends respectively that were huge hits on Netflix.  But, little upstart Quibi failed to launch and quickly fizzled out before the pandemic year of 2020 was even over, complete with a huge shortfall of their billion dollar investment.  Though the shift during the pandemic was beneficial for the time, it would create bigger problems down the road.
Once the world began to re-open again post-pandemic, the theatrical business began to show signs of life again, and as a result, streaming faced renewed competition that it hadn't dealt with in over a year.  And this led to some not so well thought out plans in order to keep the growth of streaming going.  Perhaps the biggest blunder of this period in time was the plan by Warner Brothers to release their entire 2021 theatrical slate day and date on streaming and in theaters.  This might have been wise for say some of their smaller films that would've struggled at the box office anyway during the post-pandemic days, but no, Warner Brothers was doing this with all of their blockbuster films too.  What ended up happening was all of their films in that year underperformed at the box office, including the Oscar-winning Dune (2021), which resulted in Warner Brothers having one of it's worst financial years ever.  It's primarily the reason why the executive who came up with the idea, Jason Kilar, is no longer with the company and it probably accelerated the eventual merger with Discovery the following year.  But, they were not the only company to make questionable decisions post pandemic.  Disney themselves continued to move projects to streaming despite them originally being intended for theatrical, which in turn affected the way that their audiences watched their films.  Pixar Animation, one of Disney's vanguard brands, had three of their films in a row released straight to streaming; Soul (2020), Luca (2021), and Turning Red (2022).  You could make an argument for the first two, but Turning Red was planned for release at a time when movie theaters were fully open.  There was no logical reason for that movie to get short-changed like it did, as movies like The Batman (2022) were doing quite well at the box office at the time.  As a result, Disney Animation in general has failed to light up the box office in the same way it used to, while other studios like Illumination Animation is enjoying record breaking profits from the likes of the Minions and Super Mario.  This is a sign that the need for aggressively building up the streaming market is negatively affecting the industry's performance in other departments.
The big problem with so many of these studios in the streaming wars is their belief that they have to keep "feeding the beast" as it were to survive in this new streaming based battlefield.  Netflix has grown to the point where they can release a new original film or series every week in the year.  The studios, not to be outdone, want their platforms to have that kind of output as well.  So, the studios have invested billions of dollars into content in order to keep pace with Netflix's output.  This unfortunately has consequences of it's own.  One is the loss of quality control.  The movie studios over the last couple years have spread themselves a little thin in order to both satisfy their theatrical output as well as their streaming.  Divisions within the studios are struggling to keep up with that amount of demand.  Take Marvel Studios for example, who have been one of the prestige brands gracing the line-up on Disney+.  Many have pointed out that the shows and movies of the most recent phases of the Marvel Cinematic Universe don't feel as cohesive as they were before the launch of Disney+.  Some have speculated that because Marvel Studio chief Kevin Feige has had his workload doubled because of streaming that he is unable to have the same quality control over each project like he had before.  Whereas prior to the launch of Disney+, every Marvel project was a big collaboration towards a singular goal.  Now, those communications feel broken and the MCU is now a bit rudderless, despite there still being bright spots (Wandavision, Loki, Wakanda Forever).  The need to continually fuel the fires of the streaming wars is in turn leading to a lessening of an impact for each project.  Nothing feels special like it used to; it's just another item on the menu.  And that doesn't bode well for the long term health of these brands that the studios need to keep valuable.
And then of course comes the cost.  In order to keep the output going at that pace, billions of dollars need to be spent.  It takes thousands of creative talent to make these shows and movies happen, and keeping that many people employed is expensive.  One looming problem remains hanging over the heads of the studios that are going so all-in with this streaming revolution.  There are only so many people out there that are willing to pay month after month for streaming content.  Even Netflix found themselves hitting a wall at some point, and their unexpected loss of subscribers a couple years back sent shivers across the whole industry.  Netflix's exceptional growth in the 2010's was due to they had a huge head start and were able to dominate a market that was mostly theirs all alone.  With increased competition now, the subscriber base is more discerning about what they are willing to pay for.  Few people can afford to subscribe to every platform, so it becomes about being good enough to be favored above the rest.  Some streaming platforms are not going to get the crossover attention that others do.  So, not only are the streamers in competition for attention from subscribers, but they have to continually reinforce their content in order to justify the need to spend $15 a month on their platform.  This is causing all these streaming platforms to turn into money pits with an unreliable generator of income to offset that investment in spending.  So, the studios are reassessing where their money should be going with regards to supporting their streaming output.  This is the reason why since the beginning of the streaming wars you've seen so many shows get cancelled after one season orders.  Even worse, these shows are being pulled off the service altogether in order for the studios to collect tax write-offs for the expense of making them.  And all because they weren't buzz-worthy enough to increase the count of new subscribers.  This is sadly creating a whole new collection of what is considered "lost media" as none of these deleted movies or shows received physical media releases.  They are just gone forever, because the studios can no longer make any money off of them unless they forfeit that tax credit.
So, the streaming revolution, which looked like the next big thing in the world of entertainment, is not shaping out to be what we all thought it would be.  The studios in Hollywood are now feeling the pinch, as their billions of dollars in investment has only resulted in modest results for their streaming business.  Not only that, but the up-ending of their business model has disrupted all of the other markets that had been the backbone of the industry for decades.  Theatrical and Home Video have suffered with the competition, and it's uncertain if they may be able to bounce back to what they used to be; though theatrical has seen hopeful signs as post-pandemic audiences seem eager to leave the confines of their home once again.  Also, the uncertain geometrics that the streaming business measure their success by is causing a lot of people out there to question the true benefit that streaming has provided for the industry.  That's one of the reasons why so many labor unions are pushing back on the studios right now, because they want to ensure that they are being fairly compensated for the extra work that is being done to build up the catalogs for these streaming platforms.  The biggest bone of contention is that residuals have remained at pre-streaming levels, but the unions have no insight into the actual viewership numbers that streaming content generates, which is crucial to determining the fair amount, which leads many to believe that the studios are purposely using streaming as a way to undercut them.  Visual effects workers, many of whom have been overworked and underpaid for a long time due to the glut of projects need to be worked on for streaming, are also pushing back and unionizing as a result.  What seemed like a blue sky promise for a Golden Age of filmmaking has turned into a perfect storm of messy missteps by the studios, an underwhelmed audience base, and a resentful, overworked labor force demanding a change.  Streaming will indeed need to take some time to readjust itself.  One thing the studios need to do is to slow down and emphasize quality over quantity.  Even Netflix is taking things more slowly now.  They also need to be serious about negotiating a fair deal with their creatives, because they are going to be essential for the future of this process.  Streaming may yet prove to be a crucial arm of the industry, but it needs to evolve from the wild, untamed beast that it is now into something that can be a sustainable medium for the industry going forward, and that might mean being something much less than we all thought it was going to be.