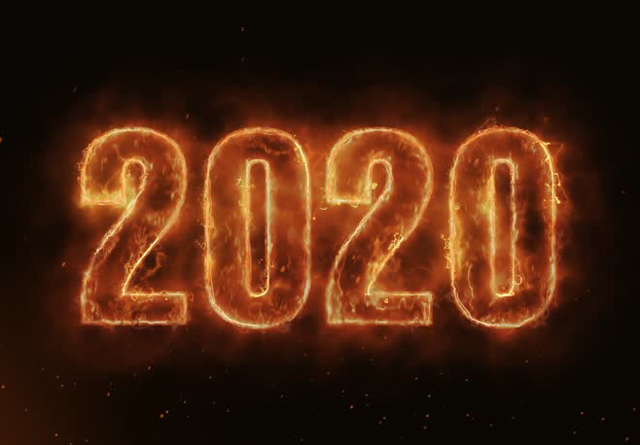 How do we sum up what will undoubtedly be the most chaotic year of our generation.  Apart from all the chaos, one thing that will mark the year that was 2020 was the impact that it had on cinema.  Movie theaters faced near extinction as their doors remained shut and streaming took an even stronger foothold.  And with all that upheaval, the platter of releases that were supposed to mark the previous year all of a sudden were un-moored and moved to the next year, leaving the movie landscape of 2020 pretty barren.  So, when contemplating what would make up a top ten list of the movies of 2020, a critic like me is finding the end result to be a little different than I would have expected from the outset of last year.  For one thing, I had to rely upon streaming a lot more to be able to watch enough movies this year to compile a strong enough list of the year's best films.  And even with streaming access, I still didn't watch a number of films that are being touted as Awards season favorites, like Nomadland (2020), Minari (2020), and One Night in Miami (2020), before the end of the year.  So, my top ten list for the year would have probably looked a lot different under other circumstances, especially if there was no pandemic that uprooted so many movies out of their place on the calendar.  Even still, I'm holding to my guideline that only movies that I saw within the year 2020 will be on this list, so the latecomers that will likely big big awards winners will have to wait until my 2021 list to be recognized.  And, one other thing you'll notice is that streaming movies mostly dominate this years list, though there are a couple that I did also catch in theaters when I was able to.  If there is anything this year taught me is that even when presented with a more convenient streaming at home option, I will still venture out and watch movies on a big screen first, because it's just my preferred way of first experiencing a new film, even when that option is more difficult.
Before I dive into the list itself, I do want to spotlight the movies that I did enjoy over the year that just missed my top ten.  In no particular order: Emma, Onward, First Cow, Greyhound, Hamilton, Bill & Ted Face the Music, The Personal History of David Copperfield, David Byrne's American Utopia, Ammonite, Ma Rainey's Black Bottom, Soul, and Wonder Woman 1984. So, with that out of the way, let me now count down my choices for the top 10 best movies of 2020.
10.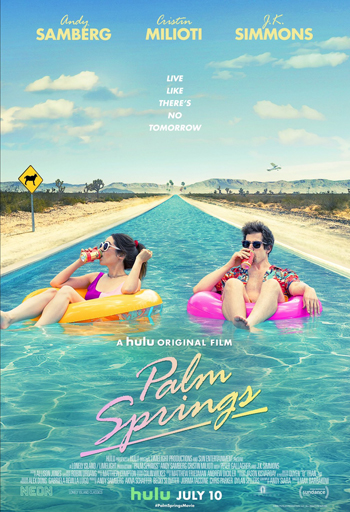 PALM SPRINGS
Directed by Max Barbakow
It's strange to see the Groundhog Day (1993) scenario become it's own subgenre over the years, but that's something that has surprisingly emerged over the last three decades.  Whether it's used in an action film like Edge of Tomorrow (2014) or a horror comedy like Happy Death Day (2017), the premise of living the same day over and over again in an endless loop has proven to be surprisingly malleable.  It's also a hard plot to get right too, because it requires a lot of plot mechanics to make it work and a lot of faith in the audience to keep up with it all.  Many writers have tried to do this and have failed.  Believe me, I've tried to write this kind of script myself.  Palm Springs is another example of the formula done right, and it's mainly because it puts all the focus on the characters themselves.  The actual reason why the time loop is happening is just a formality, but the movie also surprisingly gives us a clear explanation of how it works too, and it's not even far fetched.  But what I especially like is that unlike other films of it's kind, it doesn't focus on one individual's struggle to break the loop, but rather it shows multiple perspectives.   One character, played by Andy Samberg (who I'm just as surprised made my best list this year as I was that Adam Sandler made last year's) has been in the loop a long time and has resigned himself to it, while the other character, played by Cristin Milioti has only just arrived.  Through their shared circumstance, they form a bond and also allow their interactions to shape how they're going to deal with their predicament, and it makes for a really endearing story.  It's also very funny, and uses it's time loop device to great comedic effect, much in the same way that Groundhog Day did too.  In a bleak year such as 2020, Palm Springs was a refreshing bit of sunshine brought to us courtesy of Hulu.
9.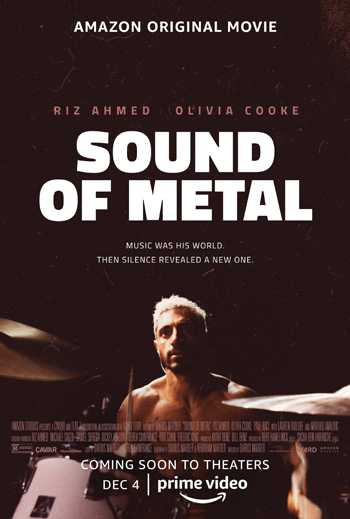 SOUND OF METAL
Directed by Darius Marder
Moving over to Amazon now, we have this fascinating indie drama that brings the audience into the headspace of a man suddenly confronted with a disorder that will forever shape the rest of his life.  Riz Ahmed (Rogue One, Venom) plays a heavy metal drummer named Ruben who suddenly loses his hearing while in the middle of a multi-city tour with his rock singer girlfriend Lou (Olivia Cooke).  With his sudden deafness, he has to enter rehabilitation that will enable him to adjust to a new way of living, but his own self-destructive tendencies make it much harder for him to cope.  It's a really fascinating character study which Riz Ahmed does a spectacular job of portraying.  His role may run into criticism because he's another able bodied performer playing someone with a disability, but there is nothing that feels false about his portrayal here, and he is after all playing someone who is newly disabled and trying to readjust.  The rest of the movie's cast does include real life deaf actors, and its a great bit of exposure for these performers who are often not allowed the opportunity.  But what's especially brilliant about this movie is the incredible sound mixing, which does simulate exactly what a deaf, or near deaf person's sense of hearing would be like, and just the emptiness it creates, especially for someone whose life is constantly in the world of sound.  If you listen to this movie through headphones, as I did, you would almost feel the alarming sensation that you've lost your hearing as well, and it is illuminating.  Like the best movies that tackle the overcoming of disabilities, this movie treats the condition with the utmost serious and removes the stigma that has often unfairly marginalized people with this condition.  And best of all, it makes us the audience care more about those with the condition itself by putting us in the headspace of one who's living through his disability and what the world indeed sounds like when all the noise is gone.
8.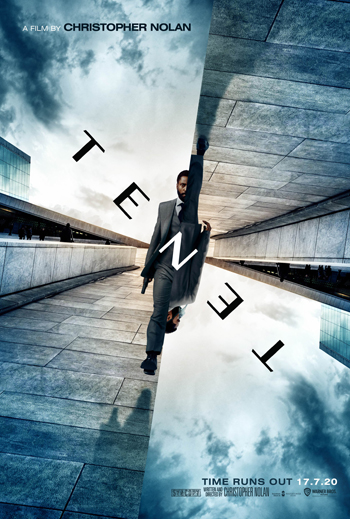 TENET
Directed by Christopher Nolan
Truth be told, this movie is a lesser film from one of our current greatest filmmakers, and in another year, this probably might not have made my list at all.  But given this was 2020, and there was a significant lack of blockbuster sized entertainment this year, I do want to recognize Tenet for being the most impressively crafted movie of the year.  Christopher Nolan's narrative for this film may have been on the convoluted side, but his ability to craft spectacular set pieces are still second to none.  In particular, the way he uses the Inversion gimmick  within the movie, where objects and even people move forwards and backwards through time in the same space, is done to incredible effect.  And like every other movie he's made, Nolan takes pretty out there concepts and works them into a familiar genre.  Just like how Inception was essentially a heist movie that took place within people's dreams, Tenet is a spy thriller with a time travel element thrown into the mix. It's essentially Christopher Nolan's take on a James Bond movie.  A lot of it may go a little too far over people's heads, but for me I just enjoyed the ride and in a year like 2020, which took away so many blockbuster thrills that we normally get to enjoy on the big screen, I was just so happy to at least have this one.  It also proved to me the lengths that I would go to so that I could watch a movie like this.  I drove down to San Diego, California (120 miles from where I live) just because it was the closest location that had the movie playing in IMAX.  It may have been a bit too obsessive, but I'm still happy I made the trip because I feel like I would've missed out on the ideal experience if I hadn't.  Watching this on a small TV screen just doesn't cut it, and Tenet makes a strong case for there to be a return to big screen entertainment again once this pandemic is all over.  Some movies ae just made for the big screen, and though it was a risky gamble this year, I'm glad we were still given the chance to watch Tenet the way it was meant to be seen.
7.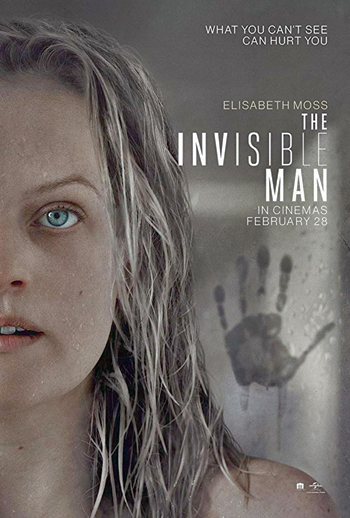 THE INVISIBLE MAN
Directed by Leigh Whannell
This surprisingly effective reimaging of a horror icon had the briefest of theatrical runs early in the year before the pandemic shut down all theaters, and it's a testament to how good it is that it stuck in my top ten for the year all the way to the end.  This chilling retelling of the H.G. Wells horror classic brings the concept into the 21st century with a clever reversal of perspective.  Instead of focusing on the titular monster himself, the movie actually tells the story through the perspective of one of his victims; in this case, his abused wife.  It's a reimaging that puts the story firmly in the #MeToo era, and shows a frightening scenario where an abusive husband continues to torment his tortured wife through invisibility and she has a hard time proving that he's really there and is not losing her mind.  The movie works spectacularly well because of Elizabeth Moss' unnerving performance.  She perfectly captures a woman on the edge, burned by all the emotional scars of an abusive relationship and the terrified belief that she knows her husband is still stalking her despite not being able to see him.  The movie does a good job of building up that sense of dread around Moss' character, and it feels exhilarating once she does manage to overcome the monster and gain the upper hand.  It's a brilliant way to frame the struggle that many people go through when trying to overcome spousal abuse, where the victim is often too afraid to come out with the truth, or is seen as too crazy to be believed.  It's also a brilliant deconstruction of the old Invisible Man narrative, taking the perspective away from identifying with the monster himself, and instead looking at how terrifying it would be to have a really psychotic individual using that kind of power.  Without question the year's best and most chilling horror movie, and a brilliantly subtle new interpretation on an age old story from the revolutionary horror movie makers at Blumhouse.
6.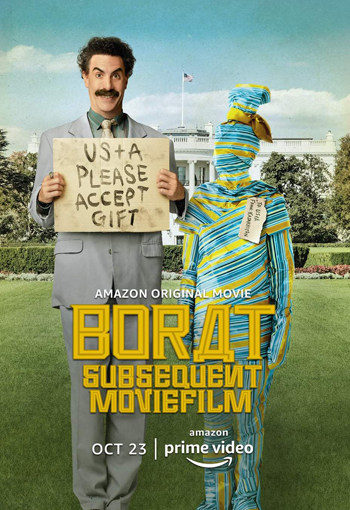 BORAT SUBSEQUENT MOVIEFILM
Directed by Jason Woliner
I definitely need to explain something about why I placed this movie here.  Initially in my review of the movie back in October, I gave this Borat sequel a mixed review, knocking a few points for not having the novelty of the original.  But, in retrospect, and after some subsequent re-watches, I may have indeed been a little too harsh on the film.  One thing that really has come into focus for me about the film is that out of all the movies that I have seen this year, if I were to pick one that captured the year that was 2020 in bottle completely, it would be this one.  Borat Subsequent Moviefilm is the definitive 2020 movie.  No other film captured the madness of this year better; whether it was the political turmoil, the widespread effects of the pandemic, or just the absolute lunacy of just the culture at large, it was all captured in this absolutely insane movie.  It is quite remarkable that 14 years after Sasha Baron Cohen turned his goofy little sketch character into a box office smash that he could even attempt to do it again, and deliver something just as hilariously wild.  While some of the stunts don't quite land as hard as in the original, the movie more than makes up for it with a surprisingly touching narrative of Borat forming a stronger bond with his daughter Tutar, played by newcomer Maria Bakalova in a spectacular breakout role.  It's their budding relationship that I really think elevates this movie above what it could have been, and makes it really one of the most uplifting movies of the year too, which itself is mind-boggling.  Sure this movie will be remembered for Cohen's death-defying trolling of a far-right wing rally, or for that now infamous run-in with Rudy Giuliani, but I think the father/daughter storyline is what ultimately will help it soar far beyond it's place within the madness of 2020.  Even still, it's a hilarious dissection of the year that was, and miraculous and unexpected comeback for a comedy icon that we honestly didn't know we needed at this time.
5.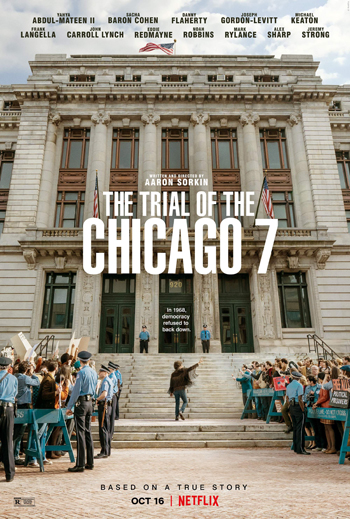 THE TRIAL OF THE CHICAGO 7
Directed by Aaron Sorkin
Speaking of politically relevant movies starring Sasha Baron Cohen, we had this exceptional dramatization of one of the most consequential political trials of the Vietnam Era.  Cohen plays the notoriously outspoken activist Abbie Hoffman, who along with 6 other co-defendants, was put on trial for inciting the destructive riots outside the 1968 Democratic National Convention in Chicago.  The movie features an exceptional ensemble cast including Eddie Redmayne, Mark Rylance, Joseph Gordon-Levitt, John Carroll Lynch, Frank Langella, and Yahya Abdul Mateen II alongside Cohen.  But, the real star of the movie is the exceptionally well written script from Aaron Sorkin.  His screenplay for Chicago 7 is right up there with his best work, and it was a long in the making project for him as well.  Written over the course of 13 years, with directors like Steven Spielberg at various points attached to it, it is probably the most polished and well-constructed of Sorkin's screenplays.  And even with all those years he had to work on them, the fact that it finally made the light of day this year could not have been more fortuitous.  Sadly, The Trial of the Chicago 7 was a timely movie in this tumultuous year, and it reaffirmed the importance of free speech and the right to protest that are key to our survival as a republic, in addition to our faith in a fair justice system.  The movie also marks a strong step forward for Aaron Sorkin as a filmmaker, taking the role behind the camera for only the second time showing much more skill and confidence as a director as a result.  Sure, it's fairly conventional as trial movies go, and it doesn't break any new ground cinematically, but man does that screenplay sing beautifully and the cast delivers their performances with an astounding amount of authenticity.   And in a year where we are all trying to collectively understand the right path for our nation, this movie offers a very engaging and sobering history lesson.
4.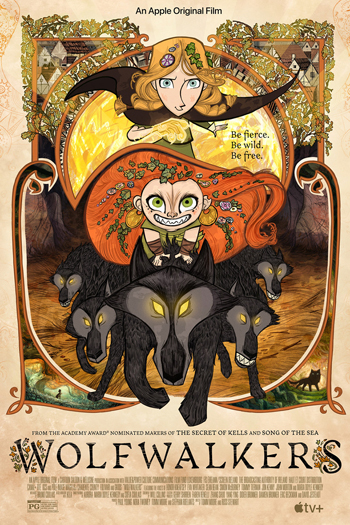 WOLFWALKERS
Directed by Tomm Moore and Ross Stewart
In a year that saw Pixar release not one but two movies, even with the turmoil of the pandemic, I too find it shocking that the acclaimed animation giant didn't land on my top ten for the year, nor did they deliver my favorite animated movie of 2020 either.  Both Onward  and Soul are exceptionally well made and fun movies, don't get me wrong, but both also felt a notch below what I believe are Pixar at their best, and thus they both missed my list.  What did make it here, however, was an animated movie that took me completely by surprise and left me thoroughly enchanted.  Wolfwalkers is the fourth film from Ireland based Cartoon Saloon (The Secret of Kells, Song of the Sea) and it is their most ambitious and artistically rich movie to date.  Whenever you hear someone describe every frame as a painting, this is one of those movies that comes to mind.  Taking inspiration from both medieval Celtic design and English wood carvings, this movie is from beginning to end a painting come to life.  It has been a constant in-house defining style for Cartoon Saloon in past films, but here they take it to another level, almost competing with the likes of Disney Animation at the height of their hand drawn dominance.  The highly stylized animation of Disney's Sleeping Beauty (1959) comes instantly to mind, and I wouldn't be surprised if the filmmakers took a bit of inspiration from it when making this.  In an era dominated by computer animation, it's refreshing to see hand drawn animation still at work somewhere in the world, and done with some sense of ambition.  While Pixar spent the year playing par for the course, Cartoon Saloon swung for the stars, and delivered the most visually and narratively alive animated film of the year.
3.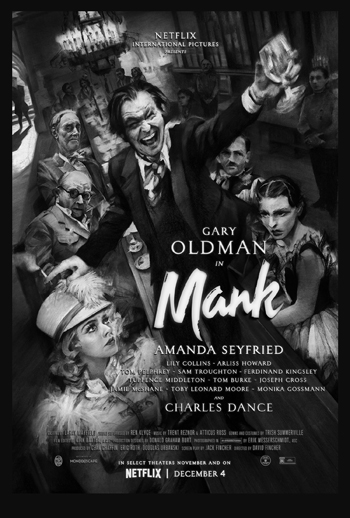 MANK
Directed by David Fincher
This movie seems like it was made solely to appeal to deep rooted cinephiles like me.  An ode to old Hollywood, dramatizing the creative process that went into the making of what is largely considered to be the greatest movie ever made; Orson Welles Citizen Kane (1941).  And sure enough, it worked.  David Fincher's movie is so heavily detailed in it's reconstruction of the era that it takes place in, that even the way it's presented evokes how movies looked back in the 1940's.  The sound mix makes the movie feel like it's being played in a large, cathedral like movie house complete with an omnipresent echo (ironic given that it's a Netflix original).  And though it was shot digitally, it's been given a grainy texture that evokes old black and white film from the era, complete with reel change markers on the corners of the screen.  If it weren't for the use of four letter word profanity and contemporary movie stars in the cast, you would swear you were watching a long lost classic from Hollywood's Golden Age.  But apart from Fincher's technical wizardry behind the camera, he still manages to tell this richly layered character study of an unsung legend within the history of the industry; screenwriter Herman J. Mankiewicz (played with gusto by Gary Oldman).  While showing this incredible whirlwind life journey of Mankiewicz (or Mank as he was often called) as he interacts with legendary power players like William Randolph Hearst, Irving Thalberg, and Louis B. Meyer, the movie also brilliantly captures the process a writer goes through in crafting a story that come from a personal place, even in exorcising his own demons as a result.  Through this we see what went into the crafting of the great American story and show that indeed Herman Mankiewicz was more of it's author than anyone realized, with his own life being just as cinematic as anything else he could have written.
2.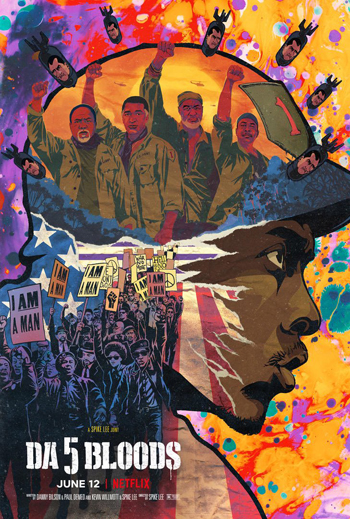 DA 5 BLOODS
Directed by Spike Lee
Spike Lee is ever the troublemaker when it comes to bringing politics to the big screen, but he's also someone with an unparalled command of the cinematic language as well, making his movies resonate regardless of it's message and target audience.  With Da 5 Bloods, he finds a universal story about racial identity and the crippling effects of warfare in this incredible story about four Vietnam vets turned treasure hunters.  And it is perhaps his most compelling film since Malcolm X (1992).  With very subtle to overt homages to movies like Apocalypse Now (1979) and Treasure of the Sierra Madre (1948), Lee has crafted one of the most compelling character studies of his career, as each of his central characters carry with them some burden put on them from their experience in the Vietnam War, with one in particular never really have been able to shake off the emotional wounds, even decades after the war ended.  Delroy Lindo delivers without a doubt my favorite performance of the year as a deeply unnerved Nam vet named Paul, a MAGA hat wearing hot head who grinds against the other members of his team like flint over a pile of wood.  While some other movies might judge a character like him harshly, Lee surprisingly gives him a great deal of depth, perfectly encapsulating how some people never leave the battlefield and how it often clouds the rest of their life.  The movie also features a touching supporting performance from the late Chadwick Boseman as a fallen soldier that brought the titular 5 Bloods together.  The beloved actors untimely passing shortly after this film's release now brings a whole new resonance to his performance here, and along with the acclaimed Ma Rainey's Black Bottom, it was a great swan song year for Chadwick as he sadly left us too soon.  And just on a technical level, this is Spike Lee in his prime, making the most of his already definable style, but done so with ambition that had been missing in a lot of his more recent work.  Along with 2018's Blackkklansman, it's nice to see Spike Lee getting back to making ambitious, but still revolutionary movies again, and Da 5 Bloods is absolutely him at his very best.
And finally, the best movie of 2020 is…
1.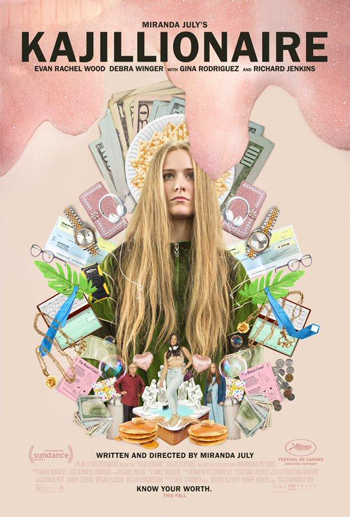 KAJILLIONAIRE
Directed by Miranda July
Yeah, I know this is a strange choice to make, but, for me this was the most satisfying cinematic experience that I had all year, and I'll tell you why.  One thing is that I managed to watch this on a big screen during a brief window when movie theaters were open in the LA metro area, which was definitely a bonus.  But more importantly, in a year that was such a sour pill to swallow for so many people this year, Miranda July's sweet story of adversity was like a spoonful of sugar to help the medicine go down.  Truthfully, there is a bit of buried relevance to what this year was like within the narrative of Kajillionaire that I was not expecting, and I'm sure that Miranda July probably never intended it that way either, but it was still hard to miss.  It's about a socially stunted young woman named Old Dolio (Evan Rachel Wood) who is dragged around by her scam artist parents (Richard Jenkins and Debra Winger) to basically scab off of other people in order to make a living, until an outsider named Melanie (Gina Rodriguez) comes into her life and shows her a different way.  A narrative about freeing oneself from the influence of grifters and con artists and finding renewed purpose in life; gee, I wonder why this resonated in 2020.  Regardless of what meaning I projected onto it, it's still a beautifully crafted movie with a lot of heart and it just was so refreshing to see something positive for once in this very dark year.  Evan Rachel Wood does a great job of balancing the character of Old Dolio, doing a good job of making her feel real and not a cartoonish creation.  And Richard Jenkins and Debra Winger do a magnificent job of portraying two of the worst parents in cinema history.  Miranda July can sometimes be too aloof as a storyteller, but Kajillionaire is without a doubt her most assured and universally appealing movie to date, and it's twist and turns are some of the most clever plotting that I've seen from a movie this year.  We definitely needed a movie like this in 2020, and hopefully it gets discovered by a wider audience in the years to come.  For this critic, it was the sweet, soothing treat that I sorely was needing in this foul, disgusting year, and I'm grateful that I even got to experience it on a big screen as well.
Of course, there was a lot of bad to go along with the good in 2020, and that's a bit of an understatement.  Even watching mostly from home I was not immune to being exposed to some bad movies this year.  So, in addition to my best of the year, I also have my Bottom 5 worst movies of the year.
5.   THE TAX COLLECTOR – When disgraced, self-destructive actor Shia LaBeouf is the only good thing in your movie, that's not a good sign.  This convoluted, Scarface (1983) wannabe is full of tired drug cartel movie clichés and features one of the least charismatic protagonists I've ever seen in one of these kinds of movies.  Another low point for the once promising director David Ayer.
4.  DOLITTLE – Robert Downey Jr.'s first foray outside of the Marvel Cinematic Universe sadly landed with a thud.  I could sense that Downey meant well from the outset in getting this movie made, but somewhere down the line, whether it was questionable creative choices or studio interference, something went horribly wrong.  The animal animation is horrible, the celebrity voices just don't fit the animal characters they play, the story is dumb, Downey's Welsh accent makes him hard to understand, and it all just makes the movie too dumb even for toddlers that it's aiming for as it's audience.  C'mon Iron Man, you can do a lot better.
3.  ARTEMIS FOWL – First in what I'll be calling the Good Directors Gone Bad of 2020 part of this list.  Kenneth Branagh is usually a brilliant film director who can work in genres as varied as Comic Book (Thor) or Mystery Thriller (Murder on the Orient Express).  Here however he struggled to launch a franchise based on a popular set of young adult fantasy adventure novels, and what resulted is an undercooked Harry Potter wannabe.  This is probably the laziest film to ever come from the acclaimed filmmaker, who sadly didn't have Death on the Nile to help cleanse the palette at the end of this year, with that movie moving to 2021.  Thankfully, the movie was quickly buried on it's subdued release on Disney+, where it was likely spared from a disaster at the box office.  Hopefully Branagh can put this embarrassment behind him and get back to making movies that are better suited for his talent.
2. HILLBILLY ELEGY – Another disastrous turn for an otherwise celebrated filmmaker, Hillbilly Elegy is a new low point for the usually reliable Ron Howard.  Based on the best selling memoir by author J.D. Vance, the movie feels creepily exploitive in the way it portrays it's lower class characters, in what some critics have called "Poverty Porn."  It's the kind of movie that looks attractive as potential Oscar Bait, with actors in a sense uglifying themselves in an attempt to get Awards recognition.  This movie doesn't have a compelling enough story to pull that off, and instead feels cheap and manipulative.  It's especially disappointing that it wastes great actors like Amy Adams and Glenn Close in roles that are far beneath their talents.  Movies can be made about the struggles of poor, on the fringe Americans that society has largely forgotten, but this movie definitely adds nothing of worth, and instead just feels like a thirsty plea for Awards season recognition.
And the worst movie of 2020 is…
1. ROALD DAHL'S THE WITCHES – This updated version of author Roald Dahl's beloved classic novel is not only bad, it is bafflingly bad.  Considering that this is from Robert Zemekis, the man behind Back to the Future (1985), Who Framed Roger Rabbit (1988) and Forrest Gump (1994) is shocking, because it is such an amateurish and disturbingly ill-conceived film.  The original 1990 film based on the book featured some incredible puppetry and visual effects from Jim Henson Studios, but this movie not only entirely relies upon an over abundance of CGI, but some of that CGI is used to create some really disturbing imagery.  You thought the cat skin transformation in last year's Cats (2019) was bad, just wait until you see Anne Hathaway's transformation into the Grand High Witch in this movie.  It really is the most nightmarish thing I've seen in any movie in a long time.  And this is supposed to be a movie geared towards kids.  Without a doubt the most disastrous movie of all of 2020, and that's saying a lot.  Not even worth watch for free on HBO Max.
So, there you have all my choices for the best and worst of 2020.  Overall, given the limitations that I faced in accessing any amount of movies this year, I still managed to see enough good films to fill out the list.  Again, had the year gone differently, my list would have likely been a lot different, but that's out of my control.  I do wish that some of those other highly touted end of the year movies had been more widely available; especially Nomadland, as that one is cleaning up with the year end awards so far.  But, despite how the year as a whole went, I'm surprised how little it actually affected my viewing habits.  I still chose to see movies first on the big screen wherever I was available to, and though it has been inconvenient, I still am happy that I managed to be able to do it at all.  Drive-In's have been a lifesaver for me as a fan of cinema, and for someone who up until this year had never been to a Drive-In movie before, I have since turned into a Drive-In veteran, watching more than a dozen films that way over the last year.  Even some of the exclusive movies from major streamers like Netflix, Amazon and Apple TV were given the Drive-In treatment here in the LA metro area, and yes I paid extra money for what I could've seen for no extra charge on my streaming accounts.  I am still a dedicated fan of the cinematic experience and probably always will be.  My hope is that we begin to see the theatrical industry start to get back on it's feet in 2021.  It may be years before it gets back to normal, but once the theater doors begin to open up once again, I'll happily be one of the first to venture back and show my support.  With the vaccine starting to circulate, and the pandemic's worst days hopefully behind us, my hope is that we as a society once again see the value in the communal experience of watching a movie together.  It's the thing that I'm most looking forward to in the new year, and my hope is that everyone else feels the same way too.  We've had to compromise a lot in the last year, but my hope is that we come out of it resilient and are able to embrace the things that we love and have missed the most, and hopefully movies the way they are meant to be seen is one of those cherished things that we will fight to preserve in the years ahead.