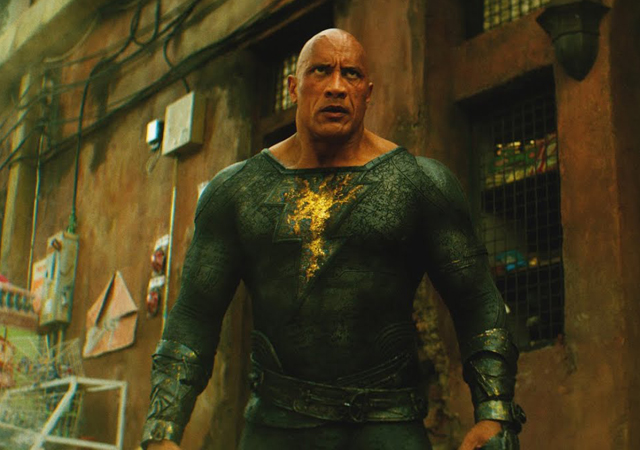 DC comics is well known for it's collection of Super Heroes, but it can be said that they are just as well known for it's rogues gallery of dastardly villains as well.  As often as we talk about Batman, Superman, and Aquaman we are just as likely to be talking about the Joker, Lex Luthor and Black Manta respectively.  In general, this is because DC Comics has been just as good at making their villains interesting characters as they do with their heroes.  And because of the complexity of character development that have put into their comic books over the years, they have managed to create characters that straddle the line between hero and villain.  These anti-heroes also share a special place within the DC pantheon.  Too dark and violent to be considered a hero, but not quite evil enough to be considered a villain.  The character within DC comics that probably embodies this type of personality the best is Black Adam.  Making his first appearance in 1945, Black Adam initially started off as the main antagonist to the DC super hero Captain Marvel, later known as Shazam.  Embodying the same power set as Shazam, Black Adam uses his nearly god-like abilities in a far more morally degenerate way; often having no objection to killing his enemies or anyone else who gets in his way.  This runs contrary to the heroes of the DC universe, who make it their duty to protect the innocent.  Black Adam often falls on the dark side when doing battle against Shazam or many other super heroes, but when something far more dangerous threatens his world, he will put aside his grievances and assist in saving the world as well.  Through his nearly 80 years in the comics, he has remained a very complex character and has become a favorite amongst comic book readers.  However, until now he has yet to be featured on the big screen.
Enter Dwayne "The Rock" Johnson, who is bringing to life the classic comic book anti-hero on the big screen for the first time.  This has actually been a passion project for the wrestler turned actor.  He's been in talks with Warner Brothers and DC to make a Black Adam film for over 15 years.  Even before there was a Marvel Cinematic Universe, Dwayne Johnson has been eyeing this role for himself.  A lot of things have put the project into limbo many times over the years, often due to change over and restructuring going on at Warner Brothers.  This movie, now that it is finally complete, comes again at yet another crossroads in the drama that is Warner Brothers history.  With the merger between WB Pictures and Discovery Entertainment, the new regime has been ruthlessly cost cutting across the empire in order to secure year end tax breaks, and DC falls into that turmoil as well.  Just a couple months ago, the entertainment world was stunned by the news that a $90 million Batgirl film was getting cancelled without ever seeing the light of day as a measure of the new Warner executives drive to get a tax write-off.  In addition, many of the upcoming Warner Brothers projects still in development were pushed back significantly; almost a full year for the Aquaman sequel.  Even amidst all this, the Black Adam (2022) premiere date stood firm, and it seemed like this would be DC's one and only hope to deliver for the back end of this year.  Of course, it helps that Dwayne Johnson in those 15 years has become one of the biggest box office draws in the worldwide market, which bodes well for Black Adam.  And considering this is a passion project of his, you'd hope that he's going to give a bit more to this performance than many of his other roles.  The question is, can Black Adam deliver on the same level of the titans of the DC universe?  Can Dwayne Johnson make a heroic stand for DC at this tumultuous time in it's history on the shoulders of this iconic anti-hero?
The story is set in the fictional middle eastern kingdom of Khandaq.  Legends speak of a hero who protected the kingdom from mad king who sought to use the power of demons to rule with ultimate power.  The hero, Teth-Adam (Dwayne Johnson) confronted the king, who forged a crown with demonic power called the Crown of Sabbac, and stopped him before the king could wield it's dark magic. However, after defeating the king, Teth-Adam vanished without a trace.  Nearly 5,000 years later in modern day, the kingdom of Khandaq is occupied by foreign interests who are robbing the small nation of it's natural resources.  A brave archaeologist named Adrianna Tomaz (Sarah Shani) believes she may have found the hiding place of the Crown of Sabbac.  With fellow archaeologist Ismael Gregor (Marwan Kenzari) and her brother Karim (Mohammed Amer), she discovers the cave that house the crown and manages to retrieve it.  However, something else is trapped within that cave.  After being ambushed by the criminal organization Intergang, which is one of the occupying powers in Khandaq, Adrianna reads the spells carved into the floor of the cave temple.  Suddenly, a robed man in black appears and effortlessly destroys the whole troop of Intergang soldiers.  Adrianna and Karim manage to escape, but they end up running into the robed man, later learning that he is Teth-Adam reawakened.  They try to help him out, and Adrianna's son Amon (Bodhi Sabongui) becomes immediately attached to what he thinks is his country's own super hero, even giving him the name Black Adam.  But, the re-awakening of Black Adam also alerts a watchdog group of super heroes known as the Justice Society of America.  The JSA includes the winged hero Hawkman (Aldis Hodge), the mystical sorcerer Doctor Fate (Pierce Brosnan), the wind-controlling Cyclone (Quintessa Swindell) and the size-changing Atom Smasher (Noah Centineo).  Their goal is to stop Black Adam before he has a chance to cause immense damage with his still unchecked powers.  But their adversarial confrontation may have to wait as they are forced to align their strength in order to keep the Crown of Sabbac out of the wrong hands.
As far as DC movies have gone in this era of the DC Expanded Universe (DCEU), my opinions have strangely gone against the grain with the general consensus.  Sure, I love the movies that everybody loves like James Gunn's The Suicide Squad (2021) and the first Wonder Woman (2017), and hated the movies that everyone hated like the original Justice League (2017).  Those were never controversial opinions.  But, there have been a few of my reviews that didn't match up with everyone else's; contrary opinions that I actually still stand by.  I did not like the first Aquaman (2018), which everyone seemed to love but me, and I ended up liking Wonder Woman 1984 (2020) quite a bit, which I found myself being well in the minority on.  So, where do I fall on Black Adam?  Well, it's not by any means the worst film in the DCEU; not by a long shot.  But, it is far from being among the best films either.  It is a very middle of the road film, for good and bad.  Let me get the bad out of the way first.  The movie is very rushed and unfocused, and seemingly uninterested in filling in detail to important things like character development and coherent plot.  A well-written movie this is not.  I think the thing that is going to upset most audiences is the fact that the movie packs in a whole bunch of different things, but never gives them enough time to really sink in; favoring spectacle above all else.  Characters are introduced with backstories only hinted at but never truly explored.  I think the writers wanted to cram in a whole bunch of DC comic book lore just because they could, but it distracts away from the fact that this is a Black Adam movie first and foremost.  Black Adam's story is drowned out by so many different plot elements thrown into this movie's 2 hour runtime.  What's more, the JSA gets especially short-changed with very little time devoted to their character development.  If you are fans of the individual heroes of the JSA, and have been waiting years to finally see them on the big screen, you may come away very disappointed, because they are little more than plot devices here.
The visual effects of this movie are also a mixed bag.  In some instances, there are some pretty good visual effects in this movie.  The body swap effect that makes a de-powered Black Adam look like an average sized man is pretty convincing.  I never thought it looked weird seeing Dwayne Johnson's head on an average built body, and the effect is actually pretty effective.  The moments when we see Doctor Fate's power in full effect are also pretty imaginative.  I can tell that the effects team behind the movie were trying hard to differentiate how Doctor Fate's powers would look compared to Marvel's Doctor Strange, considering the similarities between the two.  Watching the movie, I feel like they were able to make it just different enough to where I don't think they were doing a copy and paste of the effects in Marvel's Doctor Strange (2016), though there were a couple that were borderline.  The same cannot be said however with the super hero powers of Cyclone and Atom Smasher.  Cyclone's whirlwind power is so weirdly conceived that I had no idea what she was able to do and how she was able to do it.  She just floats around with multi-colored smoke and spins really fast, which I guess the effects artists thought would look cool in slow motion, but instead it just looks cartoonish in a bad way.  And speaking of distractingly cartoonish, whenever Atom Smasher grows to his giant size, he stops looking realistic and becomes essentially a walking-talking special effect.  In this regard, it has a negative comparison to a similar effect found in the Marvel universe.  Whenever Ant-Man would do the same size change, like he did in Captain America: Civil War (2016), those movies made his presence within the scene feel believable.  Not once in this movie did I feel like it worked to the same degree, and it's one of the most glaringly subpar visual effects in a movie that goes back and forth between the believable and the unbelievable.
So, what is good in this movie?  Well, despite working with a very poorly written script, the cast of this movie actually does a pretty good job with what they have to work with.  First and foremost, Dwayne Johnson does not disappoint as the titular anti-hero.  It took him 15 years to make this movie a reality, so you know he was going to pour a lot more effort into his performance here.  You can tell that the years of researching and rehearsing the essence of Black Adam paid off, and Dwayne Johnson captures the character perfectly.  Naturally, being the main character, he gets the lion's share of the character development in the film, and I appreciated how well he built the layers of this character into his on screen persona.  You honestly have no idea which way this character is going to fall; either to the side of good or the side of evil, and I think that's a testament to how composed Johnson was able to make the character.  He keeps the character an enigma until the very end, and even still after he has helped save the day, he's remains a character with ambiguous moral backbone.  I also appreciated what the actors playing the JSA bring to their roles, as bare bones as they may be.  Aldis Hodge especially shines as Hawkman.  His character is paper thin on the page, but Hodge brings emotional weight to his performance which helps to elevate the character throughout the film.  His performance is so could that you wish he was given a movie of his own instead of being shoehorned into a Black Adam origin story.  Pierce Brosnan's Doctor Fate also warranted a movie's worth of development too, but Brosnan likewise makes the most of his brief screen time.  His contribution to the climatic battle is especially awe inspiring, and it makes me happy that they brought in an actor of Brosnan's caliber in to bring this iconic character to life.  And though they have even less impact on the story, Noah Centineo and Quintessa Swindell are likable enough as their respective characters.  The remainder of the cast are pretty forgettable largely, and the movie suffers from have a very weak villain; one that pretty much here as an afterthought.  Still, where it mattered the most, they did get the character of Black Adam right, and that is a testament to a movie star who took the role seriously and was determined to not mess it up for the sake of the fans.  If anything, hopefully this movie will establish the character as an important part of the DCEU moving forward, because it would be worth it to see Dwayne Johnson in this role again.
Apart from the performances, what else is there to keep the movie from becoming an incoherent disaster?  There are action sequences that do work, and I do have to say that the movie does finally gain some footing in it's latter half.  The movie, when it's languishing in it's exposition heavy first half, can be a pretty heavy slog to get through.  Even the early action sequences, featuring some Zack Snyder-esque slow-mo, feel fairly derivative and uninspiring.  But, as Black Adam and the JSA begin to clash about half-way through the movie, the film begins to find some life.  There is an exciting high-speed chase through the streets of Khandaq, where future-tech hover bikes and Black Adam are literally crisscrossing at the speed of a bullet in the air, and it is an action sequence that is actually well staged and feels unlike any other action sequence I've seen in a super hero movie before.  The action sequences also balance out the darker elements of the movie with just the right amount of humor.  There is a running gag where Black Adam tries to deliver a witty catch phrase but ends up killing his adversaries too quickly for them to hear it that actually gets a laugh.  The final battle scene, even though it's up against a rather throw away villain, is also well done, and it does a fairly passable job of making the stakes in the moment feel pretty dire.  The only thing that could have been better handled with these action scenes is if they didn't make up such a large part of the story as a whole.  There really is too much focus put on spectacle in this movie, with no time at all given to let the story breath and introduce more character building moments.  Instead, the movie just jumps from one set piece to the other, and it makes the whole movie feel like a mess as a result.  A lot of stuff is going on to be sure, but you the audience are given little reason to care, unless you are coming to the movie with a lot of prerequisite knowledge of DC lore as a whole.  You may know these character from the comics and various other media, and the movie probably hopes you already know them well enough too, but it ends up leaving the average fan with little to latch onto because the movie never gives us enough explanation about anything in the movie; not the characters, not the plot details, nor the world these characters live in either.  It's a movie meant for fans, pure and simple, and even there it seems to take the fandom for granted.
So, was it worth the long wait to finally see Dwayne Johnson play Black Adam on the big screen.  It's going to depend for a lot of different people, but ultimately it's a fine performance in a movie that honestly falls short of reaching it's goal.  Dwayne Johnson is the ideal actor to play this role, and I'm happy that after 15 years he finally got his wish granted.  The movie, however, is created more as an afterthought.  It's by no means an absolute disaster.  There are good to great performances throughout, and the occasional battle sequence that is fun to watch.  But the lack of any detail in the story and the character development ends up making this movie feel pretty hollow as a whole.  The JSA especially feels wasted here, and it might have been better if they were either left out of the movie completely, or were reduced to just one or two characters.  I think it would've worked better if Cyclone and Atom Smasher had been left out of the movie, and that it was just Hawkman and Doctor Fate facing off against Black Adam.  At least then there would have been more time to develop those characters and give them the screen time that those iconic characters deserve.  These are characters deserving of their own movies, and the actors playing them are giving it their all.  It's a problem with many of the DCEU films, where they try to pack too much into their movies, probably due to the worry that the films may never do well enough to warrant a sequel.  I will say that this was one of my biggest problems with Aquaman, where it felt like they were trying to tell every Aquaman story ever written in one movie.  It was way too overwhelming in that movie, and it's a problem here in Black Adam too, though I feel it fares a bit better.  Between my controversial picks of a negative review of Aquaman and a positive review of Wonder Woman 1984, I'd say that Black Adam skews closer to the failure of Aquaman, but is only redeemed with better battle scenes and a better rounded cast.  I'm sure we'll see more of Dwayne Johnson as Black Adam, and the mid-credits scene hints at a very exciting future ahead.  I just wish his place in the DCEU's big master plan was laid on a much stronger foundation.
Rating: 6.5 / 10