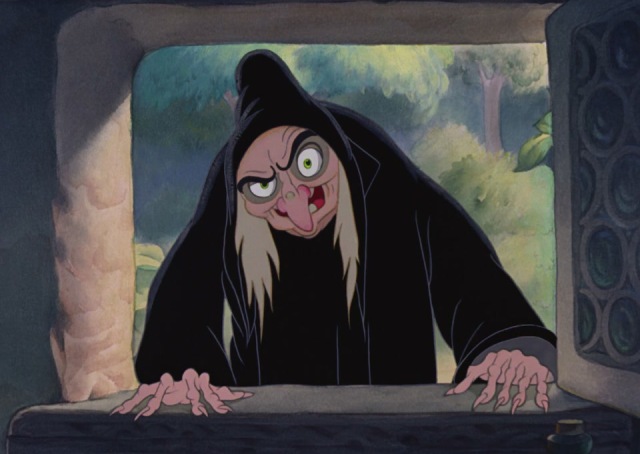 Off all the emotions that we love to feel at the movies, the one that seems to be the most popular is fear.  That's probably why Horror movies are always great communal experiences.  There's nothing better than watching an audience react all at once to some unexpected jump scare, even when it comes in movies that aren't meant to be scary.  It's manipulative, yes, but when done right and put into the right moment, it can actually help to enrich the movie as a whole.  But this is also tricky as well, because as audience members grow up, they become harder to scare, especially when they've become so used to it.  While Horror attempts to scare us with the grotesque and the shocking, our reactions as an audience usually differs based on the tolerance level that we have towards such images.  What is particularly interesting about this is that depending on experiences in childhood, we react to horrifying images in movies differently.  This is usually because some of the things that were passed off to us a kid-friendly entertainment sometimes features some truly terrifying moments themselves.  It is surprising how many movies from our childhood have featured some dark and scary moments, whether it was in animation or in colorful live action fantasies.  Family entertainment has become more sanitized over the years, but in years past, filmmakers were not afraid to test their younger viewers with moments of terror.  One wishes that more filmmakers would take that kind of risk today, because it does show a degree of respect to young audiences that I think they would appreciate in the end.
For this article, I am choosing to highlight some of the most noteworthy examples of movies intended for young children that were not afraid to drift briefly into darkness.  In particular, I'll be highlighting the moments that stood out in those movies and rank them based on their effectiveness and their noteriety.  Some of these moments are pretty legendary, and have been scaring young children for generations now, but others are some brief WTF moments of terror that stand out in otherwise cheerful movies.  Most importantly, what makes these scenes noteworthy is how they contrast against the brightness of the scenes around them.  What you won't find on this list are family movies that already had a scary tone to them in the first place; so sorry, no Secret of NIMH (1982) or The Neverending Story (1987) on this list.  For these moments to stand out, they have to really come out of nowhere.  It's moments like these that made us close our eyes in fright as kids, and at the same time, they also helped to enrich our experience and ingrain that love of being scared that we now carry over into our adulthood.  So, with that, here is my pick for the top scariest moments in family movies.
10.
CHITTY CHITTY BANG BANG (1968) – THE CHILD CATCHER
This character makes it onto the list mostly because of the creep factor.  A secondary villain in this light-hearted musical, the Child Catcher is a surprisingly terrifying presence in an otherwise harmless movie.  The character is hired by the film's main villain to kidnap the children of the fictional land of Vulgaria after their presence there has been made illegal.  While this is a dastardly deed to begin with, the creepiness comes more from how the Child Catcher seduces the children into his clutches; with candy and clownish dancing.  But, it's clear to anyone of all ages that this is a dangerous character under the cheerful facade.  There's something about the way he says "Come and get your lollipops" that just sends a shiver down your spine in the wrong way.  Pretty much, this is a prime cinematic example of the "stranger danger" scenario played out, and while the film never goes into that direction entirely, you can imagine a character like him being a possible representation of a pedophile or child killer in a more horrific story-line.  Indeed, there are other cinematic examples of characters like the Child Catcher in films like in Fritz Lang's M (1931), but the fact that a character like this exists in a movie as sweet as Chitty Chitty Bang Bang just makes the idea of what he does all the more terrifying.  Ian Fleming (of James Bond fame) wrote the original book, but the creation of the Child Catcher actually goes to screenwriter Roald Dahl, who himself was known for creating stories for children with dark undertones.  Not surprisingly, the Child Catcher feels like a very natural creation from this notably dark  author.
9.
SNOW WHITE AND THE SEVEN DWARVES (1937) – THE EVIL QUEEN'S TRANSFORMATION
No other filmmaker left his mark of family entertainment more than Walt Disney, and for the most part, many of his movies are easy-going fare for all audiences.  That being said, even he wasn't afraid to take his film's into dark places once in a while, which was especially true for some of his earlier work.  What is amazing about the darkest moments in Disney movies is just how vivid they are.  Walt Disney was not one to miss an opportunity, and when a story-line called for a terrifying or dark moment, he did what was best for the story.  This is something you see in many early Mickey Mouse shorts like The Haunted House (1931) or The Mad Doctor (1933), which featured some really macabre visuals that could chill audience members of all ages.  But, when his films became more sophisticated and complex, especially when his studio began working on features, Walt Disney still was not afraid to push a few buttons.  That's clearly evident in his first feature Snow White and the Seven Dwarves.  The movie is a light-hearted musical romp, but what people remember most vividly is the terrifying, villainous Queen at it's center.  Her character is chilling enough through most of the film, but it is this scene where she transforms herself into a crone that people remember as being truly terrifying, especially when they were kids.  Probably the most legendary scary moment in any family film, though not the most particularly frightening,  this vivid portrayal of dark villainy would go on to inspire many more moments like it, like with the Wicked Witch in The Wizard of Oz or countless other Disney villains since like Maleficent or Ursula.
8.
CORALINE (2009) – "OTHER MOTHER'S" DEN
In a time when it's become increasingly difficult to make children's entertainment chilling and dark, the Laika studios have helped lead the way, creating refreshing new scares for younger audiences to enjoy.  They pulled that off particularly well with their first feature film Coraline.  The movie is more grim in tone than the average modern animated movie, but it's darkest moments don't come until the final stretch.  Before then, the movie is charmingly surreal and delightfully comic, albeit with a tinge of the macabre always present.  However, what makes this movie most notable is the primary antagonist that goes by the name "Other Mother."  Other Mother creates a fantasy world for the main hero, Coraline, that is the embodiment of all her dreams.  But over time, Coraline learns the dark side of this dream and soon realizes that Other Mother is actually a child-eating monster named the Beldam.  Created by author Neil Gaiman, and directed by Henry Selick, Coraline is a superbly dark fairy tale that's not afraid to be terrifying, but is also smart enough to know when to bring on the scares.  It's not exploitative, and in fact it uses it's scares sparingly, helping to make their impact all the more effective.  The final confrontation in the Beldam's den is particularly chilling and makes perfect use of it's atmosphere.  I particularly love the spider-like motif of the character, and her sultry, devilish way of speaking (provided by Teri Hatcher of all people).  Other stop motion animated films lend themselves well to the bizarre and the frightening (Nightmare Before Christmas for example) but Coraline managed to go even further, helping to create a scene that can bring out terror in any audience member, young or old.
7.
PEE WEE'S BIG ADVENTURE (1984) – LARGE MARGE
Now you would think that a Gothic filmmaker like Tim Burton's first feature would be as dark and macabre as some of his later work.  But in reality, Pee Wee's Big Adventure is a fun, quirky comedy; albeit still firmly in the realm of the bizarre.  For the most part, the movie is colorful and harmless.  That is until we get to this scene.  During Pee Wee's travels, he gets lost in the woods in the middle of the night and has to resort to hitchhiking to get where he needs to go.  He is picked up by Large Marge, a deeply disturbed lady trucker, who recounts to Pee Wee her story of the worst traffic accident that she has ever seen.  Told like a campfire ghost story, Large Marge spares none of the gruesome details, and shows in what is probably the film's most hilariously frightening and out-of-nowhere moment what the truckers corpse looked like when it was pulled from the wreck.  In that moment, Large Marge's face transforms into a bizarre mess of hellish proportions, and then returns back to normal like nothing had happened.  In this moment, we see the kind of storytelling that Tim Burton would become notable for years later.  Here he manages to distill terror and shock into something funny, without sanitizing it at the same time.  This is something that he would take to more extremes in his next film, Beetlejuice (1988).  The Large Marge scene however still stands out today due to it's unexpected nature and it's hilarious payoff.  The fact that it comes out of nowhere is what makes the fright feel all the more rewarding, especially when it's played off of Paul Reuben's innocently naive Pee Wee Herman to hilarious effect.  Remember, tell them Large Marge sent ya.
6.
ALL DOGS GO TO HEAVEN (1989) – CHARLIE'S DREAM
Animation director Don Bluth got his start working for Disney Animation during the transition period following Walt Disney's passing in the late 60's.  During that time, Bluth became increasingly frustrated by the aimless direction of the company, which was increasingly relying on soft, harmless fare that he felt restricted the possibilities of the medium.  He felt that animation should not be afraid to explore some darker themes, and as a result, he left Disney Animation to start his own studio in order to make this ideal come true.  And indeed, many of the earlier films made by the Bluth Studio were much darker and more mature than anything else that was coming out at the time.  Films like The Secret of NIMH (1982) and The Land Before Time (1988) pushed the boundaries of animation into darker realms, and it earned Bluth the notoriety of being a respected filmmaker who took chances.  But perhaps the scariest moment in any of his movies comes from one of the least likely places.  It happens in All Dogs Go to Heaven, which is itself primarily an animated comedy.  It does deal with death in a direct way, but mostly played for laughs.  However, when the main character Charlie cheats death only to fall back into his bad habits, he soon has a dream that brings out his subconscious fears.  What follows is a surprisingly vivid portrayal of Hell, complete with demons, fire and brimstone, and the fear of no escape.  In this scene, Don Bluth best represents his ideal of animation being unafraid to go into dark places.  Sadly, most of his later films like RockaDoodle (1991) and Anastasia (1997) would play it more safe, but All Dogs Go to Heaven's most notorious scene still has the power to frighten, and it shows that it helps to be a little dark sometimes.
5.
FANTASIA (1940) – NIGHT ON BALD MOUNTAIN
We now turn from a subconscious Hell to a literal Hell on Earth, brought to life by Disney Animation in it's early heyday.  Fantasia was created as a blending of two artistic mediums, animation and classical music.  The result gave us many beautifully drawn renditions of orchestral masterpieces.  While many were easy listening like Tchaikovsky's Nutcracker Sweet and Beethoven's Pastoral Symphony, Disney made the peculiar decision to craft a sequence of the film around Russian composer Modest Mussorgsky Gothic orchestral piece Night on Bald Mountain; a notoriously dark sounding piece of music.  Disney pulled no stops with it's rendition of the composition, and the result is one of the most vivid pieces of Gothic and macabre animation ever created.  The segment is littered with ghosts, goblins, ghouls, and at the center of it all is one of Disney's best remembered villainous entities; the demon god, Chernabog.  Pretty much a representation of the Devil in the segment, Chernabog is a striking creation, showing off some of the best character animation that Disney was churning out at this time.  Much of the segment's resonance comes from the moments that he's on screen, and he remains a terrifying presence.  The segment is foreboding, without ever being truly terrifying, but it's still remarkable to see an animated movie portray evil in such a vivid way.  In the end, it provided a perfect match for Mussorgsky's dark music and it represents another example of early Disney animation taking some chances by going into grim and unyielding places.
4.
THE BRAVE LITTLE TOASTER (1983) – THE NIGHTMARE
One thing is pretty clear.  The Brave Little Toaster is one weird little movie.  Charming, and also a little brilliant, but very very weird.  On the surface, the movie is a very colorful and humorous musical about household appliances setting out into the open world in hopes of finding their old owner, a little boy that they refer to as "Master."  Sounds like a trial run for the story line of Toy Story, which wouldn't be far off; future Toy Story scribe Joe Ranft also worked on this story as well.  But what this movie also has is a large number of surprisingly dark moments throughout.  The main characters in this movie go through some very harrowing moments of peril, and in some cases end up becoming brutally maimed in the process, including electrocution and being crushed by giant gears.  But perhaps the movie's darkest moment comes in this particular dream sequence, which is unbelievably frightening and creepy, even when re-watching it as an adult.  The titular toaster dreams of good times spent with the "Master," until he starts to catch fire and looses his friend in the smoke.  But the nightmare hits it's zenith when the horrifying Fireman arrives in the form of a demonic clown.  Why is it always clowns?  I remember this moment really messing me up as a kid, and even watching it as an adult, I still get that unsettling feeling when I see that clown appear.  It's like something out of the darkest recesses Stephen King's imagination.  This movie is still an excellent animated flick that deserves a second look and the fact that it doesn't shy away from some really dark moments works very well in it's favor.  Just keep in mind that there are some moments in the movie that will almost certainly scare your little kids.
3.
WHO FRAMED ROGER RABBIT? (1988) – JUDGE DOOM REVEALED
Who Framed Roger Rabbit? has become a beloved comedy classic over time and it's largely due to it's mature story-line and themes, which contrasts perfectly with the wilder cartoonish segments in the movie.  But, at it's center is also a memorably dark villain named Judge Doom (brilliantly played by Christopher Lloyd).  While Doom is depicted with brooding menace for most of the movie, the true nature of the character comes out during the final confrontation between him and the movie's hero, Eddie Valiant (a remarkable Bob Hoskins).  Thought to have been crushed to death by a runaway steamroller, it is suddenly revealed that the notorious toon-hater is actually a toon himself.  And not only that, but the same maniacal toon that murdered Eddie's brother.  This revelation is especially frightening when we see the blood red cartoon eyes appear on Christopher Lloyd's face, making Doom more monster than man; and it looks terrifying.  This scene has all the terror of a scary monster movie, without feeling like it's out of place in this mash-up of cartoon lunacy and film noir mystery.  I give the filmmakers and Mr. Lloyd a lot of credit for pulling off that revelation perfectly.  Handled differently, I don't think the moment would have had the same kind of power that it does.  The high pitched screaming by the character especially heightens the terrifying quotient of this scene even more.  And, appropriately enough, Doom's death is played out in gruesome detail, as he is literally melted away by the same chemical "Dip" that he was going to wipe out the city of Toontown with.  It's a fittingly grim ending for a character that managed to creep us out right to the bitter end.  Even today, this scene still manages to be creepy, and that's all because of how well executed the scary aspects are.
2.
WILLY WONKA AND THE CHOCOLATE FACTORY (1971) – THE WONKA FACTORY TUNNEL
The best scares in movies, even in the ones that aren't supposed to be scary, are the moments that come completely out of nowhere.  Usually it is by design, and then other times it comes from strange artistic choices.  Case in point, this truly WTF moment from this classic musical based on Roald Dahl's children's novel, Charlie and the Chocolate Factory.  As part of Willy Wonka's (a perfect Gene Wilder performance) tour of his factory, the characters take a boat ride on a river of chocolate.  Things go gently at first, until they reach the tunnel, and that's where all the really messed up stuff happens.  The characters are never in any real danger, but they are bombarded by images on the walls of the tunnel displaying some really frightening and grotesque stuff.  Willy Wonka may be the only G-Rated movie in existence to show a real chicken's head being chopped off by a cleaver.  But that's not the only creepy part of this scene, because as the boat ride continues, Wonka himself seems to be slipping into madness when he starts singing, and then reciting macabre poetry and then finally screaming hysterically.  It's at that point where you start to wonder if Willy Wonka is really a harmless candy maker or something far more sinister.  The whole scene is one of the best trippy moments ever put on film, and it's only made better by Wilder's incredibly unhinged performance.  According to the actors who filmed the scene, Wilder's performance was so convincing that they actually believed he had really lost his mind.  Roald Dahl was very notable for injecting dark elements into stories meant for kids, and while most of Willy Wonka seems like a sanitized version of his novel, this scene definitely feels true to the author's own style.  And it's an excellent example of how to make a dark turn in a light-hearted story work to a film's advantage.  Yes, the danger must be growing.
1.
PINOCCHIO (1940) – THE DONKEYS OF PLEASURE ISLAND
Of course the scariest moment ever in a family-friendly movie had to have come from the imaginations of the Disney animators.  Pinocchio may very well be the darkest single movie in the entire Disney canon, and it is largely because of scenes like this.  Truth be told, the original book by Carlo Collodi was far more violent than Disney's film, but give Disney credit for going absolutely as far as they could go.  The movie itself starts off much lighter in tone, as the innocent and naive Pinocchio experiences the larger world for the first time, but the second half of the film takes a considerably dark turn, especially when Pinocchio finds himself on Pleasure Island.  The island seems like a fun place to be at first, but pretty soon the awful truth is revealed.  As all of the boys on the island indulge themselves in their bad behavior, they literally make Jackasses of themselves, and are rounded up by the villainous Coachman who intends to sell the transformed "donkeys" to circuses and mines all over the world.  This is horrifying to begin with, but the revelation hits it's apex in this specific moment, where Pinocchio witnesses his friend Lampwick transforming before his very eyes.  The scene is played out in horrifying fashion.  The moment when Lampwick's hands turn into donkey hoves is just as disturbing as anything you'll see in a horror movie.  And his final cries for his mother just brings an extra level of despair to the moment that leaves a chill in the spine of every viewer.  Another horrifying aspect about the scene is the helplessness of the characters.  Pinocchio is powerless to stop this from happening and he's only saved by making a run for it.  No such salvation exists for the other boys.  This scene is the best example ever of how to implement  a terrifying moment into a family friendly movie, and it has rightly received that distinction among many animation fans for many years.
So, why do we still accept horrifying moments in movies and shows that are meant to entertain younger audiences.  You would think that many filmmakers would rather not alienate their audience too much, and indeed there are many filmmakers who do take that into consideration.  I think that scenes like this exist because they help kids understand at a young age the importance of a happy ending.  Before you can appreciate the light, you need to go through a lot of darkness, and that's what these moments are meant to do.  We need frightening monsters and moments of terror in our fairy tale adventures in order to see why it was all worth it in the end.  It's an essential way of teaching young kids the value of happiness and the differences between right and wrong.  Even still, scary moments can be entertaining in themselves, and what I've found is that the darker the moment, and the bigger the contrast it has with the rest of the movie, the more likely it will be appreciated by audiences for years to come.  I hope that more filmmakers in family entertainment take those same kinds of chances and not be afraid to go a little dark sometimes.  Sometimes you have to walk that thin tightrope, but the end result could become all the more satisfying.  And indeed, some of those dark moments in movies from our childhood become our favorite movie moments as adults.  Those classic dark moments in Disney animation are still celebrated today, and the Willy Wonka tunnel scene still resonates with audiences.  And in this bewitching time of year, audiences of all ages are in the mood for a good scare, and these moments show that they can be found in even the unlikeliest of places.