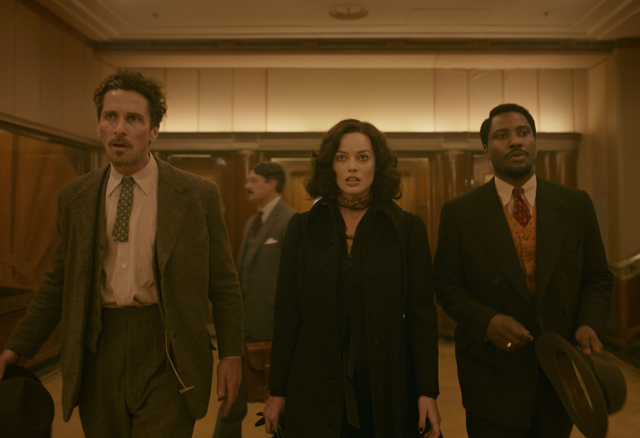 The movies of David O. Russell can best be summed up as a mixed bag.  For the most part, he has delivered a track record that is more on the good side than the bad.  But when he misses, he misses spectacularly.  Mainly, he is a director that swings very hard for the fences, and that can sometimes lead to decisions that may end up working as a detriment to his films.  One of the most noteworthy cases of his roller coaster style of directing shifting from film to film was in 2004, when he made the movie I Heart Huckabees, a movie that very much missed with both audiences and critics, mainly due to it's self-indulgent nature, and this was coming off of a movie that won him universal acclaim as a director; the Iraq War dark comedy Three Kings (1999).  The lows of I Heart Huckabees eventually led to another high, with the Oscar-winning The Fighter (2010).  And for a while, he enjoyed a decade of relatively successful hits afterwards, with The Fighter being followed-up with Silver Linings Playbook (2012) and American Hustle (2013), but even that string came to a halt with the underwhelming Joy (2015).  There's no doubting that David O. Russell is a filmmaker with considerable talent, but sometimes he can be his own worst enemy too.  He has notoriously battled with actors on his sets.  He got into a physical fight with George Clooney on the set of Three Kings and a tape of him shouting obscenities at actress Lily Tomlin on the set of I Heart Huckabees leaked to the public, casting a very negative image on the director.  And yet, he still manages to be one of the most in demand filmmakers in the business, probably due to the fact that he can on occasion deliver a massive critical hit for a studio.  It's possible that the reputation that follows him around is the reason why he takes long breaks in between projects.  It's been 7 years since his last theatrical film (Joy) and to make his return he has put together what may be his most ambitious film to date.
Amsterdam has one of the most stacked casts in recent memory, with even small parts being filled by A-list talent.  He reunites again with Christian Bale, making his third David O. Russell movie after The Fighter and American Hustle.  Joining him are co-stars John David Washington and Margot Robbie, as well as a dozen other recognizable faces from Mike Myers to Taylor Swift.  But what is interesting here is that Russell, who typically works with contemporary storylines, is going way back in time for this period piece.  The furthest that he went back in time before was the 1970's with American Hustle, which didn't seem too alien a time for him to plant his sardonic style within.  But now he's taking it into a time period nearly a century ago.  If balanced well, it could work, but as I've said, he's got a track record that can verge either way.  Still, the movie comes as the Awards season starts to heat up, and a star studded epic with high production values is something that movie studios are always happy to put their money behind.  The fact that he has delivered multiple performances to Oscar wins and even more to a nomination, it's easy to see why so many actors are more than happy to jump on board his films, though some may end regretting it later.  Amsterdam sees Russell return after a long hiatus and with a pedigree of talent on his side that is far grander than anything else he has made in the past.  The only question is, are we getting peak David O. Russell in this roller coaster of his film career, or are we heading into another treacherous valley.
The movie covers over 20 years of the lives of a group of misfit friends in the tumultuous early 20th century.  During World War I, Lt. Burt Berendsen (Christian Bale) is put in command of a regiment of mostly black soldiers after many other officers had refused the role.  During battle, he builds a close friendship with one of the soldiers, Harold Woodman (John David Washington).  The two end up in an army hospital together after being hit by a shrapnel bomb, with Burt even losing an eye.  There they meet a nurse named Valerie Voze (Margot Robbie) who not only helps them get back to good health, but forms a deeper and sometimes romantic relationship with the duo.  The three form a pact to protect one another and they move to Amsterdam to live a carefree Bohemian life.  But, Burt is called back home to New York where he wants to return to his upper class wife Beatrice (Andrea Riseborough), and his medical practice.  After a couple years of practicing medicine for veterans in alleyways and drinking himself into the gutter, Burt eventually reconnects with Harold, who tells him that Valerie left him behind without a trace.  The two rekindle their friendship and begin working together, with Harold now practicing law.  However, their quiet life is disrupted when they learn that their commanding general Bill Meekins (Ed Begley Jr.) has died, and his daughter Liz (Taylor Swift) suspects murder.  What follows is a journey down a rabbit hole of conspiracy involving a bird watching society run by British glass salesman Paul Canterbury (Mike Myers) and his American associate Henry Norcross (Michael Shannon) who both may be spies for their respective governments, a wealthy but suspicious couple Tom and Libby (Rami Malek and Anya-Taylor Joy), and a retired General who has turned into a popular orator for Veteran's rights named Gil Dillenbeck (Robert DeNiro), who may be the target of a fascist organization.  Despite being clueless about what they are getting into, the friends are determined to get to the bottom of this wild conspiracy gearing to attack the very fundamental pillars of democracy in America.
As you can see, this is a loaded movie with a lot of puzzle pieces involved and even more familiar faces that I didn't even mention yet.  One would think that with a plot this dense and an all-star cast this massive that it may fall out of the grasp of the director to reign it all in.  And sadly, that's the case with Amsterdam.  This is definitely one of the lesser David O. Russell movies.  I wouldn't go as far to say that it is the worst film that Russell has made (I Heart Huckabees takes that crown easily) but it is definitely a frustrating movie to watch.  What's most disappointing with this movie is that you can see all the elements of a really good movie there, but the pieces don't fit together well at all in the way that Russell has set them up.  Tonal shifts are a major problem with the flow of this movie.  You can't tell if David Russell wants this to be a raucous comedy or a taught political thriller.  It seems like he wants to have it both ways and it really undermines the flow of the film.  The movie has scenes individually that are well shot, acted and paced, but they'll conflict with the scene that follows after or before.  It's like he wrote a bunch of scenes separately then threw them in a hat and picked the order of his movie randomly.  Yes, there is a through-line, but you'll be in the position of having to re-center yourself from scene to scene as there are so many tonal and plot shifts back and forth.  There is a story in there, and one that is deserving of telling, but Russell's style gets in the way, favoring quippy dialogue to motivate the flow of the movie rather than a sense of building tension.  By the end of the movie, the big climatic revelations just feel hollow, because Russell hasn't given the weight of the situation the time to build to make it more shocking.
And the  most frustrating part is that it's a story that really deserved to be told.  It's plot involves the characters uncovering a conspiracy to overthrow the government of the United States and replace it with a fascist one; a tact that had proven effective in that time with Italy and Germany.  Not exactly new, but in Amsterdam, you see how fascist powers are given backing by corporate interests in America, which is a story that sadly remains relevant even today.  There are some connections there that I see Russell trying to get at, but the message just gets drowned out by all the other nonsense in the movie.  Any scene where we see the characters putting together the pieces of the conspiracy in an interesting way will then be followed-up by another scene where Christian Bale's Burt will collapse to the floor at the most inconvenient moment due to the hard drugs he is experimenting with.  It can be funny, but it's placement in the story clashes to much with the rest and breaks any momentum built up for the story.  The movie also has one of my least favorite screenwriting tools, and one that I think shows Russell's weakness as a writer.  That tool being where a character monologues their entire backstory to the audience.  It's a sign of lazy screenwriting, because it's forcing development on a character rather than letting that build through the plot of the movie itself.  One such scene is delivered by Christian Bale in such an awkward way early in the movie; like he is just reading strictly from the character bio.  There's a lot of scenes like that in Amsterdam, where characters catch up the audience on the plot by explaining what's happening in monologues.  It shows that Russell has too much plot to detail, and he is impatient getting to it.  His strength primarily rests with character interactions, which there are scenes in the movie where Russell writes clever back and forth with the different characters.  But he builds up those moments in sacrifice of moments that drive the plot forward.  That's why there is a lot of talking in this movie and not a whole lot of action; because David O. Russell is focusing on his strengths here in detriment to everything else.
The performances of the actors in the movie also reveals a rift between the two kinds of movies that Russell is trying to tell with Amsterdam.  Christian Bale is definitely trying to do character work in this movie, while John David Washington and Margot Robbie more or less playing things straight.  That ends up making the movie feel schizophrenic, because Bale's flashy performance clashes with everything else in the movie.  That being said, I do think Christian Bale is the best part of the movie, because he at least is doing something to bring the film to life.  If only the rest of the film was on the same page; I would've appreciated the movie more if it was as quirky as Bale's Burt.  I do like how he works the battle scars and glass eyeball into his character's posture and facial expressions.  If anything, I think the character of Burt embodies more of the tone that David O. Russell was trying to attempt.  The remaining performances seem a little lost in comparison, though Rami Malek and Anya-Taylor Joy do a pretty good job of reaching Bale's oddball level, with perfect parodies of the idle rich in their performances.  The biggest disappointments are Washington and Robbie.  We know how talented these actors are, but they bring none of that charisma into this film and have even less chemistry with one another.  One of the other big problems with a large star-studded cast like this is that you get distracted by all the familiar faces.  Some of them successfully disappear into their roles, including an unrecognizable Timothy Oliphant as a hitman.  But others like Taylor Swift and Chris Rock become a distraction because they just play their characters much like their own personas, and it feels really out of place in this period setting.  I don't know if Russell intended for a star studded cast as packed as this one, or if it was forced upon him by the studio, but it's clear that he does not spread out his attention evenly to all of them, and the movie ends up wasting a whole lot of big names in meaningless roles.
But, the movie does have saving graces about it and it's largely found in the visuals.  The movie was shot by three time Oscar winner Emmanuel Lubezki, who brings a beautiful filmic quality to the movie.  He gives the movie a nice earthy glow that feels very appropriate for the time period that the film is set in.  In particular, he captures some very well composed close-ups of the actors.  Sometimes the close-ups have an uncomfortable feeling about them, with the actors looking right down the barrel of the lens of the camera, which helps to build up some of the tension of the movie.  Where the script lets down the story so much the visuals help to pick the movie up again.  Apart from the beautiful cinematography, the movie also does a fantastic job with period details.  It does a great job of invoking the time period, with the grimy streets of Depression Era New York City to the pristine Victorian era mansions that many of the story's elites occupy.  The only downside is that Russell's unfocused vision doesn't allow for too much time to soak up the atmosphere of these settings.  You can really see the work and care that was put into the crafting of the costumes, the sets, and the on location shoots.  It feels timeless, but Russell's direction is not.  He is very much a contemporary filmmaker, better equipped to tell personal everyman stories in modern or recent society.  The trouble with period films is that it takes a lot of work to make the past come alive again, and ultimately it falls on the skill of the director to make us believe in the this dramatization of the past.  For Russell's sake, he should be happy that his unfocused vision is at least pleasing to the eye, which helps to make it at the very least watchable and at times very entertaining.
For David O. Russell's career in total so far, you can't help but feel disappointed in a movie like Amsterdam.  So much talent is involved behind the camera and in front of it; many whom you could say are at the tops of their fields.  And yet, it's all wasted for a movie that barely functions as a narrative.  The grasp of what David O. Russell is trying to say in this movie (which is the threat of rising fascism in the free world, sponsored by multi-national corporations) get lost in the detours into absurdity that Russell seems to like putting into his movies.  You would think after a long hiatus that Russell would have crafted a more balanced piece, but in the end it seems like he has lost some of that creativity over time.  Still, you could do worst, and it is admirable that a filmmaker like Russell swings as hard as he can, even if it leads to a strike or an easy  flyball out.  I still think Russell is a talented filmmaker; it's just that Amsterdam is the wrong vehicle for him to work with.  The performances are mixed, the script is a meandering mess, the cinematography is strong but could have been better served with a more cohesive narrative.  I think if the movie had just Christian Bale's eccentric performance at it's center, it could have been something more than what we got.  It's frustrating to sit through, but at the same time not unwatchable.  Some people in my theater quite enjoyed it, but there was clearly not enough laughs to justify the goofier tones in scenes throughout the rest of the movie.  Hopefully for David O. Russell  takes on another project after this  that better plays to his strengths.  For now, Amsterdam is a movie that cannot rise to the ambition that it's director was hoping to get out of it.  It's epic, but also hollow; an exercise more in period film aesthetics rather than the taught conspiracy suspense thriller that it should maybe aim better for.  Still, it's good to know that David O. Russell is still a risk taker, and some of his cinematic choices in Amsterdam bear fruit of that.  Time will tell if he's able to return to a  worthwhile project where he is able to deliver cinematically in a sense different than how Amsterdam landed.
Rating: 5/10