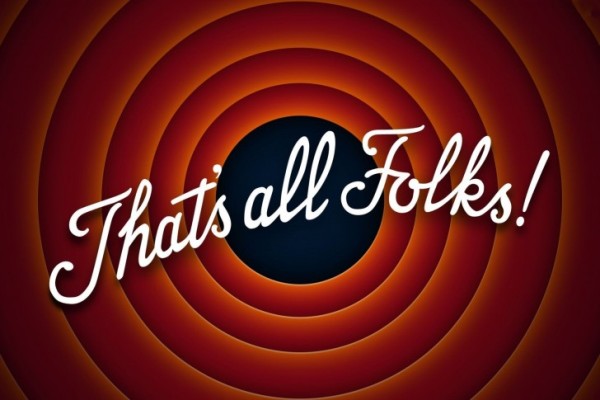 This weekend we say goodbye to one of the most unforgettable and cinematic television shows of all time; Breaking Bad.  But, like all great TV shows, there is enormous pressure on this one to deliver on what will be the final 60 minutes of the series, given how every episode before has led up to this.  So many great TV shows try to go out big and even take some risks with their finales, in order to put a final stamp on everything.  What is interesting is that while TV shows benefit from having multiple episodes available to build their story-lines over time towards a big, shocking conclusion, movies on the other hand have very little room to give us a similar unexpected ending. Movies deviate little from the standard three act structure and it's almost inevitable that everything in them leads to a nice clean ending where good triumphs over evil.  But, every now and then, there are movies that decide not to play it safe and throw out all audiences' expectations in favor of an ending that challenges the very idea of happy endings all together.
It's a risky thing for filmmakers to pull of, given that you have to set everything in motion in the story towards a finish that may anger people.  Not only that, movies have only a two hour limit to make us invested enough in what's going on in order for the ending to have any impact.  For an movie ending to leave an audience stunned, it usually ends up doing one of a handful of things:  it let's evil win in the end, or has the main hero suddenly killed, or has a deus-ex-machina interference steer the story in an entirely different direction.  While many films have tried this over the years, I have chosen ten here that I think represent the best stunning endings to a movie ever.  These are the endings that left a chilling impact once the credits started rolling and while some came at me like a punch to the gut, there were others that took their time and still surprised.  But what they all have in common is that they took major risks and still ultimately satisfied.
10.
THERE WILL BE BLOOD (2007) – "I'M FINISHED"
You could say that this scene delivers on what the title promises.  But what's surprising about it is the fact that it's the note on which we leave this film.  Director Paul Thomas Anderson is known for his ability to throw in some way out-there endings to his movies, but this scene in particular is his most perfectly constructed and ultimately his most satisfying.  The movie There Will Be Blood follows the rise of an oil baron named Daniel Plainview (brilliantly played by Daniel Day-Lewis) who uses his intelligence and cunning to build a successful drilling operation, while at the same time running at odds with a local small town preacher named Eli Sunday (Paul Dano).  The ending finds Mr. Plainview old and alone in his opulent mansion and being visited by Eli who's looking to start up a business deal with him.  Most other films would have Daniel Plainview see the error of his ways and repentant to the underdog Eli; but not this film.  Instead, the atheistic Plainview turns the tables on false prophet Eli and he takes out his revenge, beating him to death with a bowling pin.  It's an inevitable conclusion given that it's what happens when you put two horrible people in the same room together, but the surprising thing is the joy that we take in seeing this scene play out.  A bad guy learns nothing and commits murder in the movie's final moments, and that makes for a happy finish to this film.
9.
2001: A SPACE ODYSSEY (1968) – "STAR CHILD"
Stanley Kubrick's grand opus has so many big things going on throughout it's 148 minute running time.  So, how does he end it all?  By confusing the hell out of all of us.  And as a result, it became one of the most unforgettable and most debated endings of all time.  The film concludes with astronaut Dave Bowman finding a mysterious Monolith floating in orbit around Jupiter which then leads him into a Star Gate and on an unforgettable, trippy ride.  He soon finds himself in an eerie white room where he ages rapidly; ultimately revisited once again by the monolith and then transformed into a "star child," a supposedly next step in human evolution.  The whole of 2001 is a mind trip, but it's these last few ponderous scenes that leaves audiences bewildered all these years later.  It's a genius move by Kubrick to leave things unexplained; instead letting the journey there be the thing on which to conclude the film.  It's both awe-inspiring and a little unsettling, as we see the evolved Dave floating down to Earth.  Is this new being going to be a gift to human kind, or a harbinger of the end.  Kubrick didn't need to answer that question.  The other-worldly image is enough to go out on.  And a little help from Richard Strauss doesn't hurt either.
8.
SEVEN (1995) – "WHAT'S IN THE BOX?"
Some of the most shocking endings come about when the filmmakers make the decision to have the villain become the victor in the end.  That was definitely the case in David Fincher's crime thriller Seven.  At the end of the film, a serial killer who's been choosing his victims based off of the biblical Seven Deadly Sins willingly turns himself in.  The detectives on the case (played by Brad Pitt and Morgan Freeman) make John Doe (Kevin Spacey) lead them to the location of his last murder.  What happens next is both shocking and unexpected; John Doe has planned this moment all along, having a package delivered to their very location containing the head of Pitt's girlfriend inside.  John Doe wants the distraught cop to kill him as a fulfillment of his whole plan, which ends up happening.  It's a challenging finale, because even though the villain is slain, he still got what he wanted.  The ending is one of the bleakest ever put on screen, defying most Hollywood conventions.  Few filmmakers would ever dare make audiences sit through a disturbing and often grim crime thriller only to deliver no peaceful resolution in the end; but Seven took that risk and gave us an unforgettable conclusion.  Given the right actor and a good build up, audiences can willingly accept an unforgiving ending like this.
7.
THE GODFATHER PART II (1974) – "FREDO SLEEPS WITH THE FISHES"
On the other end of the spectrum, here's a case where the villain gets what he wants, and it destroys him.  Director Francis Ford Coppola concluded the first Godfather with another montage of slaughter, but this one has more of a sting based on who gets whacked in it.  In this one, we find Michael Corleone (Al Pacino) ordering his men to take his older brother Fredo (John Cazale) out into the lake to go "fishing."  Inter-cut with the assassination of Corleone rival Hyman Roth (Lee Strasburg) and the suicide of turn-coat informer Frankie Pentangeli (Michael Gazzo), our final image of Fredo is of him quietly reciting the Hail Mary, which then cuts back to Michael staring out from his porch, lowering his head when the gunshot is heard.  This ending marks the complete disintegration of Michael's soul and it's a notorious conclusion to such an epic story.  While inevitable, it was still no less shocking to audiences to see a big movie end on such a grim note.  But that's what makes the Godfather movies so memorable.  The fact that the once noble Michael became so ruthless that he would order the death of his own brother ruined any notion of redemption by film's end and the final image of Michael sitting alone in his garden is a sad but suitable conclusion to the movie.  It's a rare case where a bleak finish becomes the most satisfying.
6.
THE BIRDS (1963) – "LEAVING TOWN"
Alfred Hitchcock was no stranger to making his films dark.  Three years earlier he shocked the world with the murder thriller Psycho (1960).  But his bleakest ending would actually come in this follow-up.  While most Hitchcock movies have shocker endings, they almost always finish with the villain getting their comeuppance.  In The Birds, the antagonist is Mother Nature herself, so how does our cast of characters overcome this.  In the end, they don't.  The final scene of the movie finds our main character Melanie Daniels (Tippi Hedren) scarred both physically and emotionally after an attack from a flock of birds in her lover's (Rod Taylor) safe house.  The survivors in the house must quietly flee and leave the bird infested town behind in order to get Melanie the help she needs.  The helplessness of this scene is what makes it so chilling.  At this point in the movie, the main characters have no options left but to leave everything behind, effectively giving up.  Few movies in this period of time would let a movie end with it's heroes defeated so thoroughly; even a Hitchcock movie.  But the master director had the confidence to pull it off and as a result gave audiences an effectively bleak conclusion.  You  can still see the impact this film has had to this day in the way that modern disaster films have tried to copy the resonance of this ending; albeit with less successful results.
5.
BONNIE AND CLYDE (1967) – "LOVERS AMBUSHED"
This ending isn't surprising for anyone who knows the history behind the true life story.  Bonnie Parker (Faye Dunaway) and Clyde Barrow (Warren Beatty) are gunned down after a long string of notorious bank robberies that garnered them national attention.  What makes this scene so shockingly memorable is the unflinching carnage of the moment.  We feel the characters' pain as they look into each other's eyes the moment before the bullets begin to rain out, knowing that there is no hope left for them.  The gunfire is loud and impactful, just further enhancing the brutality of it all.  Audiences had never seen this level of violence in a movie before, and this also led to a backlash from critics, many of whom claimed that the film was reveling too much in the onscreen violence.  Director Arthur Penn never meant for this scene to be exploitative at all.  The extended slaughter was meant to be impactful, making the conclusion more true to life than what movies had done before.  The scene continues to be memorable to this day, even after modern movie violence has diminished the shock value of this scene.  Bonnie and Clyde may have not been shocking as a historical retelling, but it did stun audiences enough to leave an impression on cinema as a whole.
4.
THE USUAL SUSPECTS (1995) – "KEYSER SOZE REVEALED"
Once again, a shocking ending featuring Kevin Spacey.  Released in the same year as Seven, this became one of the most talked about movie twists ever.  Kevin Spacey's character, Verbal Kint, tells his side of a story to Det. Dave Kujan (Chazz Palminteri) about how he was the only survivor in his group of crooks who were ambushed by a master criminal named Keyser Soze.  The whole film, we are left wondering who Keyser Soze is and if he will reveal himself by the end of the movie.  The answer comes at the end when Det. Kujan lets Verbal Kint out of his custody, confident that he's gotten all he can out of him.  But moments later, Kujan realizes that everything he has been told was actually a lie, pieced together from things and names right there in his office. Verbal Kint, who's been seen as a cripple for the whole movie is seen dropping his limp and we soon realize that he was Keyser Soze the whole time.  This ending takes the incredible risk of making the audience accept the fact that everything they have watched so far was a lie, which can put off an audience if executed poorly.  The scene manages to work on the strength of Spacey's performance and the confidence in the story that director Bryan Singer had.  Audiences were stunned by this lie pulled on them, but it made learning the truth all the more satisfying.
3.
THE EMPIRE STRIKES BACK (1980) – "LUKE…I AM YOUR FATHER"
You rarely see a big franchise picture take a big risk and end one of their films on a shocking and downbeat note.  But that's what George Lucas and company did in Star Wars Episode V: The Empire Strikes Back.  In this movie, it seems like none of our main characters can catch a break in the unforgettable final act.  After being betrayed by his friend Lando Calrissian (Billy Dee Williams), Han Solo (Harrison Ford) is frozen in carbonite and taken off by Boba Fett as a reward for helping Darth Vader (voice of James Earl Jones).  On top of that, young Jedi Luke Skywalker loses his right hand in a duel with Vader himself and is cornered and defeated.  But the moment that left audiences more stunned than any else was the moment when Darth Vader reveals that he didn't in fact kill Luke's father in the past; he is Luke's father.  This was a bombshell to drop on audiences who had thought they knew where the story was going.  After this ending, anything was possible in the Star Wars universe.  It was risky for Team Lucas to make their characters suffer so much in what was effectively the middle film of a trilogy.  Thankfully for them, it was a risk that paid off and it solidified the Star Wars franchise as one of the greatest story lines ever put on the big screen.
2.
PLANET OF THE APES (1968) – "DAMN YOU ALL TO HELL"
One of the most famous twist endings of all time, this finale's impact is still seen in Hollywood today.  This action thriller starring Charlton Heston was a bizarre ride when it was first released in the late 60's, and while the ending fits well with the apocalyptic nature of the story-line, most audiences were still taken back by how impactful the final image was.  After crash landing on a strange planet run by intelligent, human-like apes, Astronaut George Taylor (Heston) escapes imprisonment from his militaristic captors and their leader, Dr. Zaius (Maurice Evans), only to discover that he can never go back to his home planet; he's already there.  His trip through space has sent him thousand of years into the future and in that time, mankind has destroyed civilization through war, leaving only ruins behind.  One ruin in particular, the Statue of Liberty, is found by Taylor and his realization of what has happened leads to an unforgettable breakdown, which Heston milks perfectly.  The screenplay was co-written by Twilight Zone creator Rod Serling, and it shows.  This ending would feel right at home with any Twilight Zone episode given it's bleak message and the hopeless state it leaves the character in.  Like most twist endings, it relies on the goodwill of the audience to work, and audiences accepted this ending as an appropriate conclusion to such a dark and weird film.  In many ways, it has gone on to become what most other twist endings strive to be, but few actually end up being.
1.
CHINATOWN (1974) – "FORGET IT, JAKE"
This ending may be one of the bleakest scenes in movie history, if not the most.  Private Detective Jake Gittes (Jack Nicholson) discovers some shocking truths about the case he's studying; that not only has wealthy tycoon Noah Cross (a chilling John Huston) been illegally manipulating water supplies in Depression-era Los Angeles, but he's also hunting down a daughter born out of an incestuous rape of his own legitimate daughter (Faye Dunaway).  Finding himself captive by the ruthless Cross, Gittes follows Dunaway's Evelyn to the titular neighborhood, where lawlessness is rampant.  Evelyn tries to escape with her sister/daughter, but Cross' men fire at her and the film concludes with Evelyn dead behind the wheel, Cross with possession of the girl she was trying to save, and Jake left helpless to stop all of this chaos.  Roman Polanski, the director, is a survivor of the Holocaust, so he knew too well how cruel life could be, but this was something few audience members were prepared for.  In a matter of minutes, this film goes from a loving homage of film noir to a Greek tragedy, and it's a gut punch for anyone who expected things to be tied up all neat by the end.  It's amazing to think that a Hollywood studio (Paramount) would give the okay to a film with this unforgiving of an ending, but in the end, it's a commendable commitment that pays off. Jack plays the moment perfectly, looking as if he's lost all hope in humanity, and I'm sure it's a feeling likewise shared by many in the audience.  No other ending has really ever given an audience a shock to the system like this one, and there's no other statement the film can say other than, "It's Chinatown."  Forget it?  No one ever will after seeing it.
And that's my list of movie endings that left audiences stunned.  Some are definitive conclusions that can't be topped (Chinatown, Bonnie and Clyde), while others blew open so many other possibilities that broke away from convention (Empire, 2001).  But, overall, these are endings that still resonate with us after the credits started rolling and have gone on to be influential as well as impactful.  Going out with a bang is something you can get away with more often in television, but it's also pleasing to see a film take that big step as well.  Hopefully more films take a risk in the endings of their stories and break away from tradition in order to deliver something memorable.  It may not always be pleasant, but it will surely be memorable.