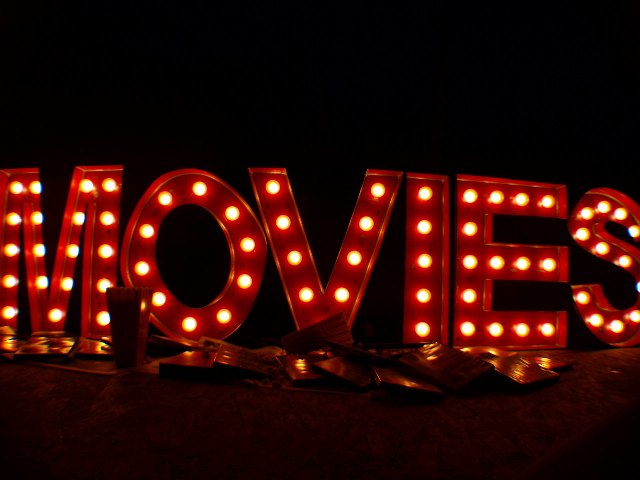 We have reached the beginning of a new year, and that inevitably gives us all a chance to look back at the year that was 2013.  This was for the most part a tumultuous year for Hollywood.  While a few films performed very well, there were many others that crashed and burned, and in larger numbers.  This year we saw a great deal of $200 million budgeted films bomb, which has led many people in the industry to reconsider what films they should be making.  For me as a viewer, I do agree that 2013 was a mixed bag.  This summer in particular featured a lot of underwhelming films, apart from a few bright spots.  Thankfully the end of the year proved to be strong, with all of the Oscar contenders coming out in the Fall; many of which are very deserving of their accolades.  Thanks to the fall season's strong showing, I was able to have enough good choices to fill out my list of the ten best films of the year, and given the overall quantity of movies that I watched in 2013, I was also able to choose five picks for my worst movies list.
Before I begin, I want to list the films that didn't make my top 10, but were still ones that I liked and are worthy of an honorary mention: 42, Anchorman 2: The Legend Continues, Blue Jasmine, Captain Phillips, The Croods, Inside Llewyn Davis, Monsters University, Prisoners, Rush, Star Trek Into Darkness, Thor: The Dark World, This is the End, The Wolverine and World War Z (probably the biggest surprise of the year).  Now keep in mind, I haven't seen movies like Her or August: Osage County yet, so you won't find them here, and they wouldn't count anyway because I'm only counting films I saw in the calendar year.  With all that said, let me start the countdown of the BEST FILMS OF 2013.
10.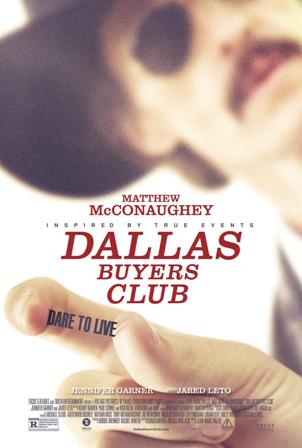 THE DALLAS BUYERS CLUB
Directed by Jean-Marc Vallee
This was a stellar year for Matthew McConaughey, moving away from the "surfer dude" persona he held onto for many years to where he is now taking chances as an actor with some very challenging and gritty roles.  McConaughey left a mark with his critically lauded indie film Mud early this year, and he also turned in a memorable cameo in Scorsese's Wolf of Wall Street, but this is the film that really left a mark on me and made me respect McConaughey even more as an actor.  In the movie, he plays a real-life character named Ron Woodroof, a bigoted rodeo cowboy who gets infected with AIDS and the film chronicles his transformation into a crusader for reform in the American health system.  The reason why I liked the movie so much is because it challenges us, mainly through McConaughey's stellar performance, to follow the character arc of a very flawed human being and rewards us with a narrative that touches the heart without pandering to it.  McConaughey lost a staggering amount of weight for the role and looks unrecognizable as the AIDS stricken Woodroof.  It's a performance that proved to be a breakthrough and helped to make this one of the best movie experiences of the year for me.
9.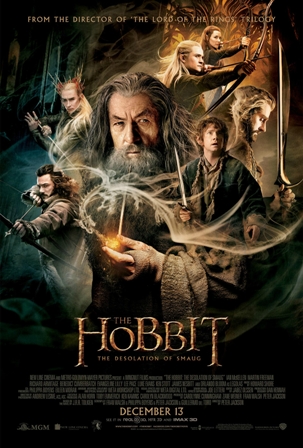 THE HOBBIT: THE DESOLATION OF SMAUG
Directed by Peter Jackson
Peter Jackson's adaptation of J.R.R. Tolkein's classic novel has left a lot of people mixed, debating whether or not the book should have been split over three films.  And while these Hobbit movies still don't quite meet that high standard left by The Lord of the Rings films, they nevertheless are still a lot of fun to watch.  Like the first Hobbit movie, The Desolation of Smaug managed to just squeeze into my top 10.  In some ways, I think it may actually be better than the first movie.  It's better paced, larger in scale, and it features one of the most spectacular giant monsters ever put on the big screen.  The titular dragon is definitely the film's greatest triumph, and I wouldn't be surprised if he was everyone else's favorite part of the movie as well, even among the films many critics.  But, the reason why I loved this film, and all the other Tolkein movies that came before it, is in the way that it reveals the world of Middle Earth to us.  Peter Jackson utilizes his native New Zealand beautifully as the locations in this movie, and every new location revealed helps to fill out the map of this spectacular world that the books and movies have shared with us.  My hope is that the Hobbit series ends in a spectacular way with There and Back Again this next December and lives up to the foundation left by these first two films.
8.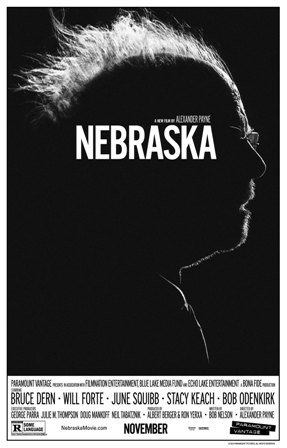 NEBRASKA
Directed by Alexander Payne
Alexander Payne is one of the most unassuming filmmakers working in the business, and he continually surprises me with his simple and yet thoroughly enjoyable films.  In 2002, I picked his About Schmidt as my favorite film from that year and Nebraska thankfully falls into the same kind of vein that that film did.  Nebraska, at it's heart, is a tale about family bonds, and about how all the struggles and quirkiness in our daily family life defines our relationships to one another.  Alexander Payne does this kind of film better than anyone and he's mastered this kind of Capra-esque portrayal of small town American life in his movies; highlighting all the foibles of society while at the same time showing the humanity as well.  Having come from a large, strongly bonded family in a rural state myself, I connected a lot with this movie.  Given that Payne himself is from the titular state, I'm sure that this film has a special connection to him too.  The performances, from Bruce Dern and SNL-alum Will Forte, are perfectly subdued, and actress June Squibb is a knockout delight as the no holds barred mother.  Also, the movie is one of the most beautifully shot black and white films that I've seen in a long while.  It is definitely worth seeing Alexander Payne's love letter to Mid-Western Americana, and I'm sure no one will come away from this film in a bad mood.
7.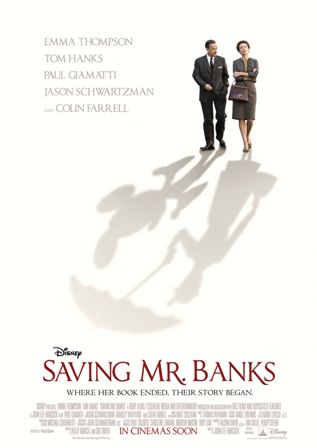 SAVING MR. BANKS
Directed by John Lee Hancock
There has been a recent trend by the Academy Awards to reward films that make Hollywood look good or heroic; for good and for bad.  But no matter how the Academy votes, people should understand this; Saving Mr. Banks, while following that same pattern, is an excellent film regardless.  I had my doubts about this film, but thankfully the film surprised in many rewarding ways.  The movie shows author P.L. Travers early and tragic childhood in some unforgettably emotional flashbacks, and this is juxtaposed with her fights with filmmaker Walt Disney over the film rights to the Mary Poppins stories, which Travers refused to have altered.  What I loved about this movie is that, more than any other film I've seen, it is about the pre-production process of film-making.  We never see any actually filming of Mary Poppins (1964); instead we see what went into the planning of the movie, particularly from a writing standpoint, which makes this film especially intriguing for writers like me.  It's shows film-making as a process of compromise and learning to let go of something dear for the good of the production.  In addition, the film has a well-rounded cast, led by Emma Thompson and Tom Hanks as Travers and Disney respectively.  I'm happy that the Disney company shared this little page of their own history for us, and better yet, didn't try to water it down too much.
6.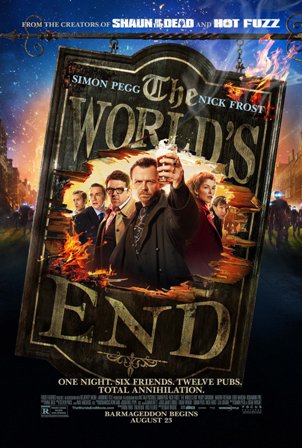 THE WORLD'S END
Directed by Edgar Wright
One of the big movie trends of 2013 that I'm sure most people recognized was a string of films focused on the apocalyptic end of the world.  The best of these films, however, was this hilarious British import from the team behind Shaun of the Dead (2004) and Hot Fuzz (2007).  The World's End caps what director Edgar Wright has dubbed the Cornetto trilogy, named after an ice cream treat that appears in each of the three films, and The World's End is a worthy addition to this series.  Without a doubt the most consistently funny film of the year, World's End follows a group of middle-aged friends, with Simon Pegg as the dysfunctional leader, as they try to complete a bar crawl that they failed to finish when they were young, only to find out that everyone else in town have been replaced by androids intent on world domination.  Along with Pegg's frequent co-star Nick Frost and a great ensemble cast, including The Hobbit's Martin Freeman and former 007 Pierce Brosnan, World's End is one inspired comedic bit after another.  Connected in the Cornetto trilogy or not, I would have still loved every moment of this movie.  At a time where you find few original comedies that are actually fearless and take chances, The World's End is like a breath of fresh air.
5.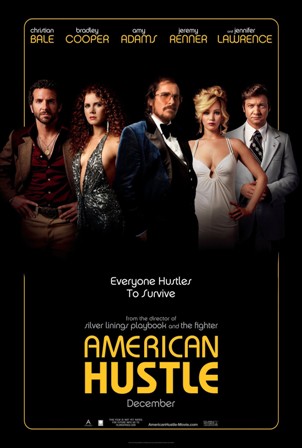 AMERICAN HUSTLE
Directed by David O. Russell
Director David O. Russell has been on a roll lately with The Fighter (2010) and Silver Linings Playbook (2012) performing very well at the box office and at the Oscars.  American Hustle continues that trend and may be in fact Russell's strongest film to date.  This movie has a lot going for it; strong performances from pretty much everyone in the cast, an intriguing plot at it's center, and a visual aesthetic that perfectly fits within the time period it is depicting.  Not only that, but it's also a lot of fun to watch.  The film is also kind of subversive in an entertaining way; where the main characters are taking down crooked politicians through the Abscam sting operation run by the FBI, and yet the politicians come off as more sympathetic.  In many ways, Russell is trying to do his own take on a Scorsese movie, and he pretty much accomplishes this task perfectly.  The period detail is astounding, completely drenching the audience in 1970's sleaze.  The performances are uniformly excellent.  Russell seemed to have put together a super cast made up of the headliners of his last two films, with Fighter star Christian Bale at it's center.  Amy Adams delivers probably her sexiest role to date and nearly steals the movie.  Bradley Cooper and Jennifer Lawrence also do great work here, as does an actor in a surprising cameo that I won't spoil for you.  All in all, this movie deserves all the praise it's gotten and features probably the best overall cast of the year.
4.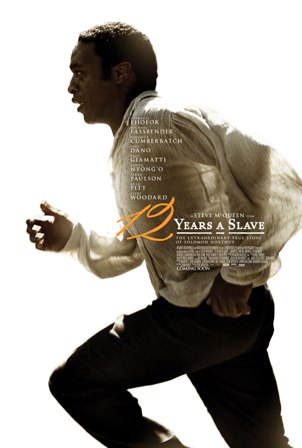 12 YEARS A SLAVE
Directed by Steve McQueen
Probably this years most challenging film, 12 Years a Slave depicts the horrors of slavery in the most visceral way yet that I've seen.  Adapted from the memoirs of Solomon Northup, which surprisingly hasn't been adapted into a movie until now, this film chronicles the story of an African-American musician who was born and raised a free man, but was kidnapped, taken away from his family and sold into slavery, which he suffered through for the titular 12 years before he finally was set free.  Director Steve McQueen is known for his very artsy style in films like Hunger (2008) and Shame (2011), and he utilizes it again to good effect here as well.  In many ways, the stylistic flourishes of the movie actually makes the shocking moments feel even harsher, because they contrast so much with the beauty put into the production design.  It's a brutal movie, but one that I believe to very rewarding, much like how Schindler's List (1993) would push it's audience to the brink but in the end would leave them with a better understanding of the subject matter.  Actor Chiwetel Ejiofor is unforgettable as Solomon Northup, and he commands every moment he's on screen.  He's also given solid support from the remaining cast including Benedict Cumberbatch, Paul Giamatti, and Michael Fassbinder as probably the most frighteningly sadistic plantation owner ever depicted.  It's an enriching historical epic that I'm sure will stick with everyone.
3.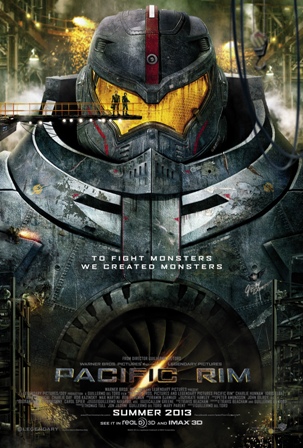 PACIFIC RIM
Directed by Guillermo del Toro
In a summer full of depressing, bland wannabe blockbusters, Pacific Rim was like a godsend and still ranks as one of the best experiences that I had at the movies this year.  Brought to us from the fertile mind of Guillermo del Toro, Pacific Rim does what any big-budget blockbuster should always do and that is to entertain, which it does right from it's opening shot to the end credits; and even further if some of you caught the mid-credit extra scene.  What I love most about this movie is how assured it is.  It doesn't try to make the plot too complicated or needlessly heavy in tone.  It's also not winking at it's audience, showing you how self-aware it is.  It revels in it's silliness, and that in turn lets us the audience feel comfortable in enjoying the ride it takes us on.  The look of the film helps with the appeal.  It's colorful and imaginative, especially when it comes to the designs of the monsters and the giant robots.  The actors in the movie likewise fit the tone of the film.  Their characters are generic archetypes, but done in the right way, helping to guide us along with the plot without showing off.  It's pleasing when a prestigious director like Del Toro decides to just make something that's fun and not pretentious.  He clearly knows the kinds of movies that he has fun watching, and thankfully he has shared that with us all as well with this film.  This movie should stand as a textbook example of how to do a tent-pole blockbuster right.
2.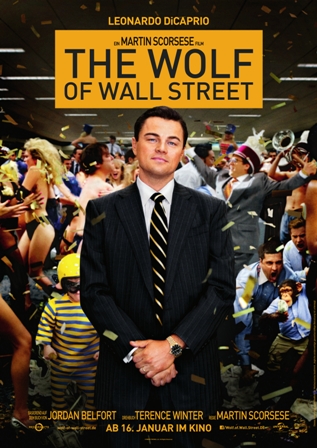 THE WOLF OF WALL STREET
Directed by Martin Scorsese
I mentioned before that American Hustle represents another director's successful attempt at making a Scorsese style film.  But one thing's for sure, you can never top the master himself.  The Wolf of Wall Street is Scorsese's most ambitious and stylistically alive film in many years.  A spiritual successor to movies like Goodfellas and Casino, this film has also proven to be one of his most controversial as well.  With it's three hour run-time and unwavering depiction of sex, drugs and excesses in wealthy American society, it stands to reason why this film has been met with a lot of criticism.  I for one still loved the movie, and my appreciation for it continues to grow every time I think about it more.  Scorsese has never shied away from tough subject matters, and it impresses me a lot that he's still capable of making a film this outrageous and fearless at his age.  I think over time people will understand more what Scorsese's original intent was with this movie, and hopefully it will be considered one of his best works when all is said and done.  The film was certainly one of the best experiences I had watching a movie this year, even at three hours long.  I also think this may be the best performance I have seen yet from Leonardo DiCaprio, which is saying a lot.  He has managed to be in 3 of my number one picks for film of the year over the last decade: 2006's The Departed, 2010's Inception, and 2012's Django Unchained.  And while he and Mr. Scorsese came close to the top again this year, they'll have to settle for second, because….
1.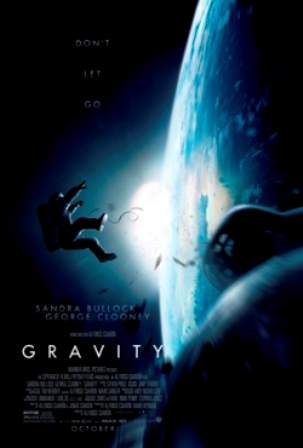 GRAVITY
Directed by Alfonso Cuaron
This was the best overall movie that I saw in 2013.  While many of the other best films were unforgettable and entertaining in their own rights, this was the movie that I believed pushed the medium of film-making further, and created a truly unique experience.  It probably helped that I saw it on an IMAX screen, but even if I hadn't, I would have still been impressed with this movie.  Director Cuaron has proven himself as a great visual artist through every movie he has made so far, but here he takes all of his tricks and utilizes them in ways we didn't know were possible on film before.  The movie is like a checklist of every film-making technique done to perfection; with the use of first-person POV, unbroken single shots, and hand-held photography taken to the very extremes and executed flawlessly.  The story at it's center is simple, and it doesn't need to be anymore complicated than it is.  I like the fact that Cuaron just focused on the situation at hand and didn't try to fill the movie with needless exposition.  At the same time, I don't believe there has ever been a movie that was set entirely in outer space like this before.  Even Kubrick's 2001 gave us more Earth-bound moments.  This movie was a conceptual and visual triumph, delivering on all of it's potential.  For a movie to make the top of my list, it has to raise the bar for quality film-making better than any other film in the year and no movie did that better than Gravity.
So, these are my choices for the best films of 2013, but given that I saw quite a few movies this year, I'd also like to share with you 5 movies that I considered to be the worst of 2013.  Keep in mind, I tend to ignore movies that I know are going to be bad, instead choosing to see films that I am more interested in and hoping are good.  That's why you won't see Adam Sandler's Grown Ups 2 or M. Night Shaymalan's After Earth on this list.  Instead, these are films that were not only bad, but disappointing to me in the end.
5.
IRON MAN 3 – What could have been an entertaining sequel to some really fun movies is undermined by a horrible twist in the second act that derails the entire film.  Not to mention that it also ruins a famous character from the comics and spits in the eye of anyone who wanted to see this character fully realized in this movie.  Not even Robert Downey Jr. could save this enormous disappointment
4.
A GOOD DAY TO DIE HARD – The sad mediocre end of a once proud franchise.  This one especially hurt me as a fan of the original Die Hard and it's lesser but still enjoyable follow-ups.  It's probably time to retire John McClane as a character, but this is hardly the sendoff he deserves.
3.
WHITE HOUSE DOWN – The lesser of the "Attacking the White House" movies this year.  Olympus Has Fallen had some cheesy fun to it, but White House Down was just maddeningly dull and stupid.  It also represents a new low for director Roland Emmerich, who's track record is already not too good.
2.
JACK THE GIANT SLAYER – Of all the big box office bombs that came out this year, this was the most insufferable to sit through.  Clumsily acted by a cast that should have been better, and lazily directed by Bryan Singer, who I know can do better, this was a baffling mess of a movie.
And the worst film of 2013 is…
1.
ELYSIUM – I already ripped this film apart plenty in my review, but this makes the top of my worst list simply because it angered me more than any other movie.  Pretentious, horribly acted, ugly to look at, childishly simplistic in it's morals, and just overall infuriating to sit through.  This doesn't encourage me at all about the trajectory that director Neill Blomkamp's career is taking, especially considering how much I liked District 9.  This film is the very definition of a sophomore slump.  Where Pacific Rim was an example of a "summer" film done right, Elysium is a perfect example of the opposite.  A colossal failure on every level and one that I hope Blomkamp never repeats again.
So, these were the films that defined the year of 2013 in my opinion.  This was a significant year for me considering that I began writing this blog during this time.  Hopefully 2014 will be a better year for movies.  Some of the films that I'm looking forward to are the third and final Hobbit movie, There and Back Again, as well as a couple biblical epics from Ridley Scott (Exodus) and Darren Aronofsky (Noah), as well as a hopefully strong return to form for Bryan Singer with X-Men: Days of Future Past.  And let's hope that 2014's summer season will be a better one than last years.  I promise to continue writing this blog and covering my thoughts of the year in cinema just like I have over the course of 2013, and hopefully it will be a thought provoking discussion for both myself and all of my readers as well.