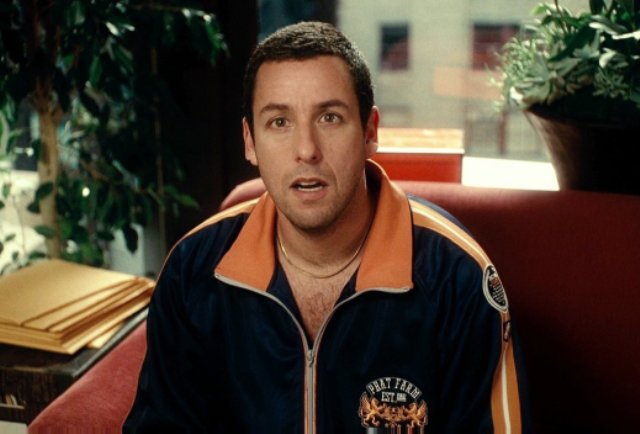 How do you sum up the movie career of one Mr. Adam Sandler?  The former Saturday Night Live alum has had a film career that is surprisingly resilient, despite also being responsible for some of the worst movies in recent memory.  But as a result of relying so heavily on formula, Adam Sandler has inadvertently closed off his range as a performer, becoming something as a one trick pony rather than a quality actor.  Believe me when I say that I believe that Sandler is indeed a talented performer, and sometimes even a great actor.  When given a meaty role to work with (which rarely happens), like he had in the woefully under-appreciated P. T. Anderson film, Punch Drunk Love (2002), he can actually be quite good; Oscar-worthy even.  But, unfortunately no one pays to see a serious Adam Sandler performance.  It's the goofy Sandler that brings in the money.  And you know, there was a time when that was welcome too.  Sandler's first two headlined films, Billy Madison (1995) and Happy Gilmore (1996) are both very funny, and surprisingly still hold up nearly 20 years later.  But recent years have brought a steep decline in the quality of Sandler's cinematic output, and it only seems to be getting worse.
One thing I noticed from his movies is that most of them more or less interchangeable  and follow the same kind of formula.  They usually involve Sandler acting with a man-childish personality; they contain numerous jokes involving bodily fluids; they usually feature actor Rob Schneider as an offensive racial stereotype; and they often try to shoehorn an uplifting message at the end as some sort of concession to make audiences less repulsed by what they just saw.  At the same time, I noticed that Sandler is looking less interested in these films with each new release; like he's phoning it in just until the check clears.  Given that he's also the producer of his movies, through his production company Happy Madison, it's clear that he's continually putting less effort into his onscreen presence, instead using his movies as a means to keep his affluent lifestyle going.  This is most evident in his recent films, which includes taking trips to exotic locations.  Is this his way of saving money by getting a paid vacation?  Whatever motivates Adam Sandler's movies, it's very clear that most of them feel lazy, or even worse, offensively insulting to it's audience.  What follows is my list of the 10 worst films he has made to date, and what ended up surprising me was not what made it in, but rather what made it off the list; because there are just so many bad ones.
10.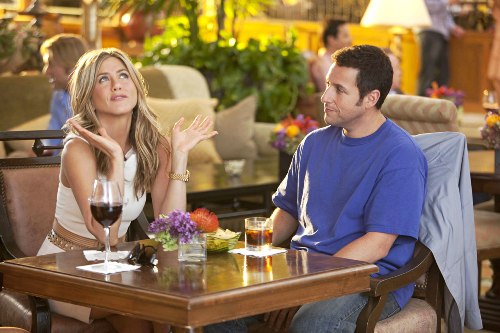 JUST GO WITH IT (2011) 
One of the other notable trends in Adam Sandler's film career is his proclivity for remakes.  This particular one is based off of the 1969 Walter Matthau/ Ingrid Bergman film Cactus Flower.  That movie was a charming story about middle aged professionals pretending to be a couple so that the Matthau character can impress a much younger girl that he's got his eyes on, played by a very young Goldie Hawn in a performance that won her a Supporting Actress Oscar.  Ingrid Bergman played the other professional in question, and the film was about her coming out of her awkward shell and becoming more of the ideal woman for Matthau's character, making the entire film a nice complex character driven comedy.  Adam Sandler took that same set-up, removed everything that made the original charming and replaced it with pointless slap-stick and formulaic plotting.  By no means the most offensively horrible Sandler film, but probably by far his laziest.  There is absolutely no effort put into this movie.   The 45 year old original will probably make you laugh more frequently.  The only person who comes away from this film with any kind of dignity is co-star Jennifer Aniston, and even she looks like she would rather be doing something else.
9.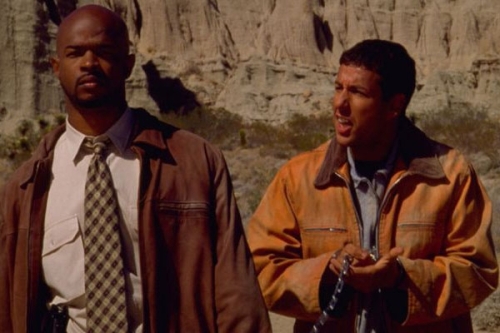 BULLETPROOF (1996)
The first cinematic flop of Sandler's career, this movie was released right on the heels of the enormously popular Happy Gilmore.  I for one remember being excited to see this movie because of how much I enjoyed Sandler's first couple films, and the fact that this was his first R-rated flick.  That fact alone should have signaled this as a must-see, because it meant that we were going to see Sandler completely unrestricted.  Instead, what we got was a weak comedy/action thriller, with a completely charmless performance by Mr. Sandler himself.  Bulletproof is trying to be like a reverse of the 48 Hours movies, with Sandler filling in the Eddie Murphy role and fellow comedian Damon Wayans in place of Nick Nolte, only it fails on every level.  The action scenes are lame, the comedy is weak, and the characters never amount to more than simplistic caricatures.  While Adam Sandler wasn't really known for his range just yet (or ever), this film should have been a great opportunity for him.   Instead it just made us long for more movies like Billy Madison, which is what we got for better or worse.  Perhaps Adam Sandler's lack of originality in his later films can be linked all the way back to the failure of this one, because it forced him to not play outside of his comfort zone.  That, or because he just didn't have a fun time making this, which isn't surprising.
8.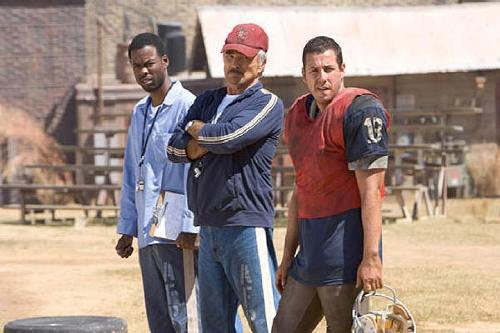 THE LONGEST YARD (2005)
Yet another Adam Sandler remake, only this time he takes on a sports movie classic.  The Longest Yard was a 1974 film about a former football pro (played by Burt Reynolds) serving time in prison and who is forced by the warden to form a team of inmates who will take the field against an opposing squad made up of the prison's sadistic guards.  It was a smart, character driven movie about teamwork and overcoming oppression through peaceful means.  Adam Sandler's remake on the other hand took out all the subtlety of the original and again replaced it with more slap-stick humor and stereotyped characterizations.  What's more upsetting is that Burt Reynolds came on board this film to play the coach of the team, in a lame attempt to give this movie some credibility and pay homage to the original.  Sandler's version again lacks effort and feels more like a Cliff Notes of the original and better movie.  Add to this some of the more annoying aspects of Sandler films, like ethnic and gay stereotypes, a self-centered main character, plot conveniences, and yet another Rob Schneider cameo, and you've got a movie that doesn't pay homage to a better movie, but instead disgraces it.
7.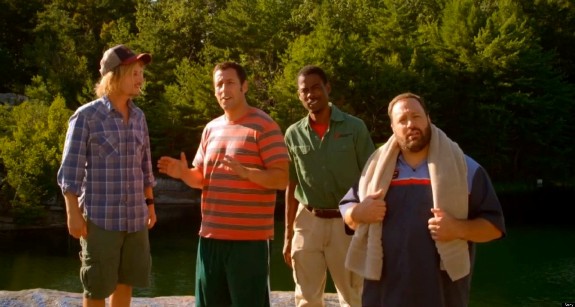 GROWN UPS 2 (2013)
The first Grown Ups (2010) was no masterpiece either, but the fact that Sandler and Co. managed to eek out another flick from the already weak premise of the original film just makes this movie all the more unnecessary.  The first film was about four high school friends reconnecting in their adult years during a Fourth of July weekend trip.  The second movie is exactly the same plot, only it's Spring Break and the four friends (Sandler and co-stars Chris Rock, David Spade, and Kevin James) must contend with aggressive college kids who have invaded their favorite vacation spot.  Not surprisingly, this is not a plot driven film.  The movie is more or less a collection of unfunny vignettes involving crude body humor and pointless slapstick.  Sadly, everyone in this movie looks again like they are phoning it in, and of course with a movie centered around vacationing, you can probably guess the true purpose behind the making of this movie.  And it's too bad because I know some of the other actors here can be really funny, Chris Rock and David Spade in particular; Kevin James less so.  But, given that this is a Sandler-produced picture, it is indicative of the larger problem of Adam Sandler movies in that it's just playing to the lowest common denominator with no real purpose other than to make the star more money.
6.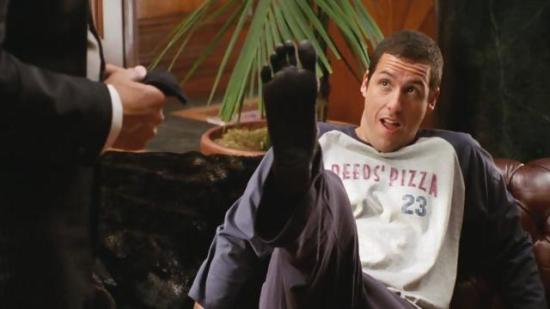 MR. DEEDS (2002)
Yet another remake of a classic film, and this one is by far the worst.  The original movie, Mr. Deeds Goes to Town (1936) is a beloved masterpiece that starred Gary Cooper as a simple, working man who inherits a fortune and is raised into the upper-class overnight, leading to a lot of misunderstandings and heartwarming life lessons.  Directed by Frank Capra, who won an Oscar for his work on the film, the movie was an intelligent and humorous look at class differences in Depression-era America and a brilliant expose on the true nature of the American dream.  Adam Sandler of course had no use for smart socially commentary in his version and he instead used the premise to just show off his trademark brand of sophomoric humor, once again.  Why Sandler thinks he can improve upon these beloved classics is beyond me.  The gap between the original and Sandler's version is most pronounced here.  Gone is the touching portrayal of Cooper's original protagonist, replaced by an obnoxious man-child who enjoys showing off his frostbitten foot.  Just what the original needed more of: frostbite.  Do yourself a favor and watch the original masterpiece instead.  The fact that Adam Sandler thought we wouldn't know about the original at all is enough to earn this terrible movie a spot on this list.  And it just get's worse from here.
5.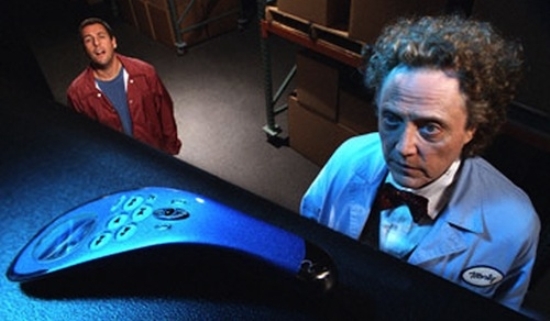 CLICK (2006)
What's worse than doing a lazy and crude remake of a classic story?  It's taking a wholly original idea and spoiling any potential it had.  That's what happened with Adam Sandler's high-concept comedy Click.  The movie follows the story of a man who gains control over his complicated life when he gains possession of a magical remote control, given to him by a strange salesman played by Christopher Walken.  Naturally, this leads to some hi-jinks where Sandler has near God-like control over time and space, and it typically is crude in nature.  But that's not where the movie falters.  What happens is that the movie has a huge 180º turn in tone, where the story goes from silly to deeply serious.  Sandler's character begins to lose control of the power given to him and his life flashes ahead faster than he can appreciate it, creating a very dour and dark final act.  This whiplash in tone is what ultimately sinks the movie.  Had the film stayed true to this dramatic tone, it could have worked, but given that it's following about 90 minutes of crude, sophomoric slapstick, it feels like a cheat meant to shoehorn sincerity into a movie where it doesn't fit.  Not only that, but the shift is handled so poorly, that the movie becomes this weird mishmash of two very different types of movies.  Probably more than any film on this list, this is the one that disappointed audiences, and myself, the most.
4.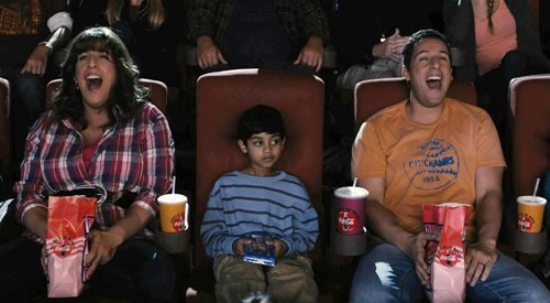 JACK AND JILL (2011)
This film on the other hand did not disappoint.  Pretty much from the moment everyone saw the trailer to this movie, we all knew that this was going to be terrible; and it certainly was.  The movie mainly exists to let Adam Sandler act in drag and the result is one of the most obnoxious characters that he has ever created; and that's saying something.  The Jill character will grate on you from the moment that she appears to the very end.  Even worse is the fact that Sandler's Jack, the twin brother, is also a self-centered jerk, so we get two awful characters from Sandler for the price of one.  The plot again serves no purpose other than to string together many different comic situations, most of which are not funny.  One really odd subplot has Jill being pursued by a lustful Al Pacino.  Yep, the Al Pacino.  The film also shows the characters taking a cruise, so once again, we are pretty much watching another one of Adam Sandler's vacation videos.  Unlike most of Sandler's other comedies, however, this movie actually under-performed at the box office, showing that even his fan-base were growing tired of the shtick.  It lived up to it's already notorious reputation, but there's wasn't anything particularly reprehensible about it, unlike the following movies.
3.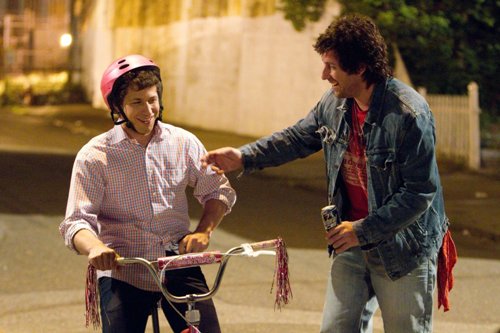 THAT'S MY BOY (2012)
You've got to really question a comedic performer's sensibilities when he bases the premise of his film around the issue of pedophilia.  That's exactly what happened with That's My Boy, and it's an uncomfortable subtext that just sabotages everything else in this film before anything else takes hold.  At the start of the film, a pre-teen boy is seduced by his attractive and much older teacher and the two end up having sex and producing a child from this.  The teacher goes to jail and the irresponsible boy ends up raising the baby, and this is all played for laughs.  Would it be funny if the genders were reversed?  It's not funny either way, and the movie seems to think that this is no big deal.  Sandler plays the boy as a grown man, and he's again resorting to his obnoxious man-child persona, only with none of the charm of Billy Madison or Happy Gilmore.  The child he raised is grown-up as well, and is played here by Sandler-in-training Andy Samberg, who at least attempts to play a likable character.  Unfortunately nothing in the movie escapes the reprehensible nature of it's premise and everything that follows is not funny enough to make us forget it.  I don't usually dismiss movies when they poke fun at something taboo, but this is one example where the film clearly crossed the line and fails to make up for it with anything worth watching.
2.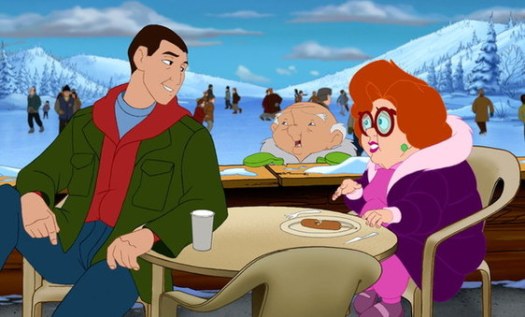 EIGHT CRAZY NIGHTS (2002)
You would think that someone as cartoonish as Adam Sandler would fit perfectly in an animated film.  Unfortunately, Eight Crazy Nights is just as irritating as the other movies on this list.  What makes this movie worse is the fact that it is posing as a movie made for all ages, and in addition, tries to emulate classic Holiday specials from the past.  How the Grinch Stole Christmas this is not.  In fact, I would take the Grinch over the jerk that Sandler voices here any time.  Named after a verse from Sandler's popular "Hannakuh Song," Eight Crazy Nights follows the story of a dead-beat who slowly relearns the meaning of the holiday season after interacting with a couple of ostracized care-givers.  What could have been a heartwarming story is undermined by Sandler's typical crude and gross-out humor, which I'm sure upset a lot of family audiences who probably were tricked into seeing a PG-13 movie because it was animated.  Surprisingly, the animation in this movie is really good (done by the same team that worked on 1999's The Iron Giant, believe it or not) which makes the fact that it's wasted on poop jokes and racial stereotypes all the more infuriating.  In addition, Sandler provides the voices of all the main characters, including the elderly care-givers who come off as horrible Semitic caricatures.  Even Mel Gibson wasn't this insulting to the Jewish people, and Sandler himself is a Jew.  The whole thing is a baffling assortment of awful ideas and easily the worst holiday themed film ever, if not worst animated one too.
1.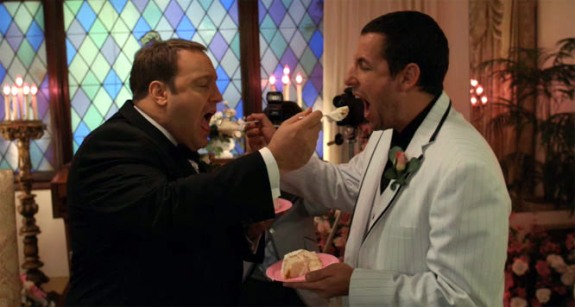 I NOW PRONOUNCE YOU CHUCK & LARRY (2007)
And now we come to the absolute worst movie of Sandler's career.  Why is this movie the worst?  Where to start?  The story is about two heterosexual firefighters played by Sandler and Kevin James who pretend to be gay so that they can take advantage of the State of Massachusetts then newly legalized same-sex marriage and marry each other in order to receive family medical benefits as a couple.  The movie centers around this deception and is merely just an excuse to throw in every gay joke in the book.  Now, the fact that they are poking fun at homosexuality is not what makes this film so offensive, though it certainly contributes.  There are plenty of comedies that exploit gay humor well (Mel Brook's The Producers (1968) for example).  What makes Chuck & Larry so reprehensible is the fact that it tries to pass itself off as a pro-gay film, with some shoehorned message at the very end.  The idea that Adam Sandler thought he was making a movie favorable towards gay rights after exploiting every tired stereotype beforehand is what truly makes this film so hate-able.  If you wanted to make a positive movie about gay marriage, you should show a gay character having his or her rights restricted and then reclaiming it by the end.  That's not what Sandler did.  Instead most of the plot centers around how uncomfortable the two leads feel doing things that gay men and women are completely comfortable with.  Sure, Sandler probably sympathizes with the causes of gay people, but this movie clearly shows that he made no effort trying to understand them, and that's why this film is not only bad, but insulting as well.
So, these are my choices for the worst movies of Adam Sandler's career.  Of course, given that he's still relevant in Hollywood, there will probably be many more to come.  This weekend brings the latest entry in his filmography called Blended, costarring Drew Barrymore and it looks as formulaic as all the others.  But, like I said before, when Adam Sandler leaves his comfort zone, his films can actually sometimes be good.  The reason why his movies tend to suffer is because they try to please too many people, being both crude but also heartwarming, which creates an uneven mixture.  When Sandler films work, it's because they are either genuinely heartwarming (2002's Punch Drunk Love and 1998's The Wedding Singer) or they completely embrace their insanity (2000's Little Nicky and 2008's You Don't Mess With the Zohan).  And again, Billy Madison and Happy Gilmore are still funny today, so that does say something.  If Sandler want's to be taken seriously as a performer, he probably should look at his collective work and recognize what has been missing all these years.  Well, now that I've ripped apart Adam Sandler for an entire article, I thought that I should conclude with some moments that I genuinely enjoyed from the man.